Need help finding a good family-friendly Spring Break destination? Do you know you want to go somewhere but don't know where to start? See our family travel tips of the top 10 family Spring Break destinations to get those creative travel juices flowing… 
Isn't Spring Break the best? Kam used to teach junior high and every time February rolled around,  she had a countdown till Spring Break (She LOVED her students, but man – she needed some space after the LOOOOONG winter months).  Honestly, one of the hardest things about Spring Break is deciding where to go! Read below to find out our top ten Spring Break destinations and the two places we try to avoid during Spring Break.
The Top 10 Family Spring Break Destinations
1- Rome
Rome in the spring is beyond beautiful!! The Borghese Gardens smell divine with the fresh blossoms, the weather is near perfect, and there are colorful flowers and citrus trees all over the city.
2 – New York City
The weather is heating up, Central Park is becoming green again, and the city is extremely active with people on the streets after hunkering down for the winter. It is vibrant and fun!
3 – Hawaii
There is rarely a bad time to visit Hawaii, but come April the rainfall has almost cut in half from the winter months. We love all of the Hawaiian Islands but our favorites have to be Kauai and the Big Island.  
Need help deciding where to stay in Hawaii? See our Top 4 and 5 Star Resorts for Families in Hawaii you can also download our free Hawaii Coloring pages for kids here!
4 – San Diego
San Diego is quite a bit more busy during the Spring Break season, but is still lovely and has so many fun family activities. 
5 – Washington D.C.
The cherry blossoms – enough said!!!
6 – London
The city isn't too busy with tourists yet, the weather is mild, and there are so many amazing things to do both inside and outside. 
Thinking of taking your little ones to London and not sure what to do? Get started on planning a Child-Centered London Vacation now!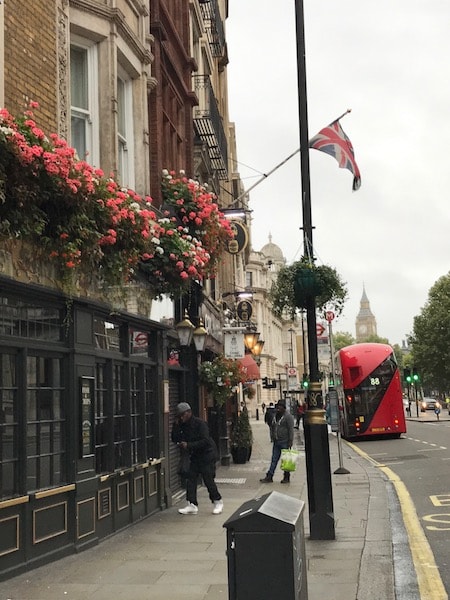 7 – Cartagena, Colombia
April is WARM in Cartagena! This lively city is a UNESCO World Heritage Site, has delicious food, exceptional history, beautiful beaches, and so much to see and do.
You can see our Cartagena Colombia Guide here!
8 – Utah!
We have to do a shameless plug for our home state. Seriously, the national parks in Utah in the spring are FANTASTIC. If you are a hiker, check out Angels Landing at Zions National Park, for sure! 
*To see what to do in Salt Lake City for a couple of days check out our Honest Review of SLC
9 – St. Lucia
St. Lucia is gorgeous! There is so much to do including beach activities, hiking, and more tropical adventures. The fact that it is a little bit harder to get to really helps with crowd control.
*For our favorite things to do in Saint Lucia, click Why Saint Lucia is the Best Carribean Island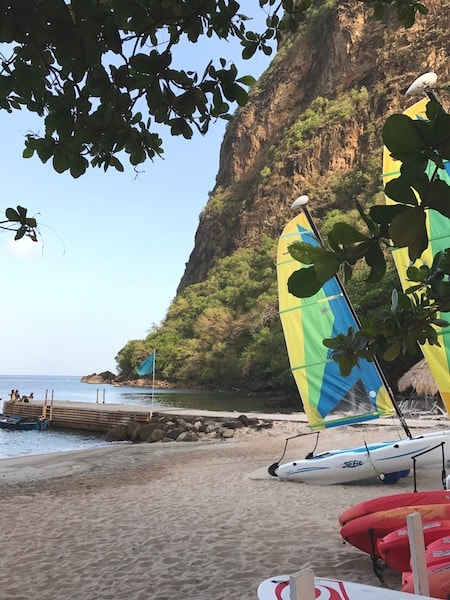 10 – Charleston S.C.
Again, this is becoming a trend here but the blooms! The weather is warm but not a gazillion degrees and the emerging food scene in Charleston cannot be beaten There are also two wonderful festivals during this time; The Food and Wine Festival, and the Houses and Gardens Festival.
The Few Places We Try to Avoid for Spring Break
There are a couple of places we try to avoid when picking Spring Break destinations – simply because we like to try and avoid the crazy crowds.
Mexico – We LOVE Mexico! See our recent Cancun post here. But, we try to visit when it is a little less overrun by … fraternities.
Disney Parks – Unless you are able to do the VIP Disney Service, for us, Disney over Spring Break is just WAY TOO BUSY. If you do end up going to Disney for Spring Break we have some Disney Mom Hacks that You Need to Know Now that will make your trip so much easier and less stressful! 
What do you look for in a family Spring Break destination? What is your favorite Spring Break spot? Where are some of you going? 
Happy travels!!!
With Love – The Smith Family
*Don't forget to pin this and subscribe to our blog to get free family travel itineraries, printables, and tips!