Traveling to Paris but limited on time? Find out what you absolutely can not miss by reading our What To Do in Paris in 4 Days Guide below!
*Going to Paris on a Budget? Check out our Starving Student Guide to Paris here!
What To Do in Paris in 4 Days Intro & Notes
We recently had a good friend ask us to help her plan a trip to Paris for her family. She wanted to know what to do in Paris if she only had four days. She let us know that she was on a rather tight budget and really wanted to see Versailles.
*Don't forget that you can download and print our Paris coloring book!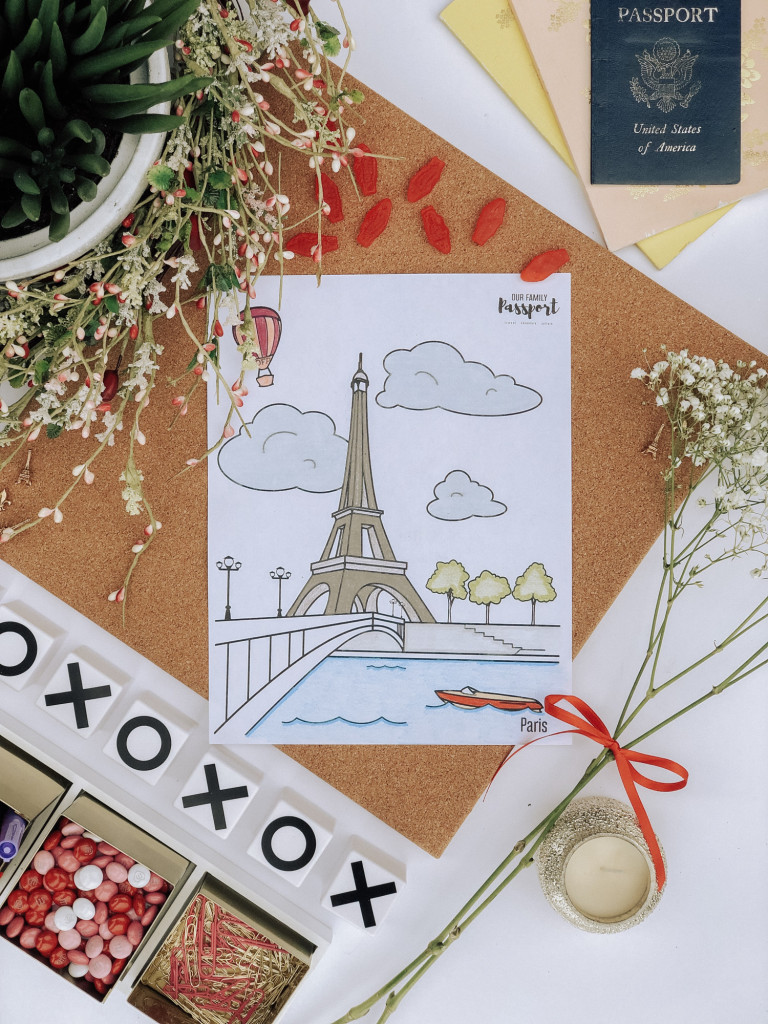 While, we suggest, if at all possible to spend at least a week at a time in Paris (we think there is SO much to do in Paris and to really enjoy the city you need a week or more) we understand that most people visit Paris while on their European tour and can only set aside 3-4 days for their visit and want to see the highlights.
A couple of notes:
Taxi Or Metro
When we travel to Paris we like to take taxis. We feel like the taxis are moderately priced and can often get you from point A to point B faster than the Metro. And sometimes, time is money. That being said, the Metro is far cheaper and if you are traveling in a larger group it can be easier than having to flag down a taxi van (these are few and far between in Paris). For a great resource on navigating the Paris Metro see here.
Where To Stay
Just like any big city, there are very good parts of town and places that you might want to avoid. Our favorite location to stay is anywhere close to or along Rue de Rivoli. It is central, safe, has a fantastic metro stop, and is within walking distance of almost every major icon.  We have stayed at both the Westin Paris Vendome and The Renaissance Paris Vendome and really enjoyed both. We also really like the Saint Germain des Prés area. It is central, quaint, and feels oh so Parisian. There are several boutique hotels that are DARLING and don't break the budget, you can find some good options here!  Keep in mind that as a general rule, hotel rooms in Paris are much smaller than their U.S. counterparts. Just embrace it as part of the Paris experience.
Paris Pass or Paris Museum Pass
If you are planning on using the Metro, and you plan on going nonstop – spring for the Paris Pass. If you plan on getting around mostly by walking/taxi and want to savor the city get the Museum Pass.  We have used both and have found that both aid in avoiding lines. However, for us and how we travel, we prefer the Museum Pass as it costs less money in the long run. That being said, a couple of things on our list are not included on the Museum Pass that are on the Paris Pass. For these attractions, we just purchase the ticket on our own. Overall, we prefer the Museum Pass and think it is a better value.  Take a look at the prices, what attractions each of the passes offer, and pick what suits your needs best.
Our Itinerary Style and Speed
We have learned over the years and through our countless trips that it is far more enjoyable to plan a doable itinerary. We like to take in the sites, experience the locations and really savor and enjoy each of the things that we plan. If our itineraries are too rushed we become cranky, tired, and things can turn into a drag. Be realistic about what you are capable of and keep in mind the time change and jet lag factor.
We love to leave "free time" each day to take a rest, explore on our own or if we are feeling up to it visit something on our optional list. For this itinerary, we were a little zealous on the google maps and gave our must do for each of the days and then a couple of optional items. Don't feel like you have to do everything listed on the maps – pick and choose what suits you!
Our 4 Day Paris Itinerary
Paris Day 1
Eiffel Tower, Arc de Triomphe, Champs Elysees, Laduree, and a Seine River Cruise
Day 1 Tips
Book Eiffel Tower tickets AHEAD of time! You can usually book about 6 – 8 weeks in advance. We have eaten at the restaurants on the Eiffel Tower and do not suggest them. We find them overpriced, rushed, crowded, and with subpar food. Rather than spend time at the restaurant, it is more enjoyable to take the elevator to the top for 17 euros and have a leisurely walk down. The views are remarkable and it is fantastic to see Gustave's engineering during the descent.
You can book your tickets here. It is important to note that the Eiffel Tower is one of the few things that is not offered as an attraction on the Museum Pass or Paris Pass. You must book tickets separately if you want to visit.
When visiting the Arc de Triomphe you have to enter underground on the opposite end of the CRAZY Triomphe roundabout. Make sure to climb to the top and take in the stunning panoramic views of the tower, Champs Elysees, and surrounding areas. We have also found that it is advantageous to get the panoramic views in at the beginning of the trip because it can help you gain your bearings.  We LOVE to be on the top of the Arc during dusk and at the first Eiffel tower sparkle of the night (this is possible depending on the time of year). There is something so magical about watching the sun go down and all of the sudden see the tower start to sparkle. (Yes, the lights really do sparkle every hour on the hour after dark – it is magnificent!)
Stop in at the quintessential Laduree for some seriously scrumptious macarons.  My favorite flavor is vanilla – totally divine!
A night river cruise on the Seine is such a blast. (Did you get that? Just in case you didn't, – it is so much fun!) And again, it is a great way to get an overview of the city and to get your bearings. Also, there are not many things that can beat the views of the Parisian lights from the Seine!
Day 1 Optional List
(Grand Palais, Petite Palais, Champs Elysees Gardens)
What to do in Paris Day 2
Il De La Citie, Cluny Museum, Notre Dame, Sainte-Chappelle, Latin Quarter, Pantheon, Hotel de Ville, Les Marais, and Place des Vosges
Day 2 Tips
If you can visit Notre Dame right when it opens.  However, that requires more walking as you need to backtrack down to the Latin Quarter and back up. Notre Dame can get super busy and it is far more enjoyable when there are not a million people pushing and throwing elbows. As of right now, it currently opens at 8:00 am. The crypts are worth visiting and we love walking around the grounds. Visiting the back of Notre Dame is a must. There is a cute little park that the littles love to play at. Don't forget to check out the flying buttresses!
Make note that on Sundays at 4:30 pm there are free Organ Concerts at Notre Dame. We haven't been able to make it but I look forward to going this next trip this fall. I hear only great things about it!
Sainte-Chapelle is a beautiful little jewel box and is absolutely NOT to be missed. It is glorious. Make note that it is kind of tucked behind the main square, be sure to ask someone if you need help finding it. It can be a little tricky to find.
Don't forget to stop at the darling carousel at the Hotel de Ville! Especially if you have little kids – or if you don't haha. (I think the carousel is the CUTEST and I am nearly 28).
Day 2 Optional List
The Conciergerie, Picasso Museum, The Memorial de la Shoah, and Victor Hugo's House.
Day 3
The Louvre, Opéra Garnier, Place de la Concorde, Des Invalides, Napoleon's Tomb, and Orsay Gallery
Day 3 Tips
For this day, we suggest taking a break in the afternoon and then going to the Orsay Gallery in the evening. There is a charming restaurant at the Orsay Gallery that offers moderately priced food. The location and setting can not be beat! The Orsay Gallery is one of our favorite museums in the entire world. It is lovely, open, and offers exceptional 18th and 19th century art.
The Louvre! Okay, so the Louvre is amazing, but it is also VERY overwhelming. We suggest getting a guide to help you navigate, or plan out your trip beforehand and try to visit first thing in the morning. Like Notre Dame, it can get crowded VERY quickly. It is not out of the realm of reality to get lost and feel overwhelmed by all of the people, the expansive buildings and the enormous collection of absolutely stunning artwork. Just beware, it can be information overload.
Know your threshold. I am currently working toward my Master's Degree in art history and spending more than 3 ½ hours is just too much for me in one visit. Don't expect to see EVERYTHING. Pick what you want to see the most, and seek it out. If you are not sure what you want to see but know you want to pay a visit to the Louvre, check out this fantastic highlights trail plan found on the museum website.
Subscribe to our blog see our upcoming post on planning a trip to a major museum. (I am also thinking about putting together a Louvre Highlights Guide??? Let me know if you think that would be worthwhile!)
Day 3 Optional List
Day 4
Plan A: Versailles


Plan B: Montmartre Area and Free Time to Explore the City
Okay, so this might go against the grain of almost everything you will read and hear – are you ready? If you are dying to see Versailles and you think this might be the only chance you will get to visit France – then totally go. However, like mentioned in Part 1, there is so much to do in the city and if we were only visiting for four days – we would stay in the city and enjoy our last day by going to Montmartre in the morning and taking it easy in the city center for the rest of the day. Do what works for you!
Plan A – Versailles
Don't get us wrong. We love Versailles! LOVE Versailles. It is opulent, grand, and exceptional. But, it is out of the way and it isn't something you want to rush through. If you decide to visit, make sure you set aside a whole day. Visit the beautiful gardens, and our favorite things to visit at Versailles are Marie Antoinette's Trianon and Hamlet. You will feel like you've  stepped foot into The Beauty and the Beast. It is adorable and you can't help but feel sad for the queen's fateful end.
Plan B – Sacre Coeur,  Montmartre District, The Love Wall, Picasso's Atelier, and The Place du Tertre Open Art Market
Montmartre is like a city within a city. It is hilly, bohemian, and has been part of the avant-garde scene for over a century. The narrow streets are a stark difference to the large Haussmann boulevards in the city center. It has a more laid back feel and is very artsy. Oh, the "feels." In our opinion, Montmartre is best viewed from the streets by leisurely walking around. We love the art market (where the artists are real artists, and not just selling some mass-produced postcards.)  The artists who cut out facial silhouettes are our favorites!
Day 4 Optional List
Moulin Rouge, Pigalle*, and the Montmartre Funicular
*A special caution:  Be careful taking children through Moulin Rouge and Pigalle, especially after dark.  The area can be a little "spicy."  
Paris in Four Days Conclusion
Paris pretty much rocks, and honestly we think we could spend a month there and still have SO much to do. That being said, if you only have four days we hope this gives you a good overview of the highlights of the city.
Like always, comment below and don't forget to check out our Paris coloring book!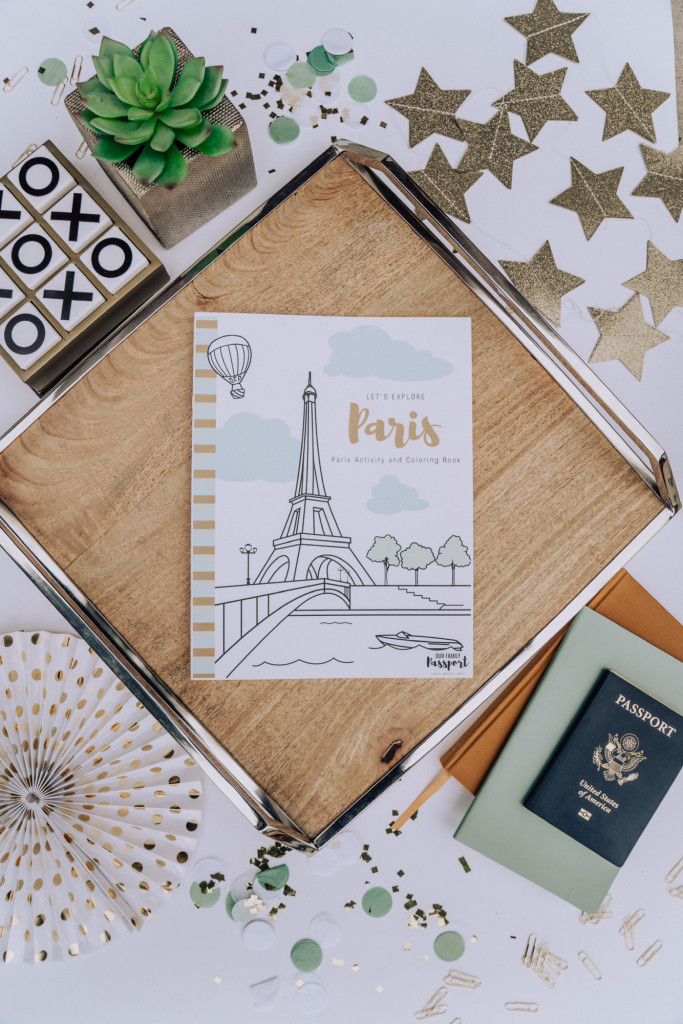 Xoxox,
-Kam