We absolutely love London and have traveled there several times.  When Beckham and I lived in the UK in 2017 for several months, we were able to see a whole new side of this bustling city. We have found that London is an exceptionally child-friendly city, with most Londoners being helpful, patient, and kind. So writing this London itinerary for a kid centered vacation that everyone would love was a snap! Check out one of our favorite destinations in Europe!

* Note: This post has a couple of affiliate links. We only ever promote products that we really love and use regularly.
Planning a Kid Centered London Vacation
One of our favorite things to do before a trip (especially when we are traveling with littles) is to prepare for what we will see and for this itinerary, we are pairing it with one of our most favorite children books on London. This inclusion of this book isn't sponsored, it is genuinely the cutest little book and will help your child recognize what they are seeing and why! So this child-friendly London itinerary will follow Russell Punter's and Dan Taylor's children's book Pussy Cat, Pussy Cat, Where Have You Been?
This book is based on the 1805 British nursery rhyme and is the perfect travel companion for your little one.  Even if you are not going on a trip to London, this book is a must! When we visit somewhere with Beckham, we want to keep the trip cultural and educational but FUN and that is what we have tried to do with this itinerary. You will notice several historical spots on the itinerary. We will give our insider tips on how to make something that might not seem so child-friendly an absolute blast for you and your family.
* For more expert tips on how to prepare your child for travel, click – 7 Ways to Prepare Children for Upcoming Trips!
Also, if you travel with kids often, you HAVE to check out this amazing post by our friends over at the C Boarding Group! They flipped the typical "traveling with kids post" on its head and got the tips from kids themselves! It is genius! See the 15 Super Awesome Kids Travel Tips – from Kids here!
Best Historical Sites in London for Kids
Tower Bridge
The Tower Bridge is unbelievable and is often mistaken by foreigners for the London Bridge. The best part is your little one can walk across the top and you can also plan your visit around the times that the bridge opens and closes to let larger ships through. If this is something your pint-sized travel buddy would like, you can check the lift times here. Beck's favorite thing about the bridge is visiting the engine rooms. Even the adults in our group found the engine rooms fascinating!
Tower of London
You can not visit London without seeing the famous White Tower of the Tower of London. Over the years, attempts have been made to make visits here more child-friendly. At certain times there are little reenactments of specific historical events that are fun for kids. One could explore the Tower of London complex for at least a full day but to keep your little ones attention we suggest sticking to the White Tower (the main building in the center of the complex), the Crown Jewels, and visiting the famous ravens, and walking across part of the fortress. There are several child-friendly exhibits in the White Tower and it is pretty engaging. And the Crown Jewels, are well, the Crown Jewels. What little girl wouldn't love to see a real-life crown and the little boys will love the swords!
Saint Paul's Cathedral
The coolest thing for children to do in Saint Paul's Cathedral is playing with sound at the base of the dome in the Whispering Gallery. Due to a fluke in construction, a whisper can be heard across on the other side of the dome. Are you going to think I am so lame if I say that even I love it?!
Trafalgar Square and the National Gallery
The ABSOLUTE best way to do a museum with kids is to have them prepared and for you to know exactly what it is that you want to see. Expecting a young child to wander around a museum for three hours, be engaged, and well behaved is just not going to happen. We have a whole post on 7 Ways to Make a Museum Visit Enjoyable for Everyone. Check out the post on how to keep the visit short, sweet, and engaging. Hint: it includes some candy and some games with the paintings. Something else to check out is the Family Programs that the National Gallery offers. These can help make your visit more informative and FUN!
Then make a visit to the stone lions guarding Nelson's statue in Trafalgar Square. Beckham loves to throw coins into the fountain and to run around and chase the birds (maybe it's more like terrorize!!!) in the grand and photo opportunistic square. There are often buskers (city approved musicians and acts) who are entertaining here. This is one of the best spots to take in the city and sit with a snack on the steps.
Westminster and Big Ben
We have heard that little ones LOVE going into the Elizabeth Tower to see the famous Big Ben and it has been at the top of Beckham's bucket list for the last year. However, when we were there last, it was closed for cleaning and so we have not actually ever done it. Let us know what you think if you have done it in the comments below! To be honest, Westminster Abbey is not the most child friendly spot on its own, but it can be if you tweak your visit a bit. Like the National Gallery, our advice is to keep the visit short and kid-friendly.
We played a game last time we were here. I had Beckham help me count all of the tombs he was walking on and at the end of the visit, we made a small donation to light some votive candles. Becks still talks about lighting candles there. Before you go, prepare your little one that this is a sacred place for some and that being quiet is important. I always try to explain the importance of lighting a prayer candle before we do it even though that is not something we do in our religion.
Visit Buckingham Palace
Oh goodness, if you can, try to get tickets to go inside. There is a super cute child friendly audio guide and what little kid doesn't want to see a REAL throne room. If you can go inside, keep the visit fast paced so the little one doesn't get bored (I mean how many opulent rooms can a little kid stand?) but this can be REALLY fun for kids. Beckham really liked it. Keep in mind that tickets to visit the interior are only available at certain times of the year.
By far, the most child friendly thing to do for kids when going to Buckingham Palace is to visit the Royal Muse nearby. Kids can visit the royal horses, see the famous cars, see what it is like to ride in a carriage, and there is even a kids area with special crafts that kids can do. It is a must do!  
Visit the Churchill War Rooms
Okay, hear me out. Visiting Winston Churchill's famous underground bunker is SOOO COOL! We have done this twice and have loved it both times. Your child might not be so fascinated by the actual bunker rooms (you will be!) but the interactive museum is VERY well done and super engaging for children, even if they don't totally understand the whole thing. I literally had to drag Beckham (who was four at the time) away from the exhibits, and there might have been some tears. If we were visiting again soon, I would plan on spending at least 2-3 hours here so Becks could play with each interactive exhibit.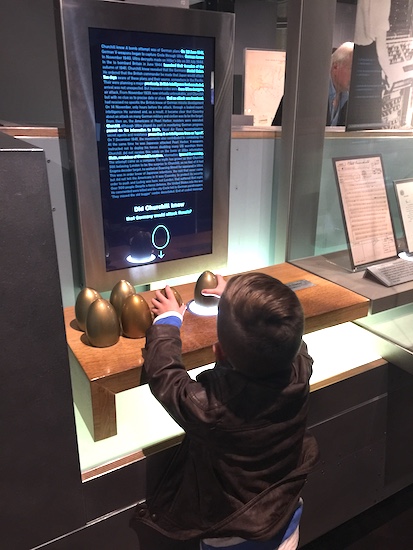 Go Be a Sailor at the HMS Belfast
This was one of Beck's MOST favorite things we did the whole time! Children get to go and explore the World War Two ship. There are areas with hands-on exhibits, we were able to see a fire shot and honestly it is a little boys heaven. There are a couple of tricky spots with some rather steep ladders that suggest children are a bit older before they go down into the boiler room but I felt like Beckham was going to be fine and he loved it.  If your little one likes ships or boats, this is an absolute must!
Other Favorite Child Friendly London Attractions and Sites
See a Play
London's West End is so fun! We have seen several productions here and have loved them all. See what child friendly plays are currently showing. We saw The Lion King on our last visit with Becks and he loved it! Another option is to visit the Globe Theatre, however, we have found these productions to be far less child friendly and we prefer the West End. Click here to see what family and kid's plays will be on when you are visiting.
See the Views
Two of the best places to get a great view of the London skyline is from the Shard and the London Eye.
Visit the Shard
You can go to the top of the famous modern Skyscraper, the Shard. The Shard is really child friendly and there are even certain times of the year (usually during half term) that children can go free. Also, make note that if you book your tickets early enough you will get a much better rate. You can see the prices here.  Be sure to download the child activity sheet before you ascend the 801 feet and have your child enter into their monthly drawing.
Go On the London Eye
The London Eye is super fun! It is like a giant glass ferris wheel. Beckham loved this and we were able to get some pretty awesome pics but the prices are a tad steep. We suggest booking a time in the evening where the lighting is fantastic and you can see the illuminated city from above. You can book your tickets here. HINT: You are going to be pressured into purchasing the Madame Tussauds, Sea Life, and Dungeon group tickets. Our advice; save your money and skip them. Stick to the London Eye.
Watch the Buskers and get Some Treats at Covent Garden
The entertainment at Covent Garden can be some of the best and the greatest part – it is totally free! We have seen jugglers, some dude who did unbelievable tricks on a ladder, someone who could bounce what seemed like 30 basketballs at once and a really cool dancer. It is unconventional, fun, and totally London. You can see the list of entertainment here. Covent Garden also has some really fun spots for ice cream and treats. We wondered, watched, and explored this area for several hours and loved it.
Visit Piccadilly Circus
Okay, this one here is totally touristy but totally fun! Piccadilly Circus feels a lot like Times Square in NYC (which we usually try to avoid) but Beckham loved it! The lights and energy here are contagious and there are several child centered stores that kids could spend hours in! In our opinion, a visit to the Lego Store is AWESOME! There are fantastic lego recreations of the major London attractions and a play area on the top floor. The store we would skip – the M&M store. Skip the US-based chocolate and go and find some Cadbury. Your sweet tooth will thank you.
Play at One of the Many Child Centered Parks
A quick google search will pop up dozens of fantastic parks in and around the city center! Instead of us telling you all about each of them, The Telegraph has a fantastic article on their top 12. If we were visiting tomorrow, we would visit Diana's Park at Kensington Gardens and play on the Peter Pan themed park or go explore the treetop adventure at Battersea Park any day!
Kid Centered London Vacation Tips
The Weather in London
The weather in the UK is notorious for being unpredictable. Prepare accordingly, especially for the little ones. Layers are key, and a rain jacket is an absolute must! We even like to have some cute little rain boots on hand. London can also get pretty muggy in the summer so I like to have a couple of lightweight pants like joggers and a couple of cute t-shirts on hand. If you are going in the cooler months, be sure to take a scarf, gloves, and a hat for your babe. If you will be taking a stroller, we suggest getting a rain cover.
Strollers and London
Speaking of strollers, London is actually relatively doable with a stroller. There are a couple of areas where stairs can be overwhelming and finding an accessible entrance is a challenge (I have yet to figure out where the accessible entrance is over by the London Eye?) When this happens, I usually just make sure I have a "buggy buddy" who can help me carry the stroller up or down the stairs. My absolute favorite travel stroller is the Maclaren Quest, full disclosure this is an expensive stroller but we have used it for FIVE YEARS and it is still kicking.
It is smooth, super lightweight, comfortable, and durable. Our Quest has been all over the world and has pushed Beckham around as a newborn, toddler, and now sometimes even as a five-year-old. (Does anyone have any ideas on how to help their child walk faster… chop chop little dude, am I right?) Maclaren also has some excellent rain covers that fit their strollers, fold up compactly and can be tucked away easily when not in use.
Where to Stay in London
Our favorite place to stay is near Westminster Bridge. It is a central location and within walking distance to many of London's top sites. We have stayed three different times in the London Marriott County Hall. The rooms have recently been renovated and are nice. The rooms are large (which is a rarity in Europe), there is an indoor pool, and the staff has always been child friendly. Again, the best thing about this hotel is the LOCATION. You will be hard pressed to find a more perfectly suited location for touring around London.
Where to Eat in London with Kids
These recommendations are totally kid-centered. These are super "foody" but these two places were Beckham's favorite and always were top notch! We will be doing Beckham's two favorite restaurants are Wahaca and the ubiquitous Pizza Express. Both have multiple locations around the city and both are yummy and VERY child friendly. Win, win!
You and your children will love our London coloring page. Click to find out more!