Hawaii is one of the most popular destinations for families in the US. With several Hawaiian islands and so many lodging possibilities, sometimes it can be a tad bit overwhelming. You have to decide which island to visit, and what resort to spend your precious time AND those hard earned dollars. Just for you, we have researched and stayed at many resorts in Hawaii with our big crew and have come up with a short-list of the best four and five star family resorts in Hawaii that will make your tropical getaway a dream!

The Best Family Resorts in Hawaii
*these are arranged alphabetically by island
The Big Island
This enormous, 1200 room, 62 acre resort provides shuttle service to get you and the troops from one end of the resort to the other.  Within the Village are pools and lagoons, a 1175-footwaterslide and even an interactive dolphin program where swimmers get up close and personal in the water with the resort's bottlenose dolphins.  Babysitting, bike rentals, a children's program (ages 5-12) are among some of the activities offered.  Kids 4 and under eat free at the resort's nine restaurants.  Children 18 and under stay free in a parent's room.
Kauai
This sprawling resort on the Garden Island sits on the stunning Poipu Beach.  Immaculately manicured green lawns are punctuated with tropical gardens and blooming flowers.  The black lava-rock lined pools and saltwater lagoon feature a 150-foot waterslide and water basketball and volleyball.  All of these things add to the Hawaiian ambiance and the non-stop adventures waiting for you.  On property, activities include ukulele lessons, hula dancing, koi fish feeding, palm frond weaving and even learning about the endangered Hawaiian Monk Seal (which we have seen out lounging on Poipu Beach).  "Parrot talk" is an interactive session with the resort's resident parrots (kids may even get to hold the bird on their arm).  Camp Hyatt is for kids 3-12.  
This well-maintained resort sits on one of the best beaches in Kauai, Kalapaki Bay.  The sand is soft and the sun plentiful.  Snorkeling, body-surfing, surf lessons and kayaking are all available in the bay right from the beach.  Kauai Resort has the single largest pool in Hawaii.  Add to that 5 jacuzzis and the family is sure to be pleased!  Waterfalls, meandering paths and ponds filled with koi fish run throughout the resort.  Marriott's activity zone offers age-appropriate kids activities.  The resort is within walking distance of many great beachside restaurants.  
CAUTION- The property is close to the airport and flights take-off and land early in the morning.  There may be some airplane noise.  It didn't bother us, but it may be enough to interrupt an otherwise peaceful escape.  
Maui
For a list of our favorite laid-back activities on Maui, click here – Things to do in Maui for Families
This resort in Wailea is huge and has all of the makings and amenities for a great family vacation.  They truly cater to families.  The property is nestled on the beautiful Wailea Beach right on the Pacific and is a great place to catch some Hawaiian sun.  The accommodations feature large rooms and many can easily connect. The aquatic playground features 9 pools on 6 different levels, a lazy river,4 waterslides, a rope swing; enough water to keep those little fishies happy.  Camp Grande is the kids and teens area with video arcade, ping-pong, foosball, air hockey, play-station and even a mini movie theatre.  For children 5-12 Camp Grande offers many fun and interactive activities.  With 7 restaurants on property (all with kids menus), this resort offers fare for everyone.
The Hyatt occupies 40 lush acres on Ka'anapali Beach; close to Whaler's Village with boutique shopping, restaurants, and bars.  It is also close to many activities right on Ka'anapali such as para-sailing.  The Keiki Lagoon features an interactive children's pool with a 25-foot waterslide, sandy beach play area, and water fountains to keep the littles delighted for days.  Beyond the designated kids' area, the property has waterfalls, a huge waterslide and great beach activities such as scuba lessons, stand-up paddleboarding and kayak tours.  Camp Hyatt is a highlight for children providing Hawaiian themed activities like hula dancing and lei making.  Part water-park. Part-zoo (with daily feeding of the tropical penguins).  This centrally located property is sure to please.  
Occupying a prominent position on the golden Ka'anapali Beach near the dramatic Black Rock, this resort has great snorkeling, diving and ocean activities right from the hotel's lovely beach.  The freshwater swimming lagoon winds through lush gardens, under small bridges and past cascading waterfalls.  Resort activities include tennis, ping-pong, ukulele lessons, hula lessons, and outrigger canoe rides.  On select nights the fun-seeking family can attend the hotel's Luau (complete with a fire-knife dance) where children ages 5 and under are free.  This resort is a very popular with families.
Oahu
On the unspoiled shores of Ko Olina lies the Grand Poobah of all family-friendly resorts in Hawaii.  If you are a lover of Disney, then this might be the place for you.  If you quickly tire of Mickey and the gang, you might want to look elsewhere.  All rooms in this property are spacious and include a mini-fridge.  There are 3 restaurants and 3 bars on property.  The water areas feature a 900-foot lazy river, man-made reef, waterslides, and a calm lagoon.   On the beach, boogie boards, sand toys, snorkel gear and paddleboards are all available (some for a fee).  The resort has a family spa, movie nights on the lawn, storytelling under the stars, character sightings and character breakfasts.  Disney, of course, delivers when it comes to family fun.
A village indeed, this huge resort is the largest resort in Hawaii with 5 room towers and 20 restaurants and bars.  It's 22 acres are positioned on a wide stretch of Waikiki Beach.  The grounds are beautiful with exotic animals like parrots, fish and turtles.  The rooms are spacious, clean and comfortable.  In addition to the long list of activities like surf lessons, luaus and kid-friendly movie nights under the stars, Camp Penguin (ages 5-12) offers storytelling, games, music, arts and crafts, lei making and even off-property excursions. The restaurant Rainbow Lanai has a special kids buffet that is sure to please even the most finicky eater.  There is enough at this resort to keep even the most active family busy.   
The Four Seasons Resorts in Hawaii 
There are 5 Four Seasons resorts throughout Hawaii that exude the feeling of Aloha!  While we won't elaborate on each of them individually here (that would make this post waaaay too long), we should mention that this brand does a great job at making families feel welcome; even down to the youngest guests.  If this luxury hotel brand is in your budget, we recommend exploring each of their properties in Hawaii (the resorts on Maui and the Big Island are especially family friendly) to see if one of them might be just right for you!  It's worth a look:)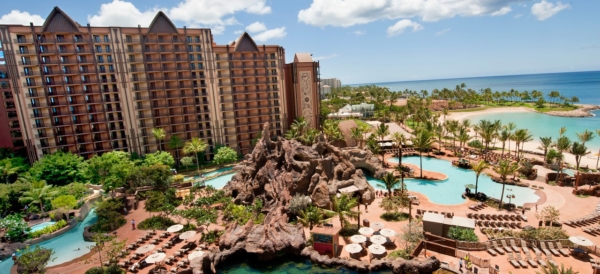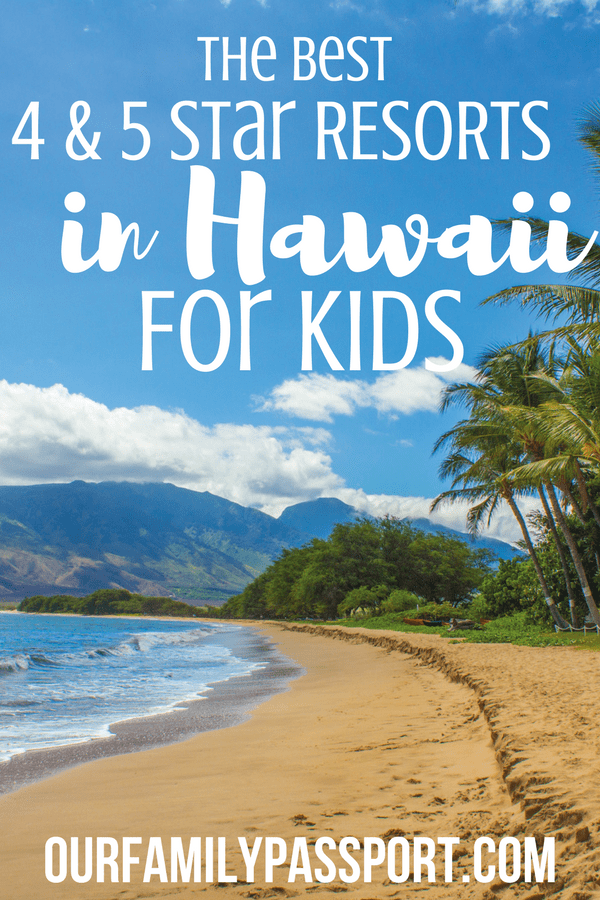 *Click to check out our beach fun Maui coloring page!