Being overwhelmed with the stress and cost of Disney can happen to the best of us! Below you will find the ultimate 10 Disney Mom Hacks You Need to Know Now so you can become a Disney Theme Park Rockstar and have the best time with your kids!
We have found Disney trips, in general, can be pretty polarizing for moms and dads. Either parents love it or they hate it because they think it is so stressful (and to be fair, it can be)! Honestly, if done right, Disney can be SUCH a fun family vacation. When we were there last, we ran into the same family about 4 times and each time the parents were a frazzled mess.
I became so interested and started really paying attention to what they were doing and guys, they really struggled! They had no idea where they were going, it looked like they were getting ready to go on some great big exodus because they were packing so much stuff with them, at one point the kids were whining/crying because they wanted a toy, and the poor parents looked miserable each time we saw them. Don't let this be you! Read on and find out how to slay your Disney trip with your family!
*Need a stress-free Disneyland Trip Itinerary? We have done the work, so you don't have too. See the Complete 4 day Disneyland Itinerary here!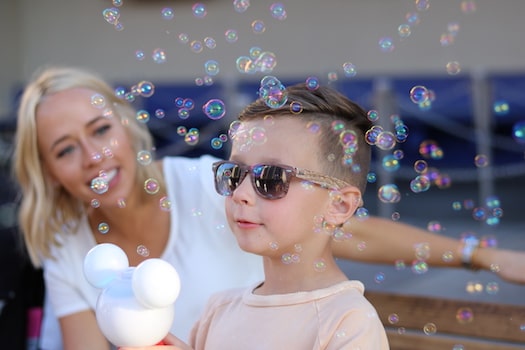 The 10 Disney Mom Hacks You Need to Know Now
Have a Plan, Get up Early, and Have a Rest!
I know this sounds counterintuitive for being less stressed, but getting to the park right when it opens makes ALL of the difference! Skip the sit-down breakfast and run to the rides first. Kids are fresh, excited, and the park is noticeably cooler and less crowded than during the afternoon.
The best part about this is that the smaller rides which don't have Genie+ or Lighting Lanes have MUCH smaller wait lines which means less waiting and more riding. WIN! When the parks start getting busier and kiddos get tired, head back to the hotel for a rest and then come back in the evening when crowds have started to dissipate and you and your children are feeling refreshed. Have a plan where you are going to eat, what rides the littles must ride, and what parks you will be visiting on what day and it will make everything all the more simple.
Be Prepared with a Good Mom Bag Equipped with Snacks, Wipes, Water, and a Quick Change of Undies for the Littles.
There are very few things that throw my little one over the edge than when he is hungry and tired. Granola bars, goldfish crackers, and a small Nalgene bottle can go a long way. I always, ALWAYS try to make sure that I have some wet wipes on hand, because gross. ANNNNDDD… I have learned the hard way that when my little one is having fun at Disney he is less likely to let me know that he needs to go potty and… anyway having 1 extra pair of undies can save the day and time running back to the hotel if a little accident occurs. The trick here is making sure that you have what you need but you don't overpack. Having to carry tons of bags around the park gets old… fast.
*One of our favorite ways to prepare Becks for a trip is a fun little countdown! We have the easiest free printable countdown that you can download here!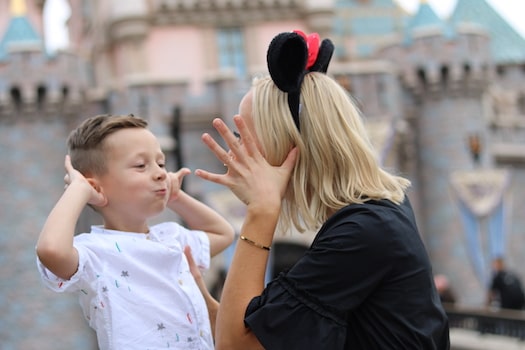 Swipe a Hand Towel from the Hotel Room Before Heading to the Park
Kids get dirty at Disney. (Um, let's be honest they get dirty everywhere!) Between the ice cream, red pizza sauce, and everything in between it is the making of a disaster. I always take a hand towel from the hotel and hang it over the edge of the stroller. Then I tuck into my little one's shirt when we are eating something messy to help eliminate the mess and then I can use it to wipe away any grubbies. At the end of the day, put it with the rest of your dirty towels in the room and a clean one will be swapped out that you can take the next day.
Bring Your Own Stroller
The Disney strollers are not very comfy and you can only use them inside of the parks. Even when staying on property, it can be a jaunt back to the hotel room and we have found that is when the littles are most tired and whiny. Having your own stroller you can use to transport them to and from the parks is the best. Also, the best part of having your own stroller is that you can carry supplies, jackets, or snacks on the stroller and you don't have to worry about keeping them with you the whole time you are in the park.
Even though Becks rarely uses his stroller I always have it with me in the park. If I know we are going to stay in a certain area of the park, I just stroller park it, and go back to it when I need it. When we have to walk a bit and head to a different area of the park, I put him in it and then stroller park it again. It is easy and nearly hassle-free. I also LOVE to have the stroller as something that he can sit in while we are waiting for a fireworks show or parade.
Worried About Your Stroller Getting Stolen??
Yes, this is a thing. I have come up with the most genius way to keep others from swiping the stroller. Are you ready for this? Don't judge, haha. I try to make the appearance of my stroller as gross as I can. So I usually hang the hand towel off the handle, stick some napkins (not used of course) coming haphazardly out of the pocket and when Beckham was in diapers I would have a few unused diapers just chilling on the stroller in rando areas. I basically do everything I can to make the stroller look like a hot mess express that basically screams – YOU DO NOT WANT ME! I have never had an issue with someone taking our stroller BUT I still do not keep anything valuable in it while I am away from it.
Stop the Whining for Treats and Toys by Putting It Into the Little One's Hands
I don't know about you, but it is highly annoying when I am getting asked to buy every last toy and treat Disney has to offer after I just forked up a crap ton of money to experience the parks. Disney is a master at making the toys as appealing to little kids as possible all the while being as expensive as possible. Instead of saying "NO" at every turn and getting annoyed with my child, we have started giving Becks a little budget for the trip. Before we go, he can earn some money and I will usually contribute 30 dollars or so to Beckham's own little trip budget.
This means Beckham has about 35 dollars for the trip. You can do this with whatever amount of money works for you and your family. He can spend this money however he wants, but once it is gone, it is gone! So when we end up in one of the gazillion shops in the park and he wants to buy everything we remind him that he only has 35 dollars and that if he spends 32 of it on a dumb spinning Buzz Lightyear toy – it is gone.
How this Trick Helps!
This helps in SO many ways: 1) It has helped Beckham start to understand the concept of the budget, 2) Anything over 35 dollars is deemed too expensive and it is a non-issue because he doesn't have the money, 3) It takes it out my hands and puts the responsibility of a souvenir on Beckham. This last time Beckham had searched the stores for what he wanted to buy, and in the end, he decided he wanted to save the rest of the money he had left for something that he was hoping to get at home. So far, the money has just ended up going back into his bank account, WIN!
*Need more money tricks for Disney? See How I Booked a Compete 4 night Disneyland Trip for Three for Under $600.00 Dollars, and How You Can Too!

Utilize the Baby Centers
Did you know that both Disneyland and Disney California Adventure have baby centers? Run out diapers? You can get one here. Worried your child has a fever, have them take his/her temperature and get him/her a dose of Tylenol or Motrin. Usually, everything that the baby center provides is free. There have been a couple of times that I have needed something and I am able to go and get some free help.
I don't rely on the baby center but I know that I can get some help if I need it. The baby center in Disneyland is right over by the Plaza Inn on Mainstreet and the baby center for DCA is back behind the boardwalk.  For a list of all of the baby centers in Disney World, you can see this link here. Another thing to note is that the bathrooms at the baby centers are MUCH larger! If you have a big blowout you need to change or need to deal with a toddler's accident, THIS is the place to go.
Protect Your Child Against Getting Lost and Have A Plan in Place if They Do
We always try to make sure that someone in the family is holding Beckham's hand at all times. Something we need to be better at is making sure we all know who has Beckham. The one time that Beckham got lost (for like 3 seconds) was when I thought Beckham's dad had him and he thought I had him while we were leaving a ride. Verbally making sure that your partner has your child when you don't can really help. Losing your child must be every mom's worst nightmare, I am sure of it. Before you head to the parks go over, and over, and over, and over about what your child needs to do if they get lost. I can't tell you how many times I have made Beckham repeat back to me what to do if he is lost.
Some Paper and a Safety Pin Can Provide Peace of Mind
Whether he will actually remember it is one thing, but I will not be the parent who sits back and assumes that something bad couldn't happen. In our family, we instruct Beckham to stay where he is and to find an employee and immediately let that employee know that he is lost and he has lost his parents. We have taught him to talk VERY loudly so other people around him can hear and we also are working on making sure that he knows our phone numbers. We also have the extremely distressing discussions about screaming and biting and yelling if someone tries to take him away or to a car. Try to go over every "stranger danger" scenario that you can.
Help your children be prepared. It might just make the difference if your child gets put into a scary situation. One of my top Disney mom hacks that you need to know is the pen and paper safety pin trick! What I do is write my name, His dad's or stepdad's name, and Beckhams Grandmas' name and all of our phone numbers on a small piece of paper and safety pin it inside his pocket so a cast member can easily reach us in the event that Beckham gets lost.
Bring a Bath Towel from the Hotel for the Parades and Fireworks
I am not trying to be rude here but seriously people if I have sat waiting for the fireworks for two hours to get a good spot you are not squishing into my space 15 minutes before the parade happens haha. Again with the hotel towels (should I be ashamed??) I take a bath towel from the room and use it to sit on when we are waiting for the shows. I don't know what it is but having that little towel gives a boundary between you and the many last-minute "squishers". Then at the end of the day, I take it back to the room, place it with the other towels that need to be laundered, and then I am done with it.
 5 Words – Baby Swap and Disney Genie+
Figure out how to maximize the Genie, Genie +, and Lightinging Lane systems. You can read a quick intro to them here. Also, the baby swap is a must and will make your life so much easier and fun! See all about using rider switch here.
Oh my Gosh, Take the Little Ones to the Bathroom Before a Big Ride
Can I just tell you how many times we had waited in almost the whole line to ride a ride and all of the sudden I hear this cute little voice say "Mommy, I need to go potty." Then we have to find a cast member, have them let us out of the exit, run to the nearest potty, then come back up the exit and just deal with all of the nonsense.
On the flip side, I was thankful he was telling me he needed to go to the potty but I started to realize that if it was a ride little dude was a little nervous about he would need to go potty. So I started being preemptive and taking him to the potty BEFORE the ride and it eliminated a whole lot of waiting and dashing to the bathroom.
What Disney camp are you in? Do you love it as a parent or think it can be a nightmare? Tell us your hacks below!!
XO,
Kam
---
Like it? Pin it!