Hello…. It is a no-brainer that the beaches in Cancun, Riviera Maya, and the Yucatan Peninsula in Mexico are FAB. U. LOUS. We love beach time as much as the next person, but my gosh, if you go to Cancun and sit on the beach the whole time you are missing out! There are so many awesome and unique things to do in and around the region surrounding Cancun. So today, we want to share the 8 Best Things to do in Cancun, Beyond the Beach…because we already know the beach is a given:)
Going on a family vacation in Mexico but not sure where to stop? See our Top 5 Reasons why Cabo San Lucas is perfect for families – Top 5 Cabo.
Cancun Quick Tips
Early Wake-Up Call
Get to the sites early, especially Chichen Itza and Tulum (and the other ruins). I know that sounds like a bummer while on vacation but believe me it is worth it. I would recommend this to everyone. This tip alone can really enhance your experience.  I felt so happy when we were walking out of Chichen Itza or Tulum, having already finished our visit and there were MOBS of people just walking in. Or when we were enjoying the famous North Beach in Isla Mujeres with only a few other people. An early wake-up call also provides some great photo opportunities as the sun will be in a better position, the heat not as intense and there are fewer people to compete with. Sounds like a win to me:)
Where We Stayed
We have stayed at many places over the years when visiting Cancun but the last few visits to the region we stayed at the fabulous Banyan Tree Mayakoba.  The accommodations, the resort, the amenities and the service were all top notch. If it is in your budget for this trip, we can recommend it highly*. It isn't a loud and raucous resort but is more subdued, quiet and upscale, and a great place for some R&R.  Families are very welcome here. One thing we loved was the complimentary bikes for getting around the sprawling resort. We had a lot of fun on those.
*To see how we budget for our trips and save up for our travel click – 10 Simple Ways to Save Money for Travel!
The 8 Best Things to do in Cancun, Beyond the Beach
1. Chichen Itza
Chichen Itza is a must. Having visited there several times before, we are always excited for a return.  Do not miss Chichen Itza. If you have time for only one day trip while in the Yucatan, it should be the Mayan ruins of Chichen Itza.  It's no WONDER that Chichen Itza is a new world WONDER! It is also a UNESCO world heritage site and will give insight into ancient Mayan culture.  It's spectacular.
2. Swim in a Cenote
So what is a cenote?  A cenote is a natural pit, or sinkhole, resulting from the collapse of limestone bedrock that exposes groundwater underneath.  There are over 5000 of them on the Yucatan Peninsula and you MUST visit one or two of them while in this region of Mexico. Cenotes were sacred to the Mayans because they were a source of water.  Cenote means "sacred well." On our last trip, we visited Selva Maya. It is a beautiful one with greenery, hanging vines, and a small waterfall. It is rather large and the water was a refreshing aquamarine color.  We aren't saying to visit this particular one necessarily but the idea is to pay a visit to at least one while you are in the area.
3. Tulum
Tulum is another worth seeing Mayan ruin site. It sits above the shimmering turquoise blue waters of the Caribbean coastline.  The site faces sunrise and the location is simply stunning. The structures within the ruin maybe aren't as impressive as the ones in Chichen Itza but the location more than makes up for it!  Just a caution… it gets very hot (there is not much shade) and very crowded. Go prepared with a hat, sunscreen, water and bug spray. The beach is nearby and it is an option to swim and hang out on the beach.  Just be prepared with a towel, swimsuit and maybe a change of clothes.
4. Visit Xel-Ha or Xcaret
The family will love a visit to either Xel-ha or Xcaret.  The best way to describe these two places is a natural amusement park to enjoy the wonders of the Yucatan Peninsula.  They have activities like snorkeling, swimming, river rafting, cave tours, zip-lines, dolphin swims, underground river floats, games and even special children's areas and activities.  They each have several restaurants. You can easily spend the entire day just lazying about in the sun or actively participating in the fun. It's all up to you, and it is all included in one price. We love a good day at one of these places:). Check out their websites and decide which one is a good fit for you and your family.  This is for sure on the list of things to do in Cancun beyond the beach.
5. Golfing
The boys in this family will love me for adding this activity to the must-dos.  The Riviera Maya has no shortage of golf courses with over a dozen of them. The most famous is probably El Camaleon Mayakoba.  It is within the Mayakoba resort about 30 miles down the coast from Cancun, is a Greg Norman design and regularly hosts PGA events. It is immaculate and oh so beautiful if you like to hit around those little white balls.  If this course is out of the price range or the distance is too far, don't fret, there are many others to choose from.
The last three are all recommendations for things to do on an excursion to and around Isla Mujeres.
6. North Beach
Okay, Okay I know we said "beyond the beach" but we just had to recommend this one as part of a day tour to Isla Mujeres. SOOO, our first recommendation is Playa Norte or North Beach in English.  It is beautiful, soft, white sand. Go early and you will pretty much be the only people on the beach with the exception of the vendors setting up for the day. Walk along the beach, play in the water, take some fun photos and enjoy the sunshine.  Stay for a little while or a long while. So much here to enjoy:)
7. Snorkel the Lighthouse
We snorkeled from a boat by a little lighthouse called El Farito.  The current was strong and we just sort of floated along without much swimming.  The water was warm and the underwater life was so beautiful. We saw all sorts of colorful fish, big ones, and little ones and also some cute little brown speckly rays.  We saw many barracuda just watching us. Some of them were quite large. There was a great variety of coral. We were hoping to see a shark or two, but we didn't.
8. MUSA Underwater Museum
Another snorkel spot:).  We visited the MUSA, which is a really cool underwater museum.  We have snorkeled in LOTS of different places and have never seen anything like this.  In an effort to recover underwater life from a recent hurricane and to encourage new coral life, there are nearly 500 life-sized sculptures submerged underwater.  Our guides told us it was at a depth of about 30 feet. They are oddly cool and a little eery at the same time. Most of the sculptures are human figures… It is located near the Los Manchones reef.  You can only snorkel here from a boat. The waves were quite large but honestly, in the water, we didn't feel them that much. The reef and the underwater museum were fascinating and we sure did love everything that we saw. 
The Best Tour Company in Cancun
The tour company we used for most of these activities was Kay Tours.  Kay Tours offer private and customized tours in this beautiful region of Mexico. We LOVED our tours with them, we loved our guides, and can recommend them without hesitation!
 Cancun Coloring Page for Kids!
One of our favorite ways to prepare for any trip is to color and talk about the things we are going to see when we are visiting. It really helps everyone (especially the little ones) to get an idea of some fun things we are going to see and they really help to get everyone excited for the trip! Click to download our Chichen Itza Printable coloring page now!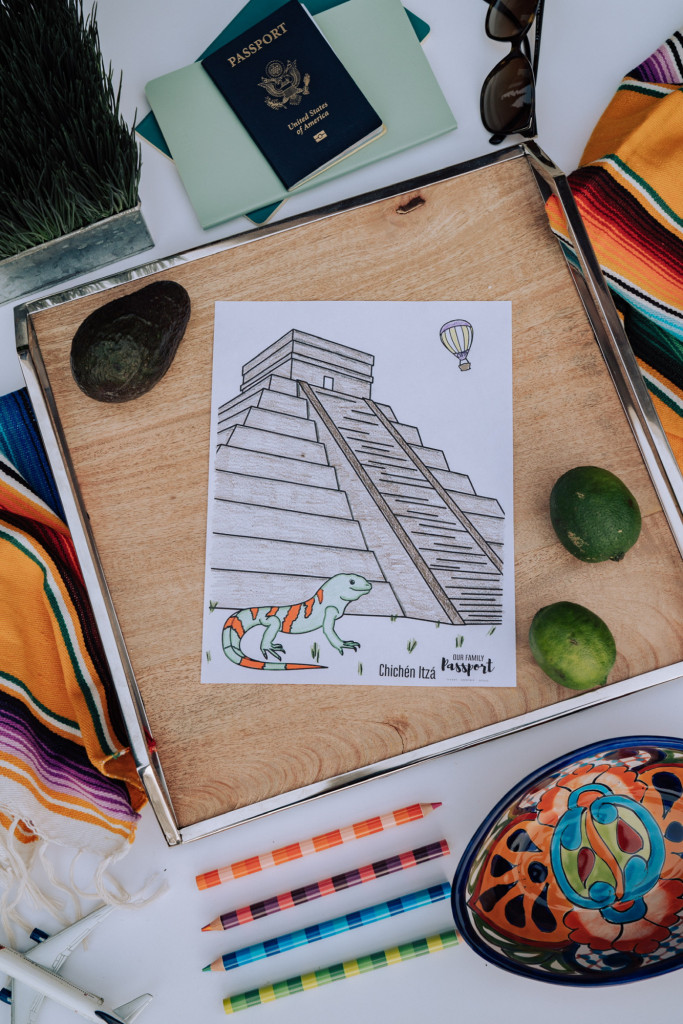 Make sure you pin this for easy planning!  AND subscribe to our newsletter to get your free #coloringtheworld starter kit, awesome itineraries and family travel tips!