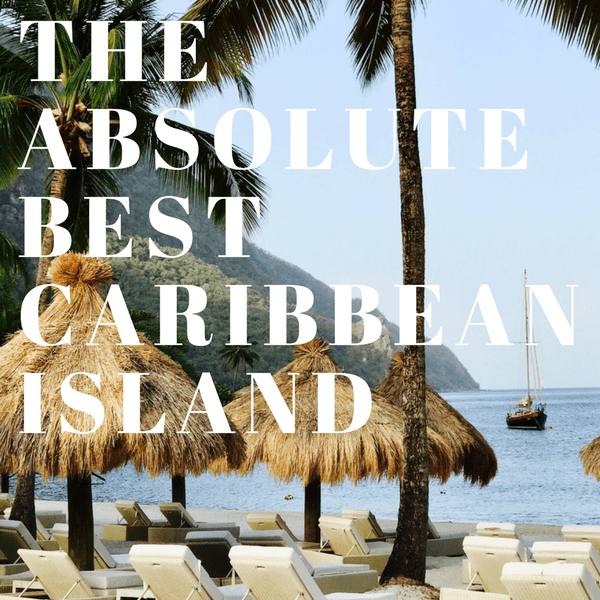 05 Feb

The Best Caribbean Island for Families AND Couples

The Caribbean offers some of the most beautiful beaches in the world. In fact, the island Antigua boasts that they have 365 beaches – a beach for every day of the year.  While the US and British Virgin Islands are some of the highest rated Caribbean Islands to visit, they do not take the top spot for me. The luxurious resorts and white sand beaches are beautiful but my top Caribbean pick is… drum roll, please… Saint Lucia. In our opinion, Saint Lucia is the best Caribbean island for families and couples.

Something that I feel like Saint Lucia offers that many other Caribbean islands do not, is a glimpse into a less touristy way of Caribbean life. Not to mention the Pitons of Saint Lucia are absolutely breathtaking. Because Saint Lucia is typically harder to get to than some of the more popular Caribbean destinations it seems more rugged and real. Matt Meltzer over at The Thrillist gives a great narrative on his experience on Saint Lucia. It is delightfully funny and will leave you wanting more.

Below is a list of why Saint Lucia is the best Caribbean island for families and couples (in our opinion) and the island that we would pick if we were to go to the Caribbean tomorrow.
8 Reasons Why Saint Lucia Rocks
The Pitons
I am serious, these are hard to beat. Like comparable to the mountains of Tahiti. They are two dormant volcanic cones sticking up out of the island, like gorgeous flora covered pyramids. I sat and wondered how something so striking could have been formed and wished I could have witnessed the volcanic activity that had formed them. They really are breathtaking. Jalousie Beach is a beautiful little beach nestled between them and provides for some good snorkeling – if you have a hard time pronouncing it you can use it's slang name – Sugar Beach.  
The People  
Every person we encountered was so genuine. Because Saint Lucia gained independence from Britain in 1979 after being a pawn between British and French control for hundreds of years the people are proud of their island and the self-governance provides for a different feeling than many of the other Caribbean islands which are still territories to larger sovereign states.  
The Geological Features
Not only can you visit and hike one of the Pitons, you can also take a visit to the sulfur springs and have a sulfur mud bath. There is also a mountain range at the center of the island which provides for a fantastic hiking experience to the highest point in the West Indies.
The Beaches!!
St. Lucia offers some excellent beaches. While the sand on the beaches might not be quite as soft as those on Barbados or Aruba, the views are spectacular all around the island and there are even several black sand beaches which you can visit. My recommended beach is Pigeon Island Beach. It is beautiful with lots of soft honey-colored sand but isn't as busy as some of the other more popular beaches. There is also the excellent Pigeon Island National Park nearby that you can visit.  
The Wildlife and Agriculture
My problem with some of the other Caribbean islands is that besides beautiful beaches there isn't a whole lot to see and do. This is not the case here. The wildlife is outstanding ranging from giant toads to Manatees! See Beaches Magazine's list of their top ten on Saint Lucia – 10 Amazing Creatures Found on Saint Lucia.
Adrenaline Junkie Experiences
It provides for some serious adrenaline pumping activities. You can zip line, bungee jump, ride 4x4s, jet ski, parachute jump, deep sea fish and of course scuba dive.  (Of course; before booking any of these activities make sure to understand the risks, read the reviews, look at the qualifications required and make sure that you have safe travel practices.)
The Best Tours
One of my favorite tours, I have ever taken in the Caribbean is based in Saint Lucia. If you can, request Bumpy – he is hilarious!
Romance
If it's romance you are after, this island oozes romance.  On one trip here, my husband and I came for a quiet getaway.  We stayed at the Viceroy Sugar Beach Resort.  We took a private catamaran out on the ocean and admired the island from the water, spent time as a couple in the spa, sat for days and read books on our balcony overlooking the ocean, took walks together on the beach, enjoyed lots of great food, marveled as the rain poured and poured and then gave way to lush green beauty, and sat on the little beach between the Pitons and enjoyed the incredible view.  Again, this island is one of my favorites for the scenery, natural beauty AND romance.
A Few Planning Recommendations for Saint Lucia
Where to Stay in Saint Lucia
Where to Eat
The Mango Tree
The Bayside Restaurant
Tours to Book
Island Tour – Cosol Tours
Photo Safari Tour – St. Lucia by Kirk
Catamaran Tour – Mystic Man Tours
A Quick Tip 
The best way to see the island is from the water. The roads are twisty and extremely rugged – which gives the island some of its charm – however, I always love going somewhere which I can experience a mode of travel that I am not as used to. I find that it aids in the experience. For those of you that are prone to motion sickness, make sure that you have some Dramamine on hand and avoid any long trips in the car. We had at least two different vomiting disasters- it isn't a true vacation until someone throws up right?
Where is your favorite island? What makes it your favorite? As always, let me know below!
-Shani
*For more island planning, see our post on Moorea in French Polynesia