Do you want to go to Peru and visit Machu Picchu on points and miles? Guess what, you totally can, and this guide has got you covered!
As one of the most visited South American destinations, Machu Picchu, the 15th-century Inca citadel located in Peru, is one of the most iconic sights in the world and is at the top of many bucket lists! With a little bit of planning and a savvy points and miles strategy, you can visit Machu Picchu for a fraction of the normal cost. In this guide, we'll show you how to make your dream trip to Peru come true without breaking the bank.
In this article, we'll…
Cover some of the best ways to find an awesome award ticket on flights from the US to Peru using points and miles
Show you the very best places to stay on points in Cusco, and the Sacred Valley
Go over the best way to get Machu Picchu tickets, train tickets, and bus tickets on points
Plus, we'll talk about how the ticketing system for Machu Picchu works!
So let's get started – it's time for a bucket list trip of a lifetime! Here is your Ultimate Guide to Visiting Machu Picchu on points and miles.
New to Points and Miles? Check out our Travel Hacking 101 article here and download our free Crash Course for Points and Miles here!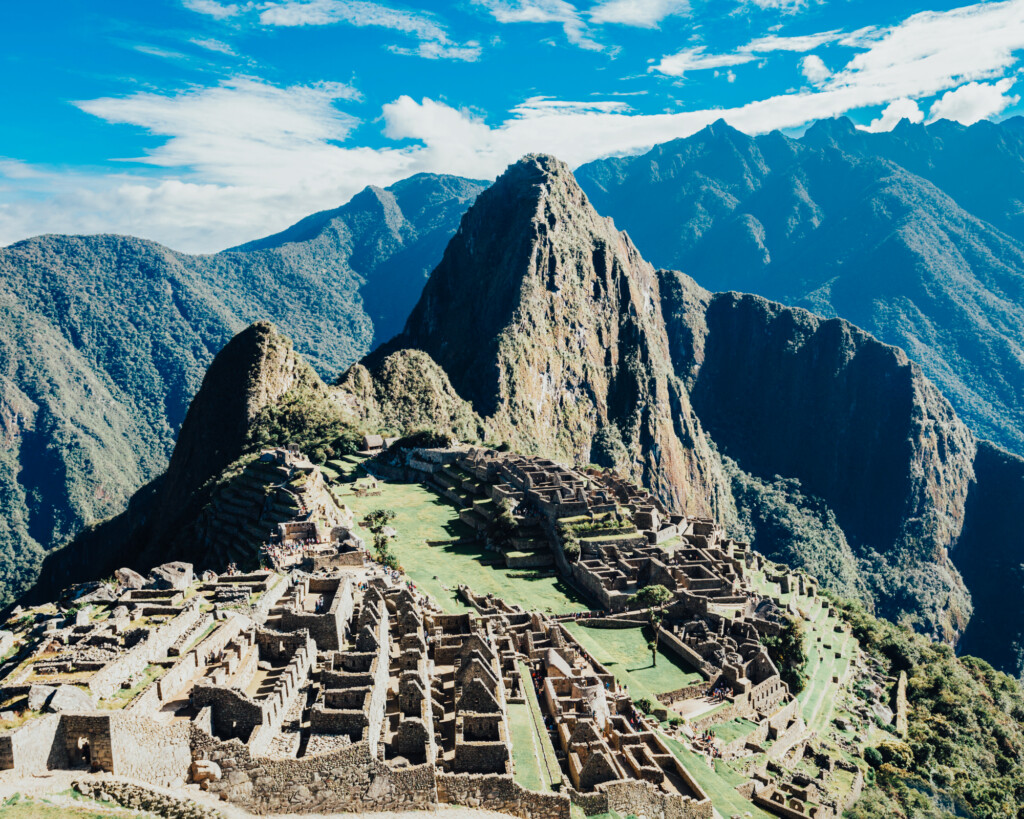 Flying to Peru on Points & Miles
There are quite a few great options for getting cheap flights to Peru on your credit card airline miles! In this guide, we're going to focus on the non-stop daily flights from the United States to Lima. If you don't depart from one of the airports we list below, that is fine! Just know most airports you fly from will most likely connect through one of the options!
For example, we booked our roundtrip flights from SLC to LIM through Delta for a LATAM-operated flight. Each round-trip flight goes through LAX. This means we'll fly from SLC, have a layover in LAX, and then get on a LATAM flight to Lima. And then we'll be flying the same itinerary in reverse home. This is totally normal.
Interested to learn more about connecting flights and hubs and focus cities? You can check out our post on how airline hubs and focus cities work here!
A note about flying directly to Cusco:
It's nearly impossible to fly anywhere from the US non-stop to Cusco so this can make finding an award flight directly to Cusco tricky. One of the best ways to make the most of your points and miles is to fly into the major international airport in Lima, stay a night or two, and then depart from the Lima airport and fly on to Cusco the next morning. You can book these Lima to Cusco domestic flights either on LATAM or another regional airline. We opted to pay cash for our short flights from Lima to Cusco and booked them directly through LATAM. When we did the math, it didn't make sense to use a lot of points for flights to Cusco. So we booked domestic flights from Lima to Cusco for less than $50 for each of our one-way tickets.
Direct Flights from the United States to Lima that you can book on points and miles!
Seven major international airports in the US operate direct flights to Lima. We're going to cover each of them a little bit and talk about what kind of redemption rates you can expect and what airlines are the best options at each airport! It can be helpful to know the airport you'll most likely be traveling through and what airline you'll be using when you are planning out your points and miles strategy for Peru. Don't forget that sometimes airfare availability can be limited, so give yourself plenty of time as you do your award searches to find your flights.
Direct JetBlue Flights from Fort Lauderdale to Lima
JetBlue flights out of Fort Lauderdale are a STEAL. Depending on the time of year, you can get them for as low as 8k miles each way (or less!). This is an insane deal if you are a JetBlue fan and live on the East Coast!
Transferring points to JetBlue? Curious about which credit card points can be transferred? Check out our Transferring Guide and get our Transfer Partner Cheat Sheets here!
Our Favorite Cards that Earn JetBlue TrueBlue Miles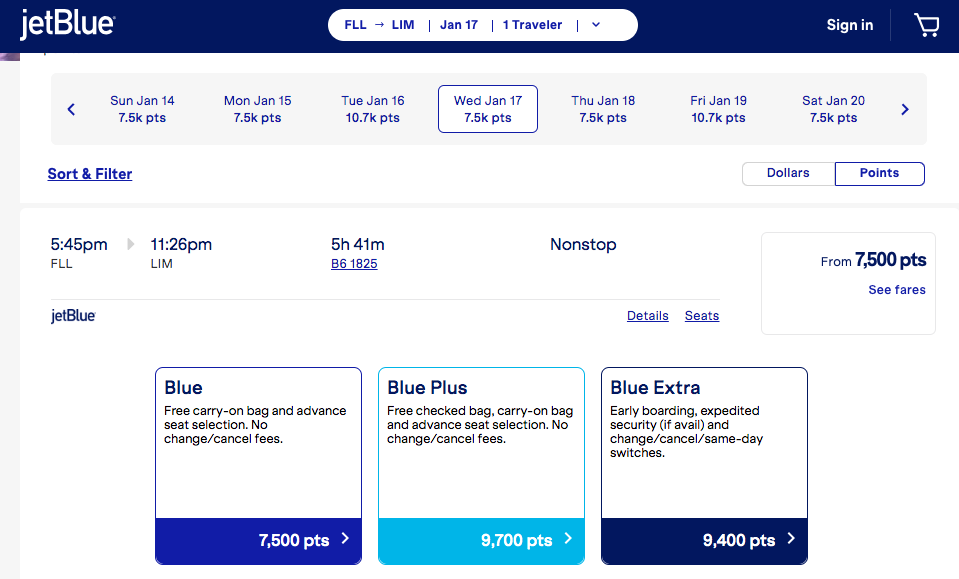 Direct American Airlines Flights from Miami to Lima
You can book LATAM-operated flights through American Airlines out of Miami and they can go for as low as 20k AAdvantage Miles each way or 40k miles round trip! If you give yourself enough time are able to find award space, you can score business class flights out of Miami for as low as 30k miles!
A note about LATAM Airlines:
This Chilean-based airline is the largest Latin American airline so you will notice that many of these flights will be operated by LATAM  Airlines even if they are booked through a major US airline. Because American Airlines is a OneWorld Partner, you can occasionally find award tickets to Peru using British Airways Avios as well!
Our Favorite Cards that Earn American Airlines AAdvantage Miles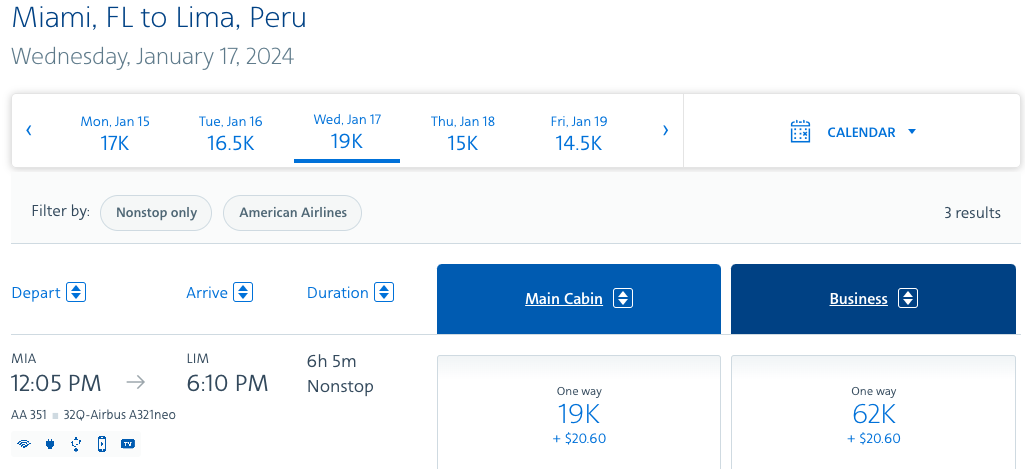 Direct Delta Flights from Atlanta to Lima
Delta booked but LATAM-operated flights out of Atlanta usually start at 20k points each way and can be more depending on the time of year. As you can see from the redemption below, connecting through Atlanta isn't a bad option either. The current flights out of Salt Lake City that connect in JFK are below. They go from 27k miles each way! This is a pretty decent and standard redemption with a good value per point.
Direct Delta Flights from JFK to Lima
You can score Delta-booked and LATAM-operated flights out of JFK for as low as 20k miles each way. A standard main economy redemption as seen below is about 60k miles round trip (so 30k miles one way).
Our Favorite Cards that Earn Delta SkyMiles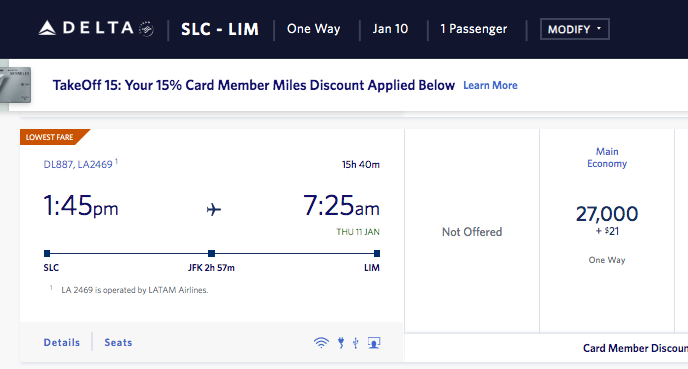 Direct United Flights from Newark to Lima
If you prefer United Airlines, have a bunch of Chase Ultimate Rewards points to use, live on the East Coast, and are okay with a layover, then going through or departing from EWR instead of JFK is your best bet! Here you will find United flights that go direct to Lima for around 44k miles each way.
A Note About United Airlines & Flights to Peru
United Airlines is NOT partnered with LATAM which is why their redemptions are a bit more than some of the other options. If you are open to branching out of United Airlines for your flight to Peru it may be advantageous to your point and mile bottom line. However, while using your United Miles for economy flights to Peru is going to cost more than some of the other airlines, their business class flights are often priced lower. So if you are looking for business-class deals, United may be where you want to stay!
Hot Tip:
Although you won't find LATAM flights booked through United, there is another option if you are interested in looking at alliances. United is part of the Star Alliance and is partnered with Avianca. You can find international flights from the United States going through either Bogota or San Salvador and then onto Lima.
Direct United Airlines Flights from Houston to Lima
You can book these direct United flights from IAH to LIM for about 30k miles each way.
Our Favorite Cards that Earn United MileagePlus Miles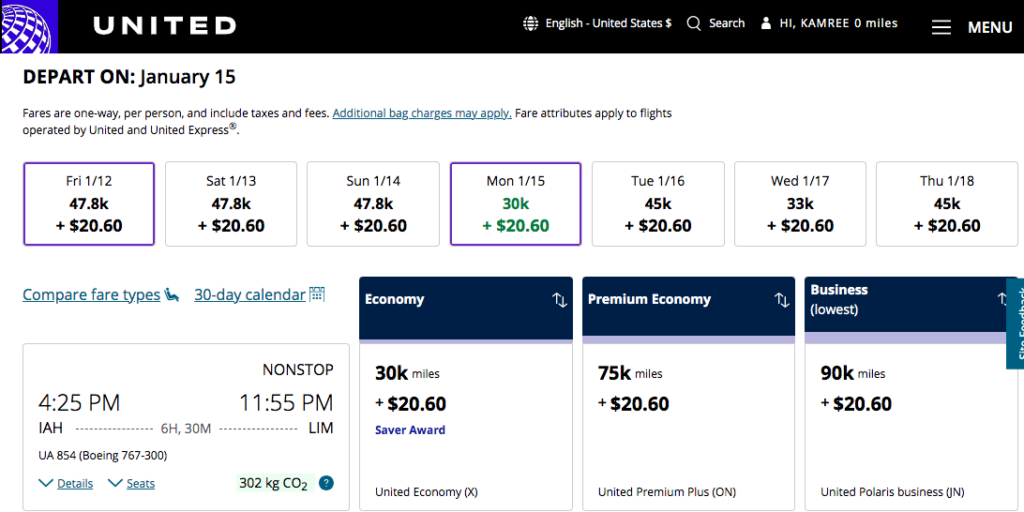 Direct Alaska Airline Flights from Los Angeles to Lima
Believe it or not, one of the best options out of the West Coast is flying out of LAX on LATAM flights and booking through Alaska Airlines. You can book these flights through Alaska for about 30k miles one way!
Our Favorite Cards that Earn Alaska Mileage Plan Miles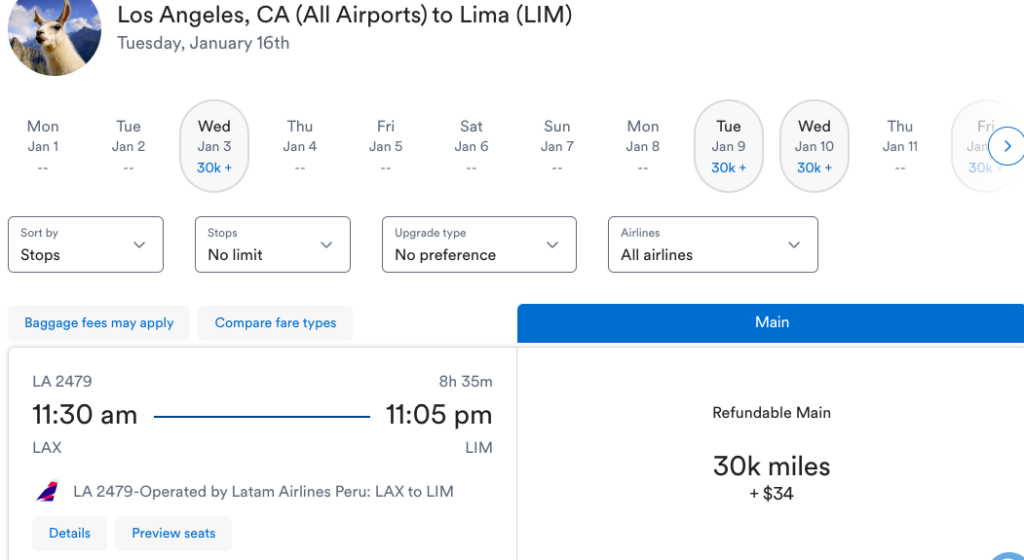 Where to Stay in Peru when Visiting Machu Picchu on Points
While there is a myriad of options across different hotel chains and brands in Lima, when you get out to Cusco and the Sacred Valley, Marriott holds the monopoly. There is one Hilton option (although we'll argue this might not be the best bang for your points) and the rest of the hotel-branded options that can be booked on points are going to be Marriott properties. This can be bad news for Hyatt fans but don't despair. The Marriott properties in Cusco and the Sacred Valley are gorgeous, luxe, and reasonably priced in regard to redemptions.
The Marriott Bonvoy Reward System
We're going to do a quick coverage of credit card products that are offered with Marriott Bonvoy. Marriott has the largest global footprint and is a co-branded partner of two major credit card issuers, Chase and American Express. This is great because you can pool your Marriott Bonvoy points earned through your Marriott Bonvoy co-branded cards with both Chase Ultimate Rewards and American Express Membership Rewards. This means that for eligible purchases across multiple cards, you can easily earn Marriott Bonovy Points that can be used for your stay. You can also use a Marriott Free Night Award Certificate on all of these different Marriott Properties listed below. A Marriott Free Night Award Certificate is a certificate that you receive annually every calendar year when holding specific Marriott Credit Cards.
​Our Favorite Marriott Bonvoy Credit Cards
A note about Marriott and the 5th-Night Free Award Bookings
One of the best ways to make the most of your Marriott hotel stays is to take advantage of Marriott's 5th Night Free program when booking awards. This means that if you stay for 5 nights on points, you'll only pay for 4. This can be huge. Because of this, we suggest staying 5 nights when you are booking a stay in Cusco or the Sacred Valley on points so you can take advantage of a free night.
Marriott's Dynamic Pricing Model
Keep in mind when you are searching for your stay that Marriott ditched their award chart in March of 2022. Since then they have worked from a "dynamic pricing" model. This means there can be fluctuations and a huge difference in the redemption amounts. They can change depending on high-season dates and demand. In this guide, we will show you what a standard redemption amount for each property looks like. Just know that there will be some fluctuation depending on the time of year you are visiting.
Palacio del Inka, A Luxury Collection Property
This historical mansion turned Marriott hotel is conveniently located across the street from one of the most popular attractions in town the Cusco Cathedral. The hotel offers an impeccable blend of modern comforts and ancient Incan heritage.  The luxurious rooms and suites are packed with modern amenities and Incan touches that offer an unforgettable stay for all guests. Make sure you take advantage of the various facilities and services, from the spa to the swimming pool and fitness center, as well as restaurants serving delicious local cuisine. Palacio del Inka promises a unique and luxurious stay in Cusco and usually has the lowest redemption rates.
For those looking to truly immerse themselves in the Incan culture, Palacio del Inka offers a variety of amenities and services that explore the local culture. From guided tours of nearby archaeological sites to cooking classes with local chefs showcasing traditional recipes. Guests can also experience authentic Andean music performances and visit local artisanal markets.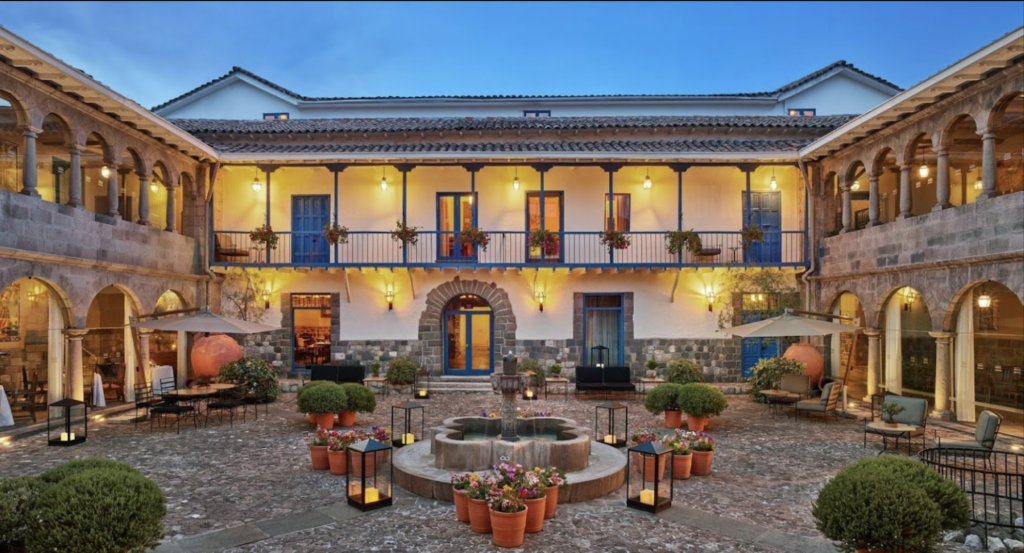 Palacio del Inka, A Luxury Collection Property Point Rates
Standard Rates hover around 210k total points for 5 nights. However, you can find 5-night stays for as low as 172k points total.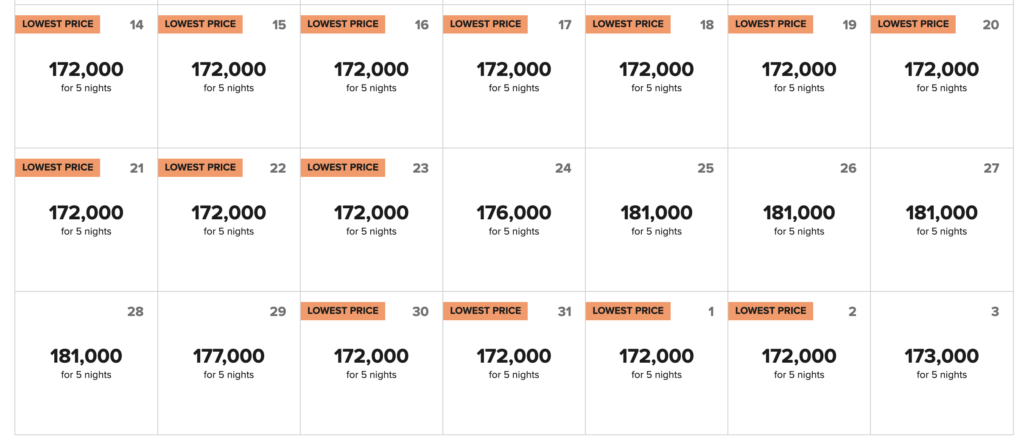 JW Marriott El Convento Cusco
The JW Marriott El Convento Cusco is a great option for an amazing stay in the heart of Cusco, Peru. This luxurious 5-star hotel offers spectacular views, renovated rooms, halls filled with ancient Peruvian artifacts, and unmatched hospitality to its guests. The rooms come in various sizes, ranging from connecting double rooms for families to suites with private balconies to rooms surrounded by an ancient Incan wall. Amenities like a spa, fitness center, swimming pool, and an onsite restaurant provide guests with the ultimate luxury experience.
If you're looking for an excellent place to explore the area, El Convento is located in the historic center of Cusco with popular attractions nearby. Visit the vibrant and colorful San Blas neighborhood or take in breathtaking views from one of the cathedrals. You can also head to Plaza de Armas, where you'll find historic colonial-style buildings and lively street performers.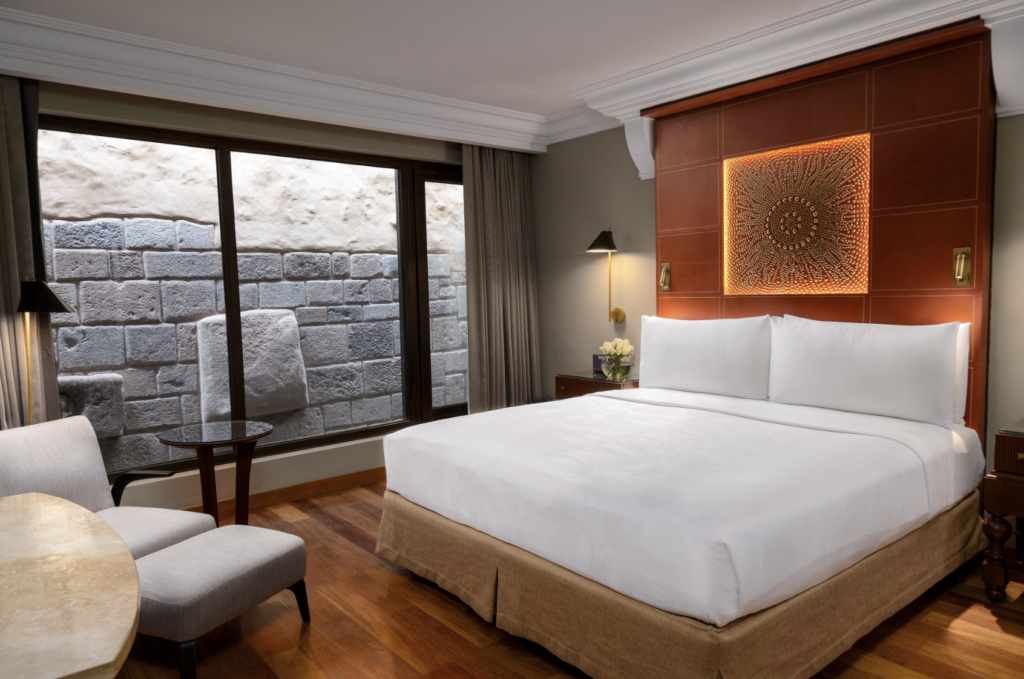 JW Marriott El Convento Cusco Point Rates
Standard rates are around 245k total points for a 5-night stay. However, you can easily find 5-night stays for as low as 196k points total.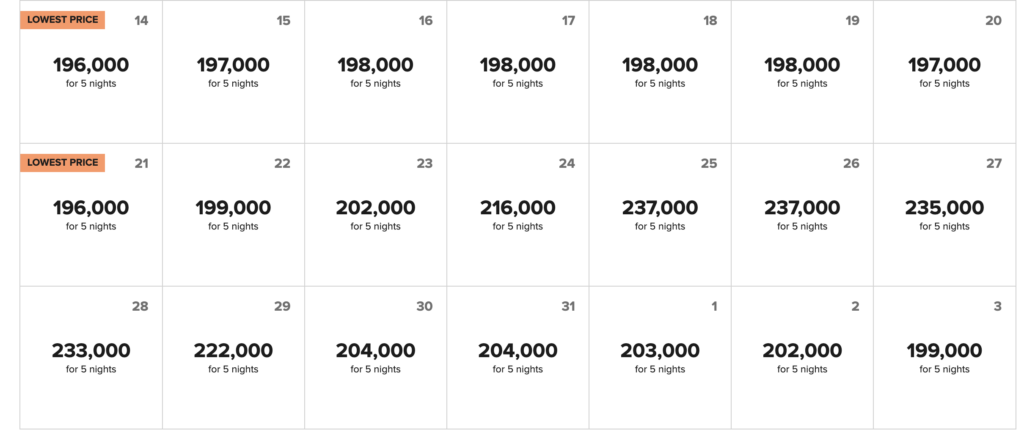 ​Tambo Del Inka, A Luxury Collection
Tambo del Inka Hotel is a Marriott Property located away from the hustle and bustle of Cusco. Instead is situated in the quiet area of Urubamba in the heart of the Sacred Valley. It is a luxurious hotel surrounded by majestic mountains and countryside scenery, which makes it an ideal place to stay for those looking for a blend of understated luxury and adventure. The hotel also offers private train transfers from on property to Aguas Calientes, where visitors can take a quick bus up to Machu Picchu.
The property features a spa, pool, and fitness center with yoga classes to ensure complete relaxation. Guests can also indulge in delicious dining options at four restaurants on the premises, serving local and international cuisine. The rooms are individually decorated with luxurious furniture and amenities, with terraces that overlook the surrounding mountains. The hotel also offers adventures and activities that include roundtrip train tickets to Machu Picchu, guided tours of the area, and other activities such as horseback riding, zip-lining, cooking classes, and white water rafting.
For those seeking a truly luxurious retreat in the Sacred Valley of Peru, Tambo del Inka Hotel is the perfect destination. With its five-star amenities, private train transfers, and stunning views of the Andes mountains, this hotel will provide a truly unforgettable experience.
Hot tip:
This is the hotel we booked for our stay and it is AMAZING! It is a little more tranquil than the other two Marriott properties. It's about an hour and a half away from the Cusco airport, so you'll want to build in some travel time if you choose this property. Something else to note is that Cusco has a higher elevation than even Machu Picchu which means that staying in Cusco can be rough for those who are prone to altitude sickness. One of the reasons we choose to stay in Urumbaba is that it has a lower altitude than Cusco so you don't need to spend a ton of time adjusting.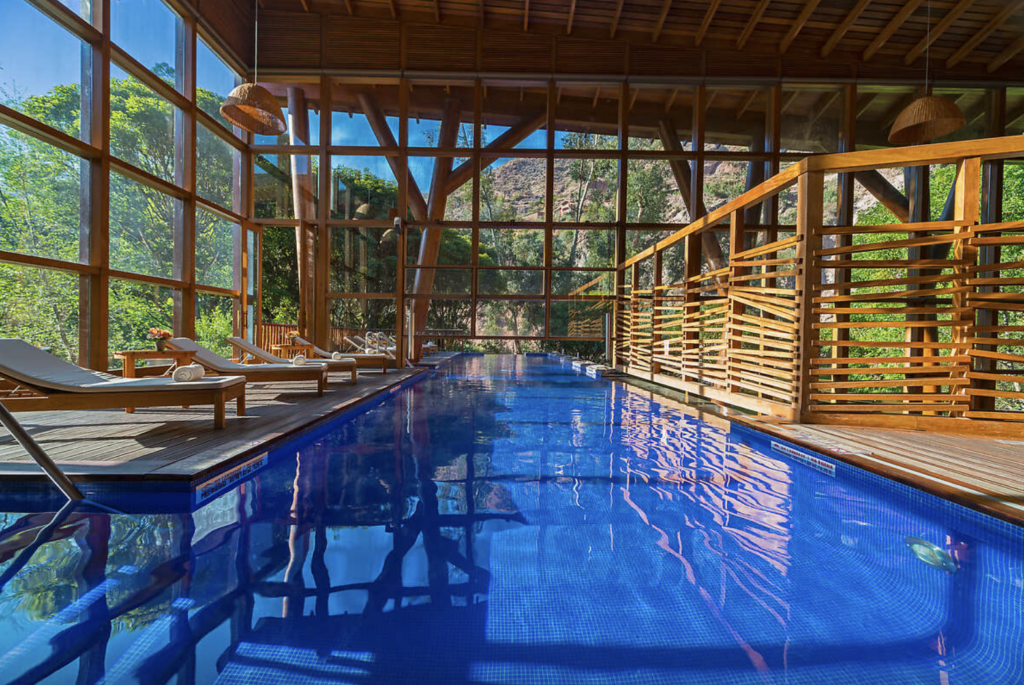 Tambo Del Inka, A Luxury Collection Property Point Rates
The standard rates for a 5-night stay at Tambo Del Inka, are going to start at 235k points. However, you can find points for as low as 180k points for 5 nights.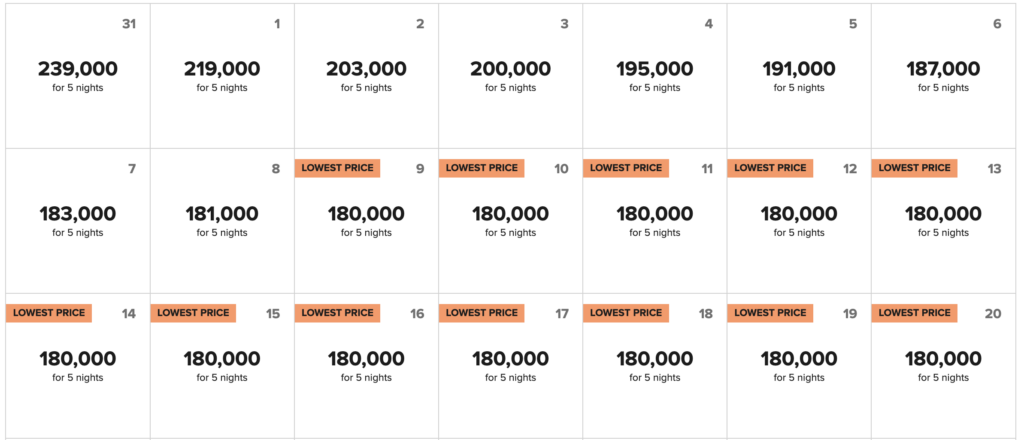 Visiting Machu Picchu and Getting Your Machu Picchu Tickets
Navigating the ticketing, train, and bus system to visit Machu Picchu isn't the easiest.
So this section of the guide is going to cover…
The train and bus tickets that you need to get for your visit
The sites to use to book your transportation and Machu Picchu tickets
How you can use your points and miles to cover part of your Machu Picchu ticket costs
A quick review of how to get to Machu Picchu
There are several different ways you can access Machu Picchu. You can take the world-famous but grueling multi-day hike on the Inca Trail or you can use the train and bus system to take a day trip to Machu Picchu. This guide covers how to visit Macchu Pichu as part of an amazing day trip. If you are looking for info about hiking the full Inca Trail, check out an amazing Hiking the Inca Trail Guide here!
Visiting Macchu Pichu via Train and Bus
Regardless of whether you are staying in Cusco, Urumbaba, or Ollyetatembo, you'll need to take a train ride to the Aguas Calientes train station. There are several different train lines that operate daily from multiple spots along the Sacred Valley to the Aguas Calientes station. Then, from the Aguas Calientes station, you'll have the option to either hike to the Machu Picchu entrance or take a 30-minute bus ride.
For our trip, we opted to leave on the earliest train departing at 4:30 a.m. Then catch the bus from the train station to the entrance. In our opinion, the best time to visit Macchu Pichu is at that earliest time slot in the morning because crowds are the most minimal. We promise you'll be glad that you woke up early to get there before everyone else does!
Booking your Train and Bus Ticket
It is HIGHLY recommended that you book your train and bus tickets in advance, particularly during peak season. You can book either two one-way or round-trip ticket depending on the rail line you want to take or the times you are looking for.
Booking your Train and Bus Ticket with Points
If you have a Capital One card that earns Venture Miles you can easily use your points to cover the cost of your train and bus tickets if they are booked in advance. All you need to do is make sure that you use your Capital One card on your booking and then erase your ticket purchase with your miles inside of your Capital One account. We suggest booking your train tickets directly through either PeruRail or IncaRail. Both of these will code as travel so the Capital One erase feature is easy to use. To book your bus ticket we found success with PeruWays.
Booking Your Machu Picchu Tickets
Regardless of the time of year that you visit Machu Picchu it is imperative that you are aware of how the system works, have your tickets in advance, and have your passport to show proof of identification. People are often notoriously turned away at the entrance if they haven't taken the correct steps and don't have the right tickets.
There are two ways you can book your Machu Picchu Tickets.
Using the Peruvian Government Website or Third Party Sites​
You can book through the official Peruvian Government Ministry of Culture website here. This is the cheapest and most legitimate option. It is also the most confusing. The site is mostly in Spanish and is very hard to navigate. Or you can book through a verified third-party site. The third-party site we recommend is PeruWays. However, Machu Picchu tickets on third-party sites are going to be more expensive. When you book your ticket, you'll select both the arrival time slot as well as what circuit you want to visit.  For our trip, we chose to arrive as early as we could and hike the strenuous but unreal Huayna Picchu circuit first and then go visit Circuit 2. Circuit 2 is arguably the best circuit for the iconic Machu Picchu sites.
Hot tip:
Because my husband is fluent in Spanish, we opted to book our tickets through the Peruvian Government website. However, this website does not code as travel. This means you can not use points to book this type of ticket. Had I been booking on my own without his help, I don't think there is any way I would have been able to figure out the booking process on this site.
If you want to use points to cover your Machu Picchu ticket
If you want to use points to cover the cost of your Machu Picchu ticket, you must book through a third party. Two examples are PeruWays and GetYourGuide.  Both these sites will code as travel and allow you to erase your ticket costs through the Capital One erase feature!
Machu Picchu on Points and Miles Conclusion
Visiting Machu Picchu is truly a once-in-a-lifetime experience. Thankfully it can be achievable by leveraging your points and miles! Which is nothing short of amazing! As you can see through strategic planning and smart use of credit card rewards, airline miles, and hotel points, the financial burden of this adventure can be significantly reduced. Remember that every point and mile saved brings you one step closer to the panoramic views and rich history of Machu Picchu, making your dream trip an achievable reality.