Have you ever dreamed of experiencing the great outdoors without sacrificing comfort? What about doing it for nearly free or steeply discounted?! If you answered yes to these questions, then glamping on points and miles is one of the best ways to explore America's beautiful national parks. This luxurious form of camping allows you to enjoy stunning scenery, while also indulging in amenities like plush bedding, onsite activities, en suite bathrooms, and more. Not to mention you get the camping experience without any of the work or cleanup!  
I'm not a camper at all, but I have found that I actually quite enjoy glamping with my crew. If you are an uncamper like me or if you want to level up your camping game then you will most likely love glamping! 
In this article…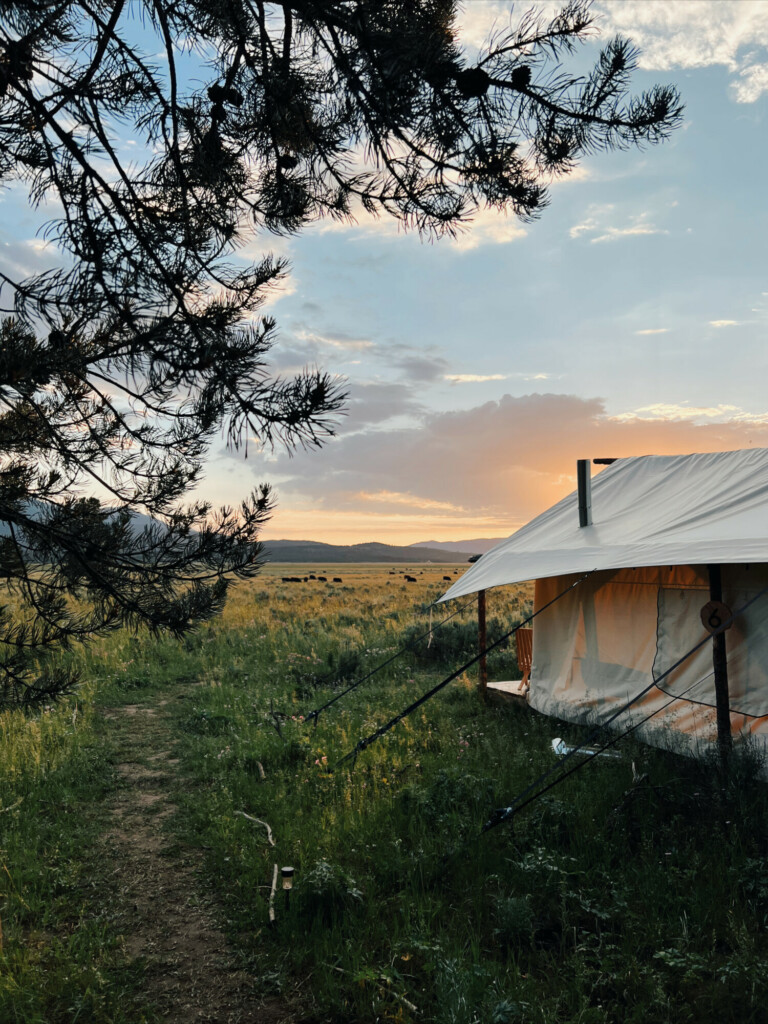 New to Points and Miles?
Don't fret, we've got your back! Check out our Start Here Post and be sure to download our FREE Beginners Crash Course Guide to Points and Miles! These resources will give you the leg up you need to get started and will answer the most common questions that are associated with reward travel!
Glamping on Points and Miles: How to Earn and Book a Glamping Stay 
One common misconception about glamping is that it's prohibitively expensive. While it's true that many glamping resorts are on the pricier side, you can easily book glamping stays at a steep discount or for free by using your points and miles! Our favorite way to book our glamping stays for nearly free is by using our points earned through our Capital One Venture or Capital One Venture X Card to "erase" our glamping stay! 
Doing this is super simple! 
Erasing Your Purchase: Glamping on Points and Miles Step by Step
1.Apply for either the Venture or Venture X credit card.

These cards are some of the best in the business because they are incredibly easy to use and you will earn 2x the points on every purchase! This means for each dollar that you spend, you'll receive 2 points back! So let's say you spend $500 at Costco once a month on your bulk family groceries. If you use your Capital One card that's 1,000 points! When you apply, you'll also receive what is known as a welcome bonus! These welcome bonuses are amazing and can help fund a LARGE part of your glamping stay. The welcome bonuses for the Venture cards are 75,000 points! You can learn more about each of these cards and apply below.
*if you end up applying, that you SO much for using my links. It comes at no extra cost to you, and I always list the highest current offers. When you use my links it supports my small business. THANK YOU! 

2. Use your Capital One credit card like you would your debit card.
Use it to pay for your groceries, gas, babysitters, utilities, etc. Just make sure that you are paying your card off in full, on time, every time! This way you aren't carrying a balance, or accruing interest but instead getting free travel! 
3. Watch your points accumulate and rack up!

As you use your card on nearly every purchase and pay it off monthly, you'll see that earning points is easier than you might think!
4. Find and book your glamping stay like normal.
You can book either through the glamping provider directly or through a third party. Most glamping stays cross-list on sites like Airbnb, VRBO, Booking.com, or Hotels.com. I like to do a cross-comparison on the price and book through whatever site is cheapest! The important part is making sure the purchase codes as "travel" with Capital One. So if you aren't sure if booking direct will code as travel, you can reach out via secure message to capital one or you can book through Airbnb and VRBO as they code as travel.
5. Pay for the stay with your Capital One Venture card.
This step is REALLY important! If you want to be able to "erase" your purchase you'll need to make sure that you make the purchase with your Capital One Venture card.
6. Erase your stay!
Once you pay for your glamping stay on your Capital One card, log into your Capital One account online, and erase your purchase with your points!* Every 100 Capital One Miles will erase a dollar. That might sound like a lot but considering that you'll get 75,000 miles right off the bat, those points can go pretty far! 
That's it! Your stay costs will be deducted from your credit card statement and you've just booked a free glamping stay with points! Using the Captial One erase feature you can also cover part of the costs. So if you want to only cover 50% of your stay with points you can do that as well! You'll just determine what you want to cover when you are in your account!
*Expert tip: Credit Card Codes
It is important that your purchase codes as "travel" with Capital One. So if you aren't sure if booking direct will code as travel, you can reach out via secure message to Capital One before you book to make sure it will code correctly, or you can book through Airbnb, VRBO or a third party booking site like Booking.com or Hotels.com as they all code as travel. 
Some of the best glamping stays and locations in America!
We've rounded up some of the best glamping destinations at the ten most popular national parks in the country! Each of these glamping locations can be booked with points, offer unmatched comfort, are within easy distance to the national park, and provide an adventurous and unique stay!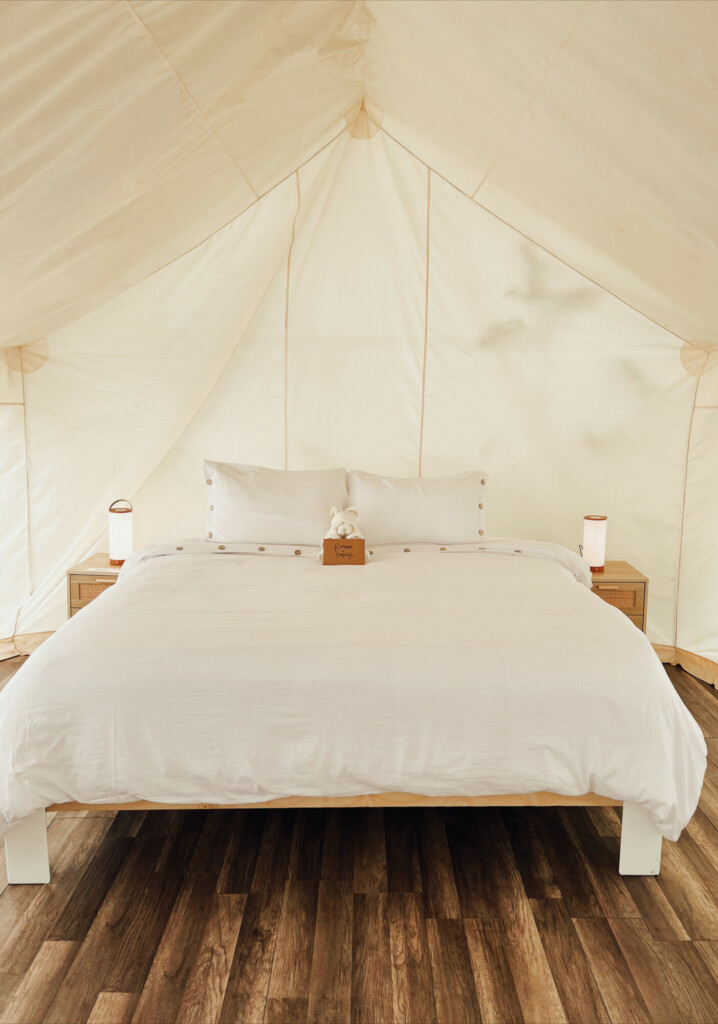 Acadia National Park
Glacier National Park
Grand Canyon National Park
Grand Teton National Park
Great Smoky Mountains National Park
Indiana Dunes National Park
Rocky Mountain National Park
Yellowstone National Park
Yosemite National Park
Zion National Park 
To read about our favorite activities to do with kids in Zion check out Zion National Park with Kids!
Expert tip: Chase Ultimate Rewards Portal & Under Canvas
If you end up wanting to book a stay at an Under Canvas Property there is an alternative to booking! You can book Under Canvas glamping stays through the Chase Ultimate Rewards Travel Portal. This is awesome because with the right card, you can get a 25% – 50% bonus on your points to book. This means that you'd need less points to book more! Here are my two favorite cards that earn Chase Ultimate Rewards AND get you more when booking through the Chase Travel Portal.

Expert tip: Saving Even More with Booking.com or Hotels.com
If you use a shopping portal like Rakuten you can book through Booking.com or Hotels.com and save anywhere from 1-4% on your booking! Using Rakuten is free, it doesn't cost any extra and if you use this link when you sign up, you'll also save an additional $30!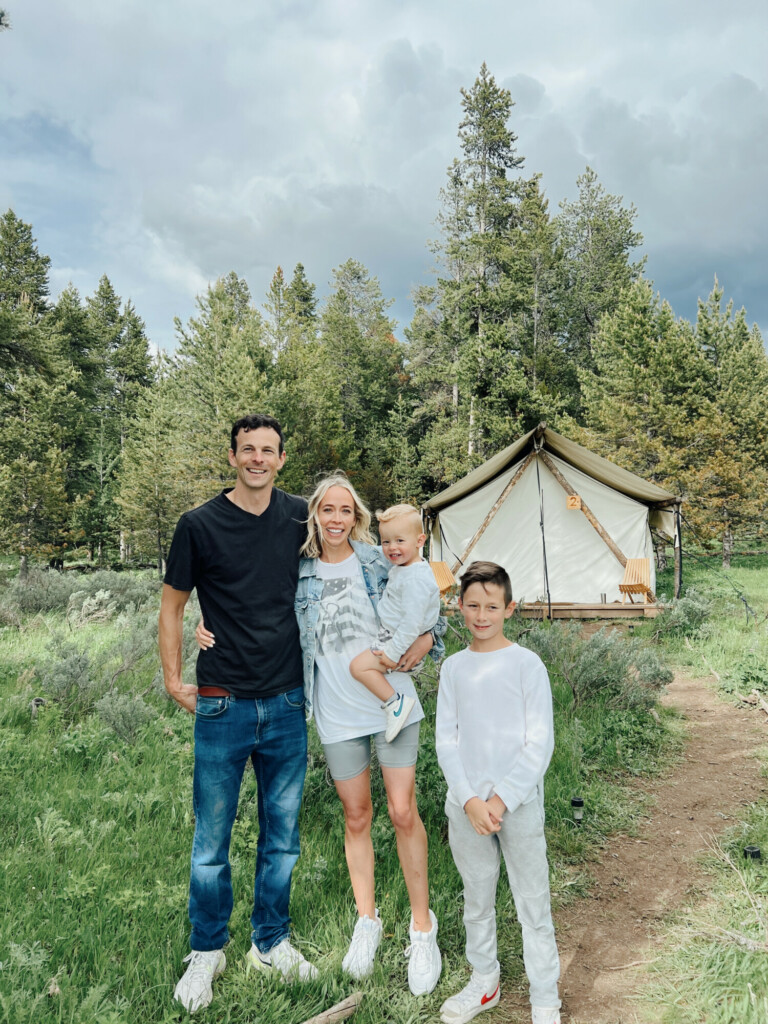 Common Questions About Glamping on Points and Miles
If you've never been glamping before and you aren't sure what to expect here is some information to help you know exactly what to expect!
Am I getting the most out of my points by using them for a Glamping stay?
Typically the best way to get the most "value" out of your points is to transfer them to use on airfare or hotels with the credit card hotel and airline transfer partners. However, something to remember is that transferring is typically a more intermediate travel hacking skill and "free is free". if you are wanting a glamping stay for nearly free or steeply discounted then this is the way to do it! It is important to remember that there are other ways to use your points but you get to choose what you value and what is important to you!
Is glamping worth it?
This depends on your travel style and preferences. If you're someone who loves the great outdoors but doesn't want to sacrifice comfort, then glamping is likely a perfect fit. On the other hand, if you're happy doing the work, setting up your own tent and being in charge of the clean up, you may find glamping to be unnecessary. However, keep in mind that glamping can be an amazing way to elevate your travel experiences and make memories that will last a lifetime. As a non-camper, I love glamping and it strikes a perfect balance for our family, but it might not be for everyone.
What time of year is best to go glamping? 
This ultimately depends on the destination you choose but the general rule is between May and October. Most glamping resorts close down during the winter months. If you're planning a trip to a national park, be sure to research the best times to visit based on weather and availability. Keep in mind that peak season can be more crowded and expensive, so consider traveling during the shoulder season for a more budget-friendly option.
What is usually included in a glamping stay?
While this will vary depending on the resort, most glamping accommodations will include comfortable bedding, private or shared bathrooms, and often some form of heating or cooling. Some resorts even offer spa services, gourmet meals, and outdoor activities like horseback riding or hiking. Before booking your glamping adventure, be sure to research the specific amenities offered by each resort to ensure that it meets your needs and expectations.
What do I need to bring when I go glamping?
Usually, all of the standard amenities that you'll find in a hotel are included in your glamping stay. So no need to bring towels, sheets, toilet paper, etc… Some glamping locations will even provide toiletries like shampoo, conditioner, and lotion. However, it is important to bring things like bug spray, sunscreen, and any other comforts that you may require.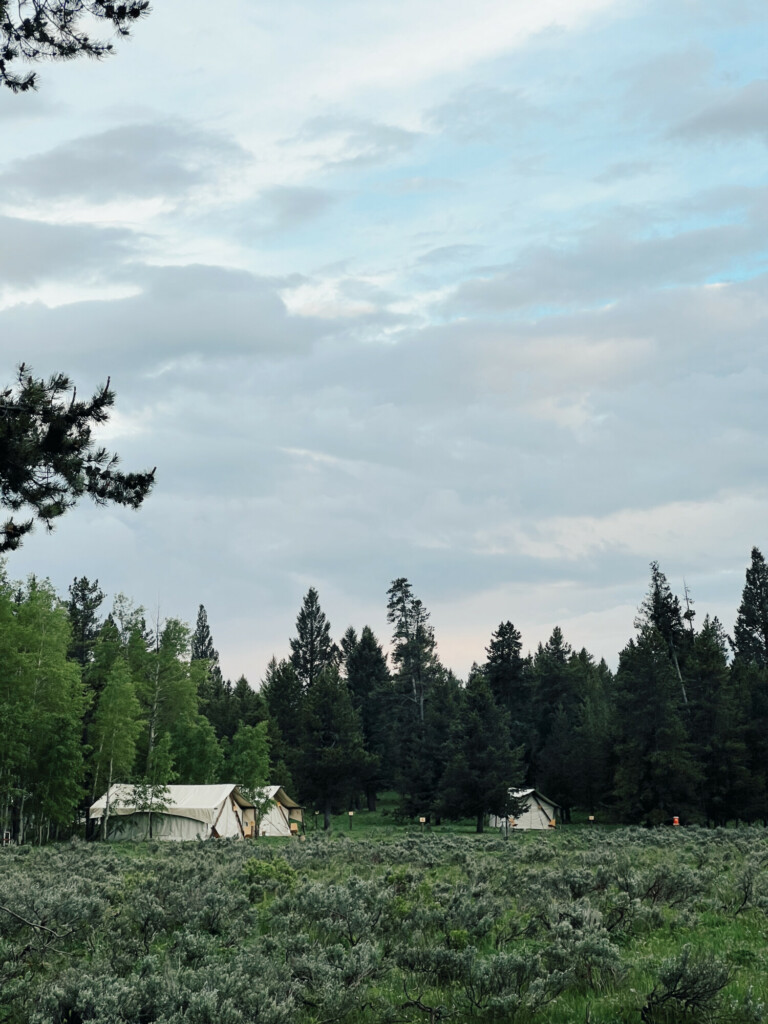 Glamping On Points and Miles Wrap Up
Glamping is quickly becoming one of the fastest-growing travel trends in the US. Whether you're a family looking to elevate your camping experience or a couple seeking a romantic getaway, glamping offers something for everyone. And with the ability to use credit card points and miles to book stays, glamping can be an affordable way to explore America's beautiful national parks. So why not treat yourself to a luxurious outdoor adventure and experience the best of both worlds?