Want to make calculating the value of your points and miles valuations easier? This simple guide will show you exactly how to calculate the value of your credit card points and miles and will help you determine if you are making the most of your points!
New to points and miles? Check out our Travel Hacking 101 post and our Free Points & Miles Crash Course!
Why Calculating the Value of Your Points and Miles is Important
Determining the valuation of your points and miles is a crucial but, often overlooked, aspect of travel hacking. It provides a gauge to understand how much value you're getting per point or mile, helping you make informed decisions when redeeming your rewards. By calculating the value, you can effectively manage and optimize your travel reward programs, ensuring you're utilizing your points and miles for the highest possible returns. Being aware and knowing how to do the math can substantially lower your travel costs, allowing you to embark on your dream trips while saving money.
And surprisingly the math is really simple. By using this guide and practicing a few times, you'll quickly be able to determine when it's worth it to use your points and miles and when it is not!
How to calculate the value of your credit card points and miles
This step-by-step guide and the above-attached cheat sheet are going to show you how you can calculate the CCP ("Cost Per Point") value of your points and miles for ANY kind of redemption! Just duplicate the steps and you're good to go!
* To get your own free Cheat Sheet, simply fill in your information above in the pink box and click the "Get the Calculator" now button. It'll be delivered directly to your inbox!
Step 1: Determine the cash value of the flight or hotel you are wanting to book 
The easiest way to do this is to search for your hotel or flight like normal. Put in your desired dates and then figure out the cash value of your flight or hotel. Make sure to include any and all taxes and fees.  To find out the exact cash cost with the taxes and fees included, you may need to go all the way through the booking process and stop just before you pay.
Write the total cash cost down on your downloaded calculation cheat sheet.
Here is an example of what the total cash cost looks like for a room at the Hyatt Andaz Toyko for three nights.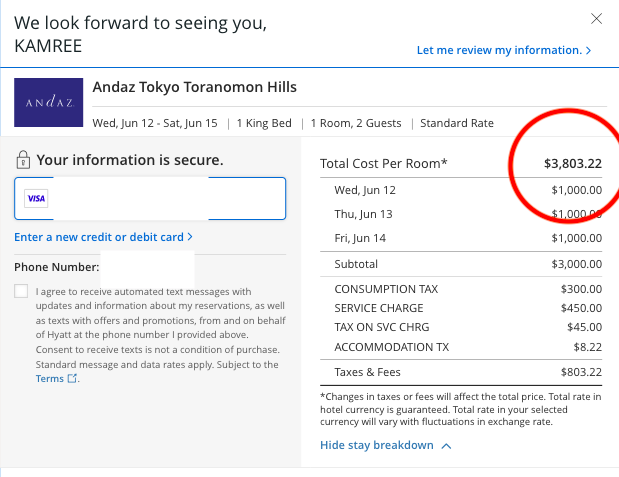 The total cash cost, including taxes and fees, is $3,803.22. 
Step 2: Determine the redemption amount and any taxes/fees. 
Now do nearly the same thing as step one. However, instead of looking at the cash cost, select "use points" when you begin your search. Again, you'll need to go almost all the way through the booking process. Even though you are using points, still check to see if there are taxes and fees associated. 
Write the point redemption rate and the taxes and fee costs down on your calculation cheat sheet.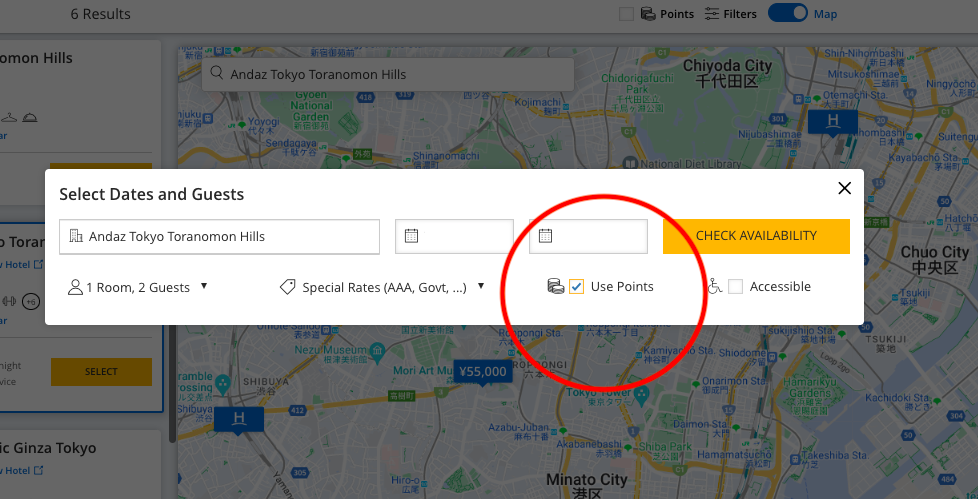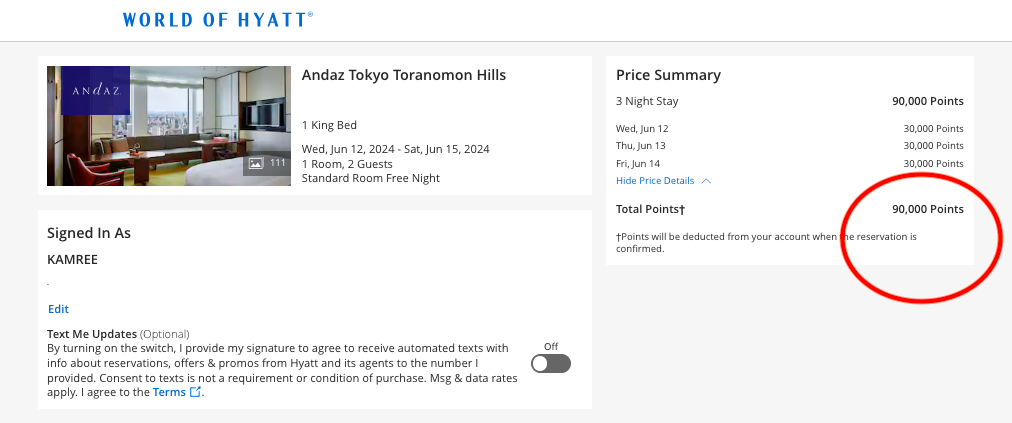 Step 3: Subtract the redemption taxes and fees (Step 2) from the total cash cost (Step 1)
Take the total cash cost from Step 1 and subtract the taxes and fees cost from Step 2. Thanks to Hyatt's no taxes/fees on redemption policy, this example has REALLY simple math. We're subtracting $0 from $3,803.22.
Once you have subtracted the taxes and fees, write down your new total on your cheat sheet.

Step 4: Divide by your points
Take the number from Step 3 and divide by the total amount of points needed. In this case, we're going to divide $3,803.22 by 90,000. 

Step 5: Multiply by 100 and get your exact point value!
Take the divided number from Step 4 and multiply by 100. This will give you the exact value of each point in cents. In this case, this means at this redemption these points are worth 4.2 cents each. This is an AMAZING redemption! 

How do I know if I am getting a good deal?
This can depend on what types of points you are using! The standard values for each of the major US hotels and airlines are below. You will want to use them as a benchmark. If after you do the math above you find that your value per point is more than the associated number listed below, then you have a good redemption! If after you do the math, your value per point is less than the number listed below, it is probably not the best redemption and you may want to pay cash instead.
The Hyatt Andaz Tokyo example has a value per point of 4.2 cents which is nearly 2 times more than the standard Hyatt valuation of 1.7 cents! According to the calculated value of points, this particular Hyatt example is an AMAZING deal!
| | |
| --- | --- |
| Airline or Hotel Brand | AverageStandard Valuation |
| Alaska Airlines | 1.8 |
| American Airlines | 1.7 |
| Choice Hotels | 0.6 |
| Delta Airlines | 1.4 |
| Hilton | 0.6 |
| Hyatt | 1.7 |
| IHG | 0.5 |
| JetBlue | 1.5 |
| Marriott | 0.84 |
| Southwest Airlines | 1.5 |
| United Airlines | 1.2 |
| Wyndham | 1.1 |
What about my Amex, Chase, Capital One, and Citi points?!
When redeeming your points in the associated travel portals, your Amex, Capital One, and Citi points will usually have a standard redemption value of 1 cent per point. Chase Ultimate Rewards can vary anywhere from 1 cent per point to 1.5 cents per point depending on the cards that you have.
Because of this valuation within the travel portals, it can be very advantageous to transfer your points! Transferring points can help double and triple their value. However, this isn't always the case. That's why calculating your points and miles can be so important. It can help you break down if it's better to pay cash, redeem within the travel portal, OR transfer and book direct! So start nerding it up and figure out what the best value is for you and your points!!!