Delta is hands down our family's favorite airline and we can never have too many SkyMiles! If you are looking for easy ways to increase your Delta SkyMiles, then you've come to the right spot. In this article, we'll do a comprehensive deep dive into all of the easiest ways to earn Delta SkyMiles. So you can start accumulating points quickly and easily. Read on to find out how you can start building up your SkyMiles today! 
New to Points & Miles? Check out our Travel Hacking 101 Article here and get our FREE Points & Miles PDF Crash Course!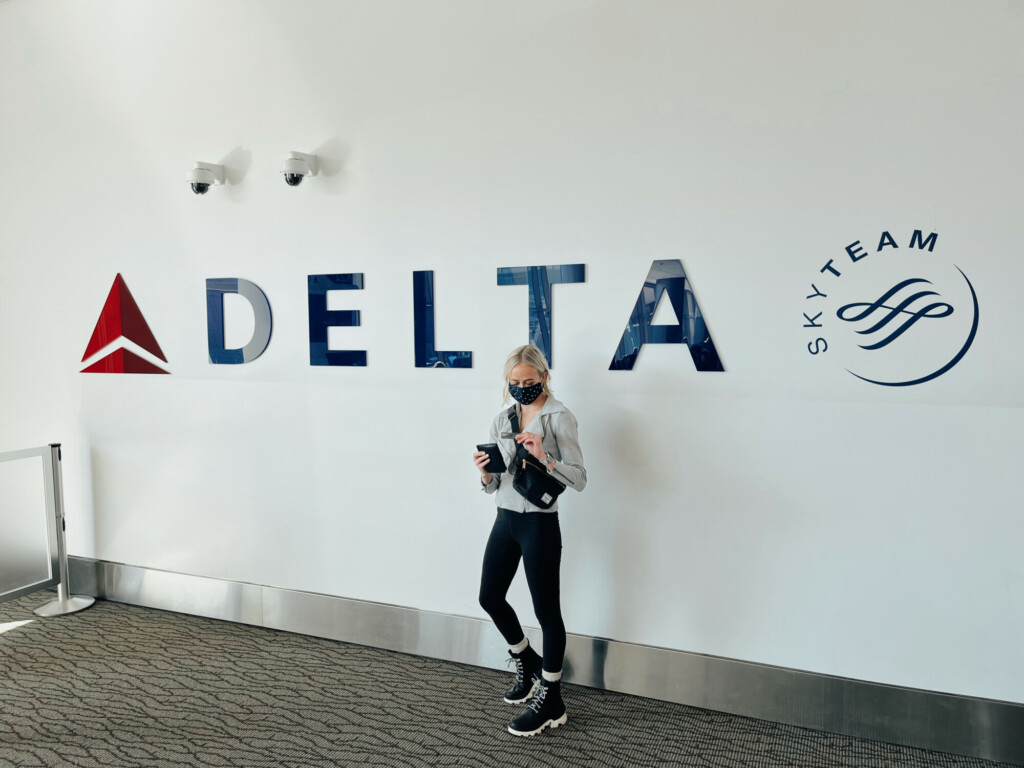 22 of the Easiest Ways to Earn Delta SkyMiles

Here are some of the easiest ways you can earn Delta SkyMiles. I'm also going to give a quick bonus tip & share a hack for earning Delta SkyMiles that I don't recommend! Let's go!
Apply for a Delta Co-Branded Amex and Earn the Welcome Bonus
One of the quickest ways to earn Delta SkyMiles is by applying for a Delta Co-Branded American Express Card and earning the welcome bonuses. With these welcome bonuses, you can earn considerable amounts of SkyMiles to apply towards your next trip.
Here are some of our favorite Delta SkyMiles Credit Cards!
Refer your Spouse or Loved One to a Delta Co-Branded Amex and Earn the Referral Bonus
Referral bonuses are a fantastic way to boost your SkyMiles balance. Refer your spouse, family member, or friend to a Delta Co-Branded American Express Card, and when they are approved, you receive bonus SkyMiles too!
To refer someone, all you need to do is log into your online Amex account, select your Delta Amex card, and then select the "refer" option. 
Check for the retention offers on your Delta co-branded card every year!
The adage of "keeping a customer is easier than getting a new one" rings true for this hack! American Express is GREAT at offering retention offers to good-standing credit card holders. This means that every year when your annual fee is about to post, you should reach out to Amex on behalf of your Delta Amex credit card and ask them if there are any retention offers available. Doing this could easily get you anywhere from 15k to 30k points just for keeping your card open! 
Fly Delta
It may seem obvious, but the simplest way to earn SkyMiles is to fly with Delta and make sure your SkyMiles account is linked each time. Each time you fly, you earn miles based on your ticket price and your Medallion Status. Keep in mind that Delta just changed its SkyMiles and Medallion status program. For more info, see their updates here. 
A note about Basic Economy: At present, if you choose to book Delta's Basic Economy class you won't earn SkyMiles or get credits toward your Delta Medallion Status.
Use your Delta Credit Card on Your Everyday Purchases
Your Delta Co-Branded American Express Card isn't just for travel-related expenses. Earn SkyMiles on everyday purchases like groceries, gas, and dining out. Check your card for the individual category multipliers and make the most of them!
Transfer your Amex Points to Delta
If you have a non-co-branded American Express card, like the Platinum or Gold card, you can transfer your earned points to Delta at a 1:1 ratio. It's an excellent way to supplement your SkyMiles balance.
A note about transferring to Delta: Delta is the ONLY airline that does this, so it is highly annoying but they do charge a small "transfer" fee. It isn't usually anything substantial but it is something to be aware of. 
Here are some of my favorite American Express Cards that can transfer points to Delta! 
Build a Combined Delta & American Express Strategy 
By combining your Delta co-branded cards and some of the standard American Express Cards that earn Amex Membership Rewards, you can earn SkyMiles more quickly because you can earn multiple bonuses and take advantage of the different category multipliers that each program offers!
For example, if you have the American Express Gold card you can earn 4x the points on your groceries. So use that card on your grocery spend and then transfer those points earned to Delta!
Use the American Express Personal Platinum to Book Flights at 5x the Points
This is one of my FAVORITE uses of my Amex Personal Platinum. If you use the American Express Platinum card to book flights directly from any airline, you earn 5 times the points. This counts even if you are buying flights from another airline, just make sure you book directly through the airline. You can then convert your Amex points to SkyMiles for more Delta flights.
Fly on Delta Partner Airlines
Delta's partnership with a host of other airlines means you can earn SkyMiles on a wider range of flights with carriers like Virgin Atlantic, KLM, AirFrance, AeroMexico, Korean Air, etc… Just double check and your SkyMiles number is attached to your booking. 
To get a list of all of Delta's Partner Airlines check out our post on Airline Alliances here! 
Use the Delta "Bags On Time" Guarantee
Delta's 'Bags On Time' guarantee means that if your checked bag on domestic flights doesn't arrive at the baggage claim carousel within 20 minutes of your plane's gate arrival, you'll earn 2,500 bonus SkyMiles! 
To take part in this program, you fill out the form here and then request your points! 
Use the Delta and Lyft Partnership
Link your Lyft and SkyMiles accounts here, and earn miles for every ride you take. It's a simple way to earn SkyMiles while commuting, traveling, or even heading out for the night.
Use the Delta and Airbnb Partnership
The SkyMiles and Airbnb partnership lets you earn miles when you book accommodations through Airbnb. It doesn't cost anything extra and everything will work just like normal. But you'll need to go through this site here, Delta & Airbnb. Whether you're looking for a cozy place to stay or an exciting adventure, you can make your SkyMiles balance grow.
Sign Up for the Delta Dining Program
If you're looking for even more ways to earn Delta SkyMiles, consider signing up for the Delta SkyMiles Dining program. The program allows frequent flyers to earn bonus miles when they eat at participating restaurants, as well as get access to exclusive discounts. It's an easy way to get more out of your next meal! You just need to link whatever debit or credit card you use when you eat out. 
Click this link here to get started – SkyMiles Dining!
Use the Delta Shopping Portal
One of the easiest ways to earn Delta SkyMiles is by shopping through the Delta Shopping Portal. By shopping through this portal, you can gain access to exclusive discounts, as well as miles bonuses for every purchase.
The Delta Shopping Portal makes it easy to save money while also earning rewards. You can shop through the portal from anywhere, anytime, and get access to the same discounts and bonuses you'd get if you were in an airport store. All you need to do is sign into your SkyMiles account before making a purchase, and the miles will automatically be credited to your account.
Use Rakuten and Transfer Your Amex Points Earned to Delta
If you use Rakuten, our favorite shopping portal site, you can transfer the points earned from shopping there directly into Delta SkyMiles. All it takes is a few clicks and you'll have more SkyMiles in your account and it's totally free to use!
If you haven't signed up for Rakuten yet, you can get a cool $30 or 3,000 Amex Membership Rewards by signing up here! 
Use Delta Vacations
Booking a vacation package through Delta Vacations can be an easy way to earn bonus SkyMiles. Packages include flights, hotels, cars, and more; all with the promise of great savings on miles earned! Be sure to compare the prices of your trip between Delta Vacations and other travel sites to ensure you're getting the best value.
Book a Cruise Through SkyMiles Cruises
Booking a cruise through the Delta Cruises program is another great way to earn bonus miles on top of what you would normally get from your credit card. Be sure to compare prices between SkyMiles Cruises and other cruise booking sites to make sure you're getting the best deal.
Book a Rental Car Through One of Delta's Rental Car Partners
If you need to rent a car for your next trip, why not do it through one of Delta's rental car partners? You can earn 2 bonus miles when you book a car through Delta!
Use the Turo & Delta Site
The Turo & Delta site is an innovative way to earn bonus miles on rentals you book through them. Whether traveling for business or pleasure, you can save money and rack up those SkyMiles at the same time. Plus, you can enjoy the convenience of being able to pick up your car from their partners.
Link Your SkyMiles Account to Starbucks and Earn on Your Favorite Drinks!
For all those coffee lovers out there, linking your SkyMiles account to your Starbucks account is one of the easiest ways to earn Delta SkyMiles. Every time you buy a drink or treat, you'll earn bonus miles. It's a great way to get rewarded for something that you're already doing!
You can link your accounts here! 
Link Your SkyMiles Account to Ticketmaster and Earn on Your Next Concert!
Love concerts and sporting events? Linking your SkyMiles account to your Ticketmaster account will earn you bonus miles every time you buy tickets.  It's an easy way to make sure that you're earning more on the money you are spending anyway!
You can link your accounts here! 
   22. Take Advantage of the Delta Take15 Program!
This isn't exactly a way to earn more Delta SkyMiles but rather a way to SAVE Delta SkyMiles. If you have the Delta Gold, Delta Gold Business, Delta Platinum, Delta Platinum Business, or the Delta Reserve (personal or business) you will get an automatic 15% off of your redemption tickets when you link your credit card to your account!
To learn more about the Delta Take15 Program, click here!
Bonus Tip: Use the Delta App
The official Delta app makes it even easier to earn SkyMiles. You can use the app to check flight statuses, find special offers and promotions, and stay up-to-date with your account information. The best part? It's free! Download it today and start earning miles on the go.
And… One Tip I DON'T Suggest
Technically you CAN transfer Marriott Bonvoy points to Delta. I do not recommend doing this because it devalues your Marriott points DRASTICALLY and the return on SkyMiles is sooooo bad. If you have billions of Marriott Bonvoy Points, then sure – go for it – but for the average family, I wouldn't suggest it!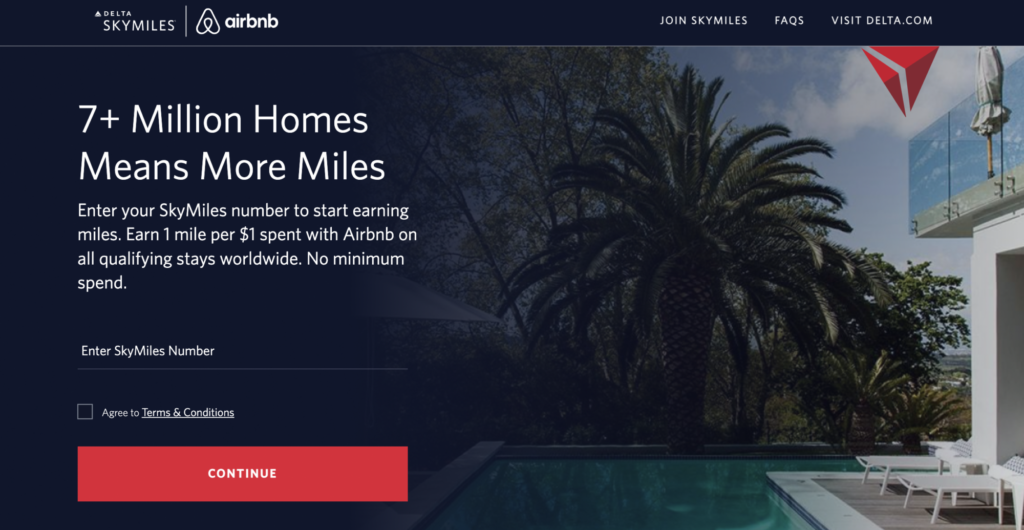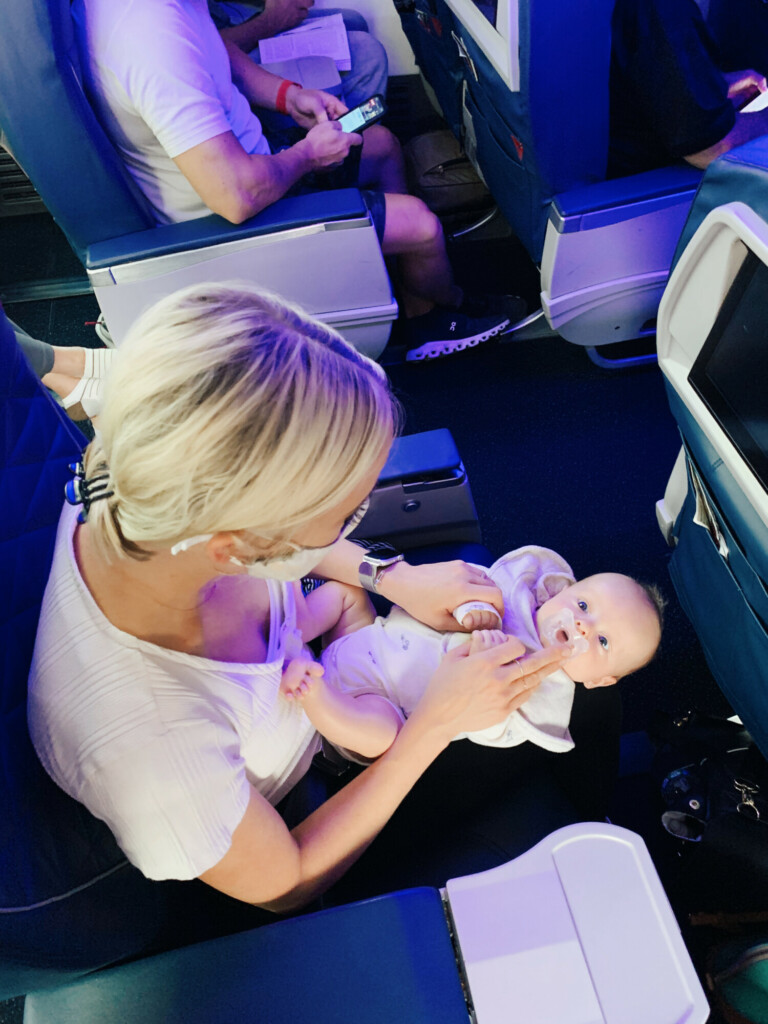 Earning Delta SkyMiles FAQs
Got Delta SkyMiles questions? We've got answers! Here are some of the most common questions and answers about earning Delta SkyMiles!
How to get 500 SkyMiles?
Sign up for Delta & Turo and start renting your cars! You'll get 2000 SkyMiles on your first trip and then an additional 500 points on the following trips. 
How to get 100k SkyMiles?
If you apply for the Delta Amex Platinum card at the right time during an elevated bonus period you can get anywhere from 95,000 t0 100,00 SkyMiles just from one welcome bonus!
How many SkyMiles do you earn per trip?
This largely depends on the length and cost of the trip you are taking and what you are using to pay for your ticket. If you use the Delta American Express Platinum Card you'll earn 3x the SkyMiles for each dollar spent. 
Can you buy Delta status?
No, you can't buy Delta status as you need to earn both MQM and MQDs. However, if you have elite status with another airline Delta has a decent status matching program. 
What are Delta SkyMiles worth?
How you redeem your SkyMiles can adjust the value of your miles. However, the standard valuation for a Delta SkyMile is 1.5 cents per point. To learn how to determine the value of your points, click here! 
Do Delta SkyMiles expire?
Delta SkyMiles DO NOT expire, even if you cancel a Delta credit card or you are inactive in your account. 
How to get MQMs without flying?
You can get some of your MQM requirements met with either the Delta Platinum credit card or the Delta Reserve credit card. 
Do Basic Economy tickets earn SkyMiles?
No, Basic Economy tickets do not earn Delta SkyMiles, in order to earn SkyMiles on your flights you'll need to book Delta Main Cabin or above. 
Do taxes and fees earn SkyMiles?
Government-imposed flight taxes and fees won't earn you SkyMiles but the carrier-imposed surcharges will! 
Easiest Ways to Earn Delta SkyMiles Conclusion
As you can see, no matter how you like to travel or how often you travel, there are so many ways to earn Delta SkyMiles. With a little bit of research, prep, and linking some of your accounts you'll start racking up thousands of SkyMiles in no time!