Understanding how airline hubs and focus cities work will help you book your airfare smarter and for less! So let's dive into the major US airline hubs & focus cities and go over why they matter and how you can make them work for you! We've even got a US Airline Hub & Focus City Directory for you!
Understanding how airline hubs & focus cities work is important for both flights that you are paying for with cash AND with points and miles!
If you are new to points and miles you can check out our Free Points and Miles Crash Course here or take a look at our Reward Travel 101 Article here!
An airline "hub" is usually a major international airport where passenger traffic and flight operations come together for a specific airline. These hubs make it easier and CHEAPER for you to get to your final destination. Hubs are part of the "hub and spoke" airport organization system and are used all over the world, and understanding airline hubs is crucial to maximizing your dollars and points. 
You can get your own Airline Hub & Focus City Directory delivered to your inbox by filling out the form below!
Understanding What Airline Hubs & Focus Cities Are
What Are Airline Hubs?
Airline hubs are airports where specific airlines concentrate their fleet and routes.  These "hubs" play a massive role in being able to get the best point and mile redemption rates (or cash prices). This is because airfare is determined on a supply and demand dynamic scale. This typically means the more flights that a particular airline offers out of a specific airline the cheaper those flights may be. For example, a flight to Hawaii departing from LAX (Los Angeles) is almost always going to be cheaper than a flight to Hawaii departing from Boise Airport (a smaller non-hub airport in Idaho).
What Are Focus Cities?
Smaller airlines like Southwest and Alaska Airlines don't operate in a traditional "hub" system but rather a more focused city operation. This means that the airline operates multiple point-to-point flights and routes between their focus cities and airports.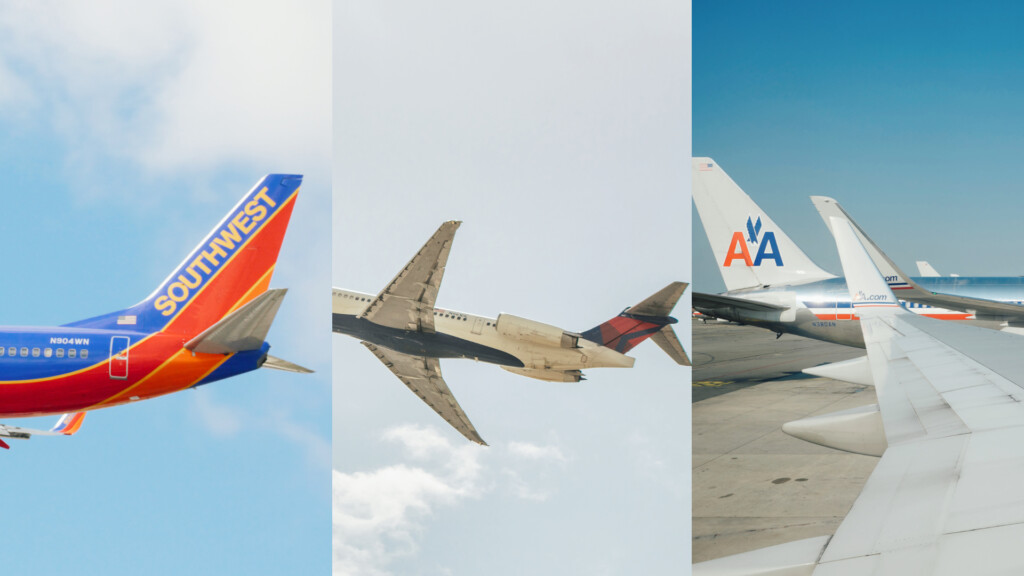 Why Do Airline Hubs and Focus Cities Matter?
In short – the monetary bottom line.  Airlines have found a way to provide extensive route networks while keeping overhead costs lower. By funneling smaller feeder flights into major airports, airlines can reduce costs and provide a more streamlined service. These cities and airports are where the airline can focus its fleet, operations, and workforce. This system adjusts the number of passengers on routes and reduces empty seats, making travel more efficient for everyone. This not only benefits the airline but often results in lower costs for the consumer as well. 
If you are wanting to regularly score reasonably priced flights, it is essential to know where your nearest airport hub is. 
Because this can get complicated, we've created an Airline Hub & Focus City Directory (it's below) to help you determine where your nearest hub is and what airline might be the best to focus your efforts, money, and time on! 
What If You Don't Live Near A Hub?
What if you DON'T live near a hub or focus city? This is okay! This means you will most likely connect through a hub before you embark on your final destination. In this case, you want to know what airport hub most flights going out of your nearest airport will connect to. (For example, most flights going out of Boise connect in Salt Lake City) before going on to their final destination.  
You can also "position" your flights. 
Expert Tip: Positioning Flights
A "positioning flight" is where you get yourself to the nearest hub by flying on a smaller and cheaper airline before you take off for your final destination from a major hub.
Downloading And Using the Airline Hub & Focus City Directory
This directory is a tool that can you help determine what airlines you might want to focus on. It will help determine what airline points you want to earn. It can also help you focus your airfare searches. You can use it do help inform what airline loyalty programs you may want to join and learn so you can maximize the program for you and potentially earn and utilize airline status.
For example, if you fly through or connect through Charlotte Airport, it would be advantageous to learn and know the American Airlines AAdvantage program as Charlotte is an AA hub. However, if you are near Atlanta you would want to focus on Delta Airlines.
You can get your free full-size airline directory and my top three tips for finding cheap airfare sent to your inbox below!