I'm being totally frank here, one of the hardest things about traveling is the actual traveling part! The getting from point A to point B and back again!  Being on an airplane for 14 hours is not my idea of a good time. However, the travel experiences we have, make up for the hellish nightmare that is a long-haul flight with young kids.  I do feel like I have become pretty darn good at surviving* long hauls flights with my little one and being able to arrive at our destination ready to have a great time! Our family travel tips come from personal experience and a LOT of trial and error. Read on to find out our long haul flight tips and tricks for moms!
*Note:  This is survival mode here friends. This isn't a post telling you how to make air travel with kids a walk in the park or a blessed joy. However, if you follow these tips I can almost promise that you will keep your sanity and your love for your children intact. HAHA. Sometimes that is the only thing we can hope for.
Another note: In a perfect travel world, the best way to travel with kids is in the first-class cabin on a non-stop flight with TSA Precheck and CLEAR. However, that doesn't happen all of the time and we have spent many a flight back in the depths of coach only dreaming of first class. Most times, I just have to walk right on by those plush lay-flat seats and accept the reality that I get 3 inches of legroom to SHARE with my squirmy toddler.  
Want to travel but don't have the funds? Check out these 4 posts that will help you make those trips happen! 
4  Long Haul Flight Tips and Tricks FOR MOMS (or Dads :))
1. Accept that It Will Not Be Perfect
The faster I accept that my child will probably at some point; cry, throw up, make a mess, and annoy someone else on the flight the better off I am. I remember the first long flight* we took Beckham on.  I was SO stressed (like sweating buckets and every little whine had me on edge) about other passengers getting annoyed. Then I realized – a lot of this stuff was out of my control. I try really hard to teach Beckham to be courteous and well-behaved on flights. We keep to ourselves and for the most part, he totally rocks it.
However, he is a child. He gets sick of sitting in that blasted seat forever and will kick the person's seat in front of us unless I make him stop. Babies cry. Kids throw up.  It is what it is. Be okay if something happens and accept that is part of the journey. (If you are super worried about your little ones crying and bothering others, be sure to check out this awesome article on how to handle crying babies on flights!) Then when you are traveling with older kids or in your retirement years, you will have some empathy. When the little kid next to you is freaking out, you get it- because seriously, you have been there.
*To find out more about our first long-haul flight with a baby and Why Traveling with Young Kids is Important, click here.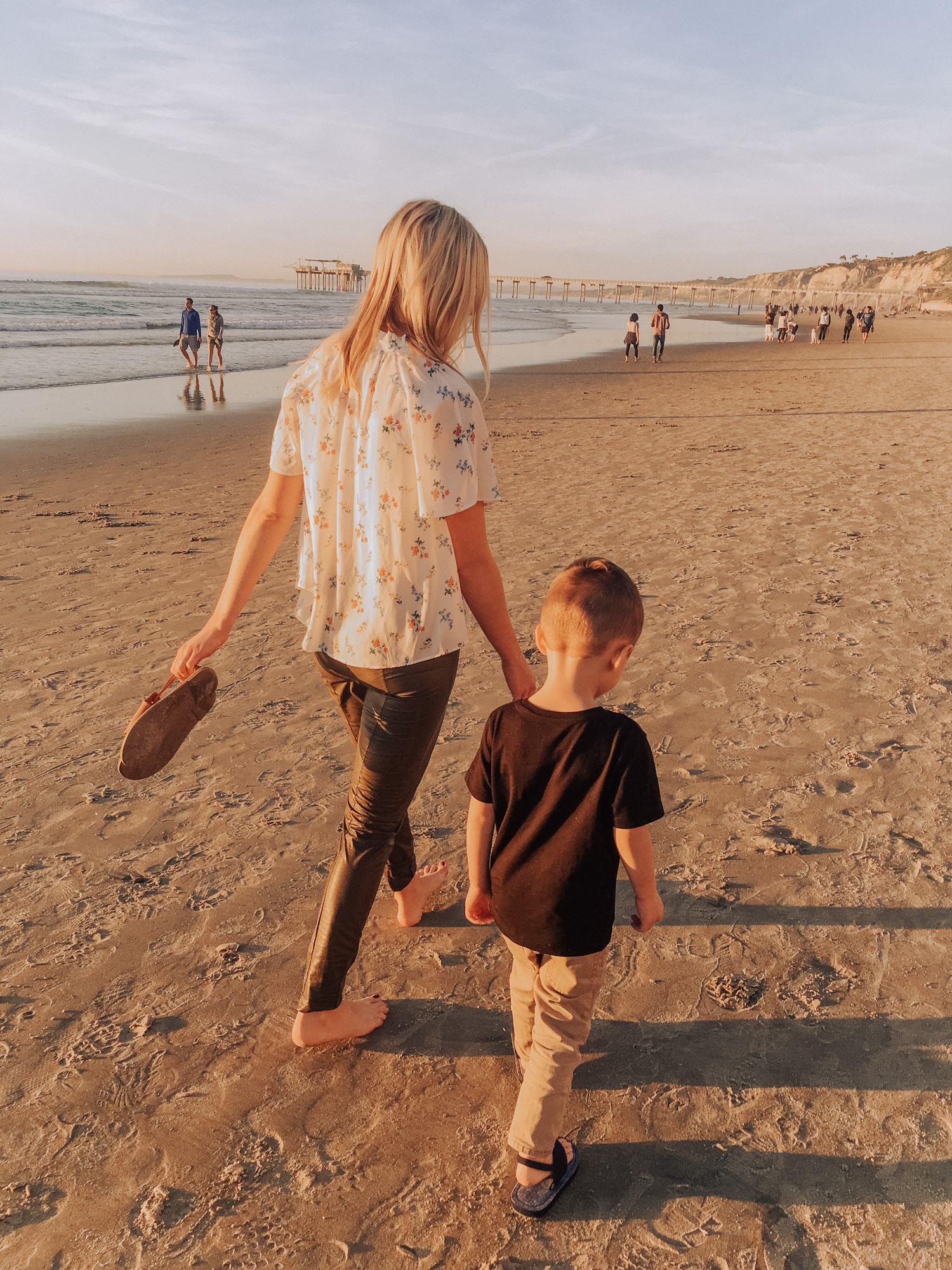 2. Treat Yo Self
Okay not really, because like I said nothing luxurious about sitting in coach with kids that you have to entertain for the next 12 hours. However, I have realized that the number one way to help make the flight more enjoyable FOR EVERYONE is to be aware of my own needs as the parent and make sure that I am also getting the rest that I need to arrive at our destination safe and sound. (Okay, maybe not sound.HA HA). Obviously, when we are on the verge of a potty accident and the dude needs to get to a bathroom STAT, I need to wake up or stop my movie. But, sometimes it is okay to let the little one figure out what to do or pass him over to Dad. I always try to have an enjoyable book or movie on hand to look forward to.  "When mamma is happy, everyone is happy."
3. Prep Your Little One
Whenever a plane ride goes south (figuratively) with the little one, it is almost always because I didn't prepare for the situation. To be fair, it is impossible to prepare for every little thing that will happen so I don't even try. Yet, I have learned that the more prepared we are, the better the flight goes.
How I Prep my Little One
Let him know how long the flight will be.

Show him you-tube videos of flights landing, taking off, etc.

Let him know if we are going to be eating/sleeping on the airplane.
If you will be sleeping on the airplane, consider purchasing a childbed. They can be amazing! See this great review on Toddler Travel Beds here!

Tell him if there will be a stranger in our row.

Have him pick a small reward if he is good on the flight that he can get at the end of the trip. Becks will move heaven and earth for a bag of M&M's.

Talk about things we do on the airplane and things we don't. For example – we recently had a discussion of why we couldn't run around on an airplane.  Why we can't kick the seat in front of us is discussed at least a few times on every flight.

The iPad. This is pretty controversial. Some parents feel like they don't want their child to be a vegetable while on the airplane. I am not one of those parents. We don't let Beckham use the iPad much at home so when we travel, it is something special that he gets do. On the airplane I say – "Veg away dude. Heaven knows I want to."
Put together a fun little backpack* with his favorite treats and toys that I have had hidden away for a while, or a movie that he has really been wanting to see. I don't let him open the backpack until we are on the airplane.  
*Click to print our Taking Flight coloring book!  Another help to prepare your littles for air travel!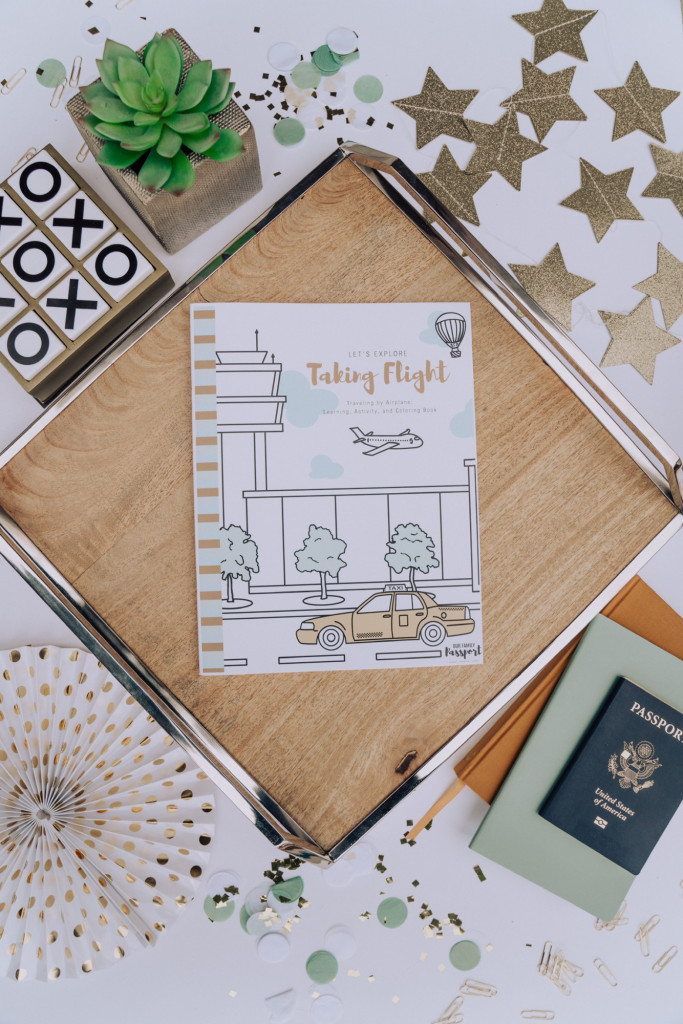 How the Backpacks Worked for me When I was Little
*I have a fun memory of the traveling backpack when I was young.  My Mom would take us to the store and give us a certain amount of money (say $20.).  She would let us pick out a few activities (small things that would travel well), games or things we wanted to do on the airplane to help keep us occupied.  We would also choose our own snacks.  She would pack them away in our backpacks and we couldn't have them until we were on the airplane.  It built our suspense and excitement for the journey ahead.  At other times, she would surprise us with some fun, small treasures in our backpacks.  
4. Prep my "Mom" Self and Pack my "Mom" Bag
SNACKS oh my gosh, the snacks! I have messed myself over more than once by not having enough for Beckham to eat while on the airplane. Most of the fits that have occurred on the airplane stem from this mistake. This is one area that I always try to overpack on. I bring all of his favorite snacks and make sure that I have plenty to last, even if they get spilled. Which they will. Oh, also I pack some for myself. Like hello, I get hungry too!

A bottle/sippy cup/or water bottle. Maybe it is just my little peanut but he gets SO thirsty on flights. And if we are sitting back in coach – getting a glass of water isn't as easy as one would think. So I always bring him a sippy cup that I can Lysol or Wet Wipe the top and fill it with my own water and keep it on hand.

Speaking of Lysol and Wet Wipes. I may go a little overboard with the Lysol wipes, but to be completely honest, we have caught some pretty nasty creeping crud from airplanes. You don't even want to know about the recent study done on the grossest part of an airplane (hint: it isn't the toilet seat).

CNN – Dirtiest Places on an Airplane

. We have had a head lice scare, strep throat, and all sorts of other fun things come from our flights. So I carry around a travel pack of antibacterial wipes and a couple of Ziploc bags in my carry on so if throw up happens (which it has) or there is something nasty on the seat, I can take care of it.

Have an organized carry on with all of the things that I know I will need to help make us more comfortable and keep us entertained. 
What do you Do?
Okay friends, how do you survive the long flights? Do you care if you look like an idiot lysoling down your area? Do you have any long-haul flight tips or tricks for kids? How do you feel about using screen time to help entertain? Let us know what you think!
Xoxox,
Kam
Don't forget to subscribe to our newsletter to get your FREE #coloringtheworld starter kit AND awesome family travel tips, tricks, and deals right to your inbox!