These 5 Google Flights Hacks will have you and your family traveling in style while staying within your budget! 
Google Flights Hacks FAQ
Google Flights is one of the best flight researching platforms out there. It's free, user-friendly, and pulls information from all of the major airlines. While there are some drawbacks and alternatives, you can see our full review of Google Flights and other options for finding and booking cheap flights here – The Best Secret Websites to Find Cheap Flights, Google Flights still remains one of the easiest and best tools for finding cheap airfare.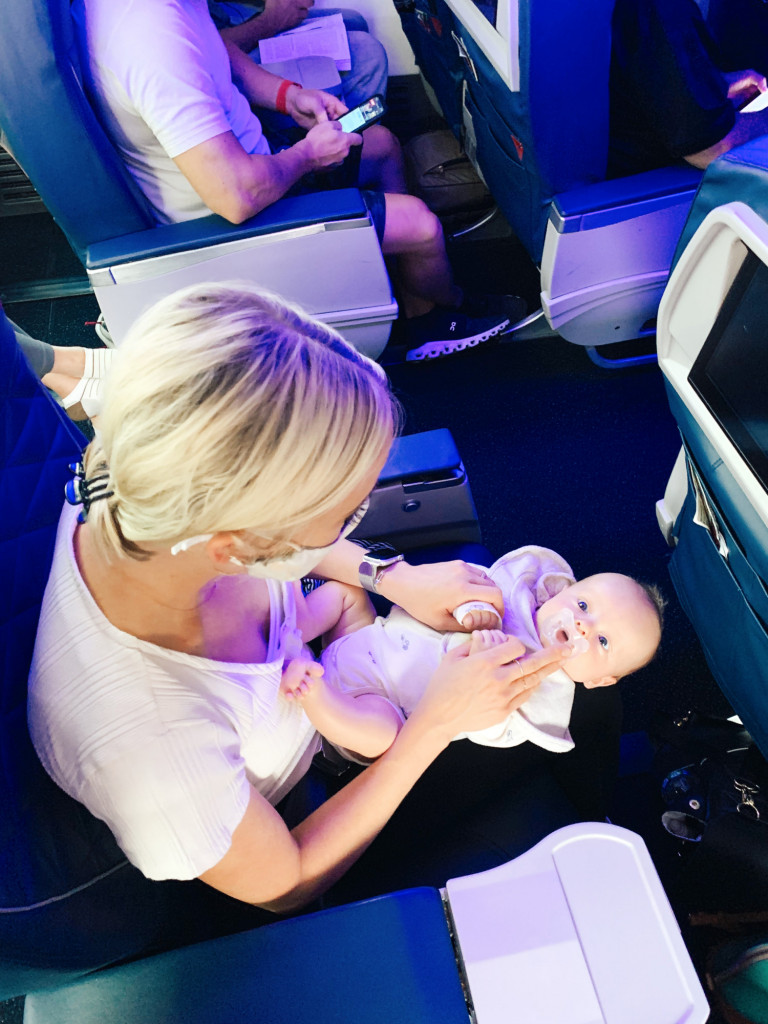 What are the best flight booking hacks?
One of the best flight booking hacks from travel bloggers and experts alike is to use a flight research tool like Google Flights to gather data, set up pricing tracking, and then book through the airline directly! In other words, use Google Flights to inform your buying but not to book. 
Do flights get cheaper closer to departure?
That depends. When setting up a price tracker through a tool like Google Flights you don't need to worry about this and can set up a price tracker and look at the different pricing trends so you can jump when fares go down and are discounted. 
What is the trick to getting cheap airline tickets?
Using credit card points or gathering data! If you aren't ready to jump into the world of travel hacking then one of the best things you can do is gather data on pricing structures, trends, and discounts. Using Google Flights as a research tool and booking indicator can save you hundreds on each ticket. 
Does booking round trip save money?
Again, this depends. When using these Google Flight Hacks you can play around with different fares, dates, and one way versus round trip tickets. Instead of guessing or taking a gamble when it comes to what day to book, or if  booking round trip versus one way will be cheaper, gather the data you need by setting up Google Flights to do the work for you. 
5 Google Flights Hacks You Should be Using Every Time You are Getting Ready to Book a Flight
Now that we've covered the basic questions surrounding Google Flights, let's jump right into the best Google Flights hacks so you can start finding and booking the best flight deals around!
Google Flights Hack 1 – Book Through the Airlines Directly!
Google Flights is an absolute gold mine for data and notifications when the prices go down. However, the number one google flights hack is to book directly with the airline when you are notified with a good deal! Booking directly will help you accrue status, reward points, and will save you so much pain and headache if your flight is delayed, moved, or canceled because you don't have to go through a third party to remedy the issue. 
Google Flights Hack 2 – Search Destinations NOT Airports
Use destinations instead of specific airports in your search. Doing this will gather data for all of the major airports near your destination. Sometimes the cheapest and best flight itinerary won't be going through the major airport that you are familiar with at your destination. For example, search "London" and have Google Flights pull the data for all of the London area airports instead of just searching for "London Heathrow". This opens your options for more deals, discounts, and carriers. Often resulting in cheaper airfare.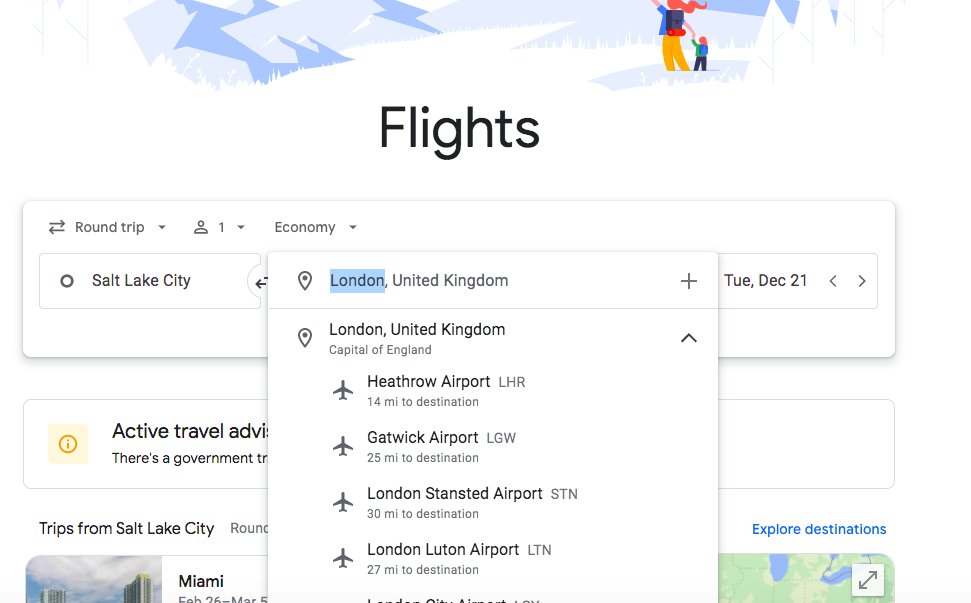 Google Flights Hack 3 – Use the Calendar and Date Grid
Another one of our favorite Google flights hacks is to play around with the calendar and date grid, even if your dates aren't super flexible. You might see that flying in one day earlier or later could save you up to 200-300 dollars per flight. If you are flying with a family of 4 that is nearly $1,000.00 saved! 
If your dates are flexible, you could save upwards of 600-700 per ticket if you book during the cheapest time noted on the Google Flights calendar. For example, I am currently looking at flights to Hawaii. I was originally looking at flights in April but the week we want to go is really expensive. If I were to move our trip to two months earlier we could save almost $550.00 per flight. For our family of six, that is huge!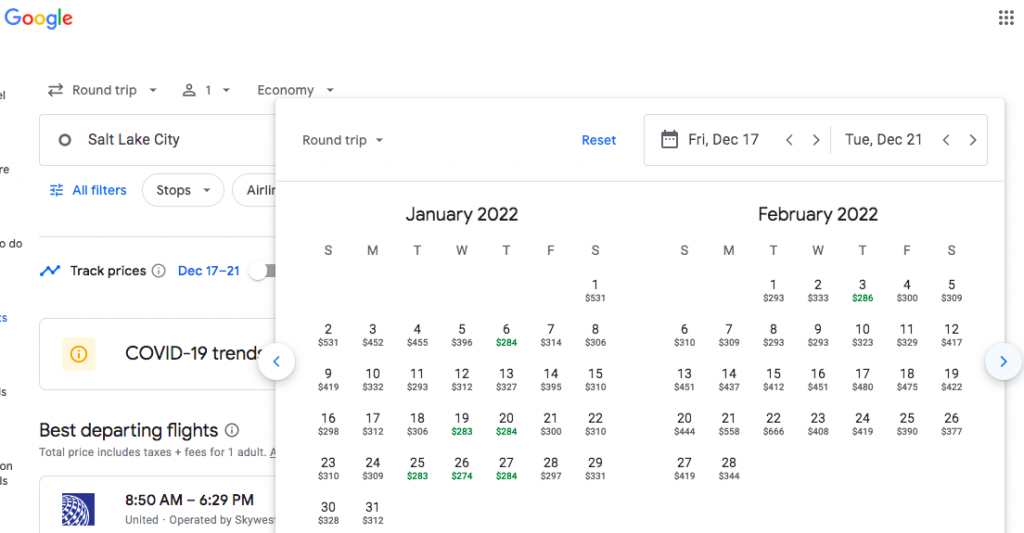 Google Flights Hack 4 – Don't Overlook the Price Info Box
Make sure to check out and let your decision be informed by the Price Info Box. Google is a master at gathering data and using this Google flights hack will take out a lot of the guesswork. It'll show what typical prices are, what low prices have been in the recent past, and what is considered a really high flight (um high $2,500.00 to go to London from SLC). 
When prices are marked "low" – don't think, just book. If they are high and you have some time (about 4-5 months) before you will be traveling, set up a price tracker and keep an eye on things.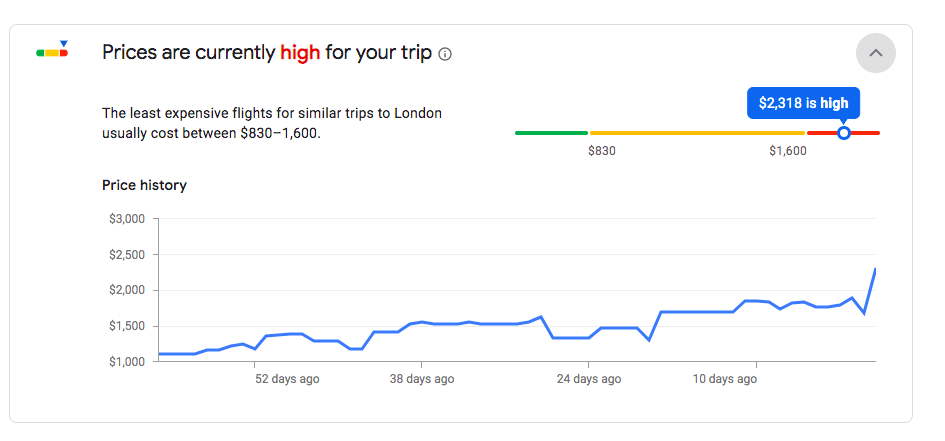 Google Flights Hack 5 – Set Up ALLL the Price Tracking Notifications
The absolute best things about Google Flights? The price tracking software! This is my favorite hack because it saves me so much time and energy. Here are a couple of things to consider. Keep your tracker pretty open. You don't want to filter out tons of airlines or different options. If you are tracking only one flight itinerary through one carrier you might be disappointed. However, track flights in general for your dates. You can do this by setting up your search to be broad. Have your departure and arrival location set by the city, and not by the airport. Then select your dates. If you must you can rule out flights with tons of stops. Other than that, keep it open. This will help you get a good idea of when the best time is to book and will help you to score the best deal. 
Hint: If your dates are not set at all but you know that you want to visit a certain destination set up a destination-specific tracker. You will get emails with some of the best deals for that destination. 

Google Flights Hacks Honorable Mentions:
Use the Google Flights Filter
You can filter out and search almost anything on Google Flights, including legroom, baggage fees, and lay flat seat options. If two different carriers are similar in price look at what airline has the best accommodations for you and your crew!
Use a Gmail Account You Check or Your Phone Number
This goes without saying but use a Gmail account that you check regularly or set up the notifications to go to your phone. I have missed out on some awesome deals because the price tracker was set to send notifications to an email I barely check. I won't make that mistake again!