Don't plan another vacation without using some of these simple travel hacks to save money on your flights and hotels! Some simple booking adjustments and planning will help you and your family save hundreds if not thousands with these money-saving booking tricks. 
Travel Hacks to Save Money When Booking Flights and Hotels
One of the easiest ways to cut your expenses when traveling is to save money before your trip even begins when you are in the booking process. The key is to make simple adjustments to your booking process to still have that really nice vacation but pay less. When you are booking, you want to make sure that you are using the best practices and websites. Often when booking, there are better and more economical ways to go about it that will save you money but give you the same result! These 11 travel hacks to save money when booking your flight and hotel are designed to help you cut the most expenses without cutting the quality or duration of your trip! 
The best part about this list? These money-saving travel hacks can be applied to almost any type of trip, for any budget, and for most locations around the globe! Pick the ones that apply to you and start using them now!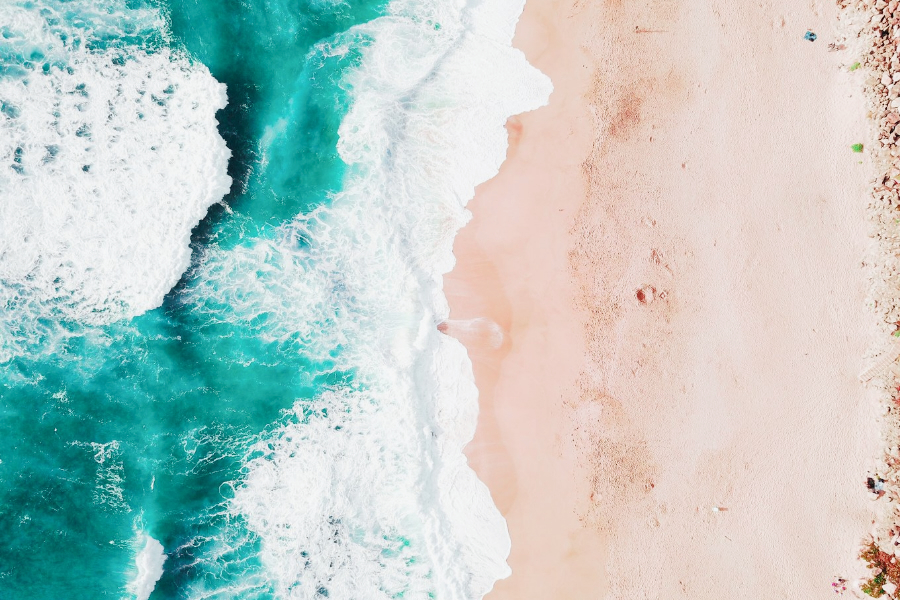 The Best Travel Hacks to Save Money on Flights and Hotels
These 12 travel hacks to save money are tried and true travel hacks that will save you time, money, and stress. Each one will help save money when booking a trip but will also help you get the best bang for your buck! But first, let's address a few commonly asked questions about travel hacking and saving money while traveling. 
How do you travel hack?
Travel hacking is a buzzword right now in the travel industry, and usually when the term "travel hacking" is used it refers to maximizing reward credit cards to have points and miles pay for most or all of your travel! However, there are tons of different travel hacks like booking direct or positioning a flight that will save you time and money when traveling that don't require a reward travel credit card. This post will cover reward travel a little bit but is more focused on all simple booking strategies that families can do to save money when booking a trip. For a more in-depth review of travel hacking and how to get started, check out this post here – Travel Hacking 101. 
How can I cut my expenses while traveling?
The goal is to cut expenses while traveling but not cut on the quality or even the duration of your trip! Some of the best ways to cut expenses while traveling is to be prepared ahead of time, have an outline budget set and be smart. Simple things like not spending a ton on souvenirs that no one will care about when you get home, or being aware of what you are spending on a day-to-day basis on food and tours can make a huge difference!   
Do I need to book my travel on specific days or times?
It used to be that booking flights and hotels on certain days of the week made a significant difference when it came to saving money while booking. However, there are far more reliable and intuitive ways to know the best times to book and what kind of deals you could get! For the purpose of this post, we suggest using price trackers, and data-based travel hacks instead of just booking your flight on a Tuesday because you read that it would be cheaper. In order to properly watch and see the data, we suggest setting up free price trackers and start getting an idea about costs for your upcoming trip as soon as you have an idea of where you want to go. The sooner the better in this case, just because the more time you have the more data and insights you have to go off of. 
12 Travel Hacks to Save Money on Your Flights and Hotels That You Need to be Using Now! 
To help with your planning, this post is going to be part of a series on Travel Hacks to Save Money and the series is broken into 4 different sections. They are; Travel Hacks to Save Money on Flights and Hotels, Rental Car Travel Hacks, Travel Hacks to Save on Money on Food and Tours, and International Travel Hacks. 
So for today, let's dive into the top 12 travel hacks to save money on flights and hotels!
These travel hacks to save money on your flights and hotels will help your dollar go further, set you up for upgrades, and can save you hundreds of dollars by simply being aware of how and when to book. 
1. Use the calendar grid when picking airfare and hotels
One of the top travel hacks for saving money is to be flexible by just a day or two with your travel dates. This can make a HUGE difference when it comes to getting the best bang for your buck. Airfare and hotel stays are usually priced dynamically, meaning that hotels and airlines are on a supply and demand pricing model. If a hotel is hosting a convention over a specific weekend, the prices at the hotel for that weekend will be more expensive because they are busier and can charge more. The same is true for airlines. However, it is impossible to know all of the different aspects that play into the supply and demand for hotels and airlines. 
Thus, the best way to make sure you are getting the lowest prices for your hotel stay and airfare is to ALWAYS use the calendar grid when booking. Doing so will help you see the price differences between the days you are thinking about traveling. This means that when you are booking, you can see the different prices for a selected period of time instead of just one flight or one night's hotel stay. Using the calendar grids when booking will ensure that you are making the most of your money and time and help you find the sweet spot within the dynamic price structures.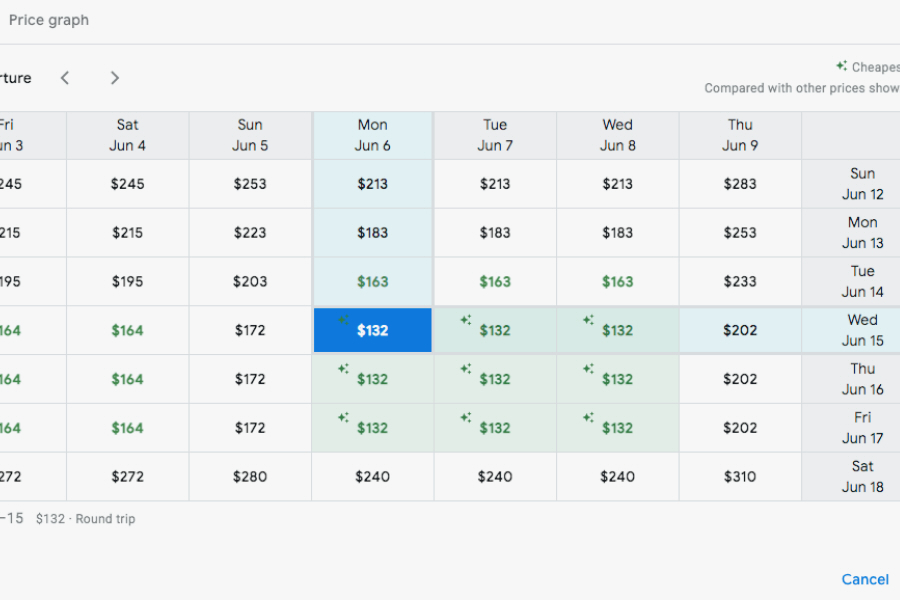 2. Set up price trackers for your airfare
Something you need to do for every potential vacation is to set up price trackers for your flights. Price trackers are notifications that will let you know when a specific flight has gone up or down in price. This can help you determine when the best time is to book your flight for the lowest cost! Setting up price trackers through sites like Google Flights or Skyscanner is free and pretty easy! Keep your flight trackers in place even after you book your flights. Often if a flight goes down in price, you can reach out to the airline and get a credit to your account that you can use on another flight! 
For more Google Flight Hacks, click here – 5 Google Flight Hacks to Use Now!
3. Book Airfare and Hotels DIRECT
There can be a few exceptions to this rule but they are few and far between. Book your hotels and flights directly when you can. There are a few reasons for this. 
1) It will help you earn more miles and points toward another stay. 
2) If there are any issues with cancellations, refunds, delays, etc… working directly with the provider is always the easier route. 
3) You often will get a higher chance at upgrades if you book directly. 
4. Use the "EVERYWHERE search" 
If you aren't entirely sure where you want to go yet, or what airport would be the cheapest to fly into, the answer can easily be found with the "anywhere" and "everywhere" search through sites like Skyscanner and Google Flights. These platforms scour the internet and the different airlines, airports, and providers to find the cheapest way to get from point A to B. Something to note about Skyscanner is that Skyscanner covers most regional airlines as well, while Google Flights covers only the major airlines. Give Skyscanner a look if you need some help figuring out how to get around within a region! It rocks!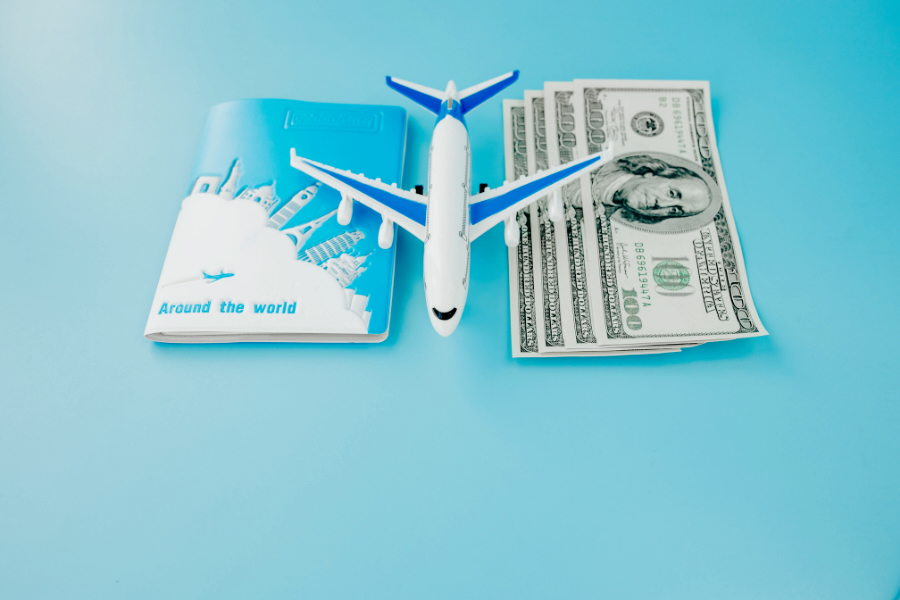 When searching for places to stay and pricing out your different options, NEVER assume that all of the taxes and fees are published upfront. This rings seriously true for home share sites like Airbnb and VRBO. You'll see a nightly rate that seems really cheap but then when you complete the booking it can be upwards of a hundred dollars more per night. 
When available, click the little button that says "show prices with taxes and fees" on airline and hotel websites. However, if the hotel you are looking at doesn't have that option, go through the booking process like you would if you were planning on booking your stay right at that moment. Get to the very last step before you complete your booking (don't accidentally complete the booking) and double-check to make sure that there are not any hidden property or resort fees that were not published as part of the nightly rate. 
At almost every hotel and destination, you will need to pay some sort of taxes and fees. However, you want to know what those are and how much they are going to be before you show up and are charged! 
6. Book and then rebook if needed!
Statistics have shown that booking hotels last minute (NOT FLIGHTS) can save a little bit of cash. In fact, NerdWallet recently did a study that found hotels were 73% more likely to be cheaper 15 days before a stay than 4 months before a stay. This makes the whole "planning ahead" mentality a little difficult. 
The best way to make the most of hotels dropping their prices is to rebook if the rates decrease.  Double-check the rates about two weeks in advance of your stay and then either change your reservation or cancel and rebook altogether if they are lower. Doing this ensures that you aren't running the risk of showing up at a destination without a place to stay but also ensures that you can maximize your savings! 
Always double-check the hotel's cancelation policy if you plan on potentially rebooking your stay if a cheaper rate becomes available. 
7. Price Match Your Hotel
Yes, you always want to book direct but what if you find a really great deal on Expedia or Booking.com? In this case, consider yourself lucky, and price match the crap out of that lower rate through the hotel brand! Often, even the luxury brands, have really awesome price matching programs that offer an additional discount applied to the lower-priced matched rate. 
Price Matching Example
I just finished booking a trip to Boston for me and my husband for later in the year. We are staying at the Fairmont Copley Plaza Hotel. It is not cheap (about 500-600 USD per night on our dates), however, I found a fantastic promotional rate on Skyscanner for 189.00 USD per night including taxes and fees. So, what I did was price matched the Skyscanner rate through Fairmont's website. Not only did I get the Skyscanner promotional rate, but I also got an additional 10% off from Fairmont for price matching. Because I took the time to price match, I was still able to book direct with Fairmont, earn points on my stay, build up status, AND get a lower rate than what was published by Skyscanner! WIN!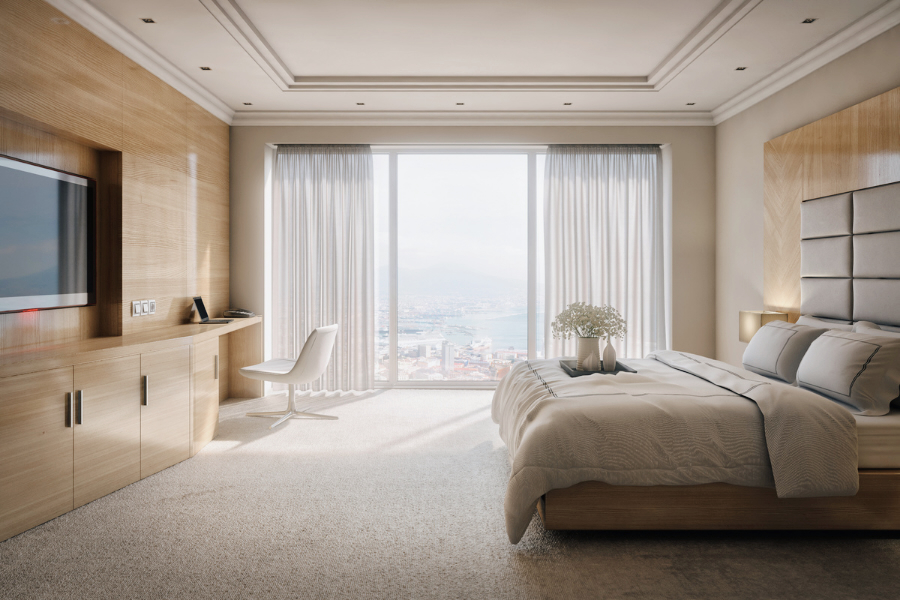 8. Sign up for different reward programs
Most hotels and airlines offer free reward programs that coincide with their branded credit cards. Something that most people assume is that in order to reap the benefits of the reward program you need to have a branded credit card. That is simply not true. In almost all cases, you can sign up for free for hotel and airline reward programs. 
Sign up for these even if you don't have a branded credit card. While you won't get the massive boost that comes from having a branded credit card you will start to earn status and set yourself up for things like free upgrades and free nights. Usually, these reward programs will come with a little perk as well. For example, members of Marriott Bonvoy (even if you do NOT have a credit card) can get free Wifi. Saving 14 dollars a day on wifi and earning some points for your stay is totally worth the five extra minutes it takes to sign up online to be a Marriott Bonvoy member.
9. Book online
In almost all cases, you will get the best rate when you book online ahead of time. Rarely, if ever, should you book directly at the hotel or the airline counter at the airport. Doing so will result in more fees and higher prices. 
Save yourself a headache and some cash by being prepared and booking before you show up at the hotel or airport. 
10. Position your flights
If you live far away from a major airline hub but have a regional airport nearby you want to do something that is called "positioning" your flight. This means that you book the longest and most expensive leg of your flight from the closest international airline hub near you instead of your small regional airport. 
For example, let's say you want to fly to Europe but you live in a rural part of Idaho. Flying to and from Europe from Idaho is going to be expensive. However, if you look at round-trip flights through the major airports in nearby states like (Salt Lake City, Denver, or Las Angelos) you are going to get a better deal. Then you want to book your individual flights from Idaho to those airports. Check the different airport positing options and then see what route is the most efficient and cheapest. 
11. See if your credit card will cover your baggage fees
A lot of credit cards, especially airline-branded credit cards, cover baggage fees. Before you fork out 60 dollars plus for a bag, double-check your credit cards and see if your credit card covers the fees. For example, most of the United cards will cover the baggage fees when flying United. The same is true for most of the other major airline carriers and their cards. 
12. Use and earn points everywhere you stay and fly
Even if you don't have a branded card with all of the different hotel and airline partners you should still sign up for their free reward programs and slowly but surely you can start earning points. Think of hotel and airline reward programs like restaurant punch cards. Also, signing up for the different reward programs will usually get you a small perk in return. For example, if you sign up for a Marriott Bonovy account, even if you don't have a Marriott Bonvoy credit card or Marriott status you can still get free Wifi for your stay. 
When you are ready, consider getting a travel reward card that will help fast-track you to status and gain you more rewards! I recommend having at least one really solid good travel reward credit card with the airline or hotel that you travel the most to in addition to a general travel reward card like the Chase Sapphire or Amex Gold. 
If you are interested in learning more about reward travel credit cards check out 
The Top Reward Travel Credit Card Recommendations! 
Ditch the Debit Card for One of These No Annual Fee Credit Cards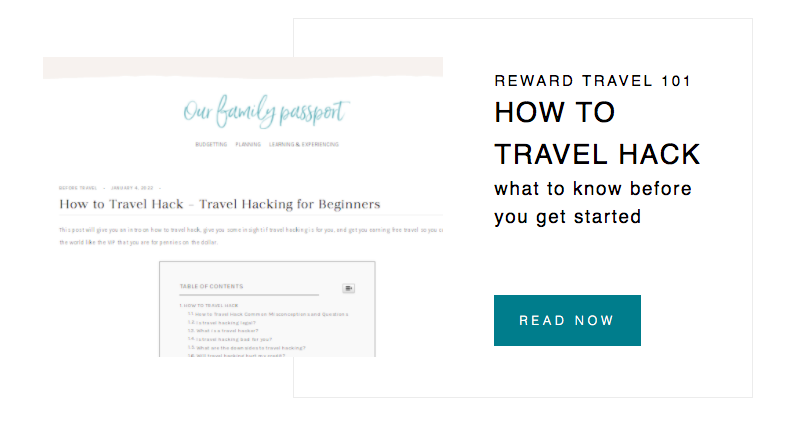 Now You're Ready to Start Booking and Pricing Out Your Trip! 
Once you have a destination in mind, you can start applying some of these travel hacks to save money while you are booking! Don't forget… Book direct when you can. Price match if possible. Sign up for all the free reward programs, and get yourself a decent travel reward credit card. I promise you won't regret it!  
Hugs!
Kam
---
Love Travel Hacks to Save Money? Pin it for Later!