Most people pay full price for flights. Don't be one of them! Let's dive into the best secret websites for finding cheap flights! 
The Best Kept Secret Websites and Techniques for Finding Cheap Flights
There are several different ways to find and book cheap flights using lesser-known techniques and the best-kept secret websites. Here are some of the different options. 
Do your own research, and search different flight prices by looking at different dates and destinations through sites like Google Flights, Airfare Watchdog, or Skyscanner.

Research and set up several different price trackers on sites like Airfare Watchdog and watch the prices fluctuate and then book when you feel confident you have received a good deal in your inbox.

Use a site like Skiplagged and book several different one-way flights with layovers to get you to your destination. This is usually the most inconvenient option but can be up to 500+ cheaper than a regular round trip ticket through other services.

Sign up for different free and premium flight alert sites like Scott's Cheap Flights. These secret websites and subscription services will do all of the work for you and will send you the top deals for your desired airport throughout the year. I just saw a deal come through from SLC to Puerto Rico for $111.00 USD roundtrip with a convenient itinerary in main cabin. That is almost unheard of! 
This Secret Websites for Finding Cheap Flights list will go over 8 of the techniques and secret websites for finding cheap flights that travel junkies and experts have used for years! We'll dig into what to expect when using them, and the pros and cons of using each, and any associated fees or costs.  
For more tips on finding cheap flights see 12 Thrifty Tips for Finding Cheap Flights here!
8 Secret and Not So Secret Websites for Finding Cheap Flights that Everyone Needs to Know
Airfare Watchdog is Google Flights' cooler but more complicated sister. Offering one of the best places to search for airfare and set up price alerts, Airfare Watchdog deserves a look before booking any flight. 
Airfare Watchdog Cost: FREE!
Airfare Watchdog Pros
Where Google Flights lacks, Airfare Watchdog makes up. Price trackers for almost all airlines, even the smaller ones like Southwest. Airfare Watchdog also offers special "Deals of the Day" or "Weekender" alerts. These are great if you know you have some time off but aren't sure where you want to go. 
Airfare Watchdog Cons
Honestly, the advertisements are seriously annoying and it isn't as user-friendly as Google Flights. The alerts are also paired with some more spammy emails and that can get old. There is a massive push to book flights, hotels, etc… through Airfare Watchdog on their website. This is a big no-no because they don't offer any rewards. If you find a good airfare deal on Airfare Watchdog, make sure to quickly book it directly through the airline provider, or through a service like Amex or Chase Travel.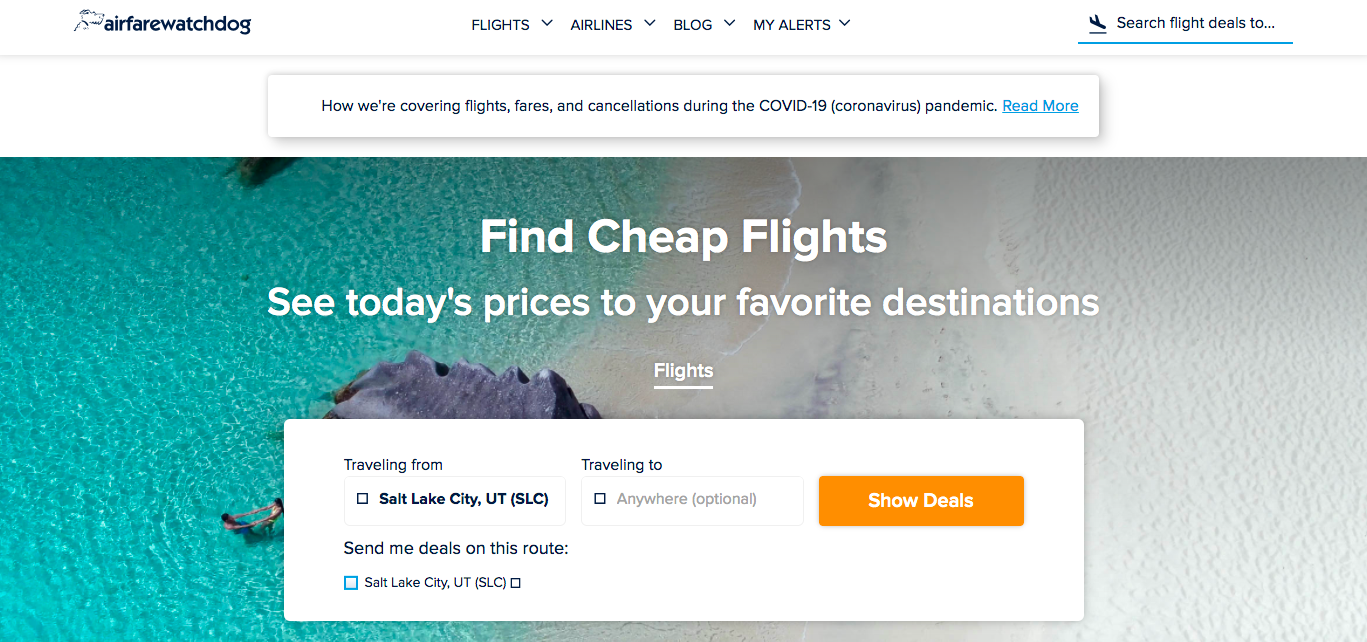 Skiplag's tagline is "Our flights are so cheap, United sued us… but we won." and they are not wrong! Some of the cheapest flights that can be found on the internet can be found through Skiplagged. 
Skiplagged Cost – About an $8.00 USD fee when booking flights through Skiplagged 
Skiplag Pros 
Skiplag does all of the hard work and puts together the absolute cheapest itinerary using the "hidden city ticketing" technique for almost any destination in the world. The website itself is incredibly user-friendly and easy to navigate. It isn't rare that Skiplag will put together a complex itinerary in seconds that would be nearly impossible for someone to figure out on their own. These complex itineraries can save you hundreds and hundreds of dollars in the process. 
Skiplag Cons
While Skiplag flight itineraries are seriously cheap, they are not very convenient or time-friendly. Some itineraries can take up to 40+ hours to get you from point A to point B. While this could be great for some long-term backpackers, this can be incredibly rough for families or travelers who have time constraints.

To be fair this website isn't very secret as it is the staple for pricing out flights and looking at different options, dates, and carriers. However, the secret with using Google flights lies in researching, setting up price alerts, and then booking directly through the airline provider so you can earn points on your flight! 
Google Flights Cost – FREE
Google Flights Pros
Google's price alert system is accurate and works incredibly well. Like almost everything else that Google touches, it is super user-friendly and easy to figure out. If you have a Gmail account, the flight alerts come directly to your main inbox without having to sift through junk, promotions, or social accounts. 
Google Flights Cons
Researching and figuring out what flights and carriers that you want to set a price alert for can be time-consuming and overwhelming. Sometimes if you have too many price alerts set up at one time, Google will group your alerts and send them to you at the end of the day, which means you aren't getting the price drop alerts as fast. Google also does not show smaller airlines like Southwest. This means they only send alerts from the major carriers but not the smaller, local airlines.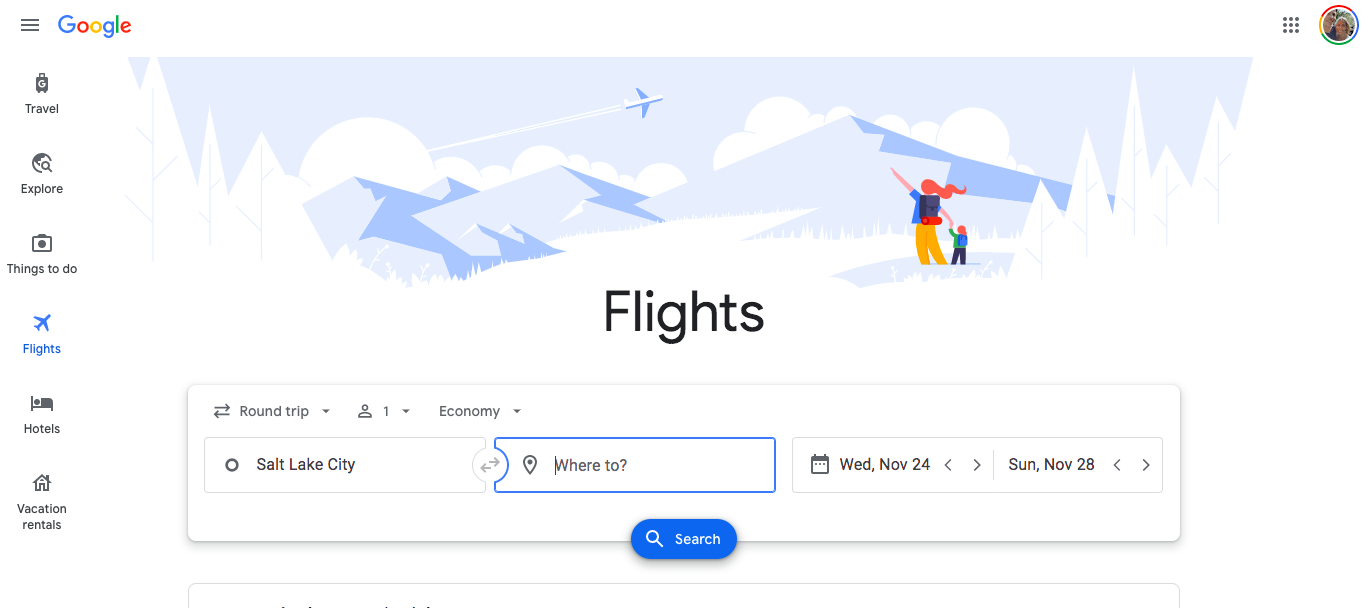 Next Vacay is a subscription alert service that sends you the best deals whenever they come in. After signing up, there is a section to put in what airports you would like to be alerted on, and then whenever a fantastic deal pops up they will send you an email. 
Next Vacay Cost – Free for the first month and then an annual fee of $25.00 USD
Next Vacay Pros
As one of the cheaper subscription services Next Vacay is about 20 dollars cheaper than any of the other premium subscriptions on this secret websites for finding cheap flights list. Something else that I really like is Next Vacay asks and allows for a subscriber to put in their desired destinations and dates. This means the flight alerts and deals that you receive are more targeted to you and your needs.
Next Vacay Cons
Next Vacay has a book direct extension which means that they want visitors to book directly through them. Because of this, there is a bit of a bais with Next Vacay deals and sometimes they aren't as great as you could find through another subscription service. Again, booking through Next Vacay is a big no-no. There is not a reward system in place and credit card points can't be accrued as quickly as if you were to book through an airline directly.  Next Vacay also does not offer a "free" version like some of the other subscription services on this list.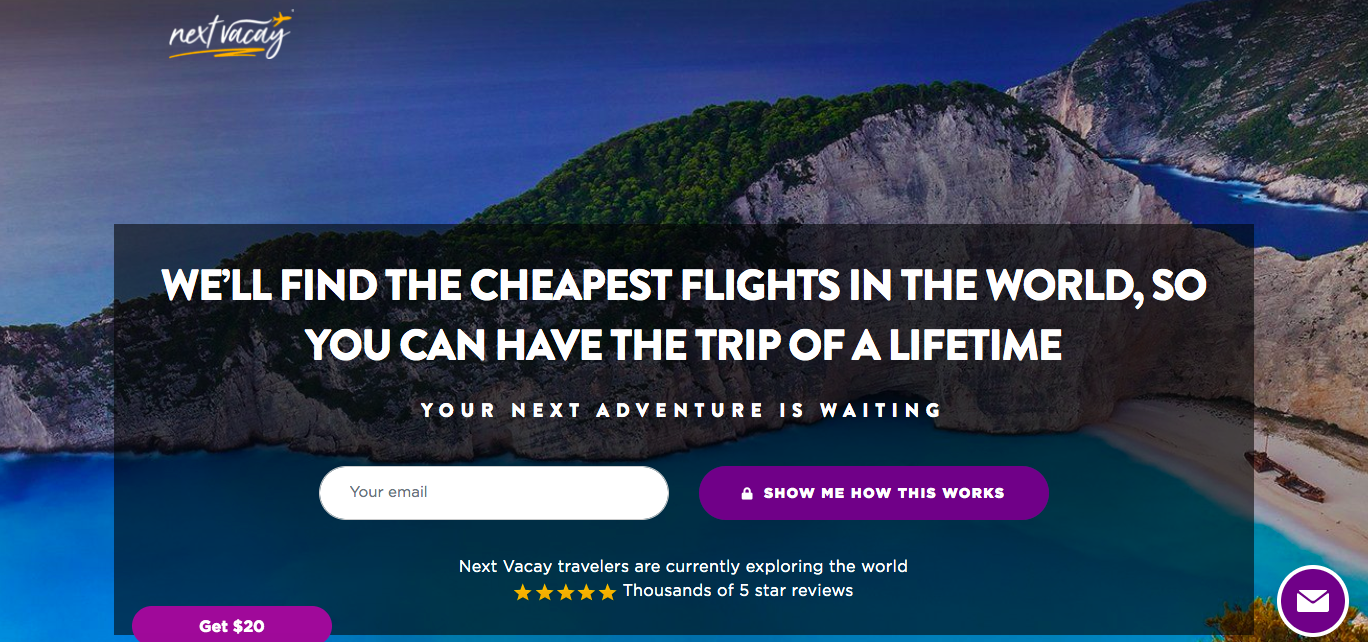 Like Next Vacay, Jack's Fight Club does all of the work for you and will send you the best deals. They will also send mistake fares (when an airline messes up their listing) and targeted airfare from your airport of choice. Jack's Fight Club is based in the UK and is awesome for flights coming in and out of Ireland or the United Kingdom.
Jack's Flight Club Cost – Free for the regular subscription. The premium version is $49.00 a year. 
Jack's Flight Club Pros
I love the tone and feel of Jack's Flight Club. It is easy-going, straightforward, and helpful. I also find that the free subscription service that they offer is one of the best. They are relatively new to the flight subscription game and do a great job offering some decent deals. They also offer flight deals originating outside of the United States, something that few of the other subscription services offer. 
Jack's Flight Club Cons
Something that is a bummer is that Jacks Flight Club (and most of the subscription services on this list) focus on international airports and hubs. This is great if you live near one of them but can be really disappointing if you don't. This is because the deals that come through for smaller airports will be few and far between. Jacks Flight Club also doesn't have as many employees as the bigger services like Scott's Cheap Flights has.  This at times can mean that you might not be getting as many deals as you would have if you were signed up with one of the bigger services.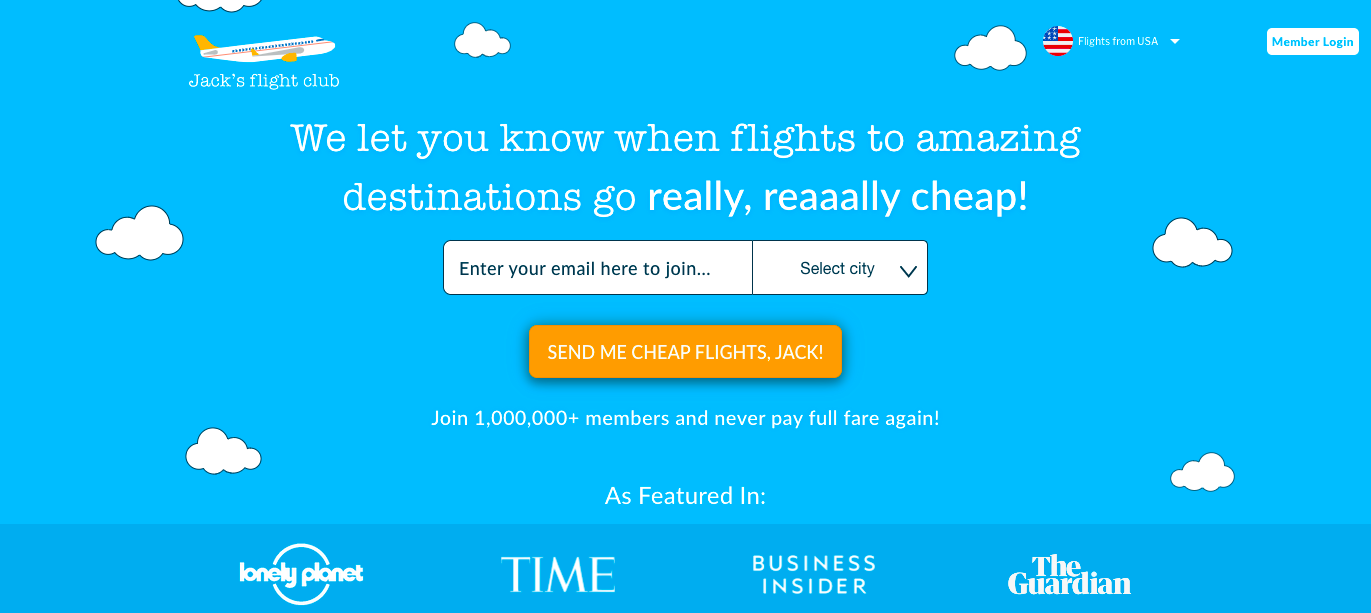 Dollar Flight Club is the swanky version of the other subscription alert services and offers something a bit different with first class and business class deals being sent out. However, with that being said, it is also the most expensive and is my least favorite of the bunch. 
Dollar Flight Club Cost – Free, Premium for $69.00 USD annual fee or $99.00 USD for the premium plus. 
Dollar Flight Club Pros
One of the best things that Dollar flight club has going for itself is that it offers deals on business class and first-class fares. Also, because you are paying a bit more, Dollar Flight Club does dole out some seriously decent deals. At times, these deals can reach up to 400 – 500 dollars off per ticket. 
Dollar Flight Club Cons
The annual fee is simply too expensive if you are looking for economy or main class flights. When compared with some of the other services, subscribers pay more at Dollar Flight Club and get almost the same offering. Dollar Flight Club is also notorious for being tricky to cancel and they have a confusing and prorated bill pay. They also do not offer a real "free" version like some of the different options on this list.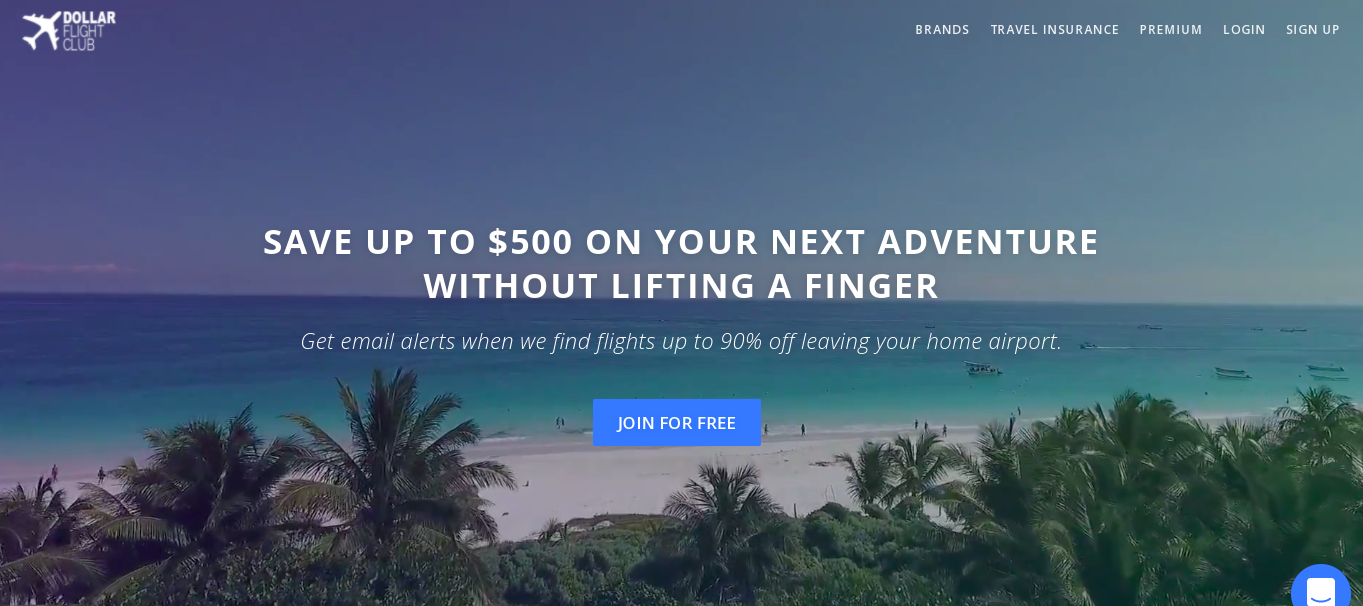 Scott's Cheap Flights is the OG of flight alert subscription services. The more I read about Scott himself and his company the more I want to support it. They have been saving people thousands of dollars in airfare and are one of the best subscription services around! 
Scott's Cheap Flight Cost – Free version or a premium version at $49.00 USD a year
Scott's Cheap Flights Pros
Because SCF was the original, they have the finding cheap flights game down and are extremely efficient. The deals are awesome and they are incredibly quick at doling out the alerts when price drops come in. I also love the company's overall message and feel. Subscription services like Scott's Cheap Flights are fantastic at doing all of the leg work for you. 
Scott's Cheap Flight Cons
Because Scott's Cheap Flights has been around for so long it has some brand recognition and has over 2 million subscribers at a time. This is great for experience but they aren't as hungry or scrappy as some of the other smaller subscription services like Jack's Flight Club. Also, as of right now Scott Cheaps Flights only offers the option to pick your departure airport if you are signed up on the premium version.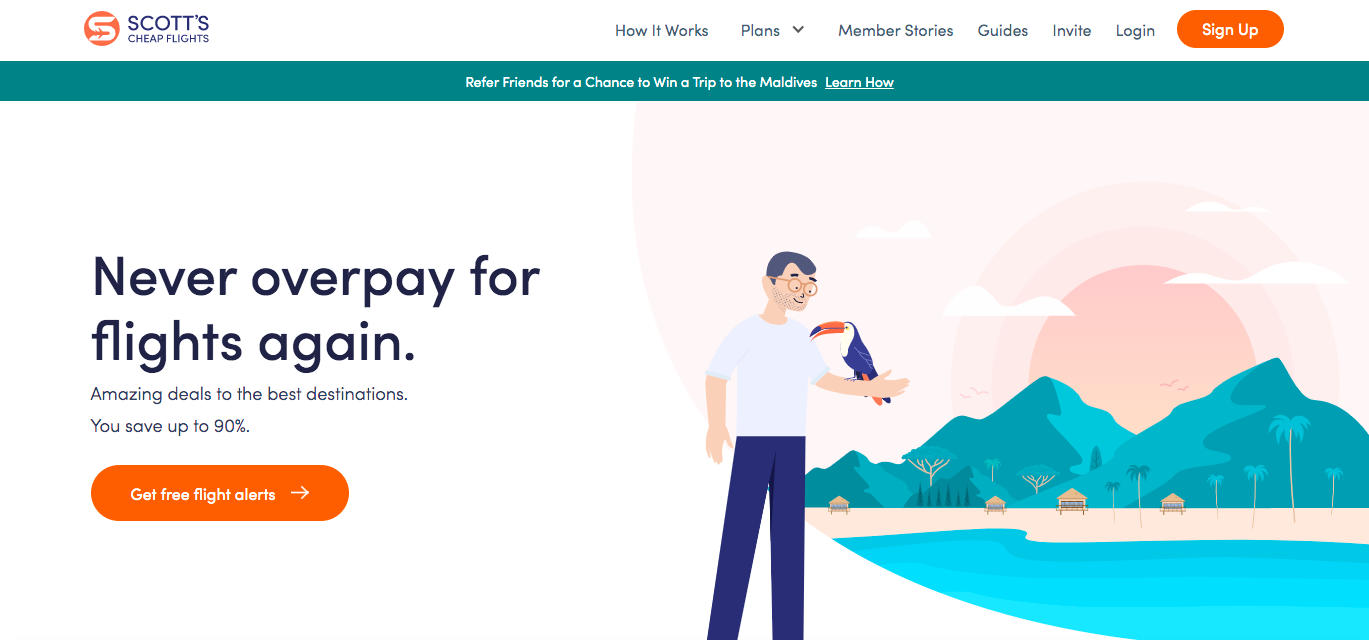 This small subscription service is awesome if you are based in Utah, or Nevada as they pump up daily deals limited to Salt Lake City and Las Vegas. 
Flights from Home Costs – Free version as well as a premium version for $49.00. They also have an awesome Instagram account posting deals almost daily for these two airports. 
Flights from Home Pros
If you live near SLC or Vegas give their Instagram account a follow. It is awesome and the deals they post there are great. Because they only focus on two airports, if those airports work for you, you can expect fantastic deals to come through VERY often. 
Flights from Home Cons
The biggest drawback is that they are limited to only two departure airports. Something else that is a bummer about Flights from Home is that the deals that come are random and a subscriber can't select certain dates or destinations.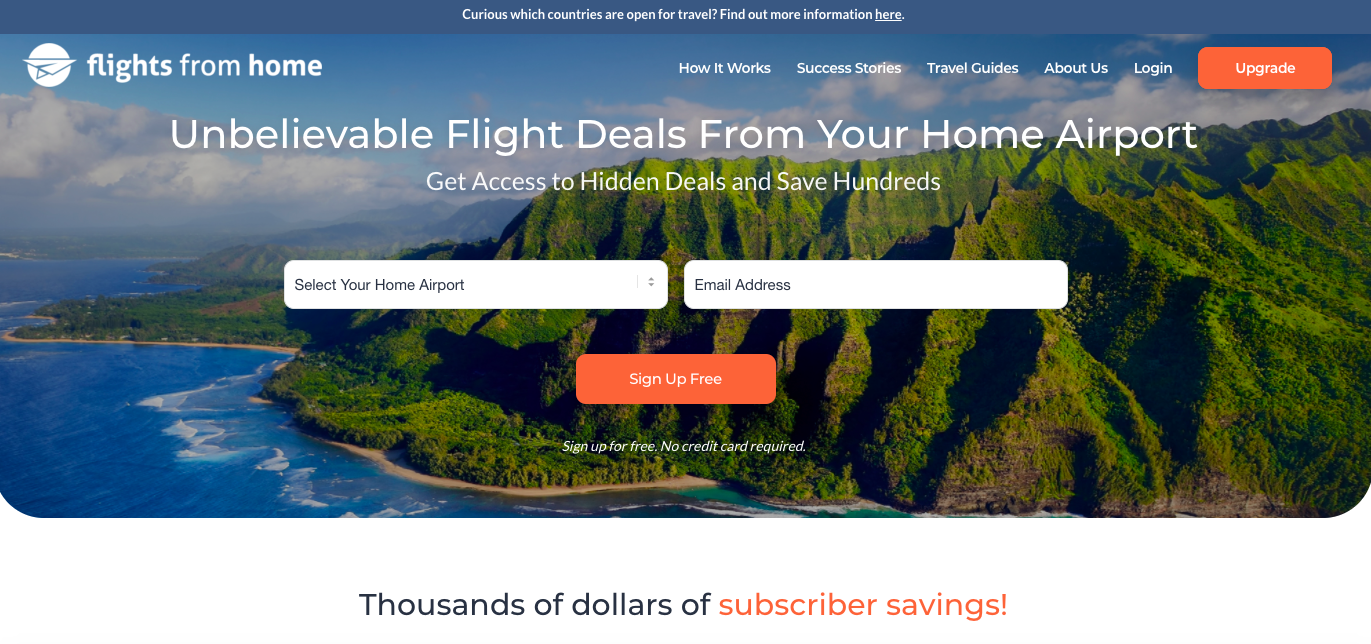 That's it for now! At a minimum, start checking out some of these lesser-known and secret websites for finding cheap flights that can help you score some awesome deals!
---
Like the Best Secret Websites for Finding Cheap Flights? Pin it!