We are here today to share with our list of favorite things to do in Maui for families.  But first, we have a story about exactly how our last trip to Maui came about, as one of our destinations for families in the US.
Things to do in Maui for Families
A Remodel Disaster
Last spring we began a whole house remodel that lasted forever (okay just 5 months, but it seemed like forever.) Several weeks into the nightmare (oh whoops, I mean project), and amid the dust, noise, and mess I snapped and promptly decided I was taking whoever wanted to come and escaping to Maui for a few weeks.  That began a great, last minute adventure.  
We have been to the Hawaiian islands many times and have been on Maui plenty but through the chaos, Maui again was calling my name.  We already know the island well and have participated in many activities that we chose not to repeat this last visit. SO, this post is not a comprehensive guide to all things Maui but rather a guide to the activities that we participated in on this last trip and found to be worthwhile and fun. Activities that might help you escape from the chaos and noise of your life; activities that you might enjoy too!  Below is our narrowed down list of our top things to do in Maui for families.
As a quick note, I recommend renting a car while on the islands.  It is easy to get around all of Maui at your leisure in a rental car.  The road system on Maui is easy although traffic and parking can be a frustration sometimes.
Hotel-A Quick Overview of the Fairmount Kea Lani
We chose to stay at the Fairmont Kea Lani in Wailea.  The resort is sprawling and is a full-service resort with every imaginable amenity you could wish for.  Rather than renting multiple hotel rooms we decided to rent a villa right off of Polo Beach. We enjoy staying in a property with a full kitchen and a washer and dryer.  We like to buy groceries and make many of our own meals, it seems to work better for us.  The villa accommodations were very nice.   It was a fantastic setting in which to retreat and recharge.  The property has 3 pools (including an adults only pool), 2 whirlpools, cabana rentals, and a beach center with a range of watersports equipment- snorkel gear, kayaks, paddleboards, etc. available for use or rent.  
Spa
The Willow Stream Spa on site has been voted Hawaii's Top Spa by Travel and Leisure. We did take advantage of this and booked a massage.  The facilities and the treatments were top rate.
Food
Kea Lani has 4 restaurants on site, four bars and a casual bakery/deli that we frequented.  They sell sandwiches, pizzas, ice cream, yogurt and other goodies to go.  
Gym
The fitness center is open 24/7 and has plenty of machines, free weights, and equipment to satisfy anyone. Every time we went to work out there were only a few people in the gym, which was great.  Another feature that we loved about the property is that there is an oceanfront walking/running trail system called the Wailea Beach path that starts in front of the Fairmont and goes all the way to the Maui Andaz property (about 1.5miles one way).  I took advantage of the trail to get a good workout and to watch the sunrise in Maui:)  Oh the solitude!
 

Our Favorite Activities on Maui for Families
Blue Hawaiian Helicopters
We took a 50-minute flight with Blue Hawaiian that soared over the West Maui mountains and Molokai. The flight was a total escape as we flew by the deep rainforest valleys of the mountains and saw misty peaks and ridges interspersed with tumbling waterfalls.  It was breathtaking.  We then flew over the channel between Maui and Molokai to take a peek at the spectacular sea cliffs, some of the tallest sea cliffs in the world.  It was an experience never to be forgotten and Blue Hawaiian always does a great job.  
Golf
There are many great courses on Maui but Phil's favorites are the Wailea Courses and the Kapalua Plantation Course.  The Kapalua Plantation Course is rated the #1 golf course in Hawaii.  It is built around the splendor of the West Maui Mountains and both the Plantation Course and the Wailea Emerald Course offer majestic views of the ocean from nearly every hole.  Staying in Wailea Phil had to drive a while to get to Kapalua but in his eyes, it was worth the trip!
Kayaking
There is nothing more thrilling than getting off the land and into the water to view some of the spectacular sea life just under the surface.  We went on a kayak excursion with Hawaiian Paddle Sports.  We were met early morning by our guide at Makena Landing and launched into the ocean.  Gliding through the water with the view of Haleakala in the background was a peaceful respite and the backdrop was stunning.  When we arrived at "turtle town" we jumped out of our kayaks, donned our snorkel gear and snorkeled with many large Hawaiian Sea Turtles.  It was thrilling and I love watching those turtles in the water.  We saw unusual coral formations including an underwater arch.  We tried to find the resident reef sharks that live in the area but they weren't around.  The reefs were naturally well-lit, the water was clear and warm and the ocean was calm which made for great viewing.
Parasailing
We met UFO Parasail at their check-in location on Kaanapali Beach.  We were on the boat for about an hour (make sure you wear sunscreen) and as we had 6 people with us, we decided to fly 3 sets of doubles.  It was beautiful and peaceful viewing the water and the land from high above.  It is a mild family activity and anyone 3 years old or older can participate.  Take-offs and landings are completely dry, although the driver will "dunk" you as part of your flight if you wish.  I never wish that!  Make sure to bring a camera to photograph each other while in flight.  
Maui Ocean Center
This aquarium Maui Ocean Center  is the perfect place for little ones who might have a tough time snorkeling.  On display are numerous fascinating creatures housed in clean aquariums.  In addition to these displays you can touch starfish and baby turtles.  There are also tiger sharks (which I think are beautiful) and manta-rays.  Allow at least an hour to two hours here.  While this isn't our favorite activity in Maui, we think it is worth a visit.
Beach Time
Around every turn is another stunning beach on Maui.  Scenic soft sand beaches are the norm on Maui but we will focus on the ones nearer Wailea.  Makena Beach State Park, Oneali Beach, Polo Beach, Wailea Beach and the list goes on and on.  It is tough to beat the beaches on the west side and the south side of Maui.  They have consistently good weather year round.  Bring your snorkel gear (we always rent at Snorkel Bob), towels, beach chairs, sunscreen and a picnic and you are set for a fun day in the sun.  Obviously, beach time is at the top of the list of things to do in Maui for families.
Hana
Hana is as close to paradise as you may ever come.  In and around Hana you will find lush tropical rainforests punctuated with towering waterfalls and the clear blue Pacific skirted by red and black sand beaches.  Our favorite beach in Hana is Wai'anapanapa.  There is no shortage of gorgeous beaches in Maui but this one is special.  The sand is grey-black and you can watch as the ultra-blue waves come crashing in (be careful in the water, it can be rough).  The setting is magical as tropical greenery falls over lava fingers stretching out to sea.  There are caves to be explored and many shoreline hikes.
Getting to Hana is a journey.  The drive takes about 3 hours from either Kihei or Lahaina but be sure to take the whole day.  For your Hana excursion, you can hire a private or shared group guide, follow a guidebook or go it alone. Just GO.  If you have never done the road to Hana before, it is a must do while on Maui.  Be sure to take some Dramamine if you are prone to car sickness.  The road is thin and winding with many hairpin turns.  This was our favorite day as it gave us a chance to recharge and really see some of the magnificent nature on the island.
Paia Town
Paia is a small quaint surf town of Maui's north shore.  It has a laid back vibe and many small restaurants and one-of-a-kind shops.  It is fun to walk around and deserves a ½ day to explore if you have the time.  Keep in mind that Paia is a 35-minute drive from Wailea.  
Our Favorite Resturants on Maui – Yum!
Mama's Fish House
This north shore restaurant Mama's Fish House and it is consistently ranked one of the best restaurants on the island.  Set ocean front it makes for a grand scene at sunset.  The food is delicious, fresh and high quality.  Add to that the ocean's tropical breezes and you have the complete experience.  I can't forget to mention the Kuau chocolate pie for dessert. Mmmmm!  Don't even think of showing up to Mama's without a reservation.  
*Note: Mama's fish house can be a little crowded at times, is pretty pricey, and can be a little out of the way. Even with these considerations, it is one of (if not) our favorite restaurant on the island! But we want you to be aware of these couple of things before you make a reservation. 
Flatbread Company
This establishment, Flatbread Company,  is also on the north shore.  On the menu are delicious salads and to die for pizzas that are natural and wood-fired.  Try the Mopsy's Kalua Pork Pizza (oh, I am a fan), or the more simple Jay's Heart (which was Easton's favorite).  They have specials that change often.  It is also busy- we should know, on this trip, we made the trek from Wailea to Paia 3 different times to eat here.  It was worth it every time!
This restaurant located right off of Kaanapali Beach in Whaler's Village offers a shady spot to dine and some good food to boot.  If you are in the area (maybe after parasailing), you should stop in.  The coconut shrimp is great as an appetizer and the fresh fish tacos were a delicious surprise.  
In our opinion, this is the best shaved ice on the island.  They have several locations on Maui and offer flavors from the typical to the exotic.  When things heat up on Maui, head here for a great cool down.  Expect to stand in line and accept it as part of the experience:)
In the End
While there are seemingly unending activities and excursions on Maui, these are our top favorites from our last trip. We had a perfect balance between rest, relaxation, and adventure. Maui helped us to do what we set out to do….escape the noise, chaos, and confusion of everyday life.  If you are in need of an escape, maybe Hawaii should be on your list of places to travel!!  If you have traveled to Hawaii, which of the islands is your favorite?  Do you have some favorite activities that help you escape?  Favorite Restaurants?
Happy Travels,
Shani
*Click to check out our fun Maui coloring page that is easy to download and color!!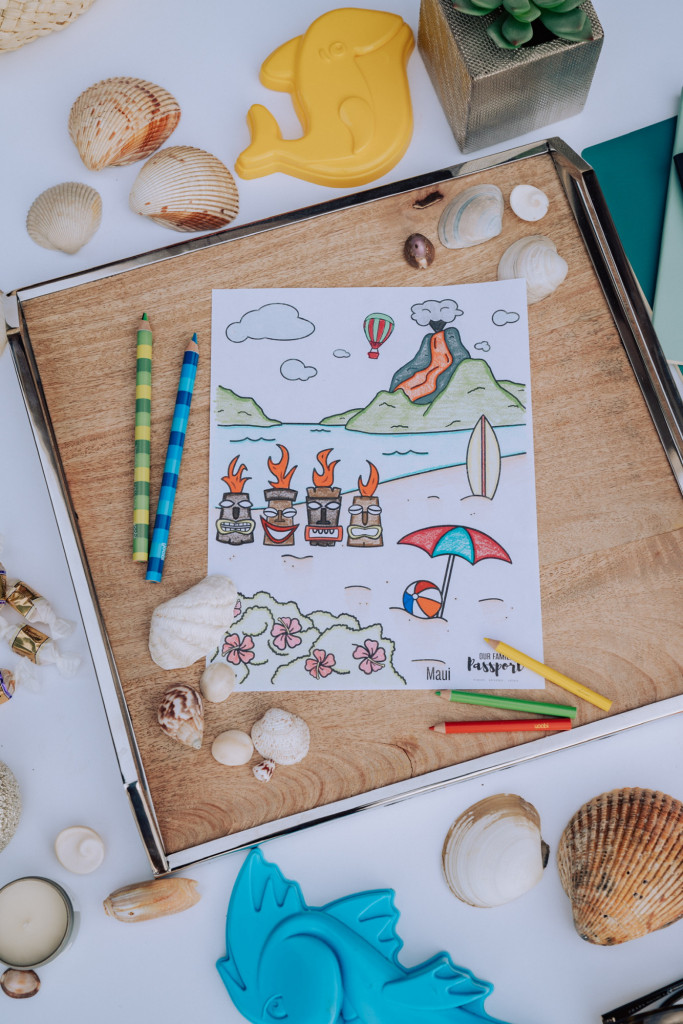 AND, don't forget to see our post about the Best 4 and 5 star Resorts in Hawaii for Families!