Okay, so here is the deal. We did not love Naples at all. We spent 4 days there as a family and truthfully we were not the biggest fans (with the exception of the food – YUM!). You can read about our experience being in Naples as a family and what we did there here – A Day in Naples Italy with Kids. However, one of the best things about Naples is that it is rather inexpensive, and is a fantastic jumping-off point to see some of the best things that Southern Italy has to offer.
So we suggest that when you are traveling to Naples, Italy with kids (or without, but this post is geared to the best day trips for little ones) to make sure that you spend some time to get out of the city and explore places like Pompeii, and Procida with your family! Without further adieu, here are the best Day Trips from Naples with Kids that will leave you and your family speechless! 
The Best Day Trips from Naples with Kids
Like I mentioned above, Naples – not our favorite. However, there are soooooo many beautiful places and amazing attractions near Naples Italy. And even if the city isn't your favorite you could spend an amazing 3-4 days exploring the surrounding regions. You can visit places like Mount Vesuvius, Herculaneum, Positano, Amalfi, and Capri*. There are honestly endless trips you can take from Naples. Today we have narrowed it down to our top 2 spots that were Beckham approved. He loved Pompeii and going to the small island of Procida. Each of the days trips from Naples that we have included have something special that littles will like and can be fun and we will be sure to include some tips that will make your visits fun and easy for the whole family. 
*Note: We decided to stay in Positano for a week and explore the surrounding areas from there! You can read our Top 9 Things to do in Positano here! 
Visiting Pompeii from Naples with Kids FAQs
Is Pompeii worth seeing?
Oh my gosh, YES!! Truthfully, if you are going to Naples it would be a crying shame to not visit Pompeii! At first glance, it might not seem like the most kid-friendly place but with the right expectations and preparation, it can be! 

How do I get from Naples to Pompeii? 
There are several options. 
T

ake the right line on the Circumvesuviana train from Naples for a ride of about 40 minutes and a little bit of walking. There is an awesome step by step post on how to take the train from Naples to Pompeii

here

. However, Naples can be kind of sketchy and we were told by several people to be a little bit wary of the train so we decided against this option. 

Hire a taxi. Totally a valid option. However, they can be pricey, and getting a taxi back can be a little bit of a hassle. If you do decide to take a taxi, make sure to agree on your price before you begin your trip. 

Book a round-trip shuttle through a company like Viator (they have some round trip prices starting at 28.00 USD). This is a great and inexpensive option.  

Book and schedule a guided tour and driver. By far the easiest and most convenient but also can be more expensive. For us, it was totally worth it. Our guide met us at the entrance with tickets in hand and helped us get through the craziness that is the queuing location with ease. 
How much does it cost to visit Pompeii?
At the time of writing, the average ticket to Pompeii costs 15 Euro per adult and 9 Euro per child. You can get discount tickets if you are a member of the EU and a student. The easiest way to get your tickets is to purchase them ahead of time through a tour vendor or through an online ticket office like this one here. 
EXPERT TIP: Do not buy any tickets from street vendors or anyone who approaches you from your taxi or train transportation. They can be fake or overly pricey. 

How much time do you need to visit Pompeii?
Okay, so since this is centered on day trips from Naples with children, we are going to say that less is a little bit more here and a 2-3 hour tour is going to be PLENTY! Most tour operators range from 3-4 hours but 4 hours is going to be way too much for a little one. Our tour was about 2.5 hours and it was perfect for Beckham although the adults in the group wished it had been a little longer.
It helps to do a little bit of research ahead of time and know if there are any specific places that you want to see. Pompeii is VAST and large and knowing ahead of time to either look it up on the map or explain to your guide what it is that you want to see will help keep the pace of the tour great for the littles while also allowing you to see what you want. Not sure what you want to see in Pompeii? Google being Google has rounded up some of the top attractions with a map

here

. 
Can you do Naples and Pompeii in one day?
Oh my goodness yes! If you are prepared and schedule a transfer and book your tickets ahead of time, you will be golden. It will also help if you are at Pompeii right when it opens. It is much more enjoyable when it isn't soo hot or soooooo crowded. Once you have finished at Pompeii, you will have ample time to head back to Naples for some of the best pizza and gelato you will ever eat! You can read about our favorite kid-approved restaurants in Naples here! 
Can you tour Pompeii on your own?
The answer here is yes and no. If you are well versed in Ancient Roman history (Pompeii was once part of Imperial Rome) and you have a good idea of where you want to visit, then yes. You totally can. Be aware that there isn't much in the way of plaques or posted information. You would need to rely on the map and book given to you when you enter (if you don't get them, then ask!) and it would really help to have another good guide book that is a little bit more in-depth. We didn't use this book, but it has come highly rated if you are looking for some options – Blue Guide – Southern Italy. 
It is our suggestion that if you are going through with kids and if you can fit it into your budget, that it is a better idea to hire a private guide that can help tailor the tour to things that are more kid-related. Beckham who was 5 got a kick out of seeing the toilets and hearing about the loaves of bread that were still found in the ovens when it was excavated. A good guide can help tell stories and make the location come to life for the little ones (and honestly, for the adults too!) 

Visiting Pompeii with kids tips!!
Okay so here is the thing, Pompeii will be a place that what you put into it, will be what you get out. At it's worst, Pompeii can be a crowded, overwhelming, stuffy, and hot… oh so freaking hot! At it's best, you and your family can learn, step back into time, experience ancient history first hand, and have a wonderful and memorable time! Following these steps will help you and your family have an experience that fits the latter. 
Pompeii Travel Hacks for Families
Get there early! Fewer people, less heat. Enough said.

Buy your tickets ahead of time and make sure it is a skip the line ticket.

Be aware of what it is that you want to see and how long you will be there.

Familiarize yourself with the history. Also, help familiarize your littles with it as well. I got Beckham this

super easy scholastic reader book on Pompeii

before we went, and we read it several times. He was SOO excited when he was able to see Mount "Esovious". Having him have a little historical background was great. 

Bring some snacks and water! It is hot and there aren't many places inside the archeological site to get a drink. 

Have everyone go to the bathroom before entering the site as well. There are decent bathrooms at the entrance gates. Use them so you aren't rushing around looking for a bathroom once you are inside. 

Make sure you are including your little ones as you are going through the site. Talk about things that can relate to them and on their level. Engage them and point out things that would interest them. For example, Beckham loved the ancient pipes (what can I say, he is a little nerd haha, the community pools, and seeing the archeologists.)

Make sure before you see the casts of the people and animals that died that you make sure that the littles know what they are and that they are emotionally mature enough to see them. Beckham thought they were fascinating. He was sad, but it wasn't distressing to him. 

Avoid the souvenir stations at the entrance, they are known for pickpocketing and the souvenirs there are some of the most expensive that you can find. You are better off shopping somewhere else.

Have sunscreen, sunglasses, and hats on hand. The sun is BRIGHT and there is little shade in the complex. 

Keep your visit short and succinct. Know where you want to go beforehand. Either communicate this to your guide or have the spots marked out on your guide book.
You and your children are going to LOVE Pompeii. Check out our Pompeii coloring page now!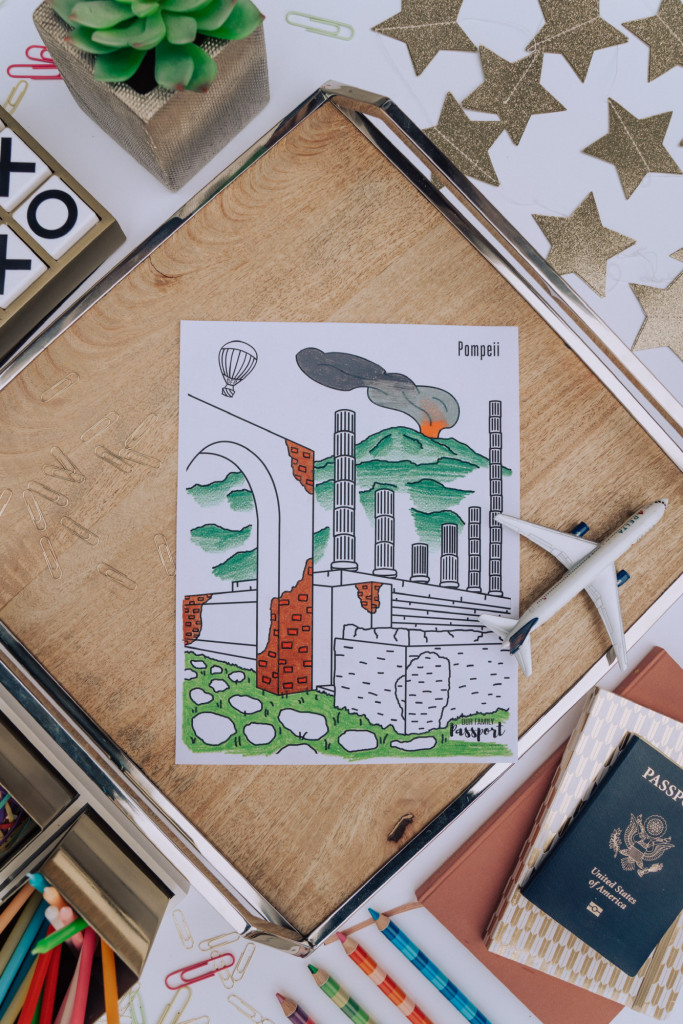 Visiting Procida from Naples with Kids FAQs
The island of Procida is one of the most beautiful places near Naples and is a gorgeous little island about an hour off the coast. The best thing about Procida is that it is sooo off the beaten path. It feels like stepping back in time because it hasn't quite yet been overrun with tourism. Lightly colored buildings dot the hilly landscape and fishing boats bring in their catch every morning. Beckham loved exploring the island, playing on the cannons that protected the islands hundreds of years ago and having the opportunity to swim off the coast. 

How can I get to Procida from Naples?
Obviously, because Procida is a little island you have to reach it by boat. There are two different companies that run ferries from Naples to Procida. You can find all about the sailing times, and how to get tickets here. 
One of the most fun ways is by hiring a boat for the day.  These boats can be shared or private. There are many charters you can hire out and you can book them in advance through travel booking sites. We have included a link right here to give you a quick idea of pricing and what to expect. 
We booked our tour through Misal Charters and they were fantastic! They were excellent with Beckham and we were able to stop at any time that we wanted to swim or play. Beckham loved being able to play on the boat and being out on the water. 

Is Procida worth visiting?
Honestly, yes! There isn't a whole lot to see in terms of major attractions but it is a beautiful island and is fun to explore and leisurely walk around. It was nice to get away from the crowds and the crazy of Naples and go and experience a slice of Italian life. 

What should I do in Procida? 
There are several beaches to visit, the food can be great, and there are awesome views all around the island. The island is so little that it is easy to walk around and explore almost the whole thing. Procida is not a place to go to if you are looking to have a day crammed with site seeing. If you need a warm, sunny, and easy break, it is the place for you! 

Visiting Procida with kids tips!
Procida was one of Beckhams favorite days because it was just so easy and relaxed, in a way it is the exact opposite of Pompeii. Knowing what to expect out of your day will be helpful. 
This should be a no brainer but have enough towels and sunscreen on hand. 

Bring a light jacket. This might seem counterintuitive but when we were on the boat, even though it was a beautiful day, it was a bit chilly and Beckham wanted to be out on the front of it where the wind was fierce. I was so glad I had a jacket for both me and him. 

Have an idea of where you want to eat. The lunch crowds can be a little much if a big tour or ferry comes in. 

Make sure to go see the cannons at the top of the island. Beckham was weirdly obsessed with them and because it is Italy and everything seems to be a little bit more laid back and kids can climb and play on them. 

Wear shoes that you can walk a bit in. They don't need to be tennis shoes or anything, but shoes that you can comfortably walk around in for a while is great. The island is hilly.
So there you have it! Again, honestly, there are so many different day trips that you can take with your littles in Southern Italy, but in our experience visiting Procida and Pompeii are the two day trips from Naples with kids that you have to take when you are visiting!  Let us know below if you have been to Naples, what you think about it and if you would rather go to a busy ancient site like Pompeii or get off the beaten path and live life like an Italian for a day!
XO,
Kam
Heading to other places in Italy? Check out all our Italy coloring pages here!