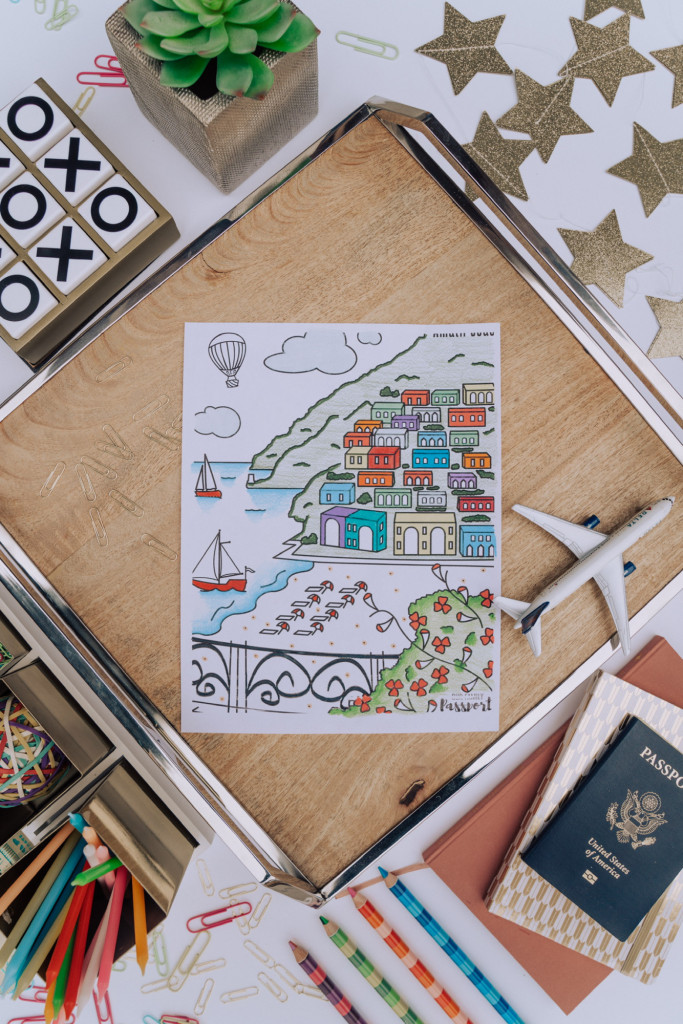 Amalfi Coast Italy Coloring Page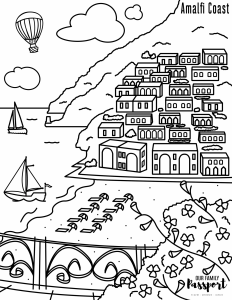 It is hard to believe how unbelievably beautiful the Amalfi Coast is! Whether your littles are learning about coastal fishing towns, doing a school project about Italy, or you and your family will be traveling to the Amalfi Coast soon, our Amalfi Coast printable and digital coloring page is so fun to color and easy to download. This printable Italy coloring page will be sent in two different formats. You will receive a printable PDF coloring page as well as a digital PNG coloring page so you can download it to your electronic device and color on the go! 
Our super cute Italian beach coloring page is modeled after our own summer visit to the Amalfi Coast! This printable and digital coloring page includes epic coastal mountains, Italian villas, two cute boats sailing along the ocean, our famous OFP (Our Family Passport) hot air balloon, and the picturesque coastal beach! This printable and digital Italy coloring page will be able to provide so much entertainment and will help your child to learn about coastal villages and geography around the world, and it can help prepare your little ones for a trip. It doesn't get any better than that!
Why The Coloring the World Movement? 
At Our Family Passport, we believe that learning and traveling go hand in hand. So whether you want to have a fun night in coloring with your family, or you are out and about exploring the world together, it is our hope that our educational coloring pages will provide you and your family with hours of learning and fun!
Click Add to Cart and Start Coloring Now!
Your purchase includes a total of 5 PDF and PNG file downloads so you can print, color, and download your travel coloring page all around the globe!
Don't forget that we want to hear from you and see where these pages take you! Tag us on Instagram with your pages using the hashtag #coloringtheworld 
Click and Color Now
We love the Amalfi Coast so much, but when we visited it rained on us almost the whole time (what???). So, we have written a post specifically on what to do on the Amalfi Coast when it rains. Bookmark this for your upcoming trip just in case you get hit with some sad weather too!  Click here to read the 9 Best Things to do in Positano in the Rain!