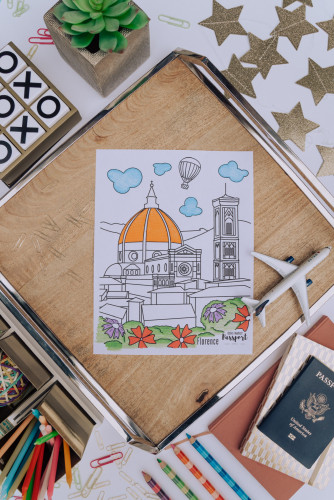 Florence Italy Coloring Page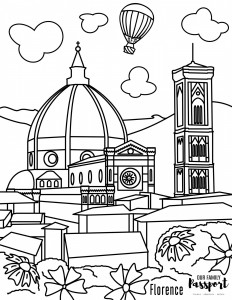 It is hard to believe how unbelievably exciting and beautiful the Renaissance city of Florence is! Whether your littles are learning about the Renaissance, doing a school project about Italy, or you and your family will be traveling to Italy soon, our Florence Italy coloring page is so fun to color and really easy to download. This printable Italy coloring page will be sent in two different formats. You will receive a PDF printable coloring page to print and color as well as a PNG coloring page so you can color online with your favorite app! 
Our Florence Italy Coloring Page
Our super cute Duomo Florence coloring page is modeled after our own spring visit to Florence. This printable and digital coloring page includes blossoming Italian flowers, the Tuscan mountains, the Duomo and Bell Tower, Italian rooftops, and our famous OFP (Our Family Passport) hot air balloon! This printable and digital Europe coloring page will provide so much entertainment and will help your child to learn about the Renaissance and Italian history and culture. Lastly. It can help prepare your little ones for a trip. 
Why have we Started the Coloring the World Movement? 
At Our Family Passport, we strongly believe that learning, traveling, and making memories as a family go hand in hand. So whether you want to have a fun and educational afternoon coloring with your kids, or you are out traveling the world, it is our hope that our educational coloring pages will provide you and your family with hours of memory-making, learning, and FUN!
Start Coloring Now
Click the add to cart button above and COLOR NOW! Your purchase includes a total of 5 PDF and 5 PNG file downloads. Then you can print, color, and download your travel coloring page all around the globe!
Want to join the Color the World Movement? Tag us on Instagram with your pages using the hashtag #coloringtheworld for a chance to be featured! We want to see where your pages take you!
We love LOVE, LOVE, traveling together as a family! However, some destinations like Florence require a nice balance between things for adults like museums, and fun and interactive activities for the younger crowd. Otherwise, the trip can turn into a disaster! If you ever think you will be planning a trip for multiple interests and ages, then YOU HAVE to read The Top 10 Tips for Family Trip Planning: Plan a Trip for Different Ages and Interests!