Pompeii Italy Coloring Page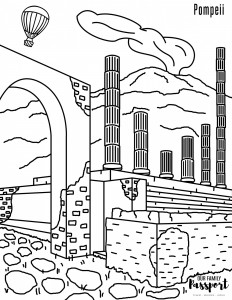 Ciao, friends! Have you heard of the ancient Italian city of Pompeii, that was destroyed by the volcano, Mount Vesuvius, in 79 A.D.? Our Pompeii coloring page shows the remnants and ruins of this city today! The volcano buried the entire ancient of Pompeii in many feet of ash and debris, preserving the city perfectly. This volcano coloring page shows the preserved city of Pompeii with an erupting volcano in the background, reminding us that Mount Vesuvius is still an active volcano. Our famous Our Family Passport (OFP) hot air balloon floats above and surveys the ruins too.
Join the Coloring the World Movement!
At Our Family Passport, we believe that exploring, traveling and learning go together like pizza and pasta.  Whether you are looking for a fun and simple family activity, or you are about to embark on an adventure across the world, we feel confident our printable coloring pages for kids will provide you and your family with hours of enjoyment and learning!
What Your Pompeii Italy Coloring Page Purchase Includes
Your purchase includes a total of 5 PDF and 5 PNG file downloads so you can print, color, and download this Pompeii coloring page or any of our other travel coloring pages from all around the globe!
AND remember that we always want to hear from you and see where these pages may take you! Tag us on Instagram with your pages using the hashtag #coloringtheworld 
Dreaming of visiting Pompeii or anywhere else in Italy? We have your back!  Read our Naples with Kids, and  The Top Ten Things to do in Venice for First Time Visitors. Pair our blog posts with this ancient ruins coloring page or any of our other Italy coloring pages to make the most of your family travels!