Alright moms and dads, let's be honest…traveling with kids isn't always sunshine and roses and unfortunately, life isn't either. I recently got divorced and while it was amicable, my life is for sure different as Beckham and I are finding our new norm. Through the divorce process, I was super worried about how divorce would affect traveling because hello… I all of the sudden would be traveling as a single parent. However, I still felt so strongly that traveling with my loved ones is one of the best ways to nurture and foster relationships. As a newly single mom keeping mine and Beckham's relationship strong is at the top of my priority and I don't want to let a divorce stop me from spending quality time and exploring the world with my little one. However, single parent travel with a child is and was a little daunting to me.
Managing everything on my own, keeping my child safe, and flying alone with a child can be overwhelming, but in my experience has been sooo worth it! Let me tell you why, if you are a single parent, you should travel with your kids alone, and what I have learned to handle single mom travel like a complete all-star! (Okay, not an all-star… maybe like a second string player but still, I am off that freaking bench hahah.)
Single Parent Travel with a Child Questions and Answers
Once I knew I was going to get divorced I started googling like mad. My search history was peppered with questions like "how to co-parent a child", "how to have a good relationship with your ex", "how to tell your child about divorce", "how do I determine the child support I should receive", "how to better manage finances and budgets alone"… all not ideal questions. So when I started moving on from the super stressful searches regarding my divorce to embracing my life as a single mom and planning a vacation as a single parent I felt empowered and excited about the idea of taking Beckham for three weeks to Europe.
I started googling things about traveling as a single mom and how to have a meaningful vacation as a single parent with kids. As my search history changed so did my own feelings about managing life and travel as a single mom. To give some insight into what I have learned and my personal experience, I am going to answer some of the most common questions regarding single parent travel with a child.

How do you travel alone with kids?
This one is a loaded question. But here are my top 7 single parent travel tips and advice to traveling alone with your kids.
Keep a sense of humor.
Where you once had 4 hands to help manage the little ones, you now have two… but you can do it! Be patient with yourself and with the kids. This is new for them and for you. There were times on our vacation where Beckham yelled "Mommy, I just farted" in a cathedral and I would just laugh. The worry that I once felt about him kicking the seat in front of him on the airplane… gone. I had to learn to better pick and choose my battles and remember that the whole purpose of traveling with him is to strengthen our relationship and make memories, it is NOT a chance for me to be a complete stress case. I wasn't perfect by any means and I have loads to work on but there have been massive improvements.
Have an emergency plan in place and take a picture of your child every morning.
Beckham HATES when we talk about this, but I make him tell me at least once every few days when we are traveling what he would need to do if he got lost. Every family is different, but we have taught him to find an employee or a parent with other kids and make the biggest deal about being lost. He is to demand help right away and NEVER, EVER, EVER leave a location with ANYONE who is not mom and dad or an immediate family member. We have practiced how he needs to bite, scream, kick, and yell "You are not my mom, you are not my dad."
I also love to do the safety pin trick for younger children (You can read about the Safety Pin Trick here in our Disney Mom Hacks post if you don't know what it is). I also just read recently of a single mom who takes a picture of her child every day when they are traveling before they walk out the door so she can have the most up to date picture of her child to the authorities. Genius! Having a child get lost is any parents worst nightmare and having a plan can make the world of difference in a scary situation especially when you are the only parent on duty.
Invest in a few travel accessories to make your life easier.
One of the best things I ever did for myself was to get some super cheap luggage straps that can connect all my luggage together to help free up one of my hands to carry other things in the airport. BEST EVER! I can't find my exact ones anymore but I have linked some similar ones below. I also got a decent stroller bag that makes hauling the stroller from point A to point B easier. And packing cubes… YOU NEED THEM! Packing for two (or three, or four) and keeping everything organized when you are the only adult in charge is not an easy feat. Two words… packing cubes people, packing cubes.
Find ways to still be able to get your space.
Hear me out on this one. Complete space while you are traveling alone with children is obviously not possible. However, I quickly found out some ways that both Beckham and I could take little breaks from each other where I could still watch him and keep an eye on him. My first suggestion is, don't share a bed. If you can, as a single parent HAVE YOUR OWN BED when traveling. Where you once were able to hand the kid off to your former significant other to get a breather, you are on the clock 24/7. Make sure when you put the little nuggets to bed that you can have some space and have your own bed.
My second suggestion… have some electronics. I know this sounds counter-intuitive and of course, monitor how much you let them play. However, I love that I know I can give Beckham his iPad and let him play his reading games or Where's my Water for an hour so I can get some things done or just take a break myself. One night I let him watch a movie on his iPad while I had a nice long shower. Everyone, even the little ones need some time alone.
Take the downtime that you and your kids need and plan an itinerary that works for both you and the kids.
If you are feeling tired, or your little ones are acting up, don't try to see it all. Keep the purpose of your vacation in mind – to strengthen relationships and make memories together!  If Beckham started acting out because he was tired I would just modify our plans and let him rest. Where I once had Stefen to help me manage some fits or carry Beckham around when he was being a whiny little tired grump …  I was on my own. There were several times when we had something planned that I did not go to so I could get Beckham to bed earlier and give him a break. And you know what, that is okay!
I also changed how we saw things. We still went to the museums but I didn't have Stefen to help keep Beckham entertained and occupied. So instead, I played a game with Beckham where he had to find the silliest painting in the museum and I had to cut my visit short when I realized he was getting a little antsy. I made sure that we had activities specifically for him built-in. For example, we went to the Lego museum called the Cezch Repubrick in Prague. I hated it and thought it was super overpriced, but he loved it. So I ran around with him and acted like it was the best thing ever.
Keep snacks and some little activities on hand.
A hangry child is a seriously hard child to single parent, let alone travel with! I took up some valuable luggage space for some granola bars, raisins, and some little games and crayons and I am so glad I did. I didn't have the luxury of having Stefen help entertain Becks at dinner or to run to the store to grab some snacks super early one morning.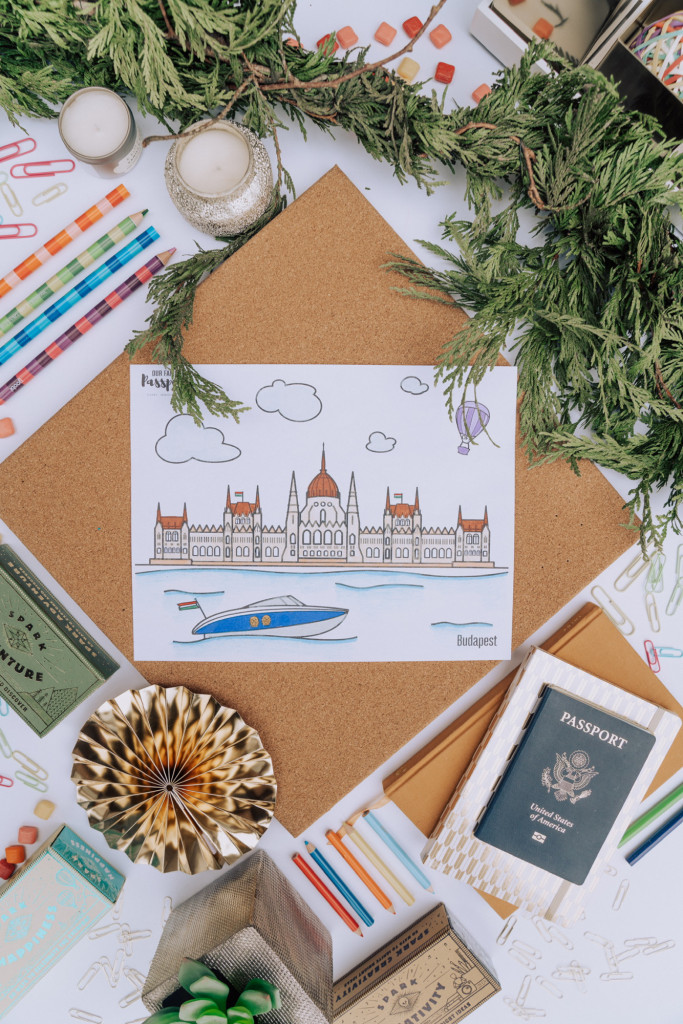 One of my most favorite things to take with me on trips when I need some space is our digital and printable coloring pages! Click here now to access all of them! If you would like a free Coloring the World Starter Kit that includes 5 of our coloring pages you just need to subscribe to our newsletter on the home page!
Keep the other parent involved if circumstances allow.
There were many times where Beckham missed Stefen and vice versa. I knew that everyone would have a much better experience if we kept Stefen involved. Beckham sent him pictures and videos almost every day and I made sure that if at any point Beckham expressed that he missed his dad that I set up a video chat. It can make things awkward for the adults at times, but I generally believe for our individual circumstance, that making sure that even though Beckham is away from his dad that he feels connected, close to, and knows he can call him at any time. I also think that when Stefen travels with Beckham I will want the same treatment.

Can a minor travel with one parent?
In most cases of divorce, minor children should be able to travel alone with one parent. Check your divorce documents and stipulation if you are not sure. Of course, it is the respectful and amicable thing to do to run travel plans by your ex if circumstances allow.
Can a divorced parent take a child out of country?
As a follow up to the previous question. Yes, in most cases one parent can take the child out of the country they reside in to travel. It is very important again to make sure that you have the permission of the other parent and the required documentation. Which brings me to the next question…
Do I need the father's permission to travel with my child?
Yes, in most circumstances. Particularly if you are traveling internationally. Circumstances are different for everyone but in my case, I make sure to clear all of my travel dates with Stefen and make sure that he is comfortable with the times and locations Beckham and I will be traveling to.
If you are traveling internationally as a single parent with a child there are several required documents that you will need.
What documents do I need to fly with a child?
If flying domestically, the child should be able to fly with you domestically if they have a proper ticket. Check with your airline if you are unsure of their domestic flying requirements, and they will be able to give you a better idea. If you are flying internationally, it can get a bit more complicated but not impossible. When flying solo with kids internationally it is important to have the following documents on hand. We have been caught a few times without them and it has caused some serious stress and angst. (You can read about the time my Mom almost wasn't let out of Africa with my brother here.)
Documents Needed for Single Parent Traveling with Child out of Country
Passports

Original birth certificate of the child

Notarized letter with the permission and signature from the other parent with the dates and the location of travel.

Copy of the other parent's passport and/or identification
NOTE: It is always best to check your home countries requirements as well. You can see the US Customs and Border Protection website regarding single parent travel here.
Do I really need to bring my child's birth certificate when flying?
If you are traveling alone with your child internationally, it is always best to error on the side of caution and bring it. We have been stopped more than once and the border agent in different countries has required Beckham's birth certificate to allow both entry and departure.
Do you need a notarized letter to travel with a child alone?
In most cases of a single parent traveling out of the country with their child, the answer is yes you do need a notarized consent to travel letter. You can download your own customizable travel consent letter here. 
So, in the End… Is Traveling Alone with Kids as a Single Parent Worth It?
So far, in my experience, absolutely yes! It is without a doubt harder in some ways and more stressful than traveling as a traditional family. However, the rewards have been the best. Beckham and I have made so many wonderful memories together. Honestly, traveling alone with him has totally empowered me as a single mom. I feel like my life doesn't have to be completely turned upside down. I can still do the things with Beckham that I love.
It also has helped me recognize the areas that I am stronger as a parent as well as the areas that I need to work on (hello patience!). I also feel like on this last trip, Beckham became a lot more independent and self-sufficient and sure of himself. Which was something very exciting to watch as a parent. Divorce isn't fun. Being a single parent can be rough. Yet, with the right expectations and preparation, any single parent can make traveling alone with their kids a fantastic experience!
Now don't let single parent travel with a child intimidate you! Get out there and explore! Don't forget to pin this and to sign up for our newsletter to receive travel tips, tricks, insights, and itineraries straight to your inbox!