May is normally the BEST time to visit Positano. It's not too hot yet and because the summer is just starting up, the crowds aren't bad.  As you can imagine, we were stoked when we booked our week stay in Positano over the last week in May. We had all the amazing boat tours and food tours and walking tours ready and couldn't wait to see all the amazing things that make Positano so much fun.  I was planning on writing the most amazing Positano post of the best things to do! But guess what? It rained and rained and rained and rained. And when I say "rained", I mean, realllyyy rained.
So this post is dedicated to …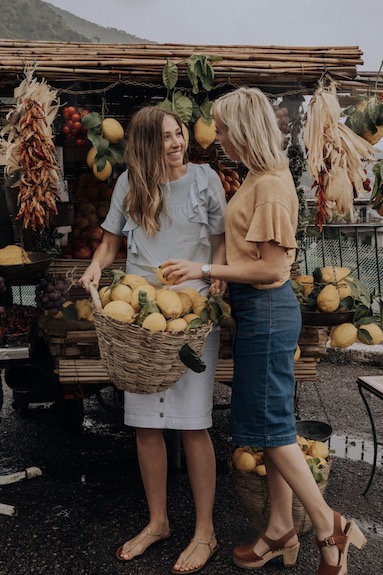 The Best Things to do in Positano When it Rains.
Not going to lie. It was a HUGE bummer for us. Of the entire week we were there, we had about a day and a half of sun. We planned the trip, took off work… oh and paid a ton of money for this trip all to arrive to an unseasonably COLD and rainy place. But what do you do? YOU MAKE THE BEST OF IT. That's what you do.
Before we dive into the heart of this blog post, let's talk about a few basics regarding Positano.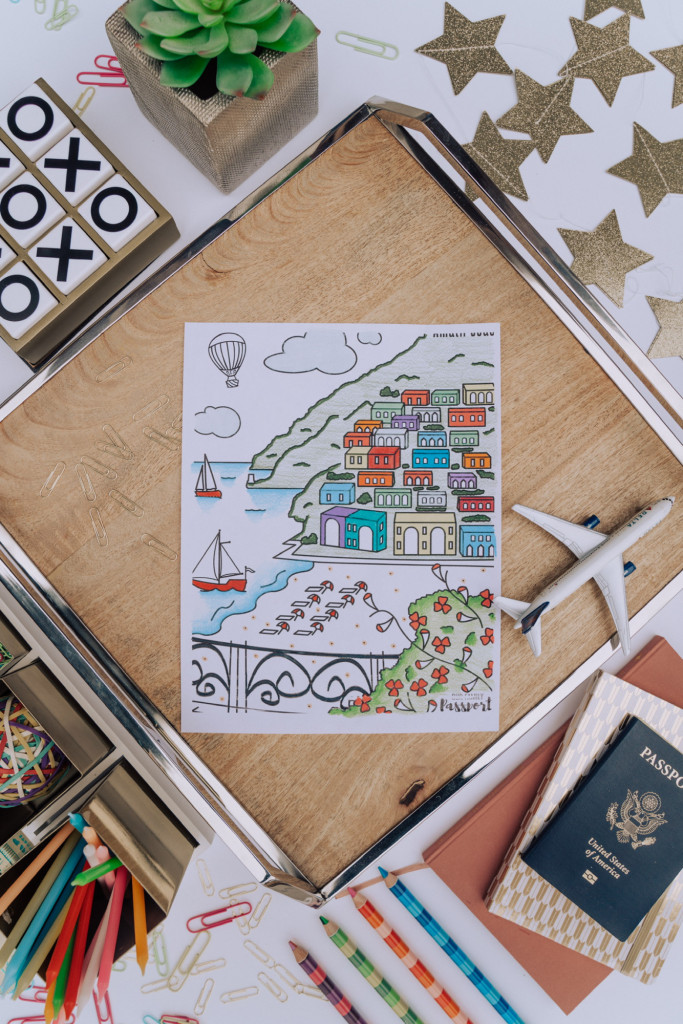 When is the best time to visit Positano?
I touched on this a bit already, but assuming that the weather is normal, the best time to visit Positano is during the shoulder season when it isn't too hot and there aren't too many crowds. Positano is very small and can easily be overrun with cruise ship visitors. To avoid the crowds, but still get warm weather, the best time to visit is in May or September.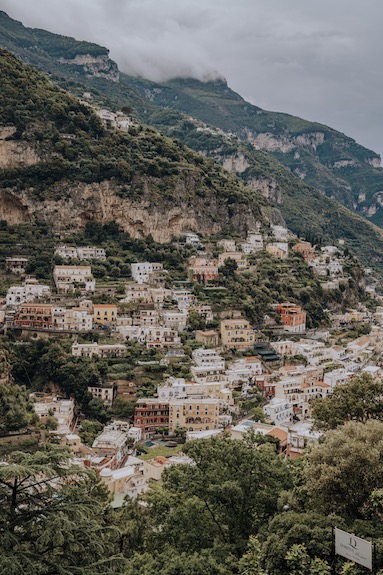 How long do you need in Positano?
We recommend at least five days to experience the beauty of Positano and the surrounding towns. Not to mention all of the fun boat excursions and water activities that are available. That being said, I could easily spend a month in Positano. Before you go, make sure you have an idea of the things you want to do and plan accordingly, giving yourself time to fit everything in as well as have some time to relax.
What is Positano known for?
Besides the absolute beauty that is Positano, the area is most known for their lemons and the famous alcoholic drink made from lemons called Limoncello. I don't drink alcohol, so I recommend getting a lemon slush or trying lemon gelato (literally, best EVER).

What is the best way to get around the Amalfi Coast?
We hired a driver to take us from town to town and it was great for us. However, a driver can be expensive. If you are wanting to get around on budget, then check out the bus or ferry schedules. With both the bus and the ferry, you may have to wait, so be aware of that. If you are wanting to just take in all the beauty of the Amalfi Coast, then I recommend taking a boat excursion to experience it from the water. We did this on one of the days that it didn't rain and it was magical.
Is Amalfi Coast expensive?
The answer is yes. We had just come from Naples, where you can get an incredible pizza for 4 Euros so we really noticed the price difference when we arrived on the Amalfi Coast. But it isn't crazy expensive. Check out this post or this post for budget-friendly travel tips.
Now that we have our bases covered, here are our
9 Best Things to do in Positano When it Rains!
Ceramic factories
If you spend time in Positano, then you know ceramics and terra cotta are a big deal! And why wouldn't they be? A perfect Italian plate set with detailed, hand-painted lemons should be a big deal everywhere. I mean, I'm totally there for it! On one of the mornings it rained, we took a tour of a local ceramic factory where everything is handmade right there in Positano. It was such a fun activity to see how everything is made and appreciate the local artistry. My mom bought a beautiful lemon dish that will look perfect in her kitchen.
Hit up a neighboring town. Like the town of Amalfi or Sorrento
It just so happens that while in Positano it may be raining, often times, the neighboring towns may be sunny and clear! I suggest visiting Sorrento or Amalfi. Both are a lot bigger than Positano and have a much different feel.
Head over to Amalfi and roam the beautiful streets, peek into the shops, dine at Trattoria Gemma (order the Genovese Pasta) and finish at the incredible Church located in the middle of town.
Sorrento also has a lot to offer. Sorrento was warm and sunny for us, which was a great break from cloudy weather back in Positano. Visit the lemon grove and taste the famous Limoncello, or the Lemon Slush for a non-alcoholic option. Let me just tell you that I actually still dream of the lemon slush. It was that good.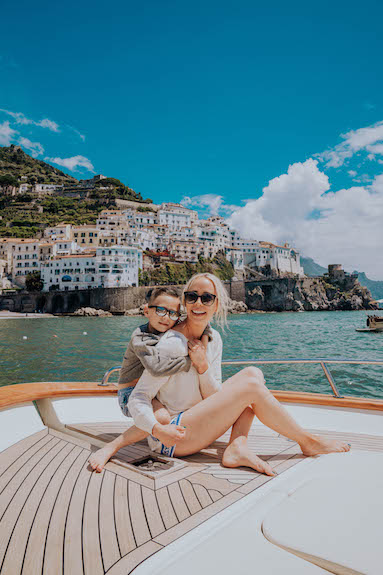 Take a Cooking Class
What better way to indulge in real Italian culture than learn how to make authentic, Italian food! This is a fun and educational experience that everyone in the family will enjoy, AND it'll leave you will one full and happy tummy. Enter the gelato class from Gelateria David and the pizza cooking class from Ristorante Tasso. We actually took both classes in Sorrento and it was a blast. We loved it.
If you don't want to travel to Sorrento for a cooking class, here is a list of a few cooking classes in Positano that were recommended to us.
*disclaimer: we didn't do any of the following cooking classes
Cooking School

at Hotel Buca di Bacco (we did try their gelato, however, get the Kinder!)
Make Homemade Lemonade out of the Famous Amalfi Lemons
What's the saying? When life gives you lemons… make, delicious, homemade lemonade from the world famous lemons in Positano. Haha, at least, that's our version of the saying. And we actually made lemonade multiple times! Head to a local fruit stand or market and invest in some lemons. We got sucked into buying the massive lemons that look super cool. Don't do it. It's like 99% rind and you'll cry when you cut it open and realize you spent 10 Euros on one giant lemon peel. Just buy the normal lemons, people.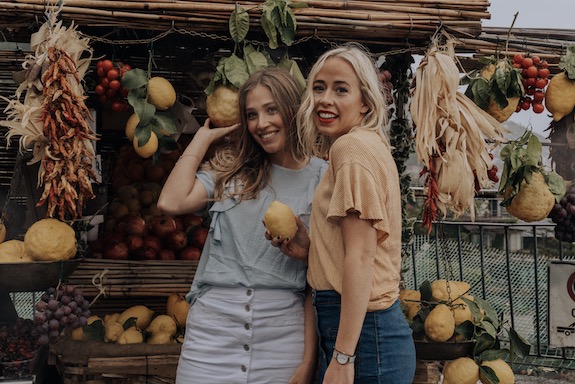 Dine like an Italian
Being an American, I'm all about dining and dashing. Wait – not the dining and dashing where you run out of the restaurant before paying – kind of dine and dash. But the dine and dash where you order quickly, eat quickly, pay quickly, and get out of there in 30 minutes kind of dining and dashing. Well, when it's raining cats and dogs outside and there is nothing better to do, what better way to pass the time than stuffing your face with Italian food for hours?
All jokes aside, we all know that Italians are very serious about their meals. In Italian culture, meals are the perfect occasion to gather as a family and really spend time together. So pick one of the many delicious restaurants in Positano and take your time to enjoy it with your family. No time limits allowed.
Go to the Beach
Okay. I get it. This one sounds counterintuitive but hear me out! A beach is a beach, despite the weather. One day we went down to a little beach – not far from our villa – in all of our rain gear and enjoyed watching the waves crash in. We threw rocks and played games. It was a blast being together and appreciating the beauty of the sea even with all the rain coming down.
We also spent some time on the main beach of Positano hanging out in our swimsuits and playing on the beach and in the water, even though the weather wasn't perfect.  It was a little rainy (but no thunder and lightning) but we still had a great time despite the lack of sun.
Walk Around and Explore
One of my favorite things to do in Italy is just walking around and get lost in the beauty of it all. And Positano is no exception! If it is lightly raining, go outside and see what Positano has to offer. We loved eating gelato 3 times a day and watching all the cute cats run around. Man, there really is no place like Italy.
Get Massages
Whether at your hotel or at a local spa, consider getting a massage. A bunch of us went to a little local spa (Positano Wellness – we highly recommend!) and got massages while the weather was too bad to do anything else. It was great to be able to settle down and have something to loosen out our tight necks from all the traveling. And let's be honest, massages are bomb regardless of where you are.
RELAX
Lastly, relax! You're on vacation after all. Sleep in. Read a book. Watch a movie. Take a nap.  Enjoy the beauty of the location from a dry place. And REPEAT.
You know what relaxes you. Do that thing!
*NOTE: We had the Path of the Gods on our itinerary and we had to move it multiple times because of the weather. It was AMAZING, but do not do it if the weather is sketchy. Parts of the hike are steep with cliffs. The path can get very slippery and dangerous during wet weather. The clouds hang around the tops of the mountain and you wouldn't be able to see the view during a storm anyway. When you plan this activity, make sure to do it on a clear day.
We definitely feel bummed that we didn't have the Positano trip that we had planned, but honestly, I can't imagine being in a prettier place. Let's face it. I'd rather be in Italy with the rain, than at home with the rain. And if we are looking on the bright side, this really just gives me an excuse to go back to Positano.
I hope when you visit Positano you have perfect weather, but if you don't, then I hope this helped!
Xo, Sav