Venice Italy Coloring Page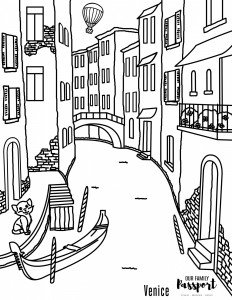 Awe, Venice! We KNOW you are going to love our new Venice coloring page. Venice is made up of a series of over 100 islands and is connected only with canals and bridges…no roads. How cool is that?  This Canal coloring page shows a small side canal in Venice with a traditional gondola ready to take you on a scenic tour around the city.  A sweet little kitty sits by watching for its next meal to scurry by (there are plenty of rats in Venice). This Italy coloring page accurately shows the deteriorating buildings with exposed bricks and chipping plaster…all part of the charm of this city!  Venice is one of a kind and you will love to explore it. All of our printable coloring pages are based on our own travels and are easily downloaded for your enjoyment.
Why the Coloring the World Movement?
At Our Family Passport, we believe that exploring, traveling and learning go together like pizza and pasta!  Whether you are looking for a fun, simple and inexpensive activity for your children, or you are about to embark on an adventure across the world, we know our downloadable coloring pages for kids will provide you and your family with hours of creative fun and learning!
What your Venice Italy Coloring Page Purchase Includes
Your purchase includes a total of 5 PDF and 5 PNG file downloads so you can print, color, and download this boat coloring page or any of our other travel coloring pages from all around the globe!
AND remember that we always want to hear from you and see where these pages may take you! Tag us on Instagram with your pages using the hashtag #coloringtheworld
Venice is truly one of our favorite European cities, although we know people who don't love Venice. Let us help YOU enjoy your travels to Venice by doing it the right way. You have to give Venice more than two days and really get lost in back alleys and streets. Hear our recommendations on our blog post, The Top Ten Things to do in Venice for First Time Visitors. You can prepare for your Venetian adventure by coloring our gondola coloring page now.