We just flew our family of 6 from Salt Lake City to Maui with some of our points/miles and only $56.00 total! Here is a breakdown of the cards we used, how we earned our points, how we booked, and how you can do it too!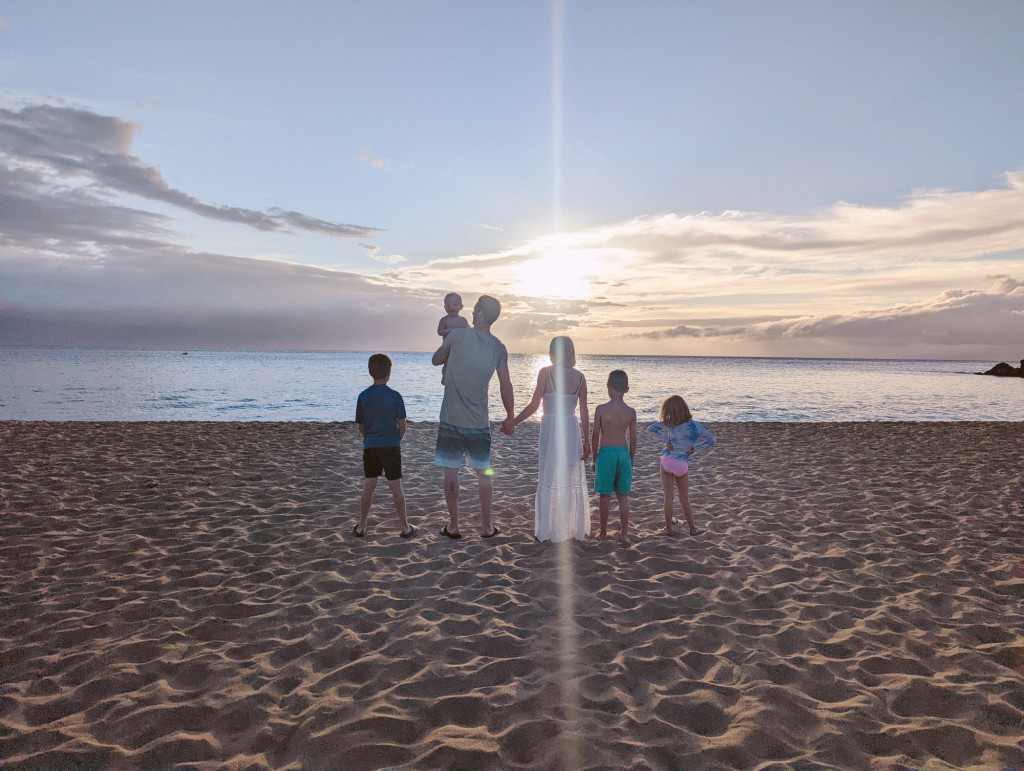 Flying to Hawaii on Points
Hawaii is a dream destination for many families but the steep cost of airfare from the mainland can be a deterrent. One of the best ways to bring down the cost of a family vacation to Hawaii is to reward travel and book your flights on points and miles! 
If you are new to the world of reward travel you can read all about the basics as well as the pros and cons here – Travel Hacking 101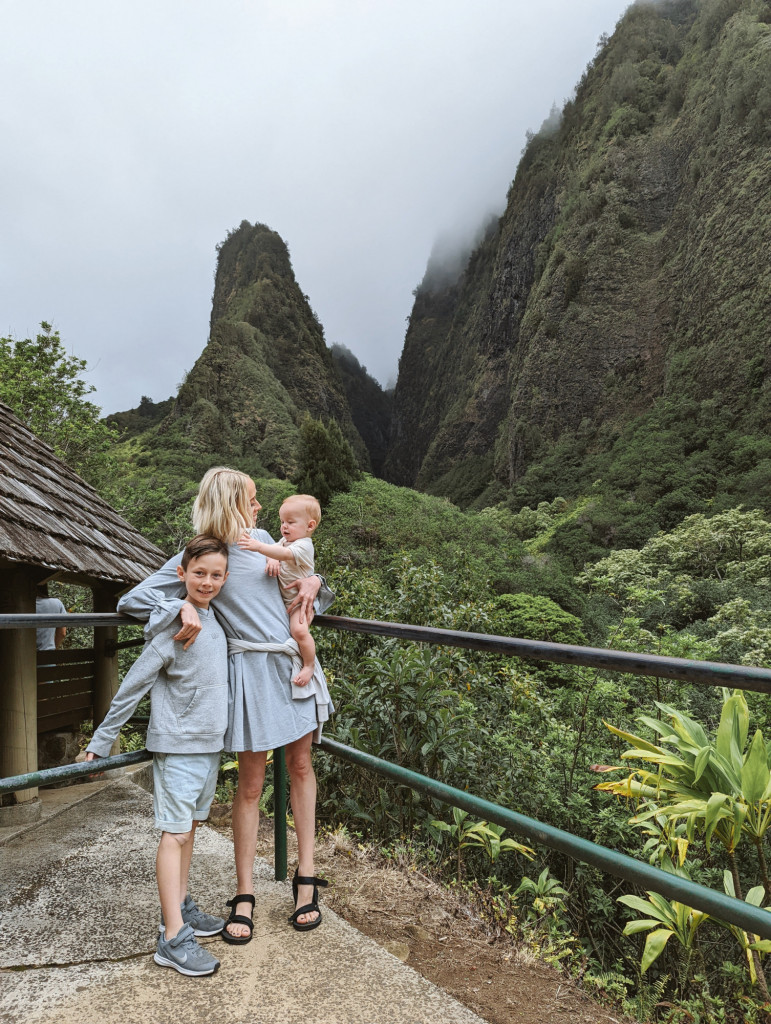 The Cards We Used to Help Us Earn Points to Hawaii 
We knew that we wanted to fly Delta to Hawaii. (My husband flies Delta a lot for work and we get amazing loyalty perks. So we try to fly with Delta whenever we can.) Because Delta is a partner with Amex, we knew that we needed to earn Amex points and then do a direct 1:1 transfer to Delta Skymiles and book our flights directly with Delta. 
The cards that we used to help us earn enough points for these flights were the Amex Gold as well as our Delta Credit Cards. You can find all about these cards and apply for them by clicking the affiliate links below! (If you do end up using these links thank you so much! I appreciate it more than you know!)
How We Earned Our Points For Our Flights 
There are so many ways you can earn points! Here are some of the specific things that we did to earn the most that we could! 
Maximized the welcome bonus on one of the Amex Gold (Jason applied for the Amex Gold last year and received a significant welcome bonus.) 

Maximized our category spend on groceries, gas, and restaurant costs by earning 4x the points when using our Amex Gold on these categories. (Note: We do not spend more money on groceries, gas, or date nights so we can earn points in return. We simply just make sure that when we are spending money on those things we are using the right card to earn the most points in return!) 

Put some of our major purchases last year on our Delta Skymiles Card. We did some renovations on our house, and we had a baby (hello expensive!). Instead of paying for those things with a debit card or cash, we put them on our credit card and then paid the card off right away. This means that we earned points for those big purchases! 

Paid for some of our flights last year on our Delta credit card. (We don't use miles on every flight, instead we book strategically to make sure we are getting the best return. So this means sometimes we pay for the flights on a card if the point redemption value is too high or not worth it. If you pay for a flight, make sure you are using the right card (not a debit card!) so you can get more miles!) 

We paid our cards off every month to make sure we were earning our points and staying within our budget.

We took advantage of the card bonuses and enrolled our cards when it made sense (for example a 5x Amazon bonus on the Amex Gold came in handy when we were buying things for the new baby.)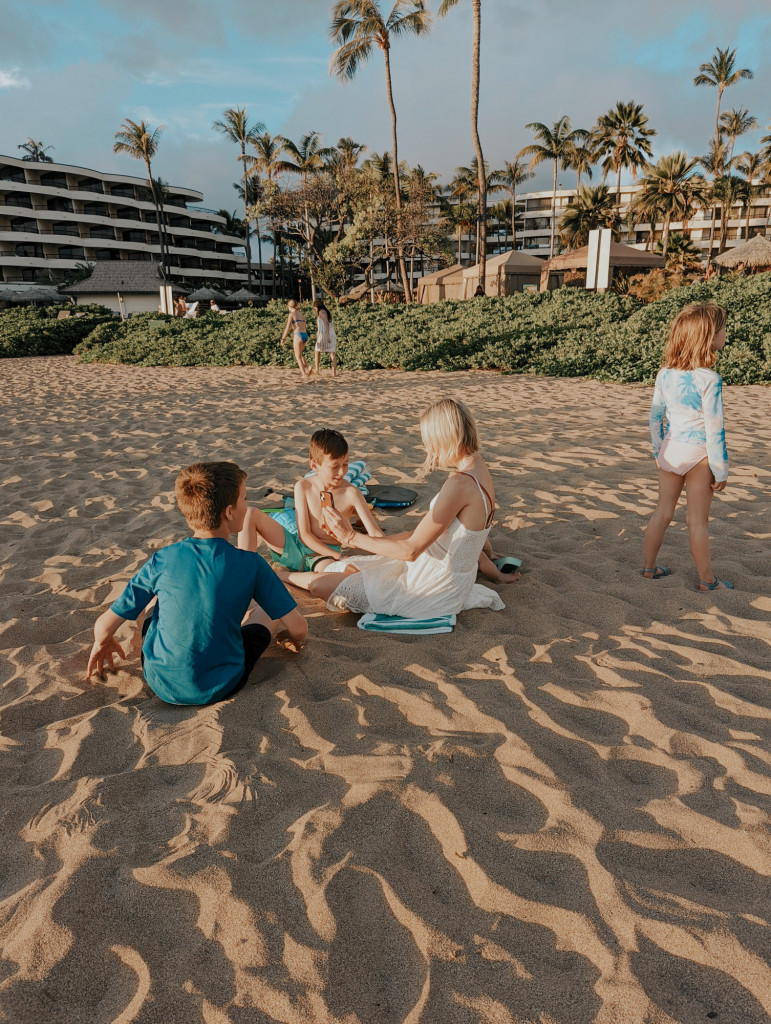 How We Found the Best Point Redemption Value for Flights to Hawaii
When we first started looking at our dates, the redemption rates were out of control, especially through the Amex Travel Portal. We originally wanted the direct, nonstop, roundtrip flight from SLC to OGG but the mile redemption was almost 90k Skymiles per person. That was just not worth it to us. So we set up price trackers and started looking at other options. We settled on flying roundtrip from SLC to OGG with a short 1 hr layover in LAX both ways. 
After setting up price matching and watching really closely, we were able to book our 5 flights with an added infant in arms for 42k miles each. This means instead of originally giving up nearly 500k miles to fly our family to Hawaii, we were able to do it for 210k miles. That made the one short layover totally worth it!
I should note that the flights that we booked for 42k miles were $916.00 each. If we were to have paid for them, we would have spent nearly $5,000.00 just on our flights. Yikes! 
I also want to note that a 42k mile flight isn't that great of a deal. There are often a lot lower redemption rates for Hawaii. However, it was the best that we could find for our dates and so we went with it. If we had been able to move our hotel stay just by two weeks we could have booked those same $916.00 flights for only about 30k miles each. 
How We Booked Our Flights 
Almost always, the very best way to make the most of a redemption booking is to do a direct 1:1 transfer of your points to the airline or hotel partner you will be using. Both my husband and I have Delta Skymiles accounts, as well as our own Amex accounts. We knew that we were going to need to combine our points somehow. Because you can't combine points between people, we decided that my husband would book three of the flights and I would book two of them and add an infant in arms. We then transferred the points that we needed from our individual Amex Points to our Skymiles Accounts and booked directly through Delta on each of our Delta accounts.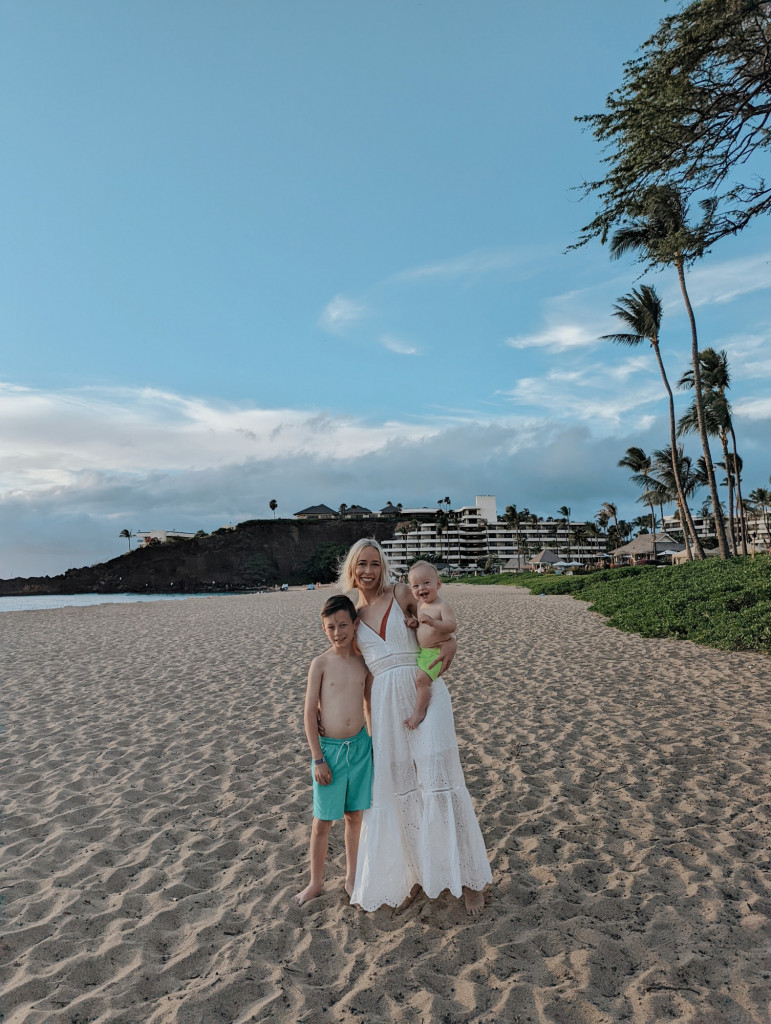 Combining Reservations
This meant that we had two different reservations for our family. Jason had three flights booked under his reservation and I had two with the baby in arms added. While having two different reservations for one family is kind of annoying, you can't transfer your Amex points to someone else's Skymiles account. So we had to book separately. 
Because we were on different reservations we needed our reservations linked. To do this we called Delta using their customer service number and had them link our reservations and then arranged our seats so we were sitting all together. From this point, we were able to check in together as if we had booked our flights together from the get-go. 
Make sure if you go this route that you call to link your reservations as SOON AS POSSIBLE. If not, you might be split up on the flight, or worse. Once we forgot to link our flights until it was too late. We had a few members of our family bumped onto a different flight and had to rearrange the whole thing. It wasn't fun.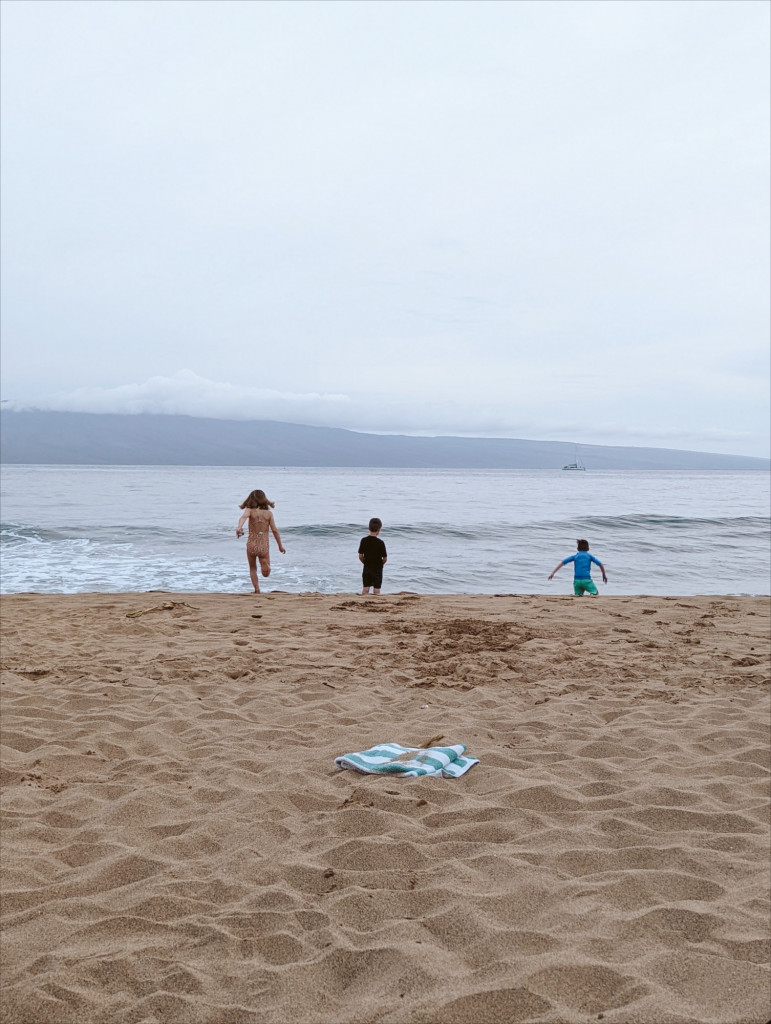 Flying as a Family to Hawaii!
Once everything was all booked we were good to go! Each of our flights had an $11.00 tax and fee charge. We paid $56.00 total, but that was it! Even if you consider the annual fees, we saved over $4,000.00 and had the absolute best time!
How You Can Do This for Your Family!
If you want to fly Delta, do exactly what we did! If you are wanting to fly another airline, make sure you have the right card that can transfer to your preferred airline! For example, if you want to fly Southwest use a Chase card instead of an Amex and do a 1:1 transfer from your Chase Points to Southwest Miles!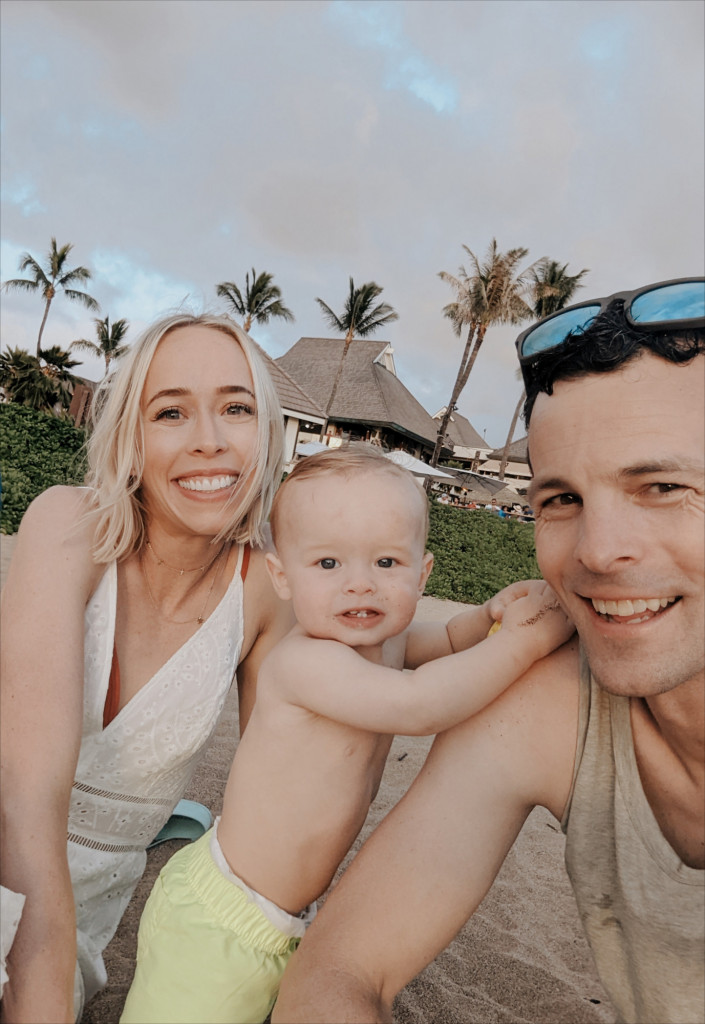 How to Fly to Hawaii on Points Recap
Have the right card for the airline you are wanting to fly. Make sure your cards can transfer to your airline. 

Find the best ways to earn points on that card. For example – welcome bonuses, category spending, referrals, using it on big purchases, etc…

Search for the best redemption rate by playing with dates, layovers, and flight times. Set up a price tracker if needed. 

Transfer your points to your preferred airline account

Book direct

Combine reservations if needed

GO TO HAWAII!!! 
I hope this helps and you get to go to Hawaii for nearly free with your family soon too!
Hugs!
Kam
---
LOVE IT? PIN IT!