If you have never done a Disneyland After Dark event before, you are in for a serious surprise. These are some of our favorite events and we often plan our trips to Disney around them because they are SO MUCH FUN!  Having done several of the after-dark events in both Disneyland and Disney World we wanted to do a Disneyland After Dark review and answer a few of the most common questions so you can decide if Disneyland After Dark is worth it for you! 
Will you be heading to Disney soon? Check out our post on how to save some serious money on your tickets here! Your Ultimate Guide to Discounted Disney Tickets!

What is Disneyland After Dark? 
Disneyland After Dark is Disneyland's exclusive ticketed nighttime event. Disneyland followed suit after Disney World's After Hours Program and opened its doors late at night for guests who are willing to pay for more fun and shorter lines. Usually lasting about 4 hours, Disneyland allows special ticket holders to come and enjoy the park when it usually would be closed late into the night. Nearly every event follows a special theme and Disney goes above and beyond creating fireworks, dances, character experiences, and specialty food to make the event unique and special.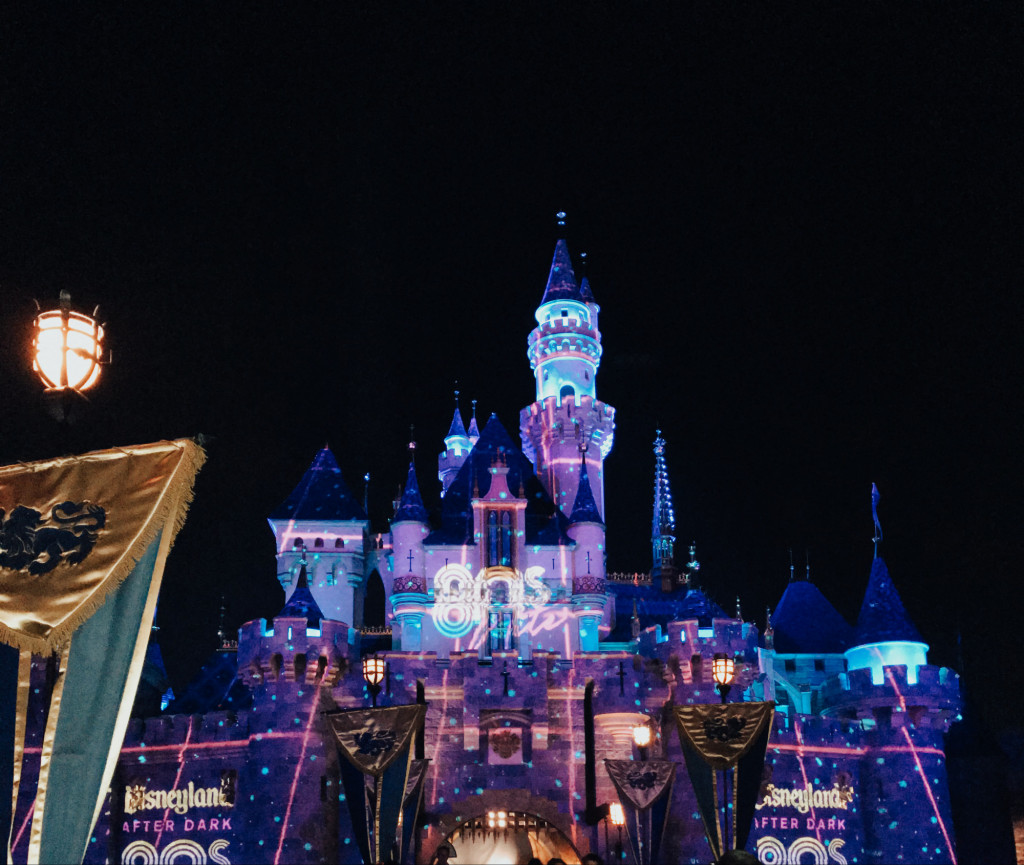 All the Info You Need for Disneyland After-Dark Tickets!
This next section will cover everything about purchasing Disneyland After Dark tickets and what they entail. It is important to note that Disney is ALWAYS changing things. Because of this, use this info as a starting point. We also want to stress that these events often sell out. It is important that if you want to participate you purchase your tickets BEFORE your trip. We will give you all of the info on how to do this below.
 

How much are Disneyland After Dark tickets?
At the time of writing, Disneyland After Dark tickets for 2023 started at $129.00 USD a person and range depending on the event theme and date. We anticipate that ticket prices for 2024 will be similar. Everyone 3 and older must pay the full price. While this is incredibly pricey, you do not need a regular admission ticket to participate in Disneyland After Dark. Sometimes, Disneyland will also offer special discounts to Magic Key Passholders.
 

When do Disneyland After Dark tickets go on sale?
Disneyland usually releases the dates several months in advance. Right now, the dates for Disneyland After Dark HAVE NOT been announced yet for 2024. In 2022 the dates for 2023 were announced in late December and early January.  It is our guess that Disneyland will start releasing the event nights soon for 2024. We have noticed that the Disneyland After Dark events don't usually run during the peak times at Disneyland. The best resource for dates is to check out Disneyland's website once a month and see what has been listed, or to follow @disneyland on Instagram. You can also find the Disneyland After Dark event dates listed here – Disneyland After Dark Dates.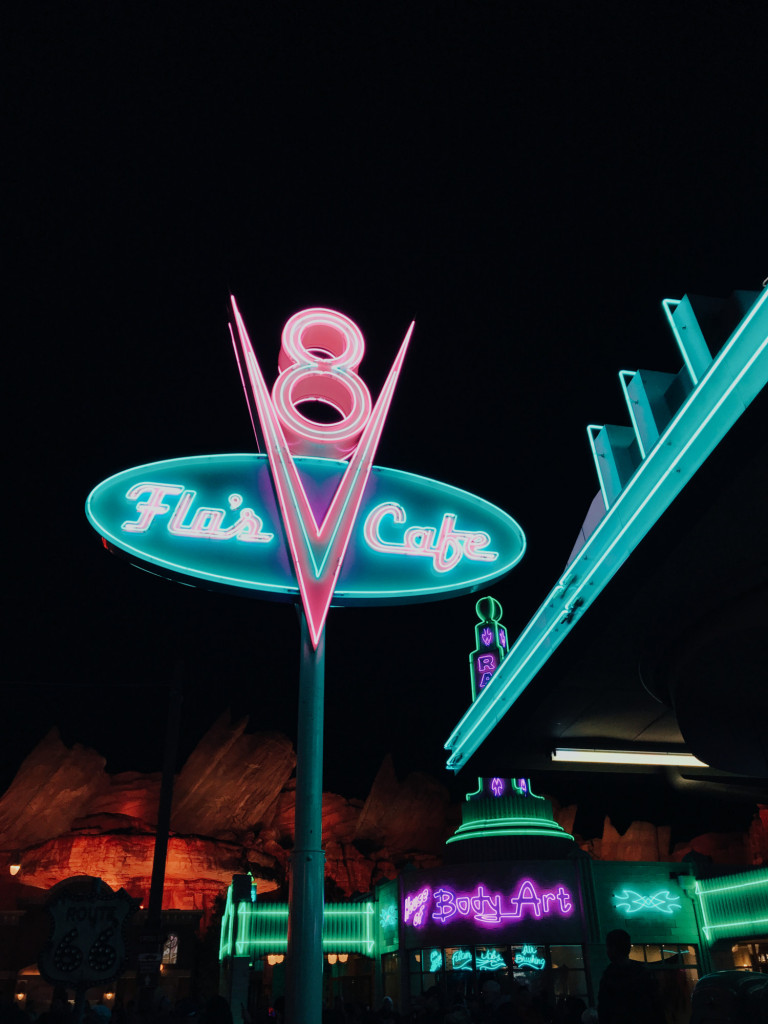 Disneyland After Dark dates for 2023
Sweethearts Night at Disneyland
January 31st – Sweethearts Night
February 2nd – Sweethearts Night
February 5th- Sweethearts Night
February 7th- Sweethearts Night
February 9th- Sweethearts Night
February 14th- Sweethearts Night
February 16th – Sweethearts Night
Throwback Night at Disneyland 
April 18th – Throwback Night

April 20th – Throwback Night
Star Wars Night at Disneyland
May 2nd – Star Wars Night

May 4th – Star Wars Night

May 8th – Star Wars Night
May 11th – Star Wars Night
Pride Night at Disneyland 
June 13th – Pride Night

June 15th – Pride Night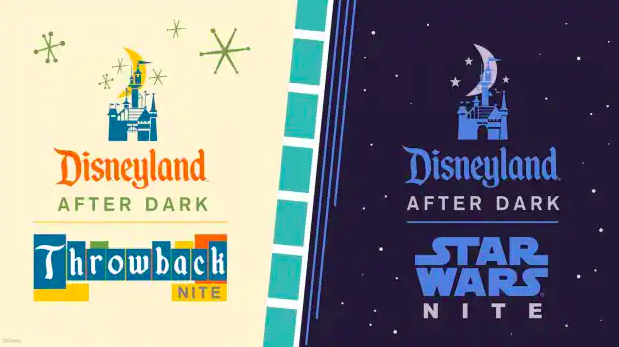 How do you get Disneyland After Dark tickets?
Like purchasing normal tickets, you can purchase your Disneyland After Dark tickets from Disneyland's Website here when they have been announced and are on sale. 
What does my Disneyland After Dark ticket include?
The Disneyland After Dark tickets will get you into the park 2-3 hours before the regular closing time.  Then (this is the best part), when everyone else in the park is beginning to leave for the day, you make your way to a predetermined spot to check-in for the after-dark ticketed event. For us, it was the Starcade in Tomorrowland. There you check-in, and receive your special passes. You are then able to stay and play in the park until the event is over. Most events run from 9:00 pm to 1:00 am. This means, your ticket essentially will get you into the park for 6-7 hours, with 4 to 5 of those hours with FAR fewer guests, special events, special merchandise, fireworks, and special happenings around the park. IT'S SO FUN!
 Your Disneyland After Dark ticket includes access to almost all of the rides, the special dances, character experiences, fireworks, free photopass for the evening, and into the smaller events taking place around the park.
What your Disneyland After Dark doesn't include. 
Your Disneyland After Dark ticket does not include any food, drinks, or merchandise (with the exception of a small commemorative collectible like a lanyard and special ticket or map). As of right now, most rides are included and Disney's website states that the lightning line rides like Star Wars Rise of the Resistance will be operational and running during its Star Wars Night which means you can bypass paying extra for them! However, this may change in the future.
 

Is Disneyland After Dark Worth It?
Our answer is a resounding yes! Here is why. With fewer crowds, you can experience the very best that Disneyland has to offer in about half of the time. Disneyland After Dark minimizes waiting in line and there is no dealing with the hordes of people. Trust me, it's a lot more enjoyable! Nearly every ride has a wait time of 15 minutes or less and it makes zipping through the park a breeze.  Also, Disneyland is without a doubt most enjoyable in the evening. The lighting and special nighttime magic are spectacular. Even when we have regular admission tickets, we always go back in the evening to enjoy the cooler weather and fewer people.
 In fact, we loved Disneyland After Dark so much that we would suggest booking your trip around one of the event dates. Because you will be able to do so much in those 4-5 hours in the park, you could cut off one of your vacation days and save yourself a night in the hotel and another days' worth of regular admission tickets for you and your family.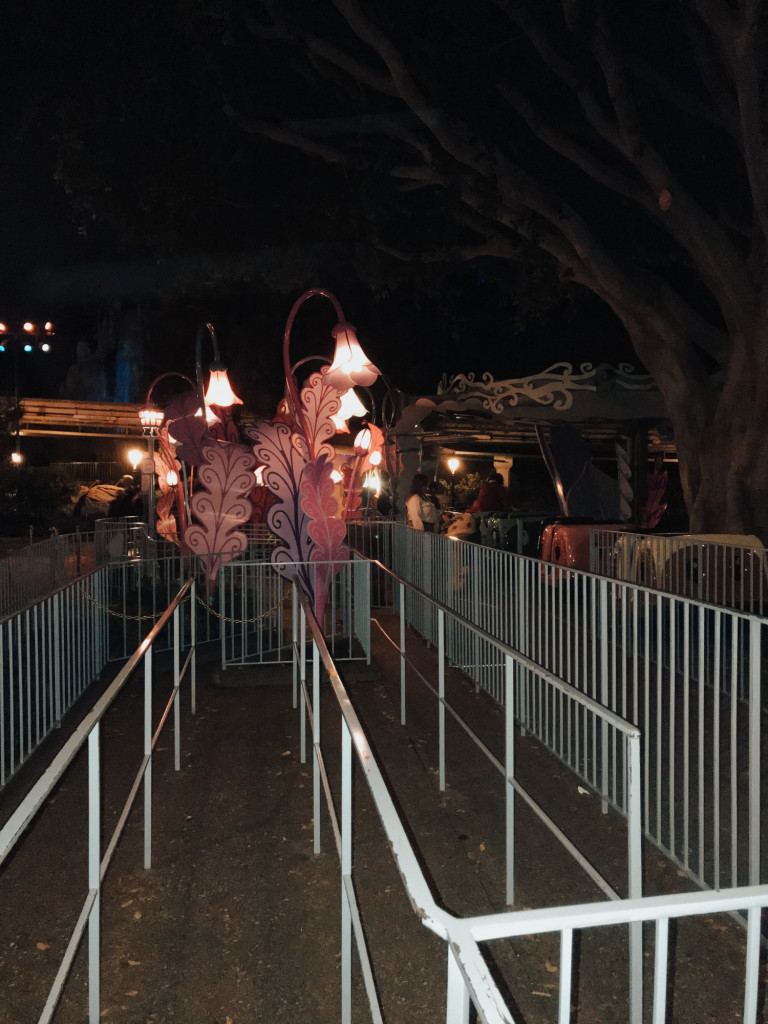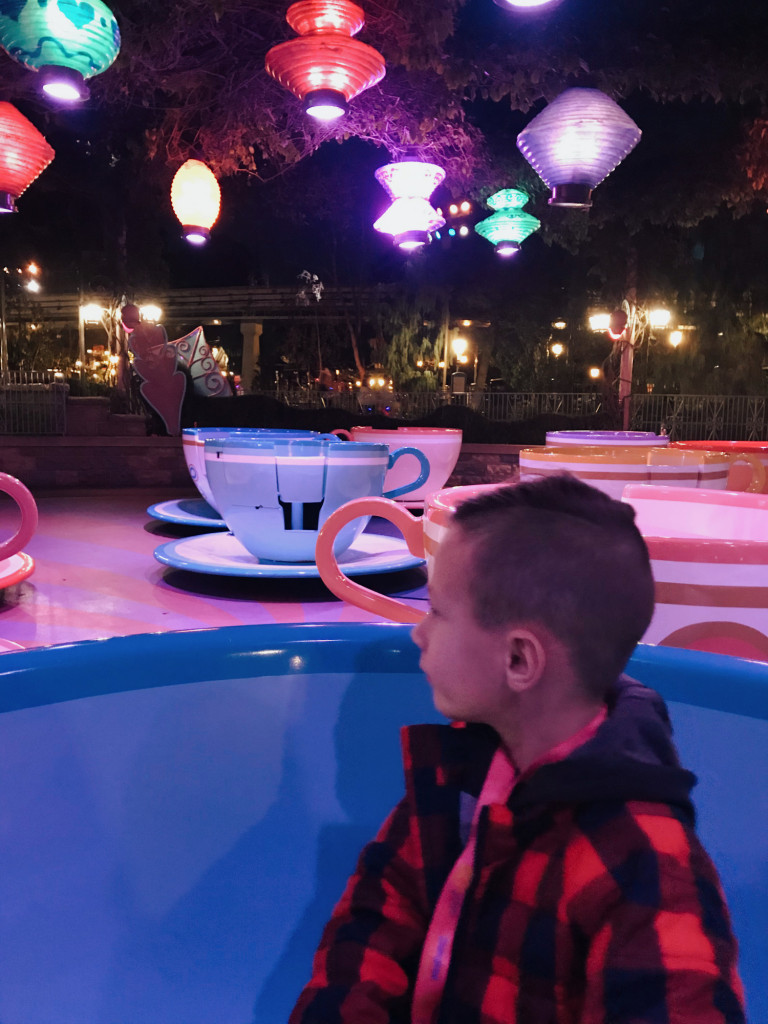 Seven easy steps on h

ow to make the most of your Disneyland After Dark events! 
 

Get to the park right when you can. (For most events, this will be at 6:00 pm during regular admission hours.)

Have your ticket information out and ready to show the cast members at the ticket gate when you are checking in. This will make checking in faster. I had mine on my phone and my mom had hers printed out. Either way was fine.

Once in the park,

go and get some food BEFORE the event starts. Because so many people will show up at the actual event start time (9:00 pm) many of them will head to get some food (wasting all kinds of precious time). Then, ditch the crowds and be ready to hit the rides when you can!

Use the time to ride on the RIDES! When we were there, so so so many people were waiting for the characters and special event merchandise and totally skipped out on the rides. This was awesome for us! While many of the after-dark guests were buying stuff and meeting special characters we were zipping through ride after ride after ride. It is our suggestion that if you are doing this event to experience the park after night that you only do one character experience (unless characters are your thing) and then go enjoy the park and rides with limited people.

Have some warmer clothes on hand. Although Southern California is usually balmy and sunny, it can get chilly at night especially during the spring and fall seasons. We all packed a lightweight coat and were so so so glad we did.

You can dress up in a costume that fits the theme. However, consider if you still want to be dealing with that costume at 1:00 am? We chose NOT to dress up. We were way more comfortable wearing regular warm clothes.

Don't, DON'T plan anything early the next morning. It will be a late-night and you will be tired. The day we did our Disneyland After Dark event we racked up over 30,000 steps on our Apple watches. We were beat the next morning and were so happy that we were able to sleep in and didn't have anything crazy planned.
Some Things to Consider Before You Buy Disneyland After-Dark Tickets
Look, we are all about transparency and so I want to be as honest as possible and give you a straight Disneyland After Dark review and let you know ahead of time some things that you will want to be aware of.
Have realistic expectations
We were initially a little disappointed by HOW many people were allowed into the event. It felt really crowded and busy during the check-in process and eating. However, there is so much going on in the park and it is so big that once people dissipate the crowds felt much smaller and the ride lines were minimal.

The major rides still have a little bit of a wait
Star Wars Land and Peter Pan still had decent wait times of about 20 – 30 minutes. This is considerably less than the daytime wait times but there was still a nice little wait for each of them.

A more adult crowd
The after-dark events in Disneyland felt a little bit more adult. Not that anything was adult-themed but there was a more adult crowd. We used this to our advantage and went on the rides when many of the other patrons were enjoying the dances and other park events. However, it was a little strange that we wanted to wait to see the little Ewok characters and Beckham wanted them to sign his autograph book until we realized the line was almost 45 minutes and filled with… adults. He decided he did not want to wait that long for some little dressed-up characters and we all went and rode some rides and were glad we did. Just keep in mind that the characters are hot commodities at these events.

Food costs
The food felt a little bit more expensive than usual. Especially the specialty menus. It wouldn't hurt to bring along a granola bar or two. I did splurge both in calories and in my budget and got a specialty churro and I did not regret it one bit.
Cast members are a bit … tired
Some (not all) of the cast members are a little bit more grumpy than normal. This is understandable and some of them really got into the event and played on it. However, it was obvious that they were getting tired and they just weren't as cheery at 1:00 am as they were at 9:00 am in the morning. This didn't bother me, no one was rude or anything, but I did notice a dip in energy for sure.
Transportation back to hotels is a bit limited
The monorail closes during this time. If you are staying on property and you were hoping to take the monorail back, know that you will need to walk through Downtown Disney to get back to your hotel room. Again, this wasn't an issue for us, as employees and security were still all over but the walk did feel a little longer at 1:00 am than it usually did.
 

Doing Disneyland After Dark with Kids!
Okay, call us crazy but I LOVE doing these events with Beckham and my cute stepkids. It is such a long night and they are up WAAAYYYY past their bedtime but there is something so fun and unique about letting them stay up late and playing in the park together as a family. However, there are a few things that we have learned to help your Disneyland After Dark experience be a smashing success!
Catch a nap
 For the love of all that is good, insist that EVERYONE in the family has a nap the day of the event. If you are in the park that day, come back and rest before you head back in the evening. A few extra hours of sleep will go a LOOOOONNNGGG way at midnight.
Embrace it
Enjoy the craziness of it! This will be so out of everyone's routine which makes it the perfect memory and bonding experience! Prepare your kids beforehand. Let them know they get to miss their bedtime tonight and you are intentionally keeping them up for FUN!!! Let them know this is a special experience and that you expect super good and happy behavior. Then, get into it with them. Dance to the music, run around to the rides, try the special treats, AND HAVE FUN!
Have everyone wear bright colors
Dress your littles in brighter clothing and maybe even bring some sort of light-up bracelets or necklaces. It does get dark, and I was honestly a little worried about losing one of my littles at some point. It helped to have each of them in some brighter clothing that I could easily spot.
Have a plan in case anyone gets lost
Make sure that each of your children knows exactly what to do if they get lost. I cover the best way to teach and prepare yourself and your children in case this super unfortunate experience happens on my Disney Mom Hacks post. Read it here! 10 Disney Mom Hacks EVERY Mom Needs.
Consider a stroller
When we visited, Beckham was six years old. He DID NOT need a stroller. But I did haha. At the end of the day, he was tired and I just did not want to deal with having to carry him around the park or the whining that was inevitably going to happen at 12:00 am if he had to walk all over the park when he started feeling tired. So, I was a little preventative and got myself a crazy cheap fold-up stroller. ALSO… It was the perfect storing vehicle for our coats and water. Did I feel like a slight idiot for pushing my six-year-old around in a stroller? Yep. Would I do it again? Heck yes. No whining and not having to haul around coats all night. DONE!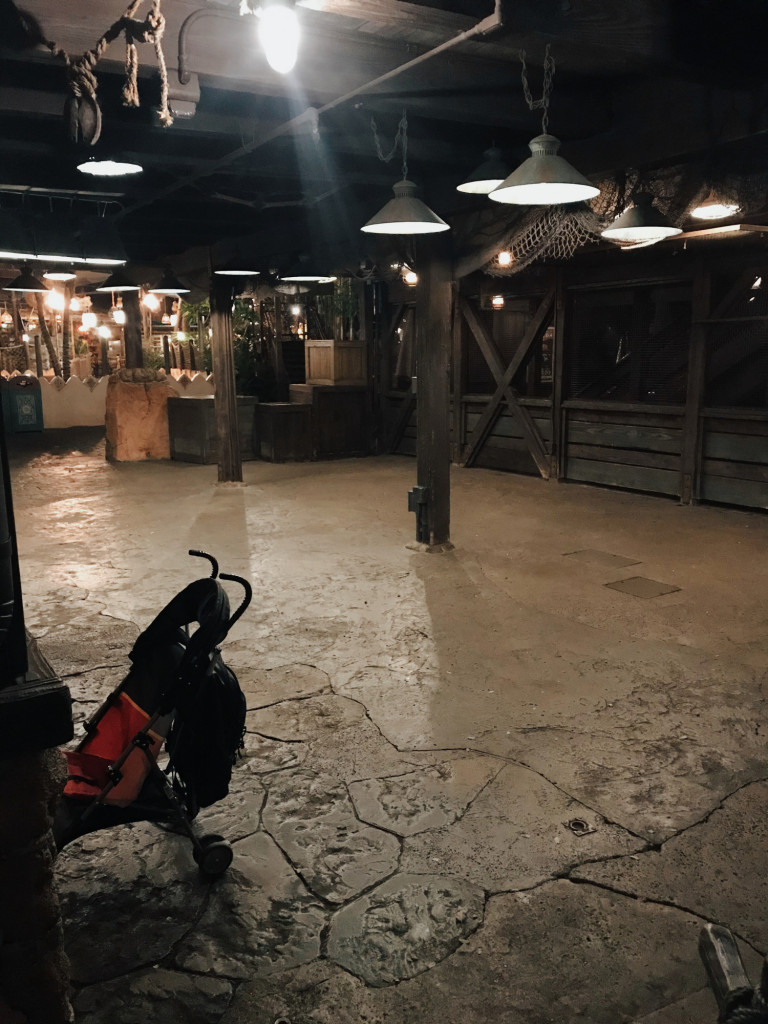 Go off the cues of your little ones
Beckham and my other little ones love these after-hours events. However, it is really good to go off of the cues of your group. Is everyone happy and having fun? Are there tears and freakouts? Keep an open mind and try to stay until the end, but if you need to bow out a half-hour early, that's okay! We usually will hit the rides until the VERY last second. In fact, we ran like mad at 12:59 am to be able to get onto Pinocchio by 1:00 and we made it! The rides at night are an absolute blast and honestly, it is just so much fun! But keep it that way. Pushing little ones past their limits isn't going to result in a good time. If calling it quits a little bit early will help everyone keep their sanity, that's okay.
There you have it! The good, the bad, and the freaking awesome about Disneyland After Dark! We hope this helps and that you decide to go. If you do end up attending one of these events, don't forget to let us know about it! We want to know if your experiences were similar to ours and what you thought.
XO
Kam
---
Like it? Pin it!