Are you dreaming of seeing the Eiffel Tower with your own two eyes, biking along the banks of the Sienne, and strolling the streets in Paris? Good news! With a few savvy travel hacking tips, you can make your Parisian dreams come true without breaking the bank. I'm here to show you how you can fly to Paris for less than $100 round trip on some of the best airlines from the US to Paris. Whether you're an experienced travel hacker or just starting out, this post will help break down the tricks of the trade so that your flights won't put a huge dent in your wallet. So grab a croissant and let's get started!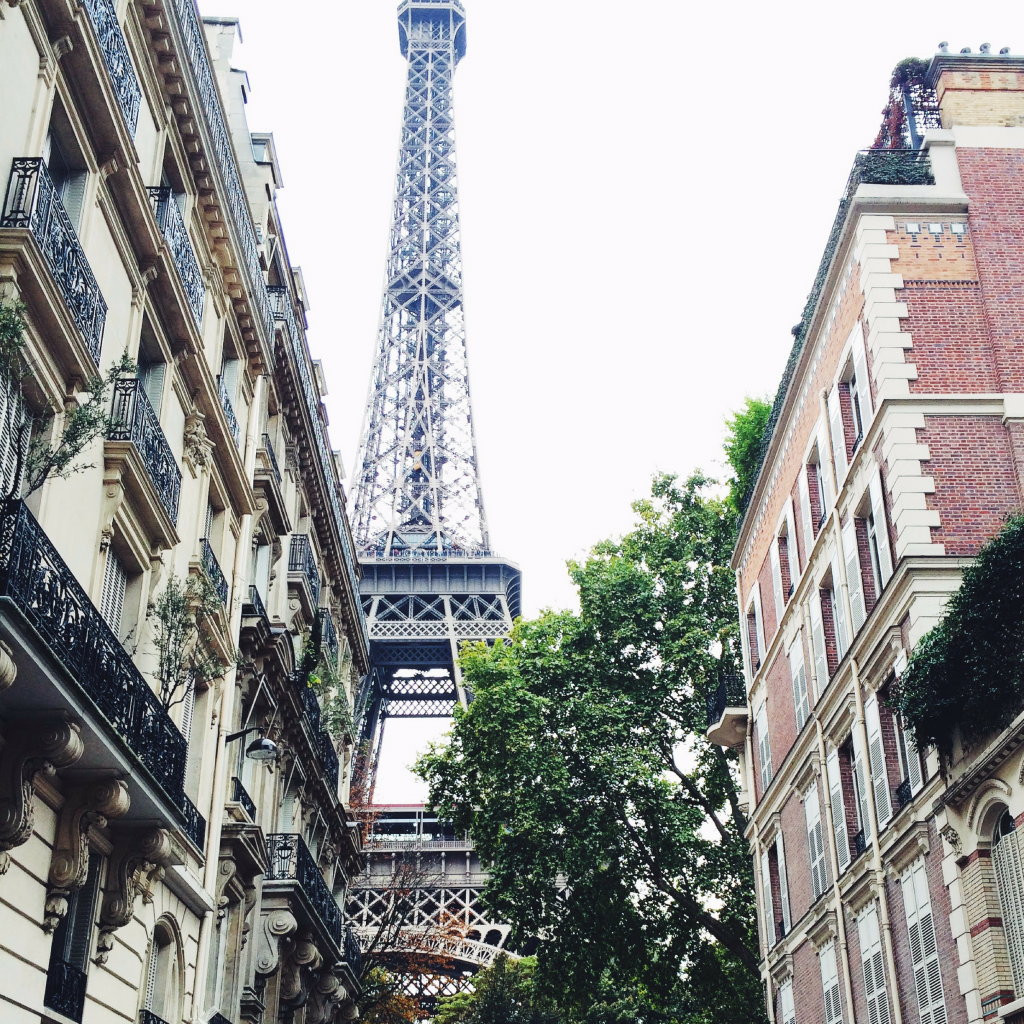 Using Points & Miles (AKA Reward Traveling) To Fly To Paris For Nearly Free!
If you are new to travel hacking & points and miles check out this post here – Travel Hacking for Beginners to answer all of your most common questions. I promise once you start travel hacking you won't ever want to look back. There is nothing better than seeing your savings increase, your credit score grow, and earning points and miles from your normal everyday purchases like gas and groceries! It's the ABSOLUTE BEST!
Want more info on Travel Hacking for Beginners? Check out this page here – Is Reward Travel For You?
Using the Flying Blue Program
There are a bunch of different airlines that you can use to travel hack your flights to Paris. However, usually, the program that will help stretch your points and miles the furthest is called "Flying Blue". Flying Blue is the points/miles program for KLM (Royal Dutch Airlines), AirFrance (and a few other international airlines – however for getting to and from Paris, KLM & AirFrance are where it's at!).
What is great about the Flying Blue program & airlines is that you can transfer your points from almost all of the major credit card issuers. Chase Ultimate Rewards, American Express Membership Rewards, Citi Thank You Points & Capital One Miles all transfer to Flying Blue. This is HUGE and means that there are nearly unlimited ways that you can earn Flying Blue Miles. For example, if I have the Chase Sapphire Preferred card (my favorite card for beginners) and I have earned 100k Chase Ultimate Reward Points through that card, I can transfer those 100k points to Flying Blue and use those points to book a flight to Paris for usually about 35k points each way and then I just need to pay the taxes and fees on that flight – hence the flying to Paris for less than $100 each! When using points and miles to book your flight, you'll just need to pay for the taxes and fees.
Expert tip: Depending on the time of year, you can get redemptions for much less! We booked flights to Europe last year through Flying Blue and got our direct flights from SLC to Amsterdam for 21k miles! It was amazing!

Flying Blue & Delta Airlines
Another thing that I LOVE about the Flying Blue program & airlines is that they are partners with Delta Airlines. This means that I can get my direct Paris flights through Flying Blue but I am still able to leverage my Delta status and rewards. I also love the flexibility that the Delta and Flying Blue partnership provides. For example, if you have Sky Priority with Delta you also have Sky Priority with AirFrance or KLM.
Flying Blue's Family Program
For a large family, Flying Blue also has its "Flying Blue Family" service. This program is wonderful when you are trying to stretch those points and miles and you have a large family in tow. As part of this free service, you will get a 25% discount on award tickets for children aged 2 to 11, traveling with an adult. For our family of six, a 25% discount on our kids' reward tickets is HUGE! Creating and joining a "Flying Blue Family" group also allows you to pool your points together with other members of the group. For example, I could pool my points with my husband's points to book flights for our family within the same Flying Blue Family account.
You can read all about the Flying Blue Family Program and sign up for free here – Join Flying Blue Family
Finding the Right Redemption When Booking Flights to Paris
When booking points/miles flights (also called redemption or award flights) to Europe, you don't want to wait to too long to book. I usually plan on booking my Europe flights at least 9 months out in advance to get the best redemption rate. The reason for this is that airlines release a limited number of those lower redemption seats. Once those seats are booked, they increase the award amount. If a flight originally has some seats available for 20k points, once those seats are taken it will increase the redemption amount. This will continue until the flight is either sold out or all of the redemption seats are gone.
What if a Last Minute Deal Pops Up?
Occasionally, there will be some amazing last-minute award flight deals. If this is the case, then I will cancel my current booking and just rebook with the cheaper deal. One of the best parts of using points and miles is that with most airlines if you cancel your flight or if you need to change your flight the difference in points will be redeposited into your account. Just make sure to read the fine print of your fare class when you book and make sure that if you need to change/cancel that your points will be redeposited.
Tips for Booking with Points/Miles on Flying Blue
Have a little flexibility with your dates


Be sure to make use of the "flexible dates" calendar when you are looking at your dates. Sometimes the redemption can change by 40-50k points depending on the day. So if you can move the dates of your trip by one or two days that can sometimes save you thousands and thousands of points!

Be aware of the taxes


Be aware that taxes are a little bit more for European-based airlines than for US-based airlines. It is a good rule of thumb to plan on paying anywhere from $40 – $80 dollars in taxes and fees.

Flying with young children


If you will be traveling with little ones in your group, it is incredibly important that you book your tickets together. If your young child has a separate reservation and it isn't connected to an adult it can cause some major issues with the system when you go to check into your flight.

Using cash & points


Flying Blue also allows you to combine your cash and points. So if you don't have enough miles to cover a full ticket you can combine cash with your points to lower the cost of your overall ticket!
For more information on how to book using your Flying Blue Miles check out this article here – How to Book Reward Tickets.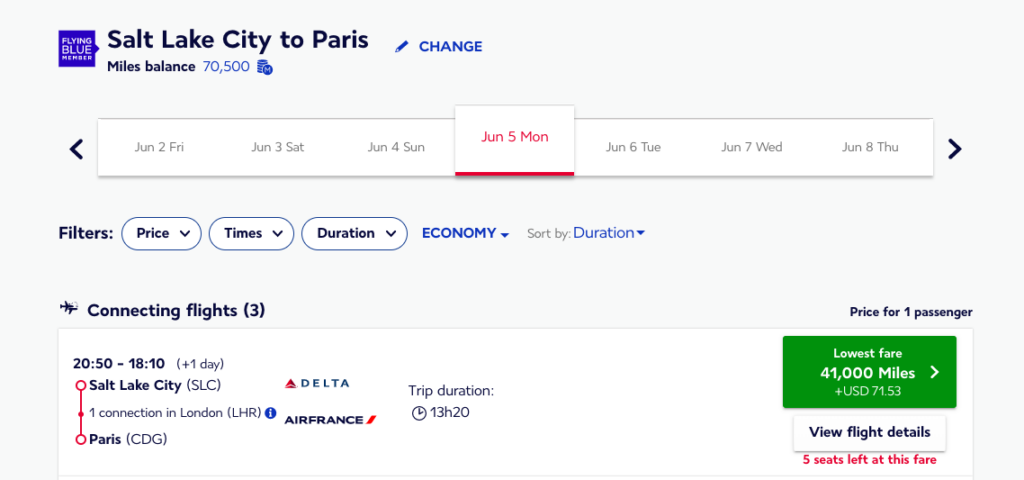 The BEST Cards To Earn Flying Blue Miles!
Because you can transfer your points from Chase Ultimate Rewards, American Express Membership Rewards, Citi Thank You Points, and Capital One Miles to Flying Blue there are sooo many different card options that you can choose from.
Here are my three FAVORITE cards that you can use to maximize your normal everyday spending, have reasonable annual fees, have a great welcome bonus, and have some other really awesome benefits!
So that's that! You get your card, earn your points, transfer them to Flying Blue, and book your flights to Paris for less than $100!