Know that you want to take your family on a trip to Disney but you are a little horrified at how expensive it will be? This article will show you how to get discounted Disney tickets to help take the sting out of Disney ticket prices and have you and your family experiencing the happiest place on earth in no time! 
If you are new to Travel Hacking or Reward Travel you'll want to check out our Reward Travel 101 Article as well as our FREE Points and Miles Crash Course here!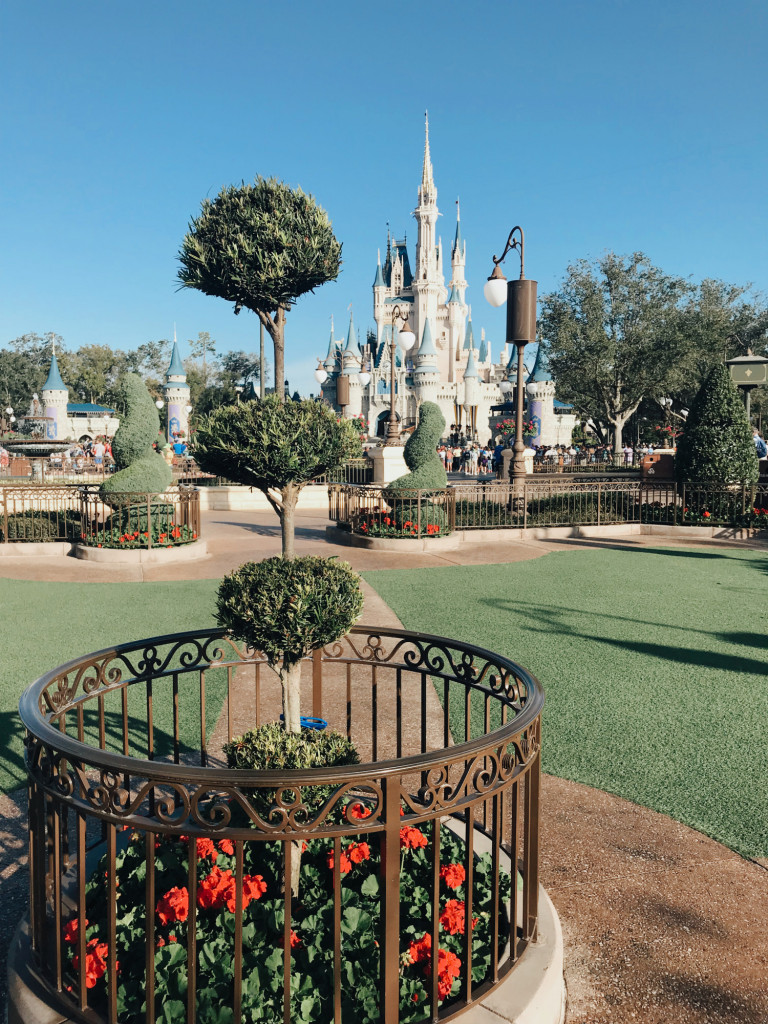 How to Get Discounted Disney Tickets & Visit a Disney Park for Less 
I am so excited to share seven different ways to get your Disney tickets for cheaper! These seven different ways can work for everyone, are safe and reputable, and are through verified Disney ticket or gift card sellers. Some of the strategies are really simple and some of them are a little bit more difficult. However, if you use these strategies you should easily be able to save anywhere from 5% to nearly 100% on your tickets.  I have used each of these strategies to book Disney vacations for my family of six and have saved thousands.
Note: We won't be discussing the Military Disney Discount since we can't speak personally about it. We know several people who use the military discount and love it. If you have the opportunity to use the military discount, Military Disney Tips is a fantastic resource. 
Hints on Getting Discounted Disney Tickets
Getting discount tickets to Disneyland or Disney World isn't hard, but there are some things that you will want to be aware of when you are getting your tickets. 
Never Buy at the Gate
Regardless of what strategy you decide to do, there is one thing that I must stress. Absolutely under NO circumstances do you want to buy your tickets at the gate of the parks or at your resort when you arrive. There are a few reasons for this. 
1) The tickets will ALWAYS be at their absolute most expensive at the gates or through hotels. 
2) Because Disney is now requiring advanced reservations to get into the park, waiting until the last minute is not going to serve you. You might not be able to visit the parks when you were wanting to. 
3) Even if you are able to get a reservation in the park after you purchase your tickets, purchasing your tickets at the gate the morning of wastes precious park time. Knowing how to maximize that first hour the park is open will make the difference between hours of time waiting in line throughout the day. We aren't going to dig into minimizing wait times deeply here, but we cover it extensively in our 4 Day Disneyland Itinerary to Avoid Crowds post.  
Purchase Through A Verified Seller of Disney Tickets/Disney Gift Cards
We have heard far too many horror stories of people getting scammed over their Disney tickets. If a deal seems too good to be true it probably is. You will rarely if ever, see tickets for more than 15-20% off. If someone is offering more than that, really look at what they are offering and what you are committing to. We have seen people buying Disney gift cards or tickets on eBay only to find that it was a fraud. Be smart and aware. This article will teach you how to get discounted Disney tickets using safe and proven techniques to save your family hundreds in combined savings. 
The best thing you can do is to stick to a verified seller. Disney sells their own tickets on their website but they also contract with other verified sellers. You absolutely want to stick to one of these verified sources. The sellers we suggest and cover in this article are all verified, are highly rated, and are extremely reputable! 
Unless You Are Using the Gift Card Technique You Should Rarely Buy Through the Disney Website
Occasionally you will see a REALLY good deal come through Disney's website but it is really, really, rare.  Usually, the best discounts are offered through verified third-party sellers. Take a look at Disney's website and their prices but always shop around and look at other options first. Spending a half-hour comparing prices can save you hundreds of dollars. 
*The gift card technique (which is one of my favorites) is covered in full below 
The Only Difference is the Price of the Tickets
You will still have the option to book a Disney resort hotel and can participate in everything that you would be able to if you purchased directly through Disney. The only difference between using one of these strategies versus booking directly through Disney is that your tickets will be cheaper. You still have the option to book a Disney resort hotel, get Disney Genie+, and can participate in everything that you would be able to if you purchased directly through Disney. Your Disney park experience itself won't be affected in any way.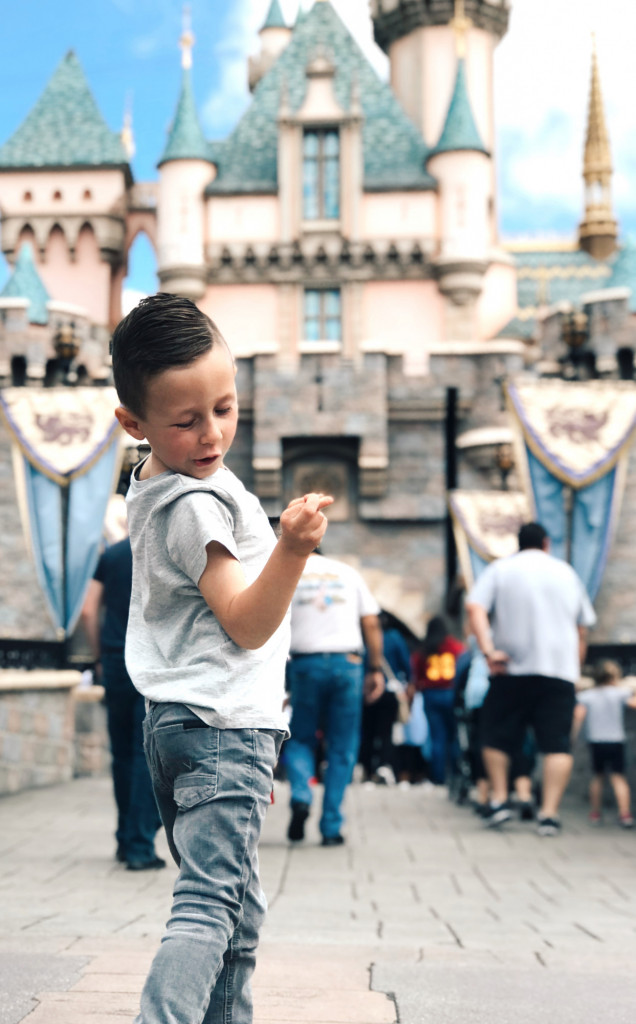 How to Get Discounted Disney Tickets – 7 Expert Sources and Ways 
Yay! We are ready to dig into how to get discounted Disney tickets so you and your family can have the best time! Look at these options and see what works best for you and your family. 
Note* It's okay if some of these strategies aren't the right fit for you. Each of them is a bit different and will result in different savings. That's okay. Do what you're comfortable with and what works for you and your family!
Discount: Varies (About 5% off the standard ticket but they offer different sales and programs all year long that are AWESOME!) 
Get Away Today is by far my favorite verified Disney ticket seller. They have HUGE sales (Black Friday is AMAZING), and their customer service absolutely rocks (no other strategy on this list will give you the hands-on help that you can get through Get Away Today). We have booked countless trips through Get Away Today and have never been disappointed! At the time of writing, they are offering a 5-day ticket for the cost of a 4-day and a free hotel night when booking a Southern California Disneyland vacation. Regardless of what deal you score, you can save $10.00 off your order with my coupon code – OFP10. They also offer a layaway plan so you can pay off your trip before you go. My favorite thing about Get Away Today is that they offer trip protection and are great about helping you reschedule if your trip plans change! 
Offer AWESOME discounts throughout the year paired with their standard discount

Amazing customer service & can help you plan your whole trip

Layaway plan so you can pay in monthly increments before your trip

Use my code OFP10 for an extra $10.00 off of your vacation package!
Have trip protection if your plans change
Overall our favorite because of ease, service, and discounts

Discount: About 5-7% off (A LOT steeper discounts for Florida and California residents)
Like Get Away Today, Undercover Tourist is a verified Disney ticket seller and they have standard discounts year-round so you will always know what you are getting. I also LOVE their blog and crowd calendar. Their website deserves a visit just for those insights. They have such great tips and tricks for families wanting to visit Disney. They are extremely reliable and have strong customer service and are willing and able to answer most Disney-related questions. The best thing about Undercover Tourist is that their tickets are refundable for 365 days. This is something that isn't offered anywhere else and is an awesome touch!
Best Things About Undercover Tourist
Their website in general is amazing for planning your Disney trip

Strong customer service 

Standard 5-7% discount year-round

365 day refundable tickets

3. Using Citi Premier Points or Capital One Miles to Erase Your Disney Ticket Costs
This strategy is how you can cover almost the entirety of your ticket costs. However, I do want to point out that usually, this isn't always the BEST use of your points. I like to suggest using points to cover hotels or airfare. But if you are going for free, then these strategies are for you!
When you purchase your tickets from a verified reseller like Get Away Today or Undercover Tourist with either a Capital One Venture card or a Citi Premier card, they will code as "travel". This means that if you have a Capital One Venture Card or a Citi Premier you can "erase" your Disney ticket purchases with your earned points and miles!
The best thing about these cards is that they both offer incredibly lucrative welcome bonuses so you can get nearly 700-800 dollars of your tickets covered almost right off the bat!
You can learn more about these cards and how to apply for them here!
Best Things About Erasing Your Ticket Costs
You can earn points on these cards on every purchase!
Capital One Venture cards earn you 2x the points on EVERYTHING
You are getting your tickets for FREE
You can erase some or all of your purchases
The Capital One Venture X card comes with a $300 annual travel credit that can be put toward tickets if you buy them through a verified reseller.
Discount: 7-12%
If you are a Sam's Club member, you have access to some pretty awesome discounts via their travel services. You can save up to $35.00 per Disneyland Ticket and up to $80.00 per Disney World ticket. This averages to about 7-12% off per ticket depending on the type of ticket that you choose and for how many days. The discounts get better when you add more days! The downside to this is that you need to have a Sam's Club Membership which usually costs about $45.00. However, if you can save up to $80.00 on just one Disney World ticket, then this is worth it! Sam's Club also often offers deals and sign-up bonuses. At the time of writing if you sign up they will send you a $45.00 gift card. 
There is also another workaround for those of you who love to travel and credit card hacking. If you sign up using your Amex Platinum and enroll in the Sam's Club bonus you will get an additional $25.00 statement credit. I just signed up using my Platinum, took advantage of Sam's Club sign-up bonus, and then used my Amex bonus offer. This means I made $25.00 and got a free Sam's Club membership for the year. AWESOME! I love free things!
Best Things About Using Sam's Club for Disney Tickets
Tickets will be emailed to you directly and you can link them into your MyDisney Account

You can also almost always purchase discounted Disney water park tickets throughout the year

The Disney World discount is significant! 

5. Disney Gift Card Technique
Discount: An initial $300.00 off then an additional 6-20% off. THIS IS AWESOME!
Wondering how to get discounted Disney tickets using gift cards? Let me show you! This is the most advanced strategy but will also give you the steepest savings! 
A Quick Pre-Requisite on Using Disney Gift Cards to Buy Discounted Disney Tickets
In order to take advantage of this technique, you will need the American Express Blue Cash Preferred Card. We could write a whole post about why we love this card, but we'll just send you here to read all about it. It has a low annual fee and offers some of the best cashback for everyday spending (6% at grocery stores! UNREAL!). The best thing about this card? You will get an initial $300.00 cashback when you sign up and meet the minimum spend. Then you can purchase gift cards and earn the rewards off of them if you purchase them through grocery stores – enter the Disney Gift Card Technique! 
If you use the American Express Blue Cash Preferred Card you can meet your minimum spend by buying your gift cards. This means you will earn your $300.00 dollars back, and then get an additional 6% cashback! That's HUGE!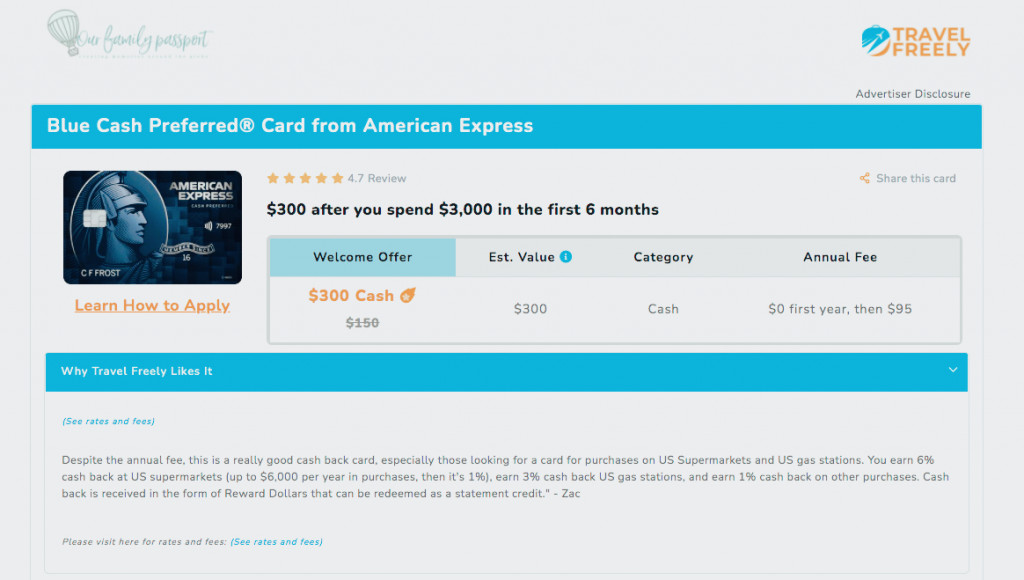 Steps to Using Gift Cards to Buy Disney Tickets to Save Money
Figure out on Disney's website how much the tickets you want to purchase will cost. Write down the exact amount and take it with you. 

With your Amex Blue Cash Preferred card in hand, head over to your nearest grocery store (Make sure that that store you choose is categorized as a grocery store. Sam's Club, Walmart, and Costco don't usually count). 

Purchase the amount that you wrote down in step one in Disney Gift Cards at the register, in person, with your Amex Blue Cash Preferred. If your purchase will reach over $1,000.00 you might need to split up your transaction as some grocery stores have limits. It also always helps to add a few groceries that you need to your transaction. You will automatically get 6% cashback in statement credits to your Amex. Saving you 6% in the process! 

Use those gift cards to purchase tickets through Disney's website. You can also use them to help pay for your hotels if you book through Disney. Yay! 
Here is where it gets really good! 
Pair the Amex Blue Cash Preferred 6% Back with Kroger's 4X Gift Card Points for Significant Savings
If you live near a Kroger Grocery Store (you can find them here – Kroger Store Locator) consider yourself lucky because you have the option of saving up to 20% on your tickets in addition to the $300.00 cashback! In order to do this, pair the Disney gift card technique we discussed above with Kroger's own cashback program. Kroger's cashback program results in fuel points meaning – spend money with a Kroger Grocery Store and Kroger pays for part of the fuel for your car. We LOVE using these Kroger points to offset our fuel costs.
Kroger often offers 4X the fuel points on gift cards during their 4X fuel points promotion. When you use your Amex Blue Cash to buy your Disney tickets and then you earn 4X the fuel points, your savings can be seriously significant. Of course, the savings will come in the form of cashback from your card and then fuel points, so make sure you use them! 
Example of this technique at a Kroger store during 4x fuel point promotions:
Let's say you buy $250 in Disney gift cards at the 4X fuel points promotion,  you will receive 1000 fuel points (worth $1/gallon up to 35 gallons at Kroger gas stations). If you buy 35 gallons of gas, you automatically save $35 on that $250 cost. Which comes out to be a 14% savings. You get these savings in the return of fuel and then you will get your 6% from the Amex card plus the $300.00 back! Heck to the yes!
The Best Things About Using the Disney Gift Card Technique
THE SAVINGS!!!! 

Maximizing points on things you are already purchasing (if you are buying Disney tickets, you might as well get money and points back!)

You can use these savings and the 6% back on other things and other gift cards as well. It doesn't have to be Disney specific 
6. Company Discounts for Cheap Disney Tickets (NectarHR/ Perknow/ Benefit Hub/ etc…)
Discounts: Varies but up to $80.00 off Gate Prices 
While this option might not be available to everyone, it is probably more readily available than you think. In my day job, I teach Art History at a nearby university. I have worked at this particular university for six years and just recently stumbled on my employee perk program by accident. This particular perk program (NectarHR) offers serious discounts on Disney tickets. When I called to find out more, I was told that this program is offered to different companies nationwide and that there are massive employee perk firms all over the nation (some examples are Perknow and Benefit Hub) for thousands of different companies! 
The moral of this story is to ask your employer or your significant other's employer if they participate in these employee perk programs. If they do, take advantage of them! The worst thing that can happen is that they don't and then you use one of these other techniques. 
Best Things About Using A Company Discount
The ease!

You are getting rewarded for work you do on a daily basis

You don't have to purchase a membership like through Sam's Club to get similar discounts

Tickets are usually emailed directly to you and you can link them to your MyDisney account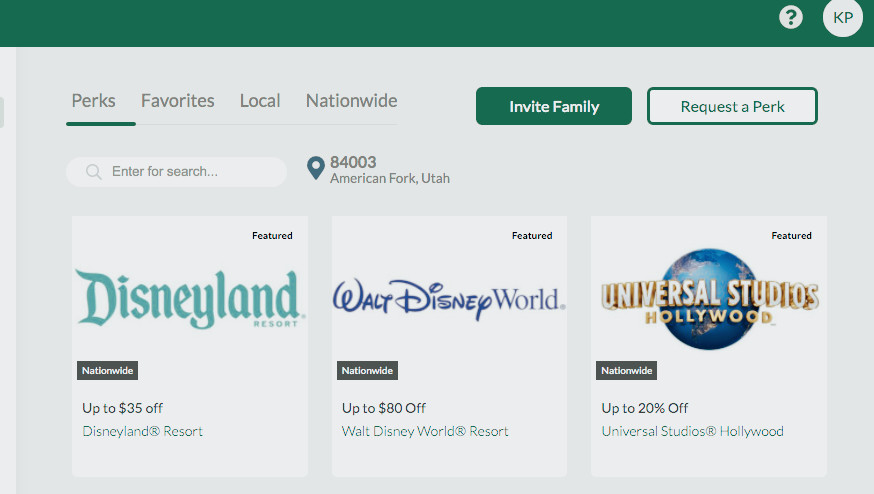 Discount: $300 back in Disney Rewards and an additional 2%
While this is our least favorite option because we think that better discounts are found elsewhere and with other cards, this does still need to be mentioned because $300.00 and 2% is still something. The Disney Chase Credit Card gives an initial $300.00 back in Disney Reward Credits (essentially $300.00 if spent through Disney) when their minimum spend is hit and then an additional 2% back on Disney verified charges. If you are a Disney lover and the in-the-park perks from the card appeal to you (for us they aren't worth it) then this card and strategy deserve a look. One thing that I do love about this card is that you can get up to 10% back on food and gifts purchased in the parks. I balk at how expensive food is in the parks so 10% off is really nice!
The Best Thing About Using The Chase Disney Credit Card
10% off on dining and other purchases in the park

The personalized Disney cards are cute!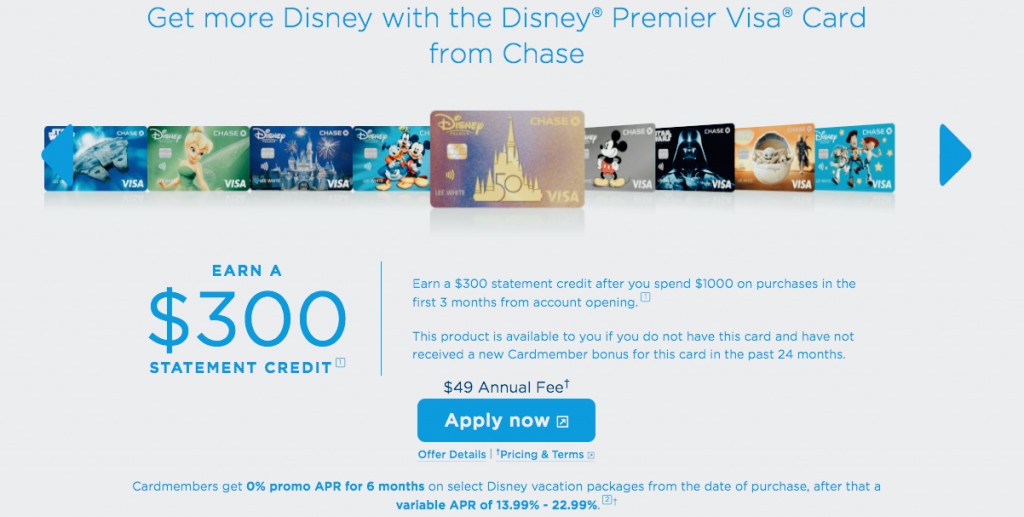 Now that we have covered some of the best and most effective ways on how to get discounted Disney tickets, you should be ready to start getting those tickets and booking your trip. If you have any questions at all you can always DM us on Instagram @ourfamilypassport and we'd love to give you more info. Be sure to keep us updated on what works for you and share with us! 
Xo,
Kam
---
Like it? Pin it!