How to Earn & Use Marriott Reward Free Nights
This post was originally posted on Nov. 1st 2021 and has been updated. 
Travel does not need to break the bank! One of the best ways to earn free travel is to maximize the free night bonuses that are offered on many hotel credit cards. One of the best hotel reward programs is the Marriott free night reward certificate program. With a little bit of know-how, you can maximize these annual free night certificates and stay at a luxury Marriott property for free! No points, no cash…  but free! Here is how to earn and use Marriott's free night certificates! 
Are you new to reward travel and travel hacking? Check out our Start Here guide!
At Our Family Passport, we occasionally use affiliate links. This means if you use them, we may receive a small commission at no cost to you. Thank you so much for helping our little business grow. We appreciate it so much!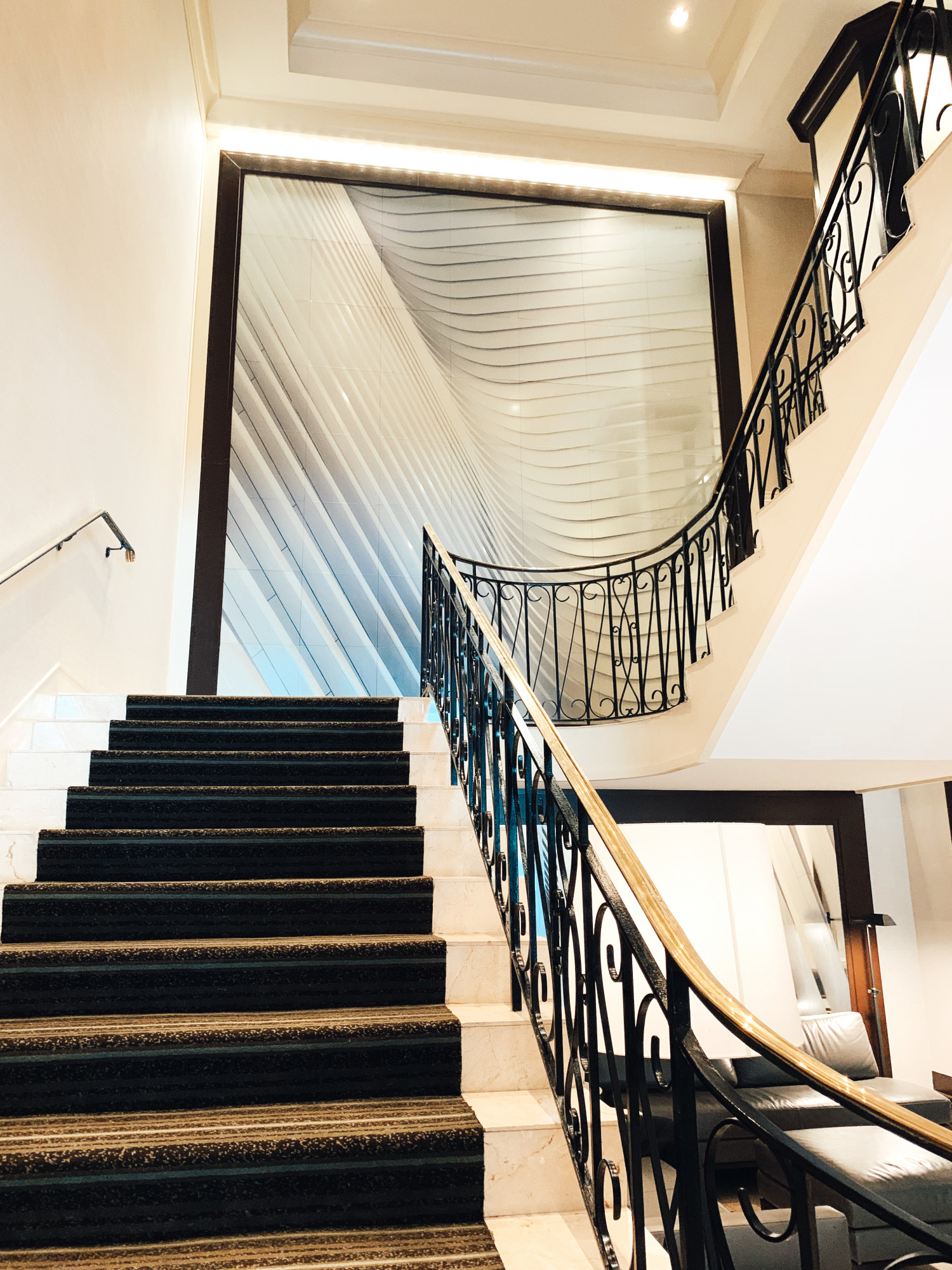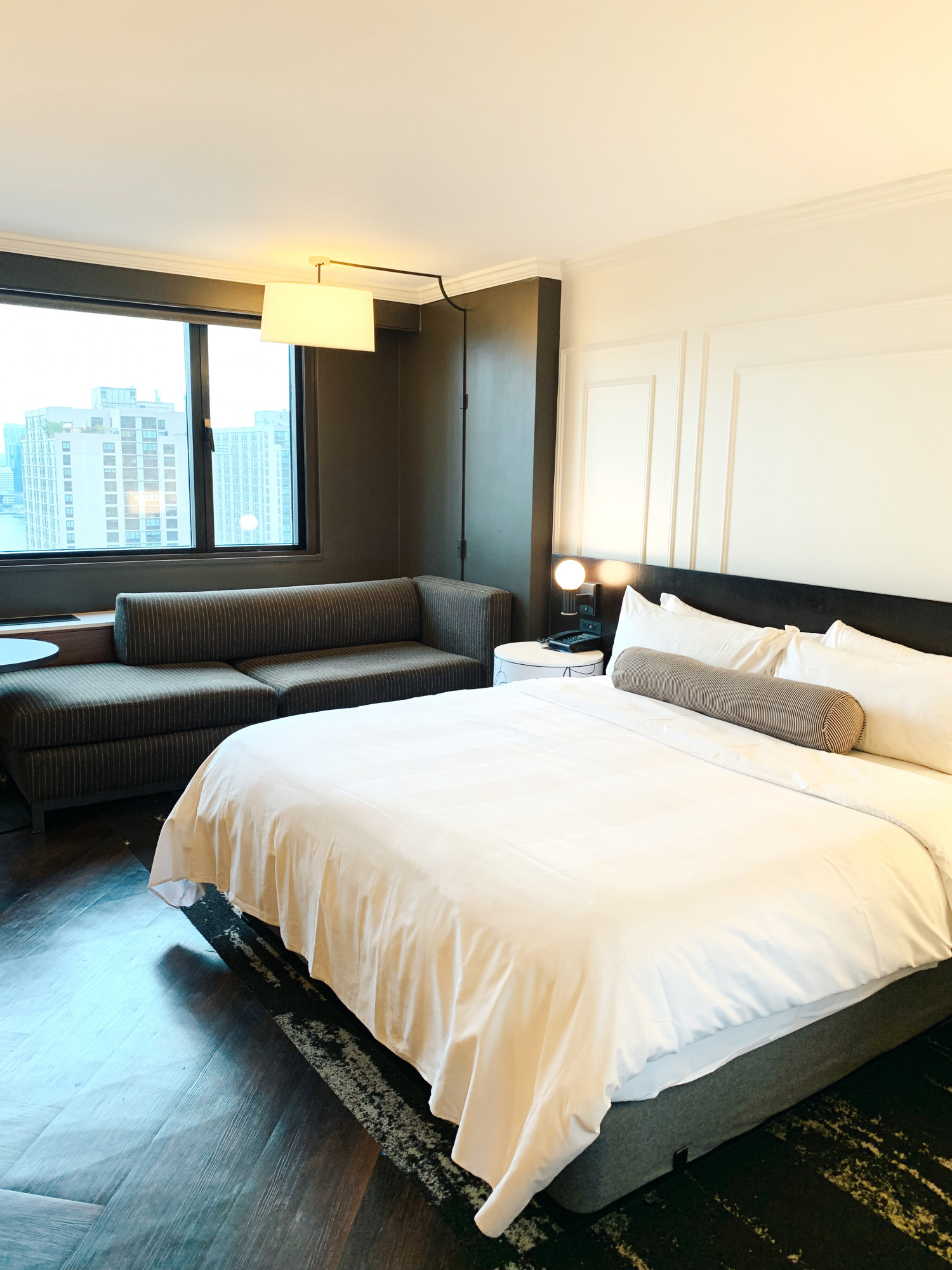 How to Earn & Use Marriott Reward Free Nights
This 7-step-by-step guide will show you how to earn and use your Marriott rewards free night and have you traveling for free in no time! There is a FAQ section included at the end to give some extra tips and tricks when earning and using your Marriott rewards free night. 
Let's get started! 
1. Sign up and get at least one Marriott Rewards credit card
There are several different options for Marriott Reward credit cards. Here are two of my favorites!
Chase Marriott Bonvoy Boundless
One of the best cards for someone who wants to start earning Marriott points is the Chase Marriott Bonvoy Boundless. With an annual fee of only $95.00 USD, exceptional bonus offers, and an annual free night award certificate for 35k points, this card gets you the best bang for your buck. This was my first travel credit card and has earned me more free nights than I can count. I love this card and will probably NEVER cancel it. 
American Express Marriott Bonvoy Brilliant
If you are a little more advanced when it comes to travel hacking, usually the best Marriott card option is the American Express Marriott Bonvoy Brilliant. The annual fee is steep at $650 USD. However, the potential earning power, free night award certificate at 85k points, Platinum status, priority lounge access, TSA Precheck/Global Entry, a one hundred dollar annual hotel credit, a $300 dining credit, and the welcome bonus offer is worth it.
This has quickly become one of my new favorite cards! 
You can click here to sign up for the American Express Bonvoy Brilliant Marriott Card. 
(Thank you so much for using our affiliate links! It helps keep my small little business running and I can't express how much I appreciate it!)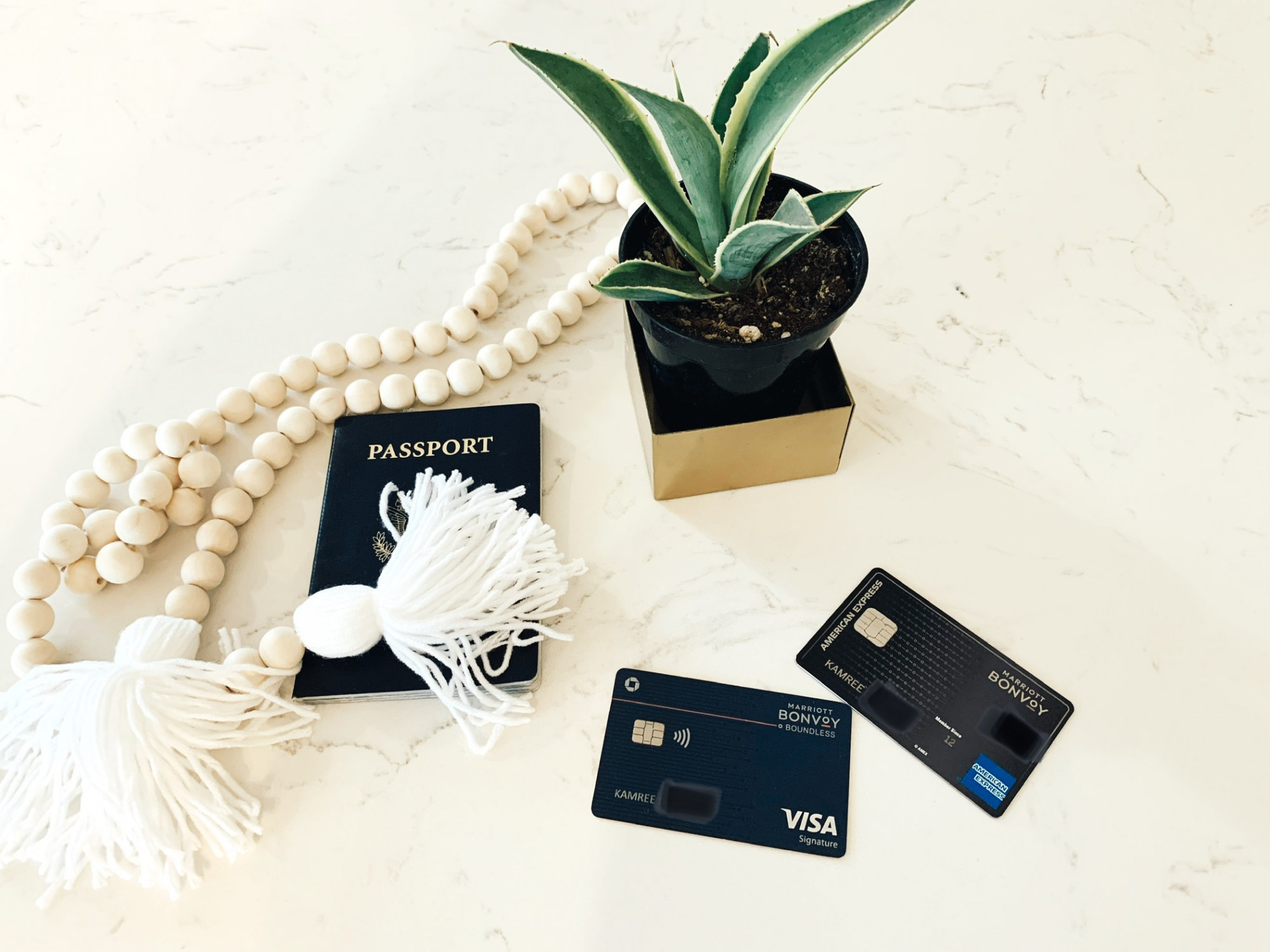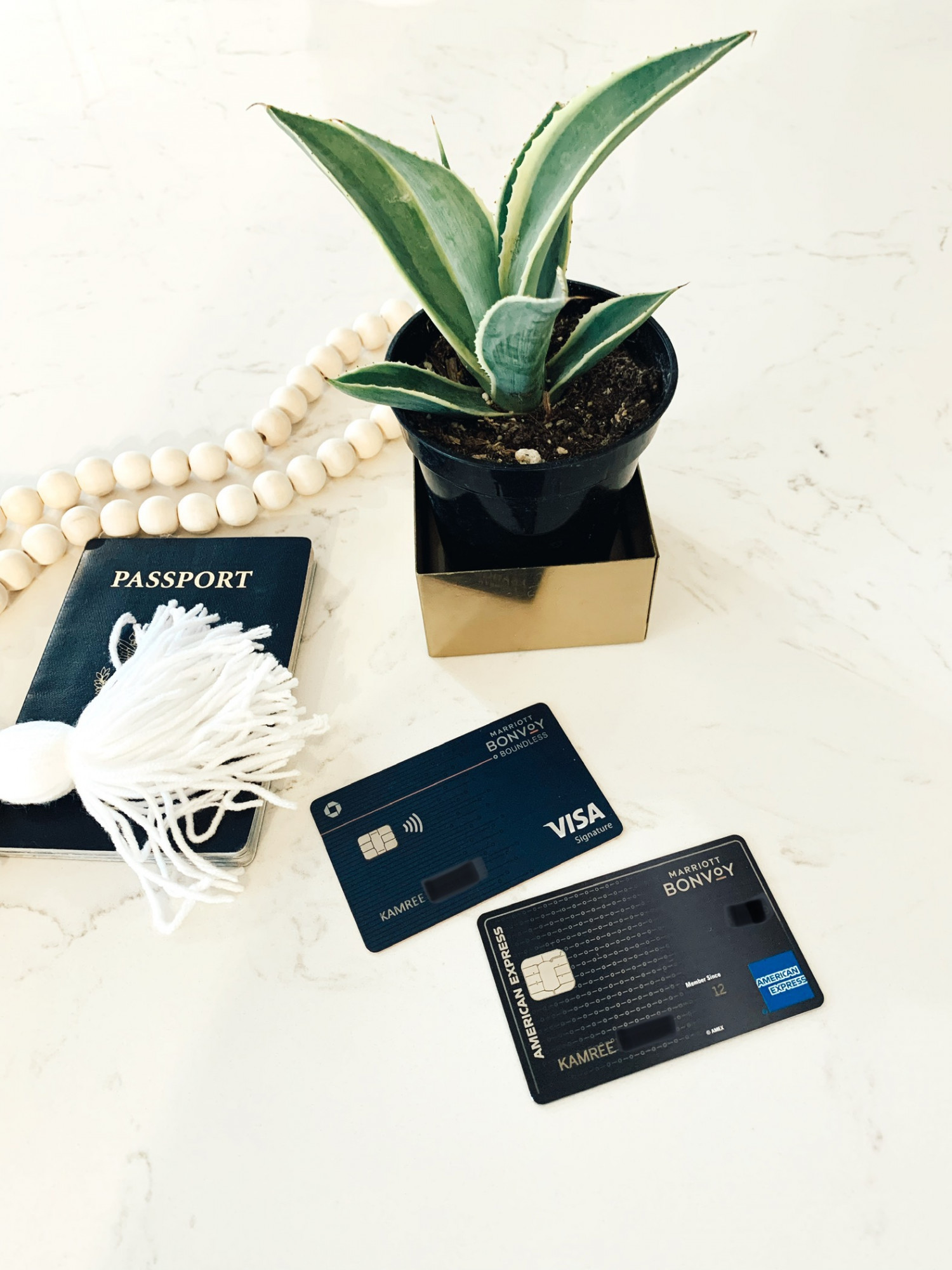 2. Know what your minimum spend is and then meet it
Before you qualify for your bonus nights and bonus points, most credit card companies require that you meet a minimum spend in the first 3 to 5 months of receiving your card. Meeting this minimum spend is a common concern for many and turns them off from travel hacking. However, before you start stressing, consider how much you spend on rent, car payments, food, gas, utilities, babysitters, recreation, gym memberships, and entertainment in a three-month period. If you are spending around 2 thousand dollars a month on these things you have absolutely nothing to worry about! Instead of putting these everyday payments on a debit card or on a credit card that isn't earning you free travel – use the Marriott rewards card and earn those bonuses.
Keep in mind the bonus spending requirements are not the same. For example, the bonus spend for the Chase Marriott Bonvoy cards are smaller than most of the American Express cards.  You will want to be aware of what the minimum spend is before you sign up. Pick a card that you feel comfortable with. 
Tips for meeting the bonus spend on your Marriott Bonvoy credit card
Don't overspend or spend money just to reach the bonus offer. Be aware and dedicated to using your new card for your everyday purchases. This usually is enough to reach what you need to get that bonus.

Don't forget to switch out your old cards and use your new card on subscription services like Netflix, Hulu, Amazon, etc… These charges add up.

Be aware of any large upcoming payments.

For example, do you have any medical bills coming up? Will you be buying a new car soon? (Usually, dealerships will let you pay a portion of the down payment via credit card) Is a holiday around the corner and will you be spending a lot on gifts? Do you have a home remodel down the pipeline? Do you have college tuition to pay? Use your card to make a purchase on any of these big payments that you already have to make. Then you can earn free travel in return. (I just had a baby which meant a hospital stay. We knew that we would have a significant hospital bill coming up. While hospital bills freaking suck, I was at least able to earn some travel points for a future vacation when I made my payment.)

Will you be booking a vacation soon? Turn an upcoming vacation into a "by one get one free" (BOGO) situation by using a new card to pay for your current trip. We are taking our kids on a surprise trip to Disneyworld in a few months.  Disney tickets are out of this world expensive. There was an awesome bonus sign-up for the Amex Marriott card and I knew that if I got the new card to pay for our tickets I could earn myself another free vacation and two more Marriott Free Night Certificates by using that new card to pay for our tickets. Disney tickets + 150k bonus points and some free reward nights – YES PLEASE! Who doesn't love a BOGO deal?! 
3. Pay off your credit card monthly! 
This step is crucial! The whole point of travel hacking and maximizing credit card points is to HELP your budget not hurt it. Keep tabs on your card, your credit, and your spending. Make sure you are paying your Marriott card off every month. Go through your statements and analyze your spending. Doing so can help you learn more about your spending habits and can even show you some areas where you can do better. 
Something important to note is that if you are not paying your card off, you won't be given points in return. In order to get your Marriott rewards free night and bonus points, you need to use your Marriott credit card AND pay it off.
4. Log in to your Marriott Rewards Account 
This is super easy, if you already have a Marriott Bonvoy Rewards number, you will have a place to fill it in when you apply for your new Marriott card. If you don't have a Marriott rewards number, Marriott will easily create one for you and send it to you via email once you get your credit card. Once you receive it log into your account here – Marriott Sign In. Each year on your anniversary you will be awarded your free night and you can find it in your profile! 

5. Redeem your Marriott reward free night
Here's how to redeem your Marriott anniversary free night online via your Marriott Bonvoy profile.
Look for a hotel that fits within the point value of your award. For example, some free night certificates are equal to 85k points while others are equal to 35k depending on your card and intro offer. You can easily sort and filter point redemption rates using the sort and filter section when looking for hotels. 

Select the night and hotel that you would like to use your free night certificate on. Click the "use points/certificate option" when selecting. When doing this, you MUST only have one night selected. If you have more than one night you won't be able to use your certificate. You can book back-to-back reward stays and mix or match reward stays for normal bookings but your reward stay needs to be booked on a separate reservation. More on this below. 

After selecting the type of room you would like, review your reservation details and select the "use free night certificate button" to complete your reservation. 

Your reservation should be completed as usual. 
6. Check into your hotel and stay for free!!! 
This is obviously the best part of using your reward certificate. I absolutely love being able to stay somewhere for free! It helps me save money and points to do other things that I really want to do.
(Note: some hotels/resorts will still require the resort fee and taxes. These are usually minimal)
7. Keep your Marriott credit card active and earn your free night every year 
As long as you keep your Marriott credit card active you can use your Marriott free night award annually! There is no minimum spend once you earn your initial bonus so you could spend only $10.00 on your Marriott card year after year and still earn your free night!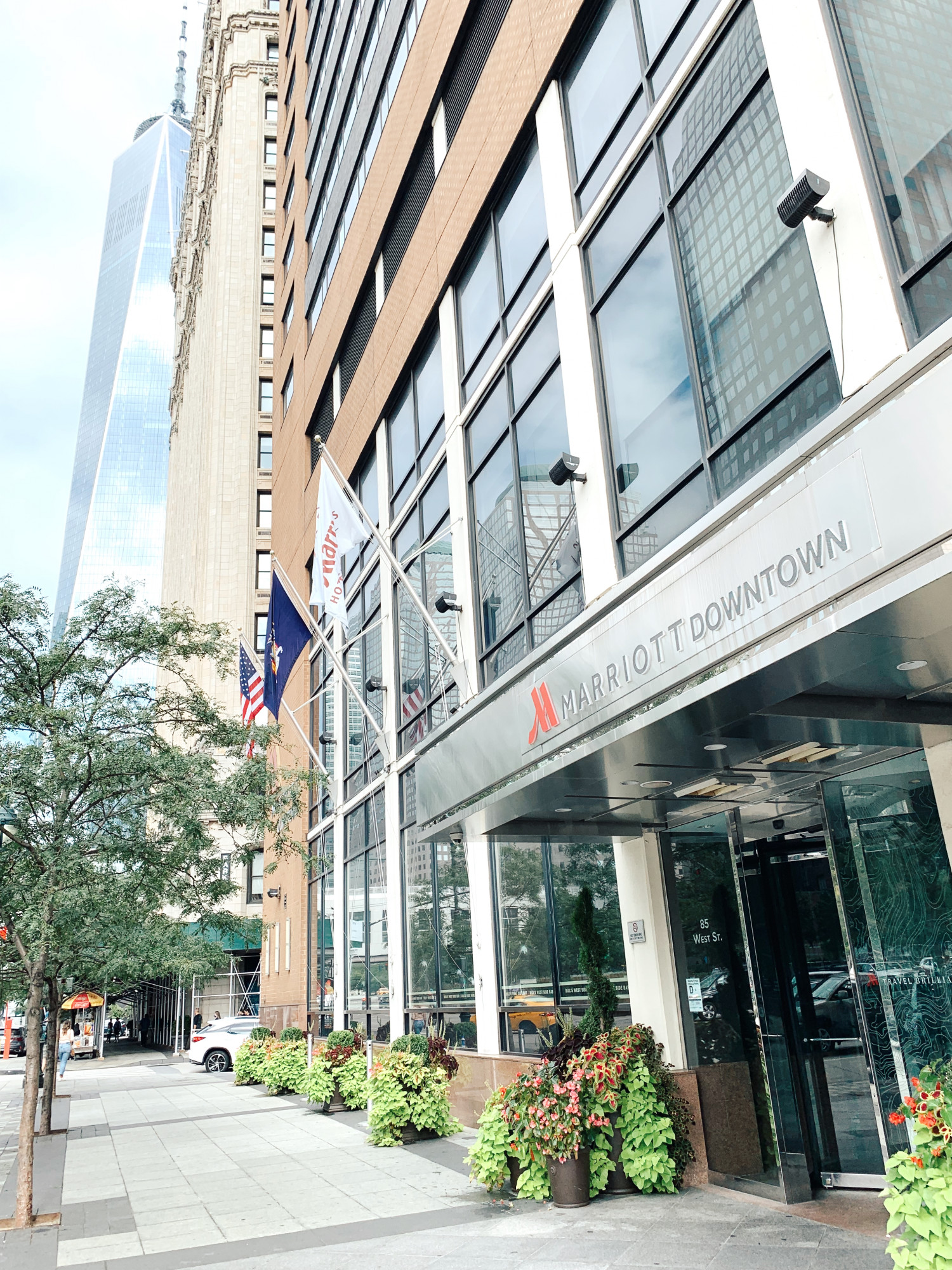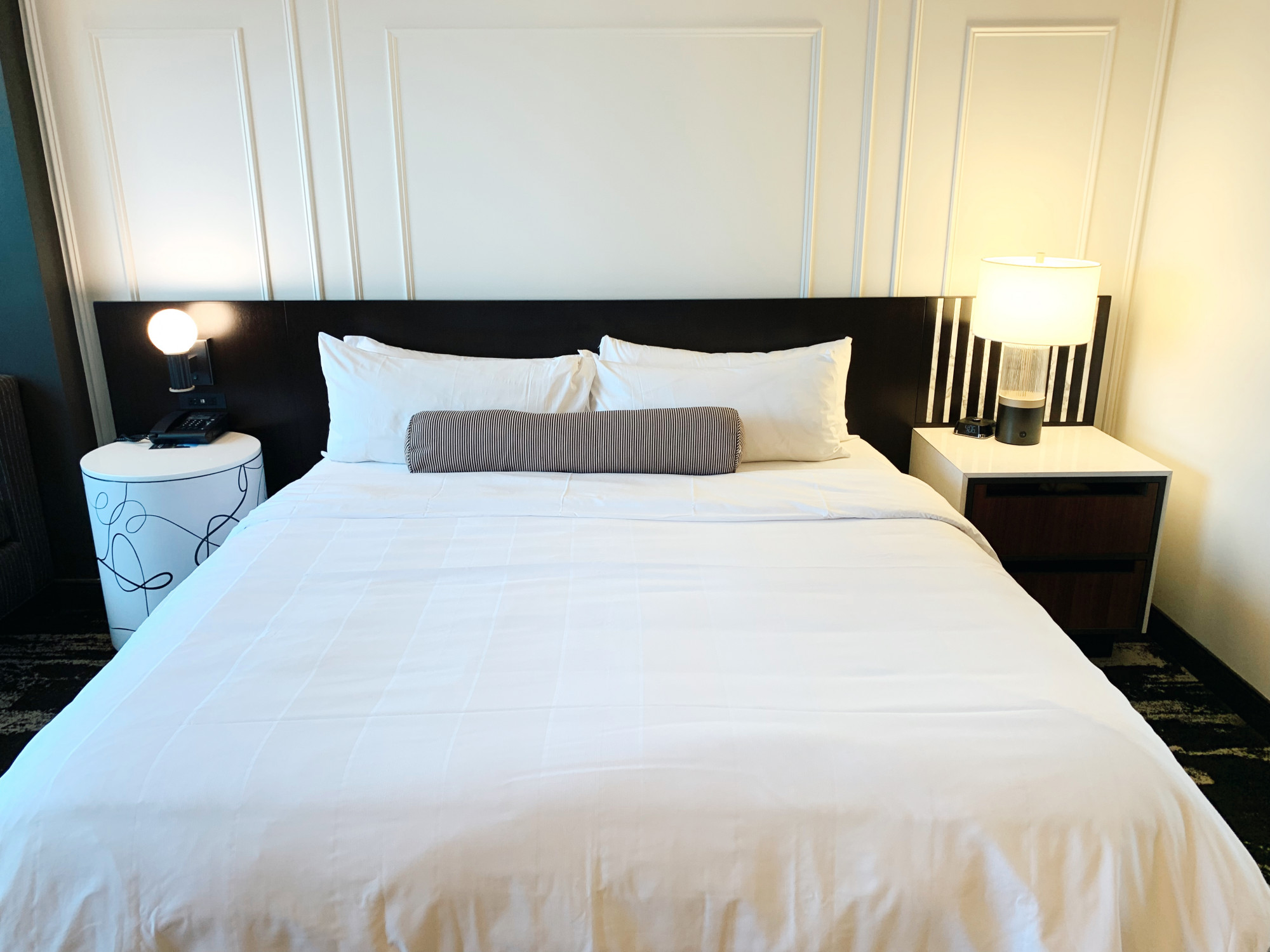 Questions and tips when using your Marriott Reward Free Night
How much is a Marriott free night certificate worth?
This depends on what your bonus reward is. The free night certificates range anywhere from 35k points per night (This will cover almost all Category 5 standard Marriott rooms, most Courtyard and Springhill Suite type properties, and sometimes a more luxury property like Ritz Carlton or JW Marriott) to 85k points per night. (This covers almost all of the coveted luxury Category 8 brands like Ritz Carlton, JW Marriott, The W, St. Regis properties) In a dollar amount, this can range anywhere from 200 dollars a night to 1200+ dollars a night. 
Are Marriott free night certificates extended?
In my experience, this depends. Marriott was really flexible during the COVID era, however, I have found that they are cracking down on certificate expiration dates as of late. If you are unable to use your Marriott free night in a year, call Marriott and chat with a representative and let them know why. Then ask if your award can be extended.  It never hurts to ask. 
Can you use free night certificates for back-to-back stays?
Yes!!! You will have to book individual nights, but you can book them back to back if you would like. For example, if you have three individual Marriott credit card free nights and you want to use them all for one stay, book each night separately. This means you will have three separate reservation numbers.  When you receive your reservation numbers, chat with a representative online or via telephone letting them know that you have used your certificates and need your reservations linked. Do this so you don't have to switch rooms during your stay. It takes a couple of extra minutes but is super easy and totally doable! 
Can you combine Marriott free night certificates?
No, Marriott's official policy is that the certificates have to be redeemed for the amount that they were awarded. For example, if your free night certificate is worth 35k points you can not combine those 35k points with another certificate or other points to stay at a property whose minimum is 40k points per night.
You can however use your certificate for a room rate that is lower than 35k but not more. Because you are unable to combine certificates, it is good advice to try to use the full amount when able and get the best bang for your buck.  
Are Marriott free night certificates refundable?
No, much like Marriott's policy on combining free nights, Marriott will not refund you for any unused free night certificates. This is why you want to make sure you use them!
Where do I find my Marriott free night certificate?
You can find your Marriott free night awards under your account activity page when logged into Marriott Bonvoy. However, it isn't uncommon for a free night certificate to not be listed under your account activity page. In this instance, call a representative to look into the issue. I personally have had this happen to me and it has always been resolved. If you think you should have a reward certificate and you do not see it, call! 
Will Marriott convert free night certificates to points?
No, your free night award certificates can not be converted to points (although it would be so awesome if they could!). This is why it is important to make sure you are using your free night certificate to it's full potentional.
Topping off your Marriott Free Night Award Certificate
Marriott now allows you to "top off" your free night award certificate up to 15k points! This means if you have a 35k free night award certificate, you can add an additional 15k points to your certificate so you can stay at a property that requires 50k points per night. I LOVE using this feature. Remember that it is limited to only 15k points total. So you can top off a
35k free night certificate to 50k points
50k free night certificate to 65k points
85k free night certificate to 100k points
When you are booking your free night award stay, you'll want to select the option that allows you to use your free night award certificate and top it off! It will look something like this. (This is an example of using the 85k certificate at the Ritz Carlton Half Moon Bay.)

Use the flexible date calendar when booking
 I recently was booking a trip to New York City and wanted to use three of my Marriott reward-free nights. My point max for the credits I was using was 35k points per night. The hotel I wanted to stay at was the NYC Marriott Downtown. It is a recently renovated 4-star property, located in a perfect part of Lower Manhattan, and was conveniently located to several subway stations and had a cost of $325.00 dollars a night for my dates. I was set that this is where I wanted to stay to maximize the free night credits that I had available.
When I went to book, only one of the nights that I was looking at was available for me to book on my credits and I couldn't figure out why. When I pulled up the flexible calendar page, I could see that two of the nights that I was looking at were listed at 40k points per night instead of 35k. That wasn't going to work! I refreshed the page, and the point fare changed back to 35k points! I was able to book two more nights directly from the flexible calendar page, even though on the standard booking page it was showing that the nights I wanted were not available for the lower point fare. My reservations went through and all was well! Using my credits at this property, I saved almost $1,000.00!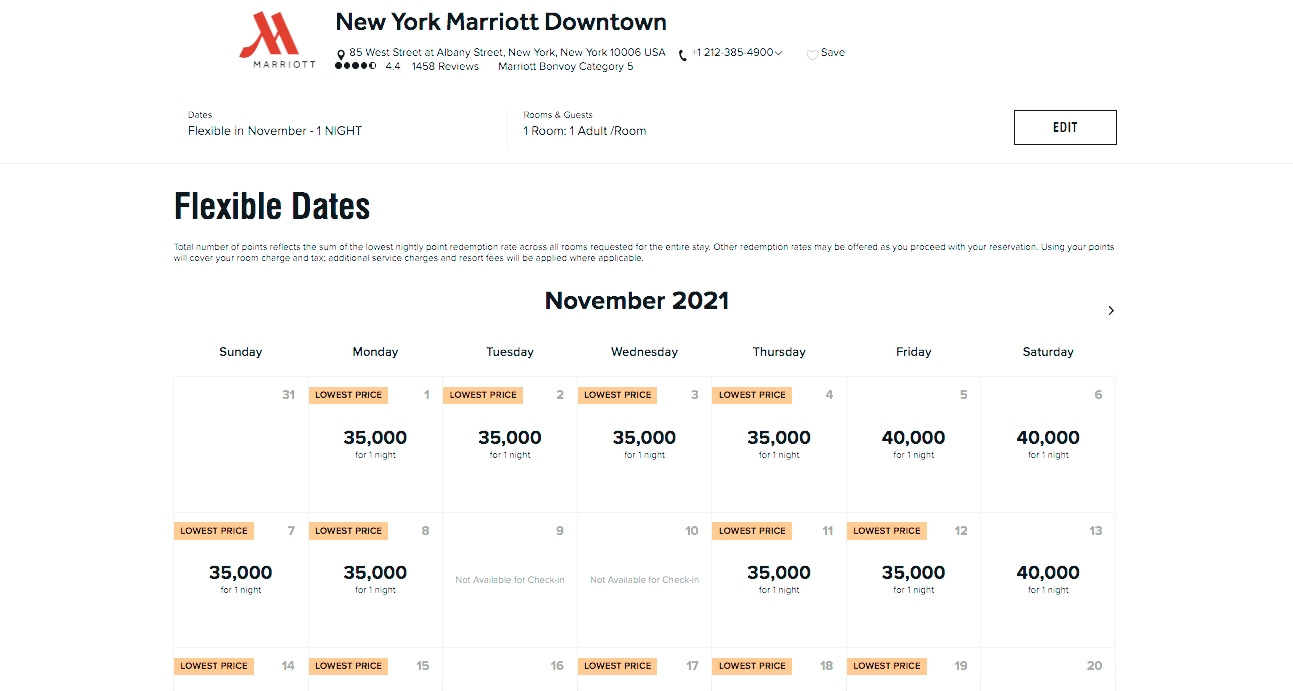 Look for Marriott Pointsaver deals 
Marriott Pointsaver deals are going to be your best friend! Marriott will offer point-saver deals from time to time, particularly during shoulder seasons. When booking a Pointsaver deal, you are able to score a much nicer room for fewer points and can save almost 20% of points in the process. These deals also apply to redeeming your Marriott anniversary free night. To book a point saver deal, try searching for a one-night stay at the destination of your choice. Select the property that fits your needs and your point maximum and then book! Here is a chart of the breakdown of how Marriott Pointsavers works. When using point savers you can get a luxury property for FREE when using only your 35k point redemption certificate. 
Sign your partner or spouse up for a Marriott rewards card
When using your own referral link, you will receive a bonus, your partner will receive a bonus AND you will have multiple annual free nights to use! You can find your own referral link by logging into your credit card management website or app.
That's it for now! Tell me if you utilize free nights and what your favorite program is! If you end up using earning your Marriott free night we would love to hear about it here!
XO,
Kam
Looking for more travel hacking and budgeting tips?
See 12 Tips for Finding Cheap Flights here!
See 10 Simple Ways to Save Money for Travel here!
---
Like it? Pin it!