We have done our fair share of big group tours. Ya know, think like a massive cruise ship tour. Where you are just a number and the guide rattles off useless facts in a monotone voice and couldn't give two craps as to whether you enjoyed their tour or not as long as you give them a tip at the end. Sound familiar? Over the years we have found out that we really prefer taking private tours especially when we are traveling as a big group because by the time we pay for 10 people to go on a big group tour we have almost paid for a private tour. As part of this post, we are also going to share an experience that we had in Munich recently and suggest if you are traveling to Munich soon, that you should consider a tour with Big Hat Tours. 
Why We Prefer Private Tours
Some of the reasons why we LOVE taking private tours are…
We LOVE being able to tailor a tour to suit our particular interests and being able to spend extra time where we would like and being able to visit some of the places that big group tours don't go.

As a general rule we learn more on private tours. We are able to engage in discussions with the guide and not have to worry about monopolizing the conversation for the other guests. (I am so guilty of this, I can't help but just ask tons of questions on tours and I find usually that when we go on a group tour that the other guests get bugged with me – cue monkey hiding his face emoji.)

Also, as another general rule, they are far more kid-friendly. Usually on a big group tour when we have Beckham by the end of the tour I feel like I need a Xanax because I have been stressing out the whole time that he is bothering other guests. (Kidding, but who else is on pins and needles with their littles on big tours?)

And usually private tours are a lot more fun and memorable. The guides typically are more knowledge and awesome with people. We have only ever had a couple of private guides that we didn't like.
Why We Think You Should Consider Taking a Tour with Big Hat Tours
Curt Milburn from Big Hat Tours incorporates ALL of the reasons why we love private tours! From the get-go, he was kind, had quick email responses, and had us prepared and ready for our tour weeks in advance.  
When we finally met, he was funny, personable, so knowledgeable and let me ask him a zillion questions. His first questions to us was " What would YOU like to do?"
He took us everywhere that WE specifically wanted to go to and didn't take us on the basic Munich tour. We were really able to get a better idea of what life in Munich was like today as well as historically. I specifically wanted to see some of the WWII sites and see the impact that it had on Munich. Not only was Curt able to answer my questions but he was prepared with primary source images on an iPad that we could use and compare the location historically to today.
He was funny and witty but then when we went to Dachau he was sober and was able to show us some significant areas without being too grotesque. It was a perfect balance.
The Most Important Thing
Most importantly Beckham loved him. He was REALLY good with Beckham and was super aware of areas that we needed to give the 4-year-old some prep before entering – for example, a Baroque church while mass was taking place. Curt was patient but wasn't afraid to let me know that Beckham needed to be prepared to calm down for a bit. He also spoke to Beckham on his level and incorporated Beckham into the tour. Beckham learned some really cool things while traveling with Curt and as a parent that is what is the most important to me.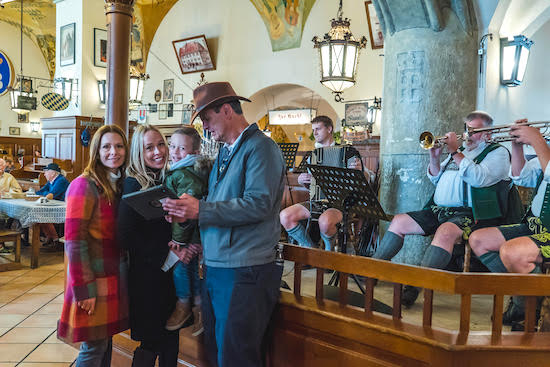 All in all, we 100% suggest looking out for Curt next time you travel to Germany and consider going on a private tour on your next trip just to see what you think about them. Sometimes they make all the difference!
Thanks Big Hat Tours for showing us around, making us LOVE Munich, and for sponsoring this post. If you would like more information on Munich stay tuned for our complete 5-day itinerary for Munich coming soon!! 
About Big Hat Tours with Curt Millburn
Curt Milburn is passionate. He'll put an iPad in your hands with hundreds of films and images of Germany's past. Hear the fascinating stories behind the sites on a Munich City Tour, Third Reich Tour, Dachau Tour, Salzburg Tour, Neuschwanstein Castle Tour, Herrenchiemsee Palace Tour and the historic imperial city of Nuremberg. Now offering a special Munich Architecture Tour.
With over 600 glowing reviews Curt is rated the top tour guide in the Munich area. Join Big Hat for a dramatic tour of the city, castles, or nearby areas.
Go to Big Hat Tours Website
Book them on Big Hat Tours Tripadvisor