Hawaii Map Coloring Page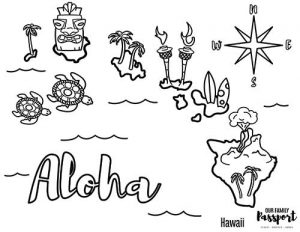 Aloha, friends! We can't wait to show you our Hawaii Map coloring page. Hawaii is one of our favorite sunny destinations and one that we revisit often. This island coloring page is downloadable in both PDF and PNG versions and depicts the beaches, culture, tropical air and golden pineapple that keeps us coming back again and again! The Hawaiian Islands are located in the middle of the Pacific Ocean but are one of the 50 states of the United States of America. Volcanoes created the chain islands as shown in this volcano coloring page and gave Hawaii the majestic mountains, hills, and valleys the state is famous for.
Our ocean coloring page incorporates so many of our favorite Hawaiian elements like the volcanoes, palm trees, surfboards, and tiki torches. But one of our favorite things to see in Hawaii swims in the crystal blue waters… Can you guess it? That's right, the Green Sea Turtle! You can color your very own pair of turtles!
Why the Coloring the World Movement?
At Our Family Passport, we believe that learning and traveling go hand in hand. So whether you want to have a fun night in coloring with your family, or you are out and about exploring the world together, it is our hope that our educational coloring pages will provide you and your family with hours of learning and fun!
Your Purchase of the Hawaiian Map Coloring Page
Your purchase includes a total of 5 PDF and PNG file downloads so you can print, color, and download your travel coloring page all around the globe!
Don't forget that we want to hear from you and see where these pages take you! Tag us on Instagram with your pages using the hashtag #coloringtheworld 
As we said, we love Hawaii so much that we've written a couple of blog posts on Hawaii to help you make the most of your island adventures. Click to read The Best 4 & 5 Star Family-Friendly Resorts in Hawaii, and Favorite Things to do in Maui for Families!