Maui Hawaii Volcano Coloring Page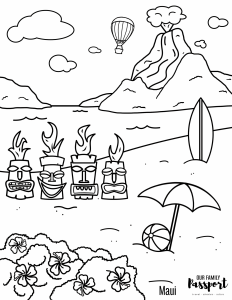 Aloha, island lovers! We are so happy you are here to check out our printable Maui Hawaii Volcano coloring page. In our beach coloring page, we have included some of our favorites from this tropical island to make you feel like a beach vacation is not so far away. The coloring page shows iconic Hawaiian tiki mask torches, a cool surfboard and beach ball on a white sand beach. An erupting volcano is shown in the background of the scene, spewing lava and letting off some smoke. This volcano coloring page will be a great visual for your children when they learn that Maui was formed from a volcano millions of years ago!
Whether you are planning your very own getaway to Maui or you just want to get your creative juices flowing, this ocean coloring page will be sure to get you in the Aloha spirit!
Join the Coloring the World Movement!
At Our Family Passport, we believe that learning and traveling should go together like palm trees and coconuts:).  So whether you want to just get creative coloring with your family, or you are out and about exploring the world together, it is our hope that our educational coloring pages will provide you and your family with hours of enjoyment and learning!
Your Purchase of the Maui Hawaii Volcano Coloring Page
Your purchase includes a total of 5 PDF and 5 PNG file downloads so you can print, color, and download your travel coloring page all around the globe!
Rember that we want to hear from you and see where these pages take you! Tag us on Instagram with your pages using the hashtag #coloringtheworld 
Maui is such a fun destination to come back to! We love the white sand beaches, tropical vegetation and world-class adventures available on Maui. Let us help you plan your best beach vacation ever. Read our Favorite Things to do in Maui for Families, The Best Family-Friendly Resorts in Hawaii,  Pair your reading with this Hawaiian Island Map to maximize the fun and learning.