Wondering about taking a trip to Zion National Park with a baby? This article will cover, what to do, where to stay, and things you absolutely will want to consider when visiting Zion National Park with a baby.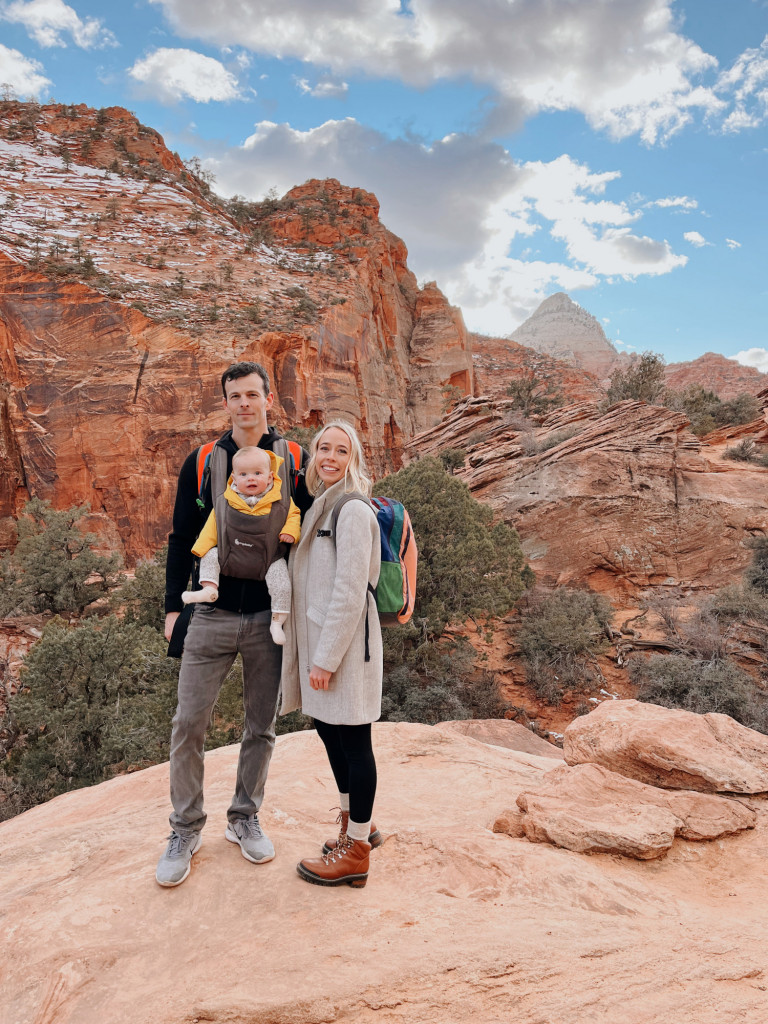 Zion National Park With A Baby
We just got back from a trip to Zion National Park with our baby (he was 7 months old at the time of travel) and while we had to make a few accommodations we had the absolute best time! Here is everything you will want to consider, know, and plan before visiting Zion National park with a baby! 
Want to visit National Parks for less? Check out how to get a discounted National Park Pass here – How to Get A National Park Pass Discount!
Can you take a baby to Zion National Park?
Absolutely! There are no rules or regulations on taking babies into US National Parks. While you won't be able to get a permit in Zion for your infant to do extreme canyoneering or repelling in the park,  almost all of the hikes, activities, and walks are open to parents AND their babies. We had such a great experience and found that nearly everyone was incredibly supportive and happy to see Benson while we were visiting Zion! 
What is the best time to visit Zion National Park with a baby?
The best time to go to Zion National Park with a baby is right at the beginning or the end of the off-season. This is because you can drive your own car through the whole park in the off-season and won't have to use the shuttle system. We really enjoyed that we were able to keep all of Benson's baby gear in the car (diaper bag, stroller, change of clothes, etc..) and could easily go from one part of the park to the next and he could sleep in his car seat while we were driving. I know that the shuttle system is AWESOME for solo travelers, or for families with older kids but having our own car and space when going through the park was important for us. You can see the shuttle schedule and the seasons they run here – Zion National Park Shuttle Schedule. 
If you end up visiting Zion National Park with a baby during the busier seasons and you will need to use the shuttle system, that is okay! Just be prepared and know that you will need to fold up your stroller and carry any gear that you need with you.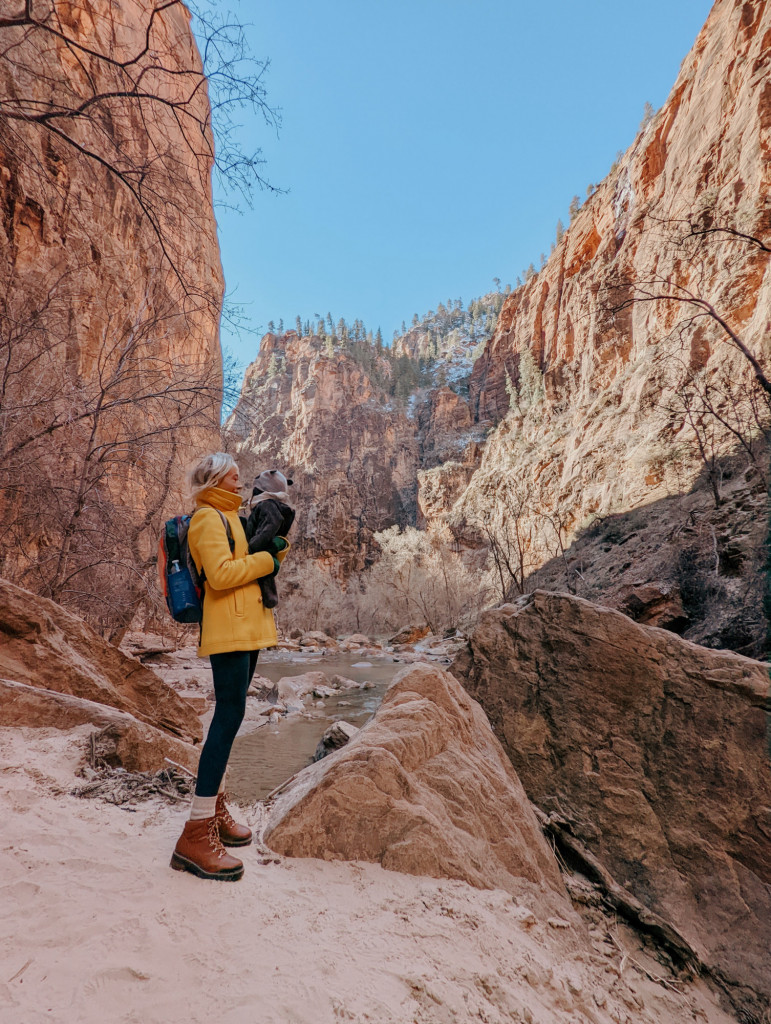 Consider the weather when visiting Zion with a baby
Something else to note is that if you plan on wearing your baby in a baby carrier (we strongly suggest you do!) then going in the peak summertime when the heat is intense may not be the best time to visit Zion with a baby. The weather was extremely mild when we visited in January. We had daily high temperatures in the upper 50's with clear skies and low wind. It was PERFECT! The mornings/evenings were chilly but the cooler temps made hiking and exploring so much better because we weren't sweating with a baby attached to our chests. 
Is it safe to take a baby to Zion National Park?
Like any national park you want to exercise caution and common sense when visiting, but Zion National Park is totally safe for a baby. Some good tips are to properly have your baby secured in their baby carrier and have enough water, sunscreen, and supplies on hand. It also is really helpful to check the weather and conditions before you embark on any hike. You can do this by visiting the visitors' center at the entrance. Try not to put yourself in a situation that could endanger your little one (ie – canyoneering etc…), be smart, have some layers (the weather can fluctuate a lot between day and night at Zion) and you and your baby should be fine! 
Are strollers allowed at Zion National Park?
Yes, strollers are allowed at Zion National Park. We LOVE Zion National Park because it is fairly stroller friendly and there are several different trails and hikes that can fully accommodate strollers. The Pa'rus Trail, The Lower Emerald Pool Trail, and the Riverside Walk are all great for strollers! Keep in mind that even though Zion is pretty stroller friendly, you might want to bring your jogging or all-terrain stroller over a small umbrella stroller. You are visiting a national park after all. 
The common areas in Zion like the lookout points, picnic areas, lodge, and visitors' center all are great places for strollers as well! 
Hiking Angels Landing with a baby
You can hike Angels Landing with a baby if you so choose. However, this is something that you will want to carefully consider before embarking. There are steep drop-offs, it is strenuous, at times scary, and a strong level of fitness and experience is required for any parent before deciding to take their baby along. We chose to hike part of Angels Landing with our baby when we visited. However, we in no way want to encourage families to do this hike if it seems remotely dangerous or scary to them. 
If you decide to hike Angels Landing with a baby. It is our recommendation that before you embark, you stop at the visitors' center beforehand and check and double-check the conditions. You will want to be aware of any ice, wind, or potential issues before you head out. 
Upcoming lottery system for Angels Landing
Also, remember that the Angels Landing lottery system will start in April of 2022. If hiking Angels Landing is on your bucket list, make sure you enter the system as soon as you can! You can find out all about the lottery system and permits here – Angels Landing Lottery System.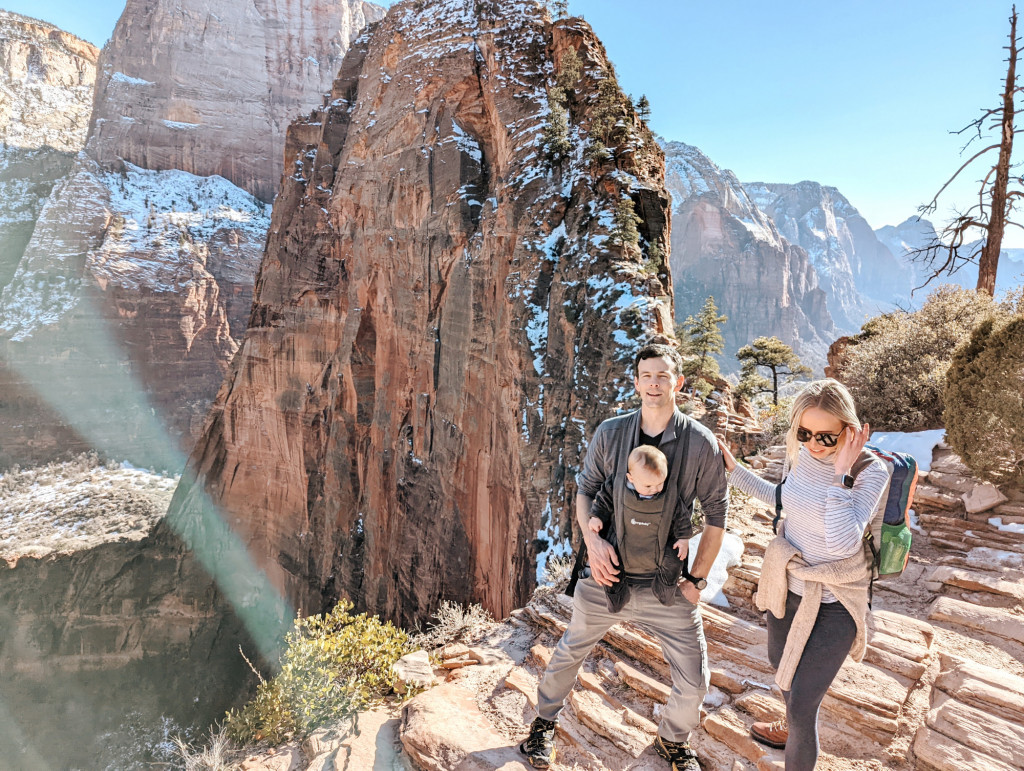 Can I hike The Narrows with a baby?
Just like Angels Landing, you can hike The Narrows with a baby, but it comes at your own risk. You will want to be aware of the nature of the hike and the conditions before you put you and your baby in a situation that you might not want to be in. We visited Zion with Benson in January and had zero desire to plunge into freezing cold water. So this particular hike isn't something that we can speak about personally. However, if you are wanting an awesome, calm, and paved trail along the river to the start of The Narrows we can not recommend the Riverside Walk enough! 
Just like Angels Landing, be sure to check with the visitors' center before you start your hike through The Narrows. Flash floods happen at the park occasionally and it is important to know the risk factors on the day that you are planning on hiking, especially if you have a baby in tow. 
The Best Hikes and Activities when Visiting Zion National Park with a Baby
There is no shortage of things to do with a baby in Zion and there is a wide range of hikes that can accommodate all levels. However, we are going to stick to the best hikes in Zion for babies and the most doable for all families in this section! 
Explore the Pa'rus Trail 
This paved and stroller-friendly trail is fantastic for all fitness levels and ages! Benson loved being next to the rushing water and seeing the wildlife along the path. This easy trail is about 3.5 miles long but you can turn around at any point. We saw birds and deer and even threw some rocks in the water along the way!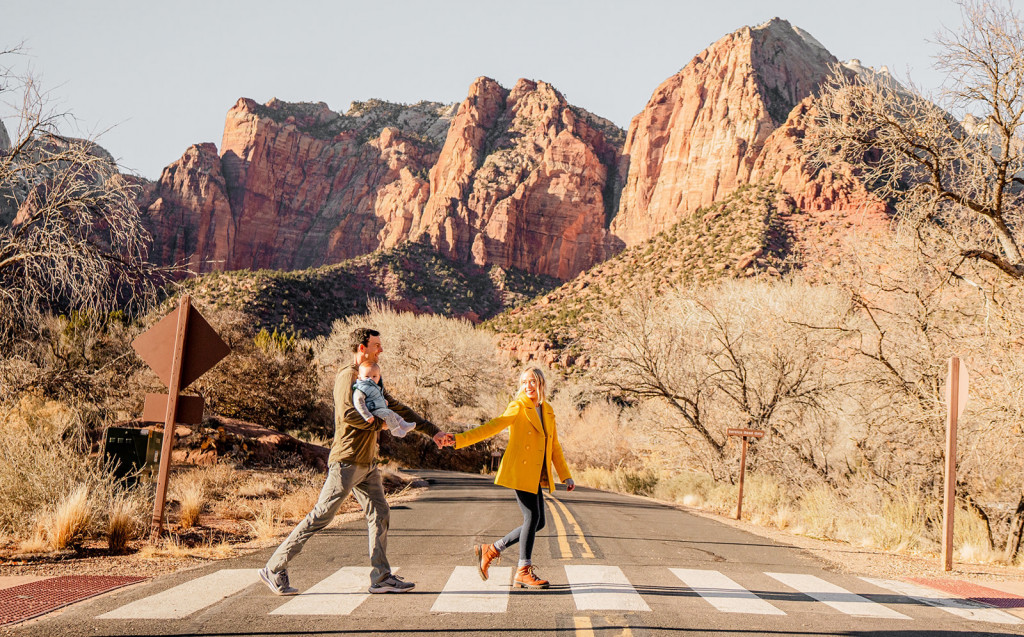 Hike to the Entrance of The Narrows on Riverside Walk
This paved path is super easy, and has hardly any incline making it perfect for parents pushing strollers or looking for something calm with unbelievable views! The best part of this walk is that you can go to the entrance of The Narrows and play in the water when the weather and conditions permit (at times there can be algae blooms that you want to be aware of). 
We saw gorgeous cranes and deer along the way! The emerald water against the striking orange and reds of the canyon is perfect for a super fun family walk.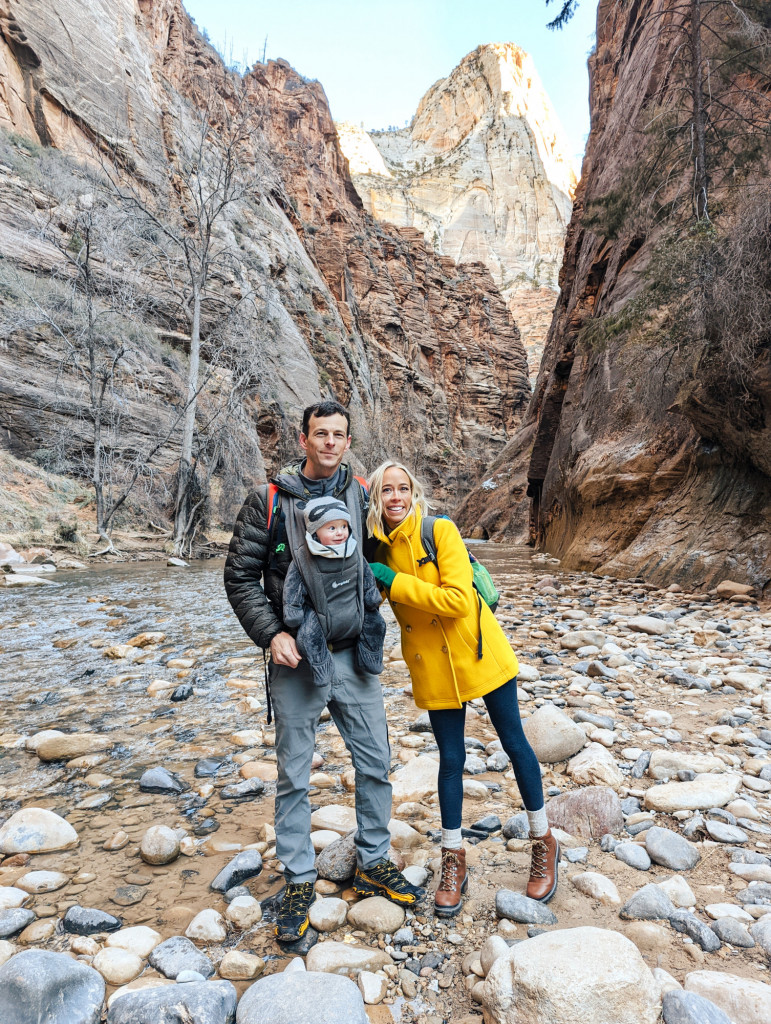 Explore the Lower, Middle, and Upper Emerald Pool Hikes
These three connected hiking routes are amazing for exploring with a baby. We cannot recommend them enough. While you can take a stroller along the Lower Emerald Pool section, the Upper and Middle sections can not accommodate one. So, we suggest taking a baby carrier and exploring the Middle and Upper Pool sections as well! The water cascading down the red rock at the different levels of the pools is so freaking cool. There are also some fantastic photo opportunities. And don't forget to look out! The pools are really lovely but the canyon walls framing the pools are even better!
Keep in mind that you can get a little bit wet (just a tiny bit of spray) at the Lower Emerald Pool section. It wasn't a big deal but we were glad we had a little hood for Benson on his jacket.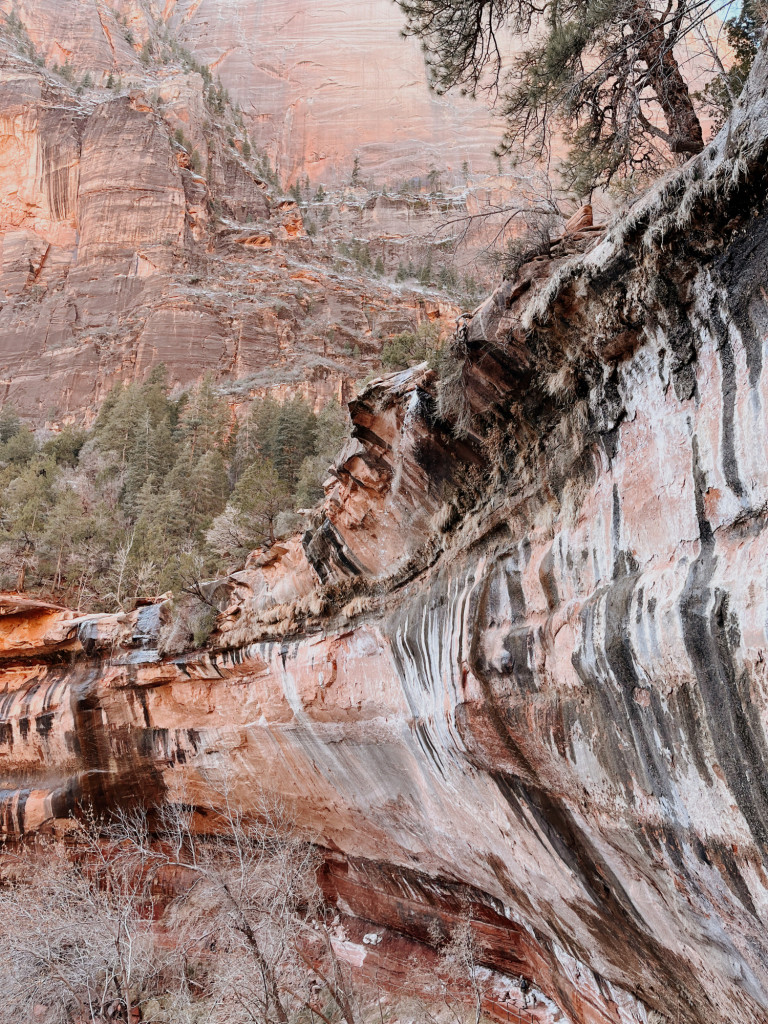 Marvel at the Canyon Overlook Trail 
This 1-mile hike is by far the best Zion hike with a baby! There are some moderate drop-offs, but there are handrails and guards along most of the way. The viewpoint at the end will be some of the best views you encounter your whole trip (yes even including Angels Landing!). You will need a baby carrier for sure, but this hike is an absolute blast! It is short and sweet and gives you some of the best that Zion has to offer. 
Keep your camera handy and visit when the lighting is best (blue or golden hour) and you will walk away with some remarkable photos! Also, the wildlife viewing here can be really fantastic. We saw three bighorn sheep right off of the path. Benson loved it!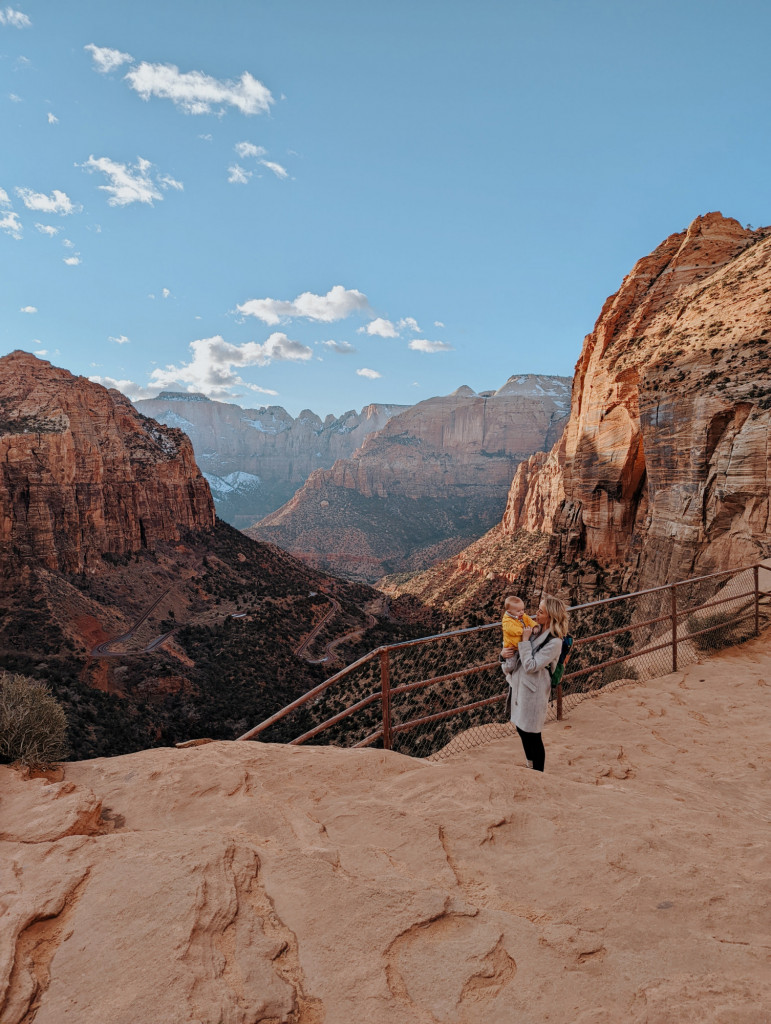 See the Zion Canyon Scenic Drive 
Buckle in and take your little one for one of the prettiest drives in America. Regardless if you are visiting Zion National Park with a baby during the peak season and will need to take a shuttle for the scenic drive or you are able to drive your own car in the off-season, this route is a must! The 15-mile round trip drive is gorgeous and should not be missed! 
As we mentioned earlier, we loved having the freedom of our own car but the drive is just as lovely in a shuttle as well! Keep in mind if you take the shuttle it will be about 45 minutes from start to finish. However, you can get out along the way and visit some of the amazing viewpoints like the Court of the Patriarchs and Big Bend.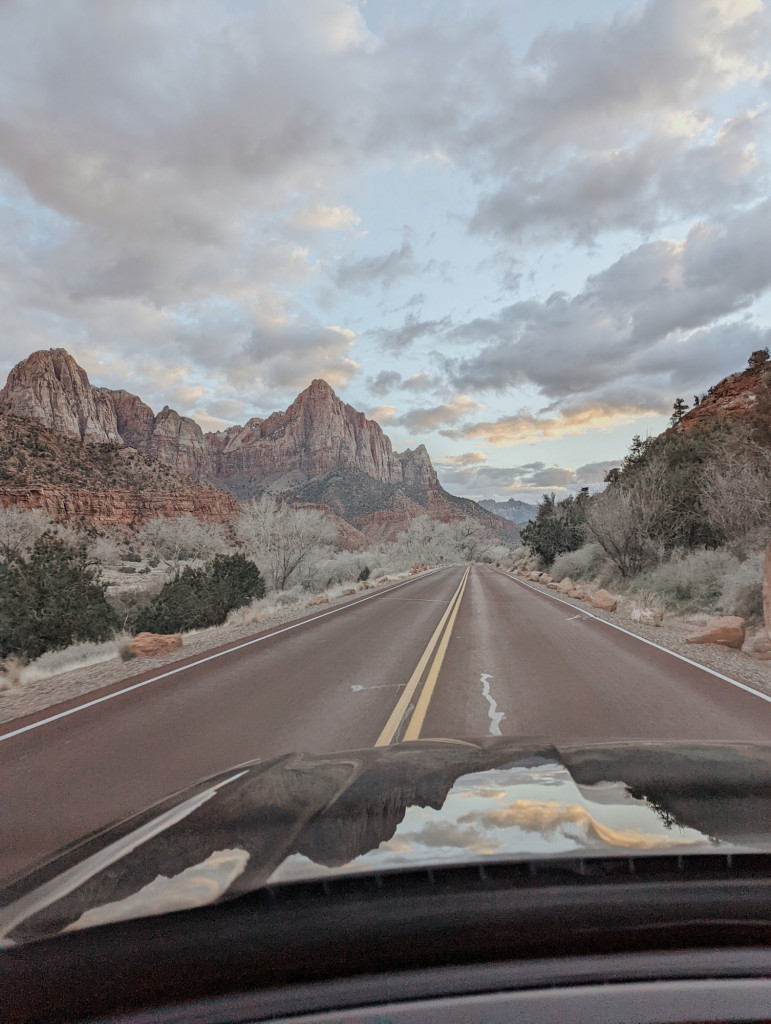 Capture the Moment with Zion Adventure Photography
Want a unique and fun experience? Do a quick 30-minute family photoshoot with Zion Adventure Photography. They were so awesome, showed us some of the best spots in the park, and caught some amazing candids of our little crew. If you are looking for some Insta-worthy shots and a unique family experience, we CAN NOT recommend Zion Adventure Photography more!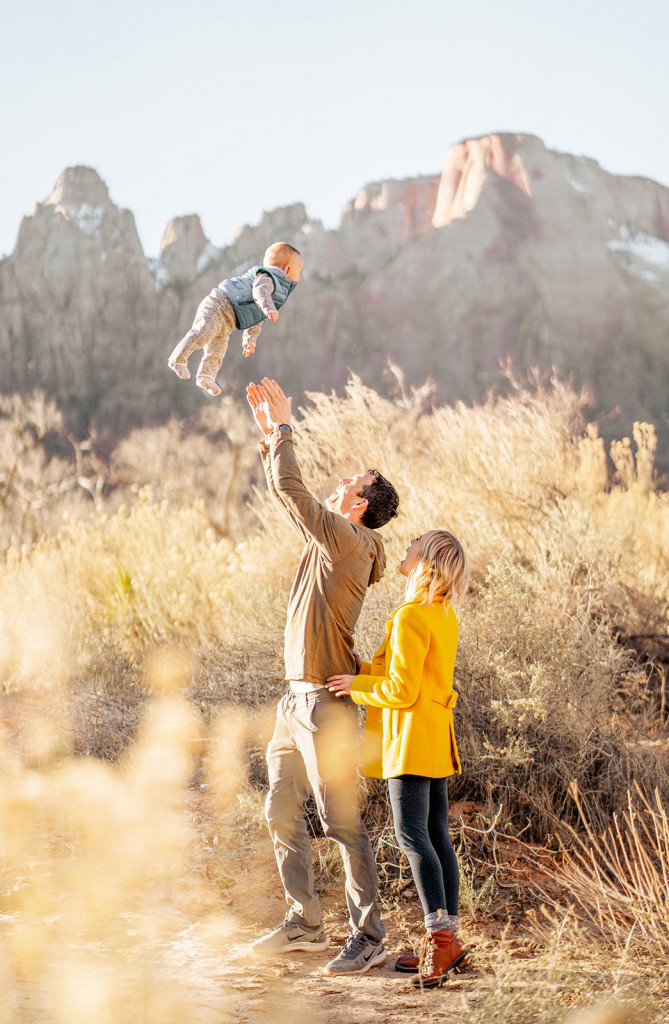 Where to Stay & Eat When Visiting Zion with a Baby
Don't overlook the power of some good food and sleep when you explore Zion with your baby in tow. Here are the top recommendations for baby-friendly accommodations and restaurants. We highly recommend that if you do end up taking a baby to Zion you consider staying in a full-service hotel so everyone in your group can get a decent and comfortable night's sleep before heading on for a day of adventure in the park.
Where to Stay When Visiting Zion National Park with a Baby
The top recommendation for clean, affordable, safe, and comfortable accommodations near the park is the Springhill Suites Springdale Zion Hotel. This recently renovated Marriott hotel is one of the nicer Springhill Suites I have seen. The rooms were comfortable and the views were exceptional! We spent an evening out on the hotel deck next to a fire drinking complimentary hot chocolate.
One of the best things about this hotel is that it is only a 3-minute drive away from the park entrance. There is also a park shuttle that runs right next to it if you want to shuttle in! It was really nice to be able to take Benson back for a nap or to change a blowout if we needed to.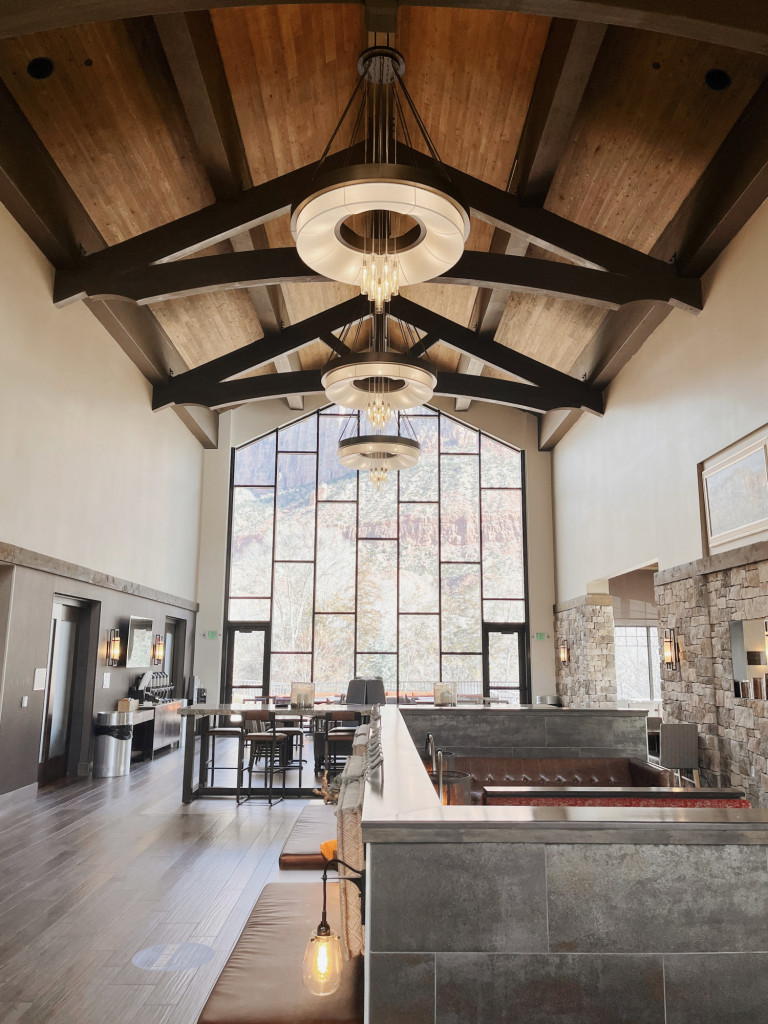 Earning Points and Rewards when Visiting Zion
If you have been following us for a while, you know that we are all about taking nice vacations for a lot less and LOVE earning points and miles. During the peak seasons, this Marriott hotel can get a bit pricey. So we recommend looking into a Marriott or other travel reward credit card. You could redeem some points to make your trip nearly free! To find out more about reward travel, you can check out these three posts!
How to Stay at Marriott Hotels for Free
How to Start Reward Travel  – Travel Hacking 101
Our Favorite Reward Travel Credit Cards
Best Baby Friendly Restaurants Near Zion National Park
There is no shortage of cool, hip, and yummy places to eat near Zion National Park in Springdale. However, our two favorite places to eat with a baby were Oscar's Cafe (get the chicken enchiladas) and the Whiptail Grill. Both places whipped up a baby-friendly quesadilla. They were casual, a little loud (which is great when you have a gabby and loud baby) and the staff was incredibly patient when Benson started screaming for his bottle for a second.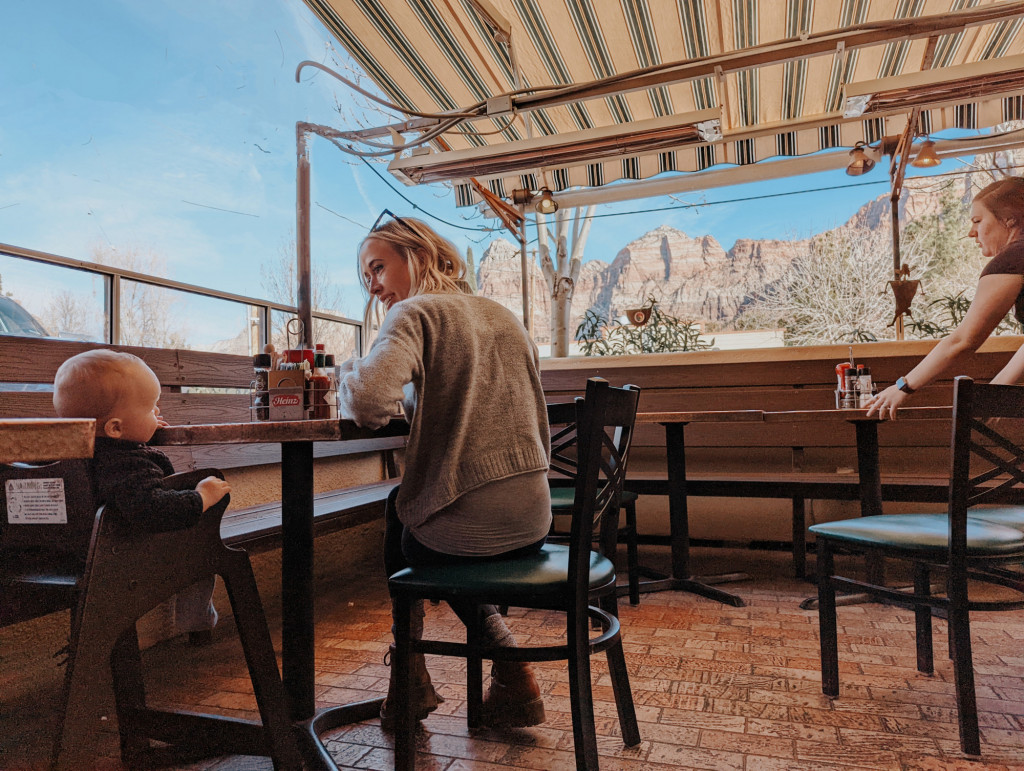 Deciding if Visiting Zion National Park with a Baby is for You
We can not recommend going to Zion National Park with a baby more! The park's size, scale, and activities are perfect for even the littlest of little ones. Every ranger we encountered was fantastic, the other patrons were patient, and overall we had an amazing time! Be mindful about the weather, keep your expectations in check (you probably won't be able to hike as hard or as long as you would without a baby), be prepared for the conditions, and you ALL (baby included) will have an amazing time!
Happy Exploring!
Kam
---
LOVE IT?! PIN IT!