If Delta is your preferred airline, you should consider getting a branded Delta Credit Card and earning money and free travel that you are currently leaving on the table. This article will help you determine what is the best Delta Skymiles Credit Card for you! We'll break down all four of the current Delta branded personal credit cards and discuss the pros, cons, fees, and benefits of each! Let's dive in! 
*This article covers the personal Delta branded credit cards. The Business versions of these cards will be covered in full at a later date.  The four cards that will be discussed today are the Delta SkyMiles Blue, Delta SkyMiles Gold, Delta SkyMiles Platinum, and the Delta SkyMiles Reserve. 
Is a Delta Skymiles Credit Card for You? 
Delta is, by far, my family's preferred airline. We think their service is the best. Their seats are the comfiest out of the major US airlines (American, United, Delta) and we love their rewards program. Most of the flights that we get for free or really cheap, we book through Delta. Now Delta isn't without its faults. I am not going to pretend that we haven't had frustrations, lost bags, or an occasional mean flight attendant. However, we are fairly loyal to Delta and that is because their reward system is one of my favorites. If you are new to the world of reward travel you can find out if reward travel is for you here – How to Travel Hack: Travel Hacking for Beginners. 
*We flew our entire family of six to Disney World from Salt Lake City on roundtrip, nonstop flights for $56.00 TOTAL because of the Delta rewards program. You can read all about that here – Ultimate Guide to Scoring Insanely Cheap Flights to Disney World!
Finding the Best Delta SkyMiles Credit Card 
American Express offers 4 different branded personal Delta cards. Each of these Delta cards varies in cost (annual fees) and rewards. And the variations are significant. For example, Delta's entry card (Delta Blue) doesn't have an annual fee, yet the most exclusive card has an annual fee of $550.00. Most people will find that one of the mid-range cards will suit their needs best. However, you might find that the entry card or the Delta Reserve (the swankiest of the bunch) is the best Delta SkyMiles credit card for you!
What to Look For When Looking for the Best Delta SkyMiles Credit Card For You
When you are picking out the best Delta credit card for you, you want to consider a few things and analyze what you are really needing from your card. Here are three questions to ask yourself before you apply. 
What is a reasonable annual fee and do the rewards of the card outweigh the annual fee?
If you aren't into airport lounges and upgrades, you might not want to pay the $550.00 annual fee that comes with the Reserve card. In fact, I would suggest another luxury card if lounge access is important. 
What is the entry bonus?!
By far the fastest way to earn reward travel is to maximize the welcome or entry bonuses. 
What are the benefits and are you going to use them?
The Delta Platinum card comes with an annual domestic companion pass. This is amazing and is one of the ways we take our family on our big family summer vacation every year. However, is using the annual companion pass something you will use? You want to make sure you pick the card that has the best benefits that work for you! For example, I love that with the platinum card I can earn 2x the miles on grocery purchases.

I really like the free checked bags for every ticket that I book with my card. This saves us $60.00 per person (and we're a family of six!) So this in and of itself pays for the annual fee and more if we fly Delta once a year. 

We use our companion pass every. single. year. and we love it! We try to make sure we use it on a ticket that is a little bit more expensive side that we wouldn't otherwise want to pay full price for. So we can get the most out of this benefit. 

Priority boarding and upgrades are awesome as well! I get upgraded to either first-class or Comfort+ on about 3/4 of the domestic flights that I take.
Breakdown of Each Delta SkyMiles Credit Cards
We're going to dive into a breakdown of each of the four Delta branded credit cards to determine which Delta card is best for you! Keep in mind those three questions above as you are choosing your card. You know your family and your travel style best. If lounge access and upgrades are really important, consider springing for the Reserve. If you are interested in everyday earning, Platinum or Gold are great choices. 
*Welcome bonuses change and some benefits change from time to time, these are all current at the time of writing. However, for the most current welcome bonuses/benefits, click on the links included below.
This is our least favorite card of the bunch. Yes, it doesn't have an annual fee and that is super nice however, the benefits are just not that great! We suggest that if you are worried about the annual fee to go for the Gold get the higher welcome bonus, and then downgrade your card to the Blue when the time comes. This way you can get the best of both worlds. 
10,000 bonus miles after 500 dollar spend in the first three months

No annual fee

2x miles per dollar spent at restaurants, takeout, delivery, 

2x miles per dollar on Delta purchases

1x miles for every other eligible dollar

No foreign transaction fees 

20% off in-flight savings in the form of a statement credit after you use your card on Delta in-flight purchases like food, beverages, and headsets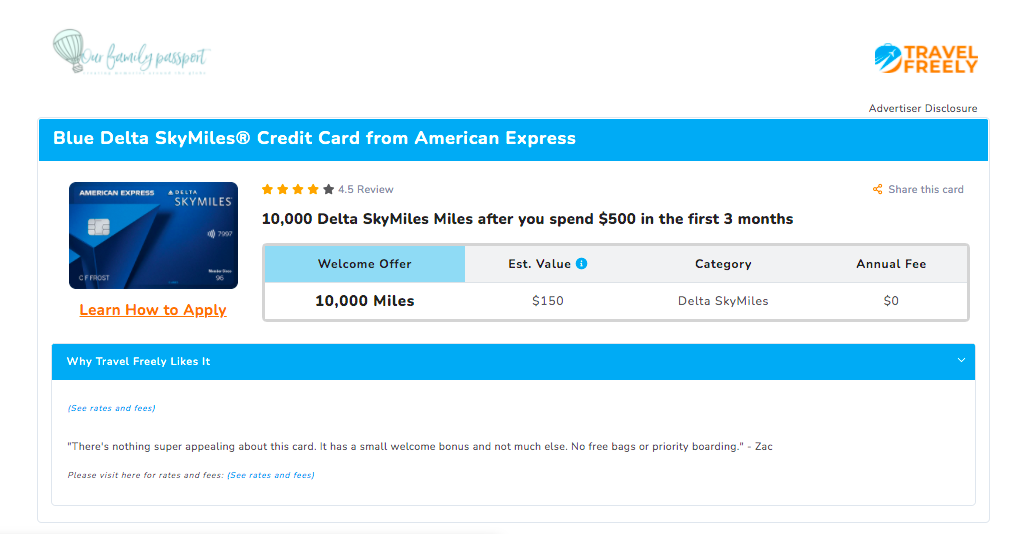 This is a really solid mid-range card with some pretty great benefits. The luggage waiver alone is awesome and can save you tons! If you are wanting a decent card with a low annual fee, this is it! 
70,00 bonus miles after 2,000 in purchases on your new card in the first three months!!! (This is 30k more than normal!)

50 dollars back in statement credit at US restaurants in the first three months

First checked bag free for all flights booked with your Delta card (For a family of four that is saving you 240 dollars in luggage fees EACH FLIGHT!)

99 dollar annual fee, waived for the first year

2x miles per dollar spent directly with Delta

2x miles per dollar spent on restaurants, takeout, and delivery,

2x miles spent on purchases at us supermarkets

1x miles for every other eligible dollar 

Priority boarding

After you spend $10,000.00 on the card in a year you can get a 100 delta credit (not offered on any other card, but in our opinion, you are better off spending that 10k on another card and getting another bonus)

No foreign transaction fees

In our opinion, this is the best Delta Skymiles credit card! The annual domestic companion certificate far makes up for the annual fee and that doesn't even take into consideration all of the extra benefits like the credit for TSA precheck/Global Entry, free checked baggage, upgrades, etc… The benefits are fantastic and fit most travelers' needs really well! Here are some of the main things you want to know about this card!
90,000 bonus miles after 3k in purchases in the first three months (this is more than 40k points than normal!) 

100 back in statement credits for food spent at restaurants in the first three months

First checked bag free for every ticket purchased with your card

Annual Domestic Companion Certificate

Free Credit for TSA Pre-Check or Global Entry (this is something that isn't offered on the other cards!)

3x miles for purchases made with Delta

3x miles for dollars spent directly with hotels

2x miles for restaurants, take out and delivery 

2x spent on purchases at US supermarkets

1x miles for every other dollar 

Priority boarding

$39 Delta Skyclub access (for you and a companion)

No foreign transaction fees 
Usually, I would suggest if someone was going to pay an annual fee this high to consider a card like the Chase Sapphire Reserve, Venture X, or American Express Platinum and would deter them from this card. However, if you are a really frequent Delta flyer, and you are really into upgrades and lounge access this could be worth the annual fee for you. Something to consider is that you can always downgrade your card to a lower card when the time comes to pay the annual fee again. 
100,000k bonus miles after 5k in purchases in the first three months

10000 medallion miles (awesome for REALLY frequent travelers but not really worth it if you aren't flying Delta monthly)

550 annual fee

Annual companion certificate

3x points for dollars spent directly with Delta

1x miles for every other dollar

Free first checked bag

Medallion Qualification Dollar waiver

Delta Sky Club Access

Centurion Lounge Access

Upgrade priority 

No foreign transaction fees 

A Break Down of All Four Delta Personal Cards
Amex Branded Delta Card

Delta SkyMiles Gold American Express

Delta SkyMiles Platinum American Express

Current Welcome Bonus (subject to change, this is current as of 01/2022)

10,000 SkyMiles

70,000 SkyMiles

90,000 SkyMiles

100,000 SkyMiles

Annual Fee

0

0 the first year then $99.00 after

$250.00

$550.00

Minimum Spend

(subject to change, this is current as of 01/2022) 

$500.00 in first 3 months

$2,000.00 in first 3 months

$3,000.00 in first 3 months

$5,000 in first 3 months

Restaurant Statement Credit

0

$50.00

$100.00

0

Free checked bags for every ticket booked with your card (this can save hundreds!) 

None

Yes!

Yes!

Yes!

Priority Boarding

None

Yes!

Yes!

Yes!

Foreign Transaction Fees

None!

None!

None!

None!

Delta Sky Club and Centurion Lounge Access

None

None

Yes, but have to pay $39.00 for you and a guest

Yes and no fee!

Medallion Qualification Waiver

None

None

Yes!

Yes!

Annual Domestic Companion Pass

None

None

Yes!

Yes!
Common Questions about Delta Branded Credit Cards
What is the highest Delta SkyMiles card?
The highest Delta SkyMiles card is the Delta Reserve. It is the swankiest of the bunch and has more luxurious benefits like Centurion and SkyClub Lounge access than the other cards.
How much is 40000 Delta miles worth?
Typically 40,000 Delta miles is worth about $400.00-$450.00 or a conversion rate of a 1.2 cents per mile. 
 However, this is a tricky question and can be worked around fairly easily to make your miles worth more! We try to book our flights when prices are expensive but point redemption is low. For example, when we recently flew to New York City prices on a round trip Delta flight was about $450.00 dollars. However, we snagged a point redemption ticket at 18k points per ticket. This means that we got a much better value using our points to book the flight than we would have gotten if we had paid cash. In this case, our points were worth WAY more than the standard conversion. 
How much is a Delta SkyMile worth?
The standard conversion is 1.2 cents per mile. However, as stated before this isn't a hard and fast rule and is often worked around. 
Do Delta Miles expire?
Delta SkyMiles do not expire. However, Delta reserves the right to deactivate or close an account if they deem that you have been engaging in fraudulent activity. You can read all about Delta's SkyMiles Policies here – SkyMiles Program Rules & Resources.
Can you turn Delta miles into cash?
No, you can not turn Delta SkyMiles into cash, but you can buy a Delta Gift Card with your miles. However, this is NOT something that we suggest. The conversion is lower and you will never get as good of a deal when you do this. Use those miles to book flights! 
How do I link my Delta SkyMiles to Amex?
Visit your membership rewards section on your American Express account online and then you can link from there. 
The American Express Platinum is NOT the same as the Delta Platinum American Express. They are two vastly different cards with different fees, benefits, and rewards. You can read more about the American Express Platinum here. 
Who can use Delta Sky Club?
Right now these are the only methods or groups of people who are able to access and enjoy Delta's Luxury Lounges
Delta Diamond and Platinum Medallion Members

Delta Reserve Card Holders

American Express Platinum Card Holders

Business American Express Platinum Card Holders

Ticket Holder to a Delta One or Skyteam Premium Cabin

Delta Executive Members 
Which Delta card is best?
As we have discussed above, for my family and our situation, the Delta SkyMiles Platinum is the best Delta credit card. However, different families with different travel situations are going to want and need different things. Whatever you do, don't leave free money on the table and pick the card that works for you and start living out your travel dreams! 
I really hope this helps and gives you a starting point! Don't forget that you can DM with questions at any time on Instagram @ourfamilypassport. Here's to traveling the world for less!!
Hugs,
Kam
---
LOVE IT?! PIN IT!