Looking for kid-friendly national parks to take your little adventurers this year? Don't miss this list of the best national parks for families! Each of these national parks is kid-friendly, family approved, and has been recommended by some of the top family travel bloggers in the business! 
In this article you will find, what are the best national parks for families to visit, what to do while you visit them, and some special kid-specific tips to help you enjoy your visit even more!
Visiting National Parks with Kids
Before we jump into our main list, we wanted to address some common questions about visiting national parks with kids and some things you will want to consider before you start planning your national park vacation. 
How much does it cost to visit national parks?
Each park has it's own fee set and these fees can range from free entrance to over 30 dollars per vehicle to enter. Some national parks like Yellowstone are far more expensive because the cost of upkeep is so much more. You can find the entrance fees by parks on the National Parks Service Website – Fee's by Park.  
If you don't want to pay full price at the parks one of our best recommendations is to purchase an Annual National Parks Pass. You can find out how to score some amazing discounts and more information about the National Parks Pass here – National Park Pass Discount. 
What is the most kid-friendly national park?
Parents Magazine has rated Yellowstone National Park as the most kid-friendly national park in the United States. However, don't overlook the other parks on this list! Each of these parks has multiple activities, hikes, and adventures that are perfect for even the youngest in your group! 
What is the nicest national park in the United States?
Having the distinction of being the world's first national park, Yellowstone is often found at the top of this list as well! It is historic, has unbelievable wildlife viewing opportunities, multiple lodges, restaurants, and is vast in what you can see and do. However, we would argue that each of the parks on this list is amazing in their own way and deserves a visit!
Can kids go to national parks?
Absolutely! Kids can go to all national parks in the United States. However, some of the national parks are very rugged and have some areas that can be scary for little ones. This Best National Parks for Families list is tailored to help you find some of the best parks to visit with your kids and the activities that you want to do while you are there! 
What can kids do at national parks?
There is no shortage of things for kids to do at national parks. However, one of the best recommendations when visiting a national park with kids is to check out the Junior Ranger program at the park you are visiting at the beginning of your trip. Junior Ranger programs are tailored with kids interests in mind. These programs are educational and fun and will give your little ones a new and different perspective about what they will be seeing and doing on their visit. You can learn all about the Junior Ranger Programs here – National Park Foundation Kids!
The Best National Parks for Families
Let's dive into the best national parks for families so you can start planning an amazing national park vacation for your crew! 
Acadia National Park
Acadia National Park is hands down one of the most scenic national parks and is great for kids! This laid-back gem of New England is filled with beaches, hikes, adventures, and places to enjoy the best that Maine has to offer. With amazing drives like the Park Loop Road and scenic lighthouse walks, visiting Acadia National Park with kids is something that you will want to add to your bucket list! In fact, many of our readers have said that Acadia National Park is one of the most kid-friendly parks in all of the US!
Best Thing to do with Kids in Acadia National Park
Experience the wild thunder of the sea by visiting the Thunderous Blowhole. Kids never tire of visiting the Thunderous Blowhole along the Park Loop Road and could watch and throw rocks into the blowhole for hours. When waves crash into the natural inlet along the rocky coast, the thunder and massive waves shooting out of this rocky blowhole is exceptional and oh so fun. Don't be discouraged if the blowhole isn't super active, just wait for some big waves to crash in. 
You can access the Thunderous Blowhole along the Park Loop Road just past Sand Beach. 
Tips for Visiting Acadia National Park with Kids
Because Acadia is along the coast, you will want to be prepared with the right clothing as it can get windy and chilly. Be sure to also talk to your children about beach and ocean safety.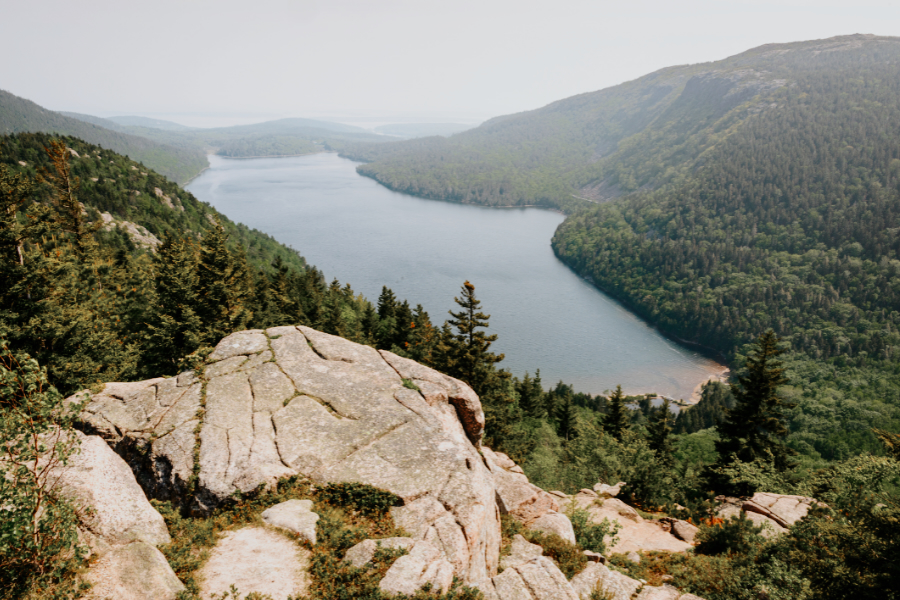 Arches National Park
Hands down one of the most iconic spots in all of Utah is Delicate Arch at Arches National Park. In fact, even if you don't make it to Arches National Park, you can't escape Delicate Arch in Utah since it is plastered over many of Utah's license plates. Arches National Park has so much to explore and easily makes the list for being one of the best national parks for families. With 2,000 arches cut out of stone from erosion, wind, water, and time, your kids will not get bored exploring and playing in the red sand with otherworldly views. 
Arches can be extremely hot in the summer. When planning your visit it is a good idea to consider visiting during the shoulder season or off-season when crowds are not as high and the weather is more favorable for little hikers. 
Click here to see our Ultimate Guide to Visiting Moab in the Winter!
Best Things to do in Arches National Park with Kids
There are so many things to do in Arches National Park with kids, however, hiking to some of the arches is a must! It is important to note that the hike to Delicate Arch is awesome, but is a little intense for kids and can be pretty scary for the younger ones. Because of this, we are recommending seeing Delicate Arch from a viewpoint that you can easily drive/walk to and then hike to some other arches that are more easily accessible for the littler crowd. Landscape Arch is an amazing option with red sand areas that the kids can explore and play in along the way!
Another family favorite is exploring Wall Street in Arches National Park. The trail is paved and marked. Families love how the sharp, flat, and extreme cliffs resemble skyscrapers as they explore the Wall Street path.  
Tips for Visiting Arches National Park with Kids
During the peak season, park reservations at Arches National Park are required. Make sure that you secure your reservation before going and have a decent idea of what you are wanting to visit while you are there. You can make reservations at the National Park Service.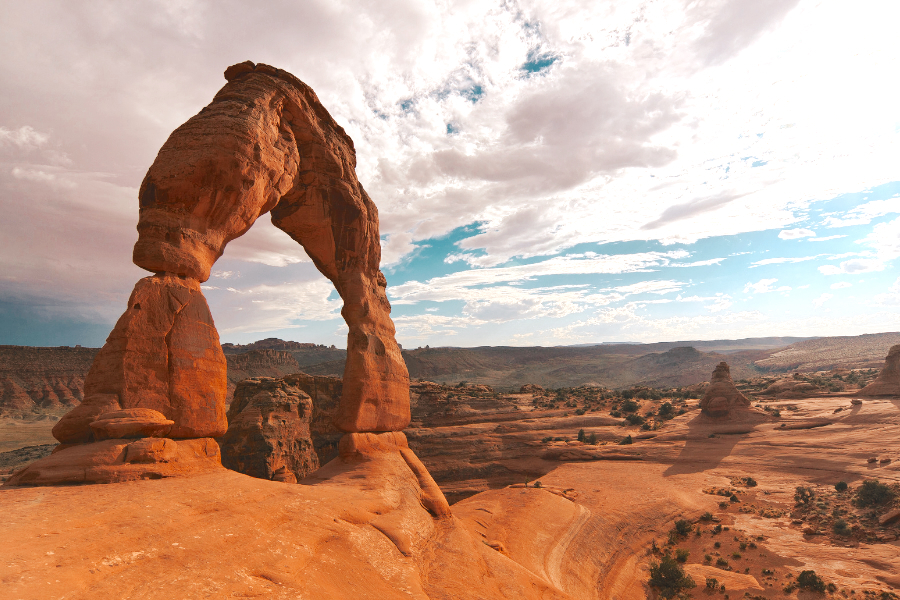 Canyonlands National Park
Submission by Fox in the Forest & Volumes and Voyages
Follow Fox in the Forest on Pinterest
Follow Volumes and Voyages on TikTok
Canyonlands National Park is one of the best national parks for families because of the many hikes and areas that are short and accessible for kids.  Not only do families have the option of exploring both the Island in the Sky and the Needles sections of the park via car, but there are many short hikes that children will love. There are also several scenic drives that families can embark on should children get a little tired. In particular, the White Rim Road is a 102 mile dirt road that features exceptional scenery that the entire family will love. 
Best Family Activities in Canyonlands National Park
Without a doubt, no trip to Canyonlands would be complete without hiking to Mesa Arch and climbing on top of Whale Rock. The Cave Spring Trail is also an excellent hike for kids since it introduces visitors to a cowboy camp and several prehistoric pictographs that most kids find fascinating. Pothole Point is also fun for kids since the holes sometimes fill up with water and kids can examine all the creatures that live there. 
Tips for Visiting Canyonlands National Park with Kids
Be mindful, especially with small children, around ledges and various scenic overlooks. Many do not come with protective barriers and it could be easy for children to slip and fall near the edge. Also if you are visiting in the summer months visiting early in the morning will be way more enjoyable for everyone in your crew to avoid that summer heat!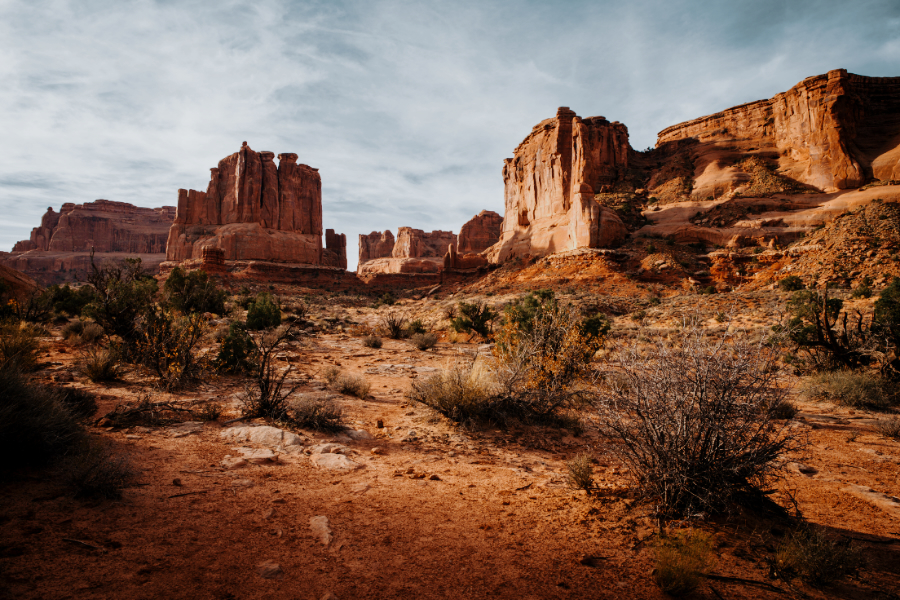 Capitol Reef National Park
Submission by The Minivan Bucket List
Follow The Minivan Bucket List on Instagram
If you want to experience the beauty of southern Utah without the crowds of Zion or Arches, then Capitol Reef National Park is for you. It may not be as well-known as the other more famous Utah parks but that comes with its perks – it's much less crowded, more affordable, and Capitol Reef even has soaring red rocks cliffs and hikes to incredible arches, just like the others. Hickman Bridge and Cassidy Arch, named for the infamous outlaw Butch Cassidy, are two relatively short, family-friendly hikes that you and your kids will love. And whether it's the famous Scenic Drive, Capitol Gorge, or Cohab Canyon, there are many different ways to soak in the majestic views. 
But what makes this national park especially unique is the combination of Native American and Pioneer history that you can experience firsthand. There are several places to marvel at incredible examples of 2,000 year-old petroglyphs and learn about the Native American Fremont culture. You can also learn about the Mormon Pioneers who settled the area in the 1800s, pick fresh fruit from the orchards they planted, and eat fresh pie in an old pioneer cabin. 
Best Kid Friendly Hike at Capitol Reef National Park
If you only have one day, then the must-do experience is to hike Cohab Canyon. You'll hike to the top of the cliffs where you can take in sweeping views of the Fruita orchards and the valley below, and hike through some small slot canyons at the top of the hike. Then when you hike back down, head across the street to see the old barn and eat some fresh-baked pie at the old Gifford House. If you have time after that, take a stroll through the orchards and pick some fresh fruit yourselves. The green of the orchards makes for quite the contrast against the towering red rocks cliffs. 
Why Capitol Reef National Park is Great for Younger Kids!
Capitol Reef is really kid-friendly for younger crowds. There are many short hikes and scenic overlooks that you can do without subjecting kids to long and steep hikes.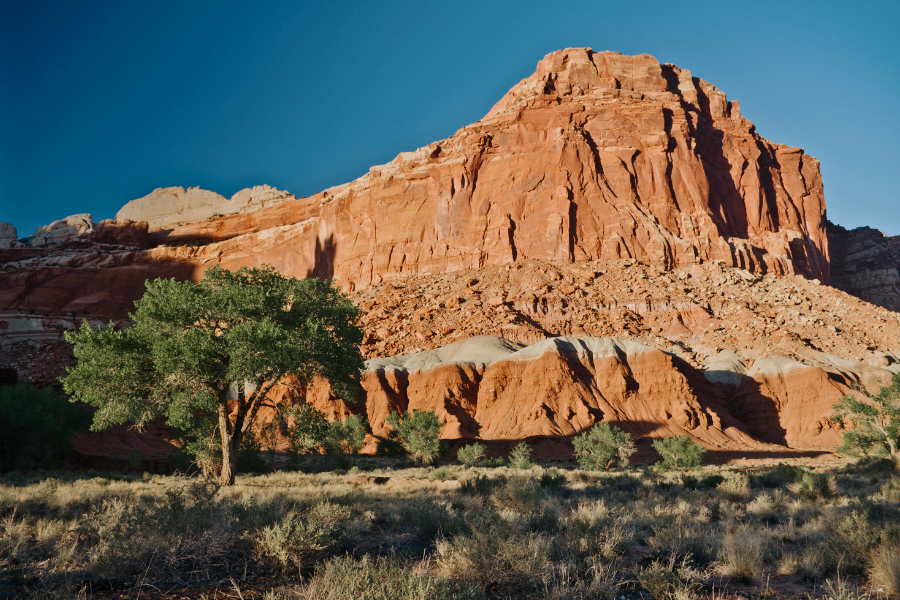 Denali National Park
Submission by Grannies Go Digital
Follow Grannies Go Digital on Facebook
Denali National Park is one of the best places to take kids in Alaska. You can get to the park easily by taking the train from Anchorage or driving. However, the highway to the park has many stunning views, so it's better to drive if you are traveling with little ones.
Private vehicles are only allowed to drive to Savage River, about 13 miles from the entrance. So, once you arrive at Denali, there is a bus depot center where you can buy your tickets for the shuttle buses around the park. The shuttle buses allow passengers to get on and off the bus as they please to hike or picnic. However, one of the best parts for families is simply that the person that is normally the driver gets to experience the ride, too. 
Best Family Activities at Denali National Park
One of the most popular drives is out to Wonder Lake where, on a good day, you can see the mountain – Denali. It's always covered in snow, and it's amazing how it can be invisible one moment, then the next you can't believe how large it is. 
Along the way, the bus will stop at the Eielsen Visitor Center and this is a great spot to stretch and give your little ones a break. Along the route, there is plenty of wildlife to spot, even grizzly bears. A tip for keeping the kids happy and engaged is to buy them their own pair of binoculars. Sharing just makes it easier to complain, and quite frankly, when the wildlife is present, everyone will want to be looking at the same time.
It's important to take advantage of driving the roads that are open to private vehicles because there are animals everywhere. It's a given that you could see caribou, moose, ptarmigan, and even porcupine. Of course, the best time to see them is near dawn and dusk, so for families, bring sandwiches for a picnic supper at Savage Creek. Take a climb up the rocks, and keep your eyes open. You might spot some Dall sheep or Hoary marmots in that area.
Take time to stop at the visitor's centers where you can see films about Denali, great exhibitions of the wildlife and plant life of the area, and find out about any Ranger talks or shows that will be on offer during your stay. Kids love to do the Junior Ranger program as well, and when finished get their own badge.
Visiting the Huskies at Denali National Park
The absolute favorite thing for kids to do in Denali National Park is to visit the huskies at the sled dog center. In the summer, there are daily demonstrations, and there's lots of petting and finding out all about the litter. Nothing makes a kid happier than puppies and dogs. 
Visiting Denali National Park with Kids Tip
Denali is really a summer destination, and the most important thing to do is make sure that each kid gets to have their own gear, especially binoculars. A nature journal, hat, water bottle, and snacks that they are in charge of makes everyone smile. Don't forget to pick up a scat and prints book so they can find all kinds of wildlife evidence. 
Everglades National Park
Submission by Travel with Co & Naples Florida Travel Guide
Follow Travel and Co on Instagram
Follow Naples Florida Travel Guide on Instagram
Everglades National Park (also known as the Everglades) is one of those national parks that needs to be on your family bucket list! It's one of the best national parks for families because it is educational, it has amazing wildlife and lots of cool activities for little ones. 
 The Everglades is a nature reserve in the far southeast of the USA, in the state of Florida. It has a subtropical climate and has swamps and forests. There's a lot of wildlife to see, like many bird species. But the kids might be more interested in the other animal that you'll be seeing in the Everglades – alligators! 
In addition, the Everglades is a great place for a road trip adventure for the whole family. There are some scenic drives on unpaved roads that are great for a private safari. You can even have a friendly competition to see which family member spots the most wildlife?
There are also many other fun activities to do in the Everglades that are suitable for your family, like cycling in Shark Valley (no sharks here, just alligators), hiking (there are many fun boardwalks and trails to explore), or hopping on one of the airboats for a thrilling ride. 
Don't forget to stop at the visitor center, so you can also learn something about the park. Here you'll find information for every age! 
Best Thing to do at Everglades National Park with Kids
Hop on an airboat and get close to the gators. When you're on an airboat it feels like you're floating above the swamp, it's such a cool experience. Not only kids will love it, but parents and grandparents will as well. During the tour, you'll discover the beautiful landscape and see multiple animals. Yes, there will be alligators swimming around as well, but no worries, you'll be safe. 
If your kids are a little older and you prefer to explore the park in a more eco-friendly way, you might want to check out a kayak tour. This is a real adventure and a little bit of a workout. A guide will tell you all about the plants, the trees and the animals you'll see in the park. Fun and educational!
Visiting Everglades National Park Tip
Be sure that you consider what you want to see and do. As the weather can determine your activities. Winter is the dry season and better for hiking, but the green summer season is always better to see more Everglades wildlife and gators.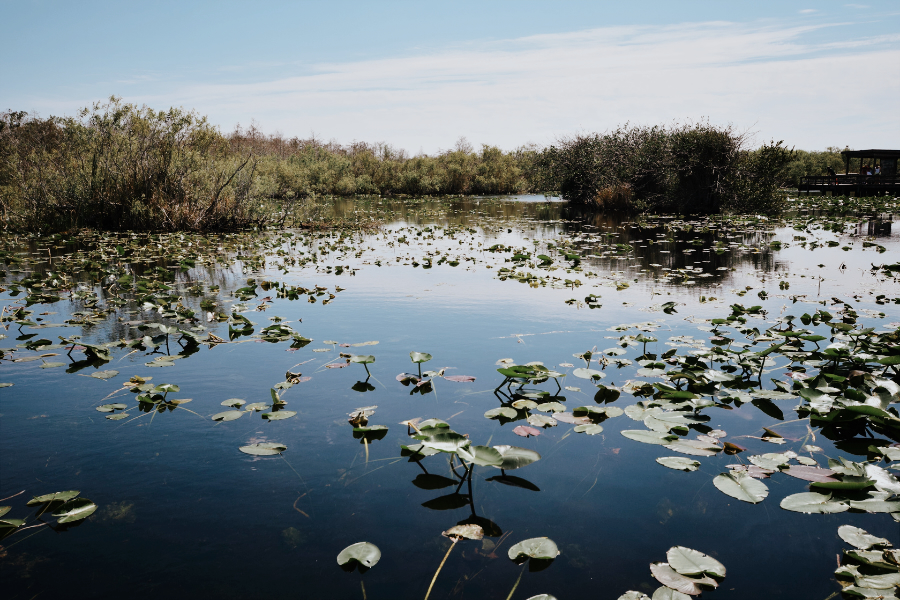 Haleakala National Park
Submission by I'm Jess Traveling!
Follow I'm Jess Traveling on Instagram
Who doesn't love Hawaii?! One of the most beautiful and best national parks to visit with families is Haleakala National Park in Maui!  Mount Haleakala is Maui's dormant volcano and is a great park to visit with the family!  There are 2 parts of the park to explore, the Kipahulu district and the Summit district.
The Kipahulu or coastal district is located on the east side of the island about 20 minutes past the town of Hana and is a favorite with kids! Along the way, you'll experience dramatic coastline, volcanic inlets, and waterfalls!  
At Kipahulu you can explore the pools of Ohe'o and one of Maui's most popular hikes, the Pipiwai Trail.  This family-friendly hike takes you past ancient banyan trees, through an enchanting bamboo forest, and ends up at a 400-foot waterfall.
The Best Thing to do with Kids in Haleakala National Park
The best activity for families at Haleakala National Park is inside the Summit District.  Here you can watch an unreal Hawaiin sunrise above the clouds and stare in awe as the sun emerges from below the clouds setting fire to the crater floor.  It's an experience that is truly out of this world.  
To catch the sunrise you must make reservations in advance here.  If your family is more of the adventure type, opt for a sunrise bike ride tour where you watch sunrise atop the Haleakala followed by biking down the volcano 26 miles until you reach the town of Paia.  However you choose to explore Haleakala National Park, you'll leave with unforgettable memories and a trip of a lifetime. 
Visiting Haleakala National Park with Kids
Make sure you have some layers and dress your little ones in warm clothing when heading to the top of Haleakala, as it gets pretty cold atop the summit at 10,000 feet without the sun to warm you up a bit.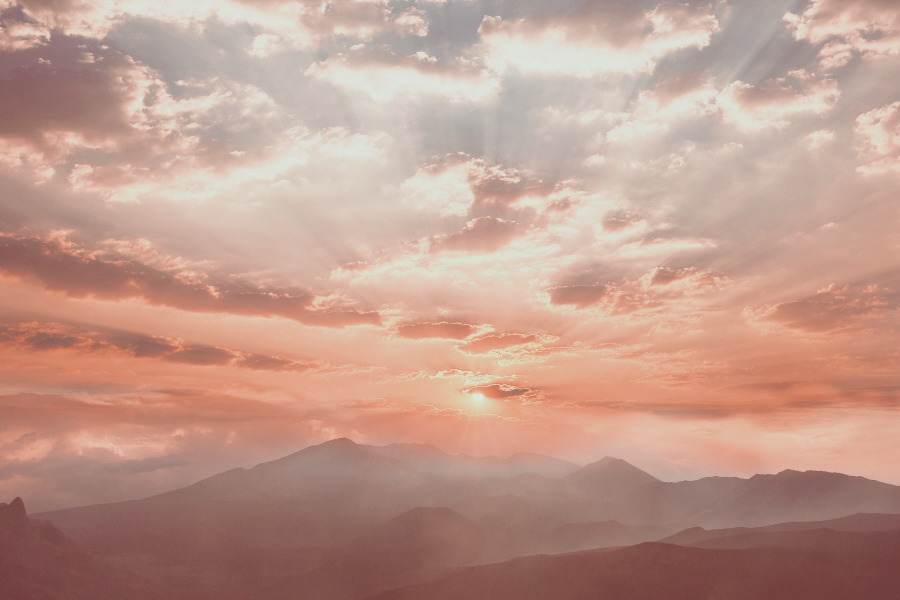 Mount Rainier National Park
Submission by Snap Happy Travel & Family Trip Guides
Follow Snap Happy Travel on Instagram
Follow Family Trip Guides on Instagram
Mount Rainier National Park is one of the best national parks for families because it is so easily accessible. Since it is less than 60 miles from Seattle, you can easily visit this wonderful national park on a short weekend trip or day trip.  It's also one of the favorite National Parks in the whole U.S for mountain lovers. That's because there's epic mountain scenery everywhere you look as well as old-growth forests and gushing waterfalls. In spring/summer you can witness colorful wildflower meadows in bloom in the Paradise region – making for the perfect backdrop for a family photo. 
Worth noting is that Mount Rainier National Park is huge!  So it's best to pick a region and stick to it. The regions within the National Park include Paradise, Ohanapecosh, Sunrise, and Longmire. Paradise is the most popular region, while in Sunrise you can drive up to the highest point in the park and take in the breathtaking views. If you're looking for a less-crowded national park experience, then stick to the Ohanapecosh and Longmire regions. 
Best Kid-Friendly Hikes at Mount Rainier National Park
There are plenty of family-friendly hiking trails within Mount Rainier National Park. For example, the short and sweet mile-long Nisqually Vista Loop is a favorite. The trail is mostly flat and paved and leads to a viewing platform of Nisqually Glacier. Another popular trail with families is the Myrtle Falls Trail, which is short and easy at just a mile long. You will pass waterfalls, wildflower fields, and even some elk and deer. 
The Grove of the Patriarchs is a lot of fun for the whole family too. Located in the Ohanapecosh region, this easy walking trail leads to a river bed that kids love to splash about in. The water is so clear and you can see lots of tiny fish beneath the surface, beware the water is cold though – averaging 44 Fahrenheit!
After a day of exploring, a must-visit is to the interpretive center at Paradise to learn more about the park's glaciers, plants, and animals. One of the best stops outside the national park is at Wapiti Woolies which you will pass on your drive back into Seattle. Here, you can try their famed (& delicious) huckleberry ice cream. 
Best Tip for Visiting Mount Rainier National Park with Kids!
We highly recommend downloading a map of the park on the National Parks app before you visit because there is no cell service for 20 or so minutes before you reach the entrance and throughout the park. We had a situation where we lost touch with relatives in another car for a couple of hours due to no cell service inside the park!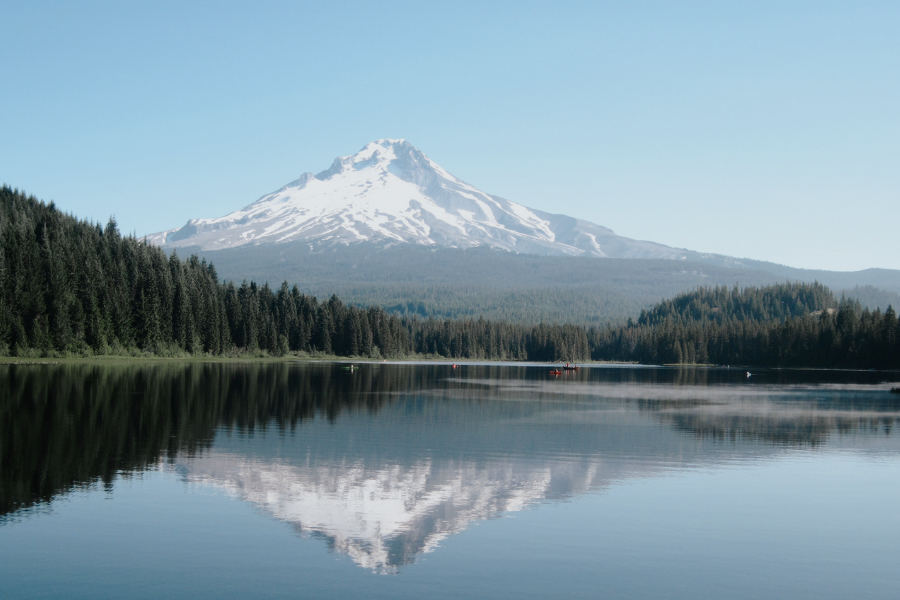 Olympic National Park
Submission by World Adventurists
Follow World Adventurists on Instagram!
One of the best national parks for families is Olympic National Park, located in Washington, on the Olympic Peninsula. With its incredible pacific northwest beaches, waterfalls, hiking opportunities through lush rainforest, and mountain views, Olympic National Park is a real gem. It is one of the most diverse national parks in America with nearly a million acres of varied ecosystems, providing families with a lifelong appreciation for the natural world!
Olympic National Park is also designated a World Heritage Site and International Biosphere Reserve, making it a fantastic and special learning environment for families. You can also wander through the dreamy Hoh Rainforest, one of the largest temperate rainforests in the U.S. 
A visit to Olympic National Park is sure to create many memories to last a lifetime. 
One of the best things about Olympic National Park is that you can spend the morning hiking on top of a mountain, and then visit the beach later that day. You will find, however, that many of the beaches along the Olympic Peninsula require a short hike to get to; that is how you know the beach will be extra special!  
Best Thing to do with Kids in Olympic National Park
The absolute best family activity at Olympic National Park is to enjoy the rugged beaches. 
A favorite family beach is Ruby beach. Known as the jewel of Olympic National Park, it is one of the most popular beaches to spend some time along the Olympic Coastline. The beach is called "ruby" because of the ruby-like crystals in the beach sand. You will be wide-eyed as you witness the tremendous amounts of driftwood, sea stacks, natural arches, and tree-lined cliffs. It has everything a beach needs for a perfect pacific northwest beach day. Kids especially will love exploring the tide pools and wandering among the driftwood at low tide. 
At Kalaloch beach you can find Tree Root Cave, also known as the Tree of Life. Roots stretch to both sides of the eroding riverbed, making it look like the tree is hanging in mid-air. Some of the best tide pooling can be found between Kalaloch and Ruby beaches. 
Also, the Olympic Coast is a great place to spot the whale migration during spring and summer. There are great opportunities to see some whales in the distance from Kalaloch, Rialto, and Shi Shi beaches. 
Visiting Olympic National Park with Kids 
You will want to pack rain jackets with you, even if you are visiting during the summer. Rain is common in the Pacific Northwest, so make sure you bring a jacket for everyone to keep you warm and dry.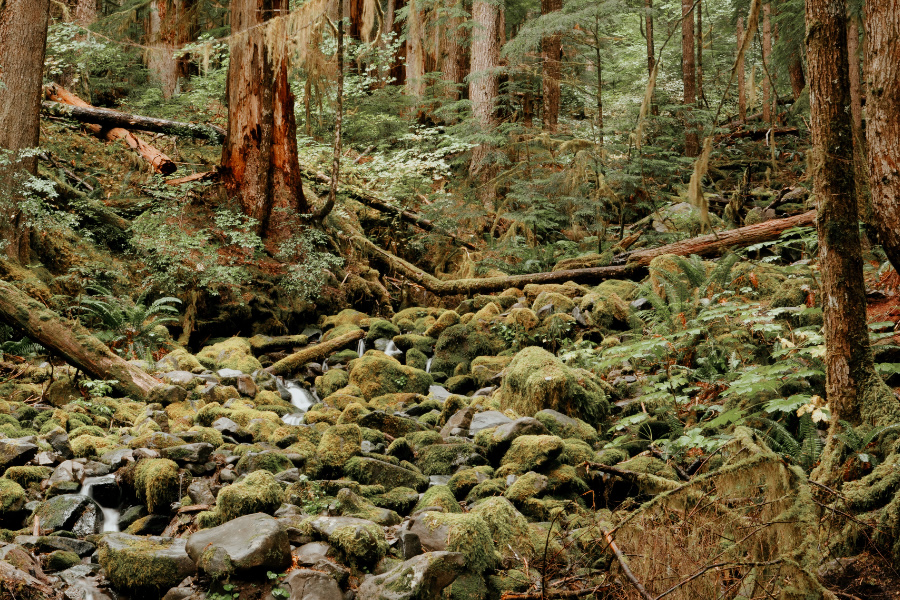 Shenandoah National Park
Submission by Go Hike Virginia
Follow Go Hike Virginia on Facebook
For nature-loving families, it's hard to beat Shenandoah National Park in Virginia. Big mountain views, tumbling waterfalls, dreamy swimming holes, and kid-friendly rock scrambles make this national park a winner for visitors of all ages. 
Just 90 minutes west of Washington, DC, a visit to Shenandoah National Park begins with a drive along the park's famed 105-mile Skyline Drive, which meanders north-to-south across the park, from Front Royal to Rockfish Gap. Kids will love making stops at scenic viewpoints, like Range View Overlook (milepost 17.1) and Spitler Knoll Overlook (milepost 48.0).
There are two visitor centers along Skyline Drive: Dickey Ridge Visitor Center and Harry S. Byrd, Sr. Visitor Center. As a family, watch a short park orientation movie to brush up on park history and explore historic photos and artifacts. Kids will want to pick up a Junior Ranger activity booklet to earn a badge as a newly-minted Junior Ranger and no visit to Shenandoah National Park is complete without sampling the park's signature mile-high blackberry ice cream pie at either of the in-park restaurants. Delicious!
Best Kid-Friendly Hikes at Shenandoah National Park
For active families, more than 500 miles of hiking trails criss-cross Shenandoah National Park, including 101 miles of the iconic white-blazed Appalachian Trail, which runs from Georgia to Maine. There are also more than a dozen hikes to waterfalls and plenty of trails that lead to 360-degree views, like the rock scramble hike to the top of Bearfence Mountain. 
At Shenandoah National Park, you'll find hikes well-suited for every member of the family. For new hikers, the Limberlost Trail is a winner. This 1.3-mile loop trail is the park's only fully-accessible hiking trail. It's stroller-friendly, but also wows more adventurous children with wooden boardwalks and rocks to scramble. Keep your eyes open for white-tailed deer. 
For view-seekers, the short and sweet kid-friendly hike to Little Stony Man Cliffs wows with spectacular views of Massanutten Mountain. Another popular family hike for those who love far-reaching vistas guides visitors to the top of Hawksbill Summit, the highest point in the park at an elevation of 4,049 feet. 
Shenandoah National Park is for waterfall-lovers, too. More than a dozen hikes lead to tumbling waterfalls, including 70-foot-tall Dark Hollow Falls. This short hike is an easy walk from in-park Big Meadows Lodge and is among the most popular hikes in the park. Meanwhile, the waterfall hike to 67-foot-tall Rose River Falls cools with a beloved swimming hole loved by children. 
Junior Rangers will want to complete the "sensory hike" activity in the activity booklet in order to more fully experience a hike in the park. Listen to birds, search for seeds, imagine you are a bear, dance like a butterfly, touch the bark of a tree, and listen to a waterfall. 
Visiting Shenandoah National Park with Kids Tip!
There are many hiking trails at Shenandoah National Park, so give your kids a say in which trails to tackle and let them set the pace. Also, bring lots of water and snacks on your hikes.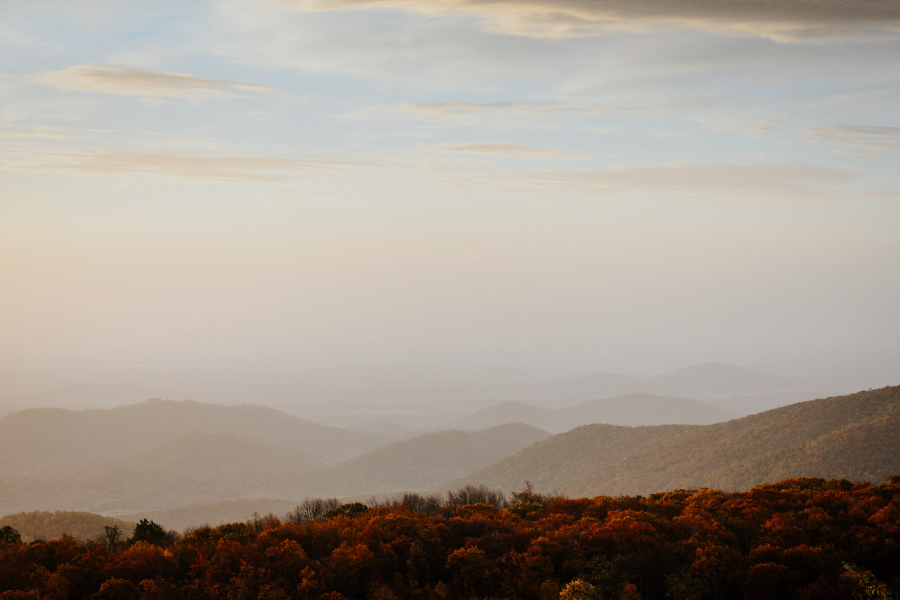 Yellowstone National Park
Yellowstone is one of the most quintessential national parks in the United States, is the oldest national park in the world, and is one of the best national parks for families to visit! Something to note is it is incredibly large and can be overwhelming for kids to try and see it all in one short visit. It can take hours to drive to different sites, and it isn't unlikely to get caught up in a wildlife traffic jam (yes, buffaloes will regularly block the roads). However, use this to your advantage and plan multiple trips! The great thing about the sheer size and splendor of Yellowstone is that you can come back again and again and never get bored. When exploring with little ones, we suggest sticking to the West Yellowstone Entrance for your first visit to marvel at the Old Faithful Geyser, Grand Prismatic Springs, Morning Glory Pool, Yellowstone Caldera, and Yellowstone Lake. Then on a return visit, you can venture further in!  
Best Things to do in Yellowstone with Kids!
Without a doubt, one of the best things to do with kids in Yellowstone is to explore Old Faithful and the Morning Glory Pool areas! With a marked path, this area alone can be explored for hours and is great for kids! Usually, Old Faithful will erupt around every 10 minutes or so. This means that you won't usually have to wait very long to see anywhere from 3,700 – 8,400 gallons of water erupt from the Old Faithful geyser. 
Something to take note of when visiting these areas with kids is that the water is incredibly hot and that people and small animals can fall into the hot pots. Keep a sharp eye on your littles and talk about the safety procedures ahead of time. We really love the Junior Ranger program here because it is really helpful to inform your little ones about what can and can not be done. 
Visiting Yellowstone with Kids Tips
Yellowstone is one of the most crowded National Parks and you can feel it at times, particularly when trying to find parking for some of the bigger sites like Old Faithful. Prepare your kids ahead of time. Have some fun games that they can play in the car and make sure there are plenty of snacks!
Yosemite National Park
Submission by Girl with Blue Sails
Follow Girl with Blue Sails on Instagram 
Yosemite is by far one of the best national parks for families. So many kids grow up visiting this park each summer with their families, creating lifelong memories. Yosemite is located in the Sierra Nevada Mountains in central California and is the perfect place to visit year-round. 
The beauty of the park alone is enough to be inspiring for the whole family. Adults can reflect and enjoy the scenery around them, and also get to experience the park through the eyes of their kids, who may be witnessing the wonders of Yosemite Falls and the towering Sequoia trees for the first time. Everything is massive when standing in Yosemite Valley, and it's a surreal and beautiful experience looking up at the surrounding mountain giants. 
Yosemite is best explored through its hiking trails. There are many trails of varying difficulty levels to suit everyone's individual pace. There are moderate and strenuous hikes for teens or adults, and easy-paced hikes for kids, grandparents, or those who just prefer a slower pace. Some great easy-paced hikes can be found at Mirror Lake, which is also a fun picnic spot, and my favorite moderately-paced hike is the trail up to the top of Vernal Falls. 
Families get a lot of value out of park ranger talks and ranger-led walks. They get to explore together and learn all about the surrounding nature and wildlife. The Valley Visitor Center is a great resource for families to visit at the start of the trip and get recommendations on how to spend their time at Yosemite National Park. 
Best Kid-Friendly Activity in Yosemite National Park 
The best activity for families in Yosemite National Park is rafting down the Merced River. Nothing beats spending quality time with your family on a raft, floating down the river, surrounded by icons like Yosemite Falls and Half Dome. Best enjoyed in the early summer months, rafting is one of the most popular things to do in Yosemite Valley.
Families are welcome to bring their own inflatable rafts, oars, and life jackets, or they can be rented inside the park. A popular place to begin a rafting journey is at the Stoneman Bridge near Curry Village. From there, the river guides the way, taking families through mild rapids, under bridges, and past plenty of calm spots to stop and tie up the raft for a picnic. 
The rafting route ends at Sentinel Beach, where there is a convenient shuttle that runs every so often, and will take visitors and their deflated rafts back to Curry Village where the route started. There is a small cash fee for the shuttle, and rafters should be sure to bring towels to dry off before boarding. 
The Merced River is at its fullest in the spring, when the winter snow from the mountains is melting and rushing down Yosemite Falls into the valley. This may seem like a great time to raft, but the water levels are usually too high for safety and often flood out of the river. June and July are when the water levels are bound to be at their best, and are the target months for families looking to get that classic Merced River rafting experience.
Visiting Yosemite National Park with Kids 
The best tip for visiting Yosemite with kids is to let them run and explore while you supervise. There is so much to learn from Yosemite's rivers and mountains just by simply taking the time to explore and observe.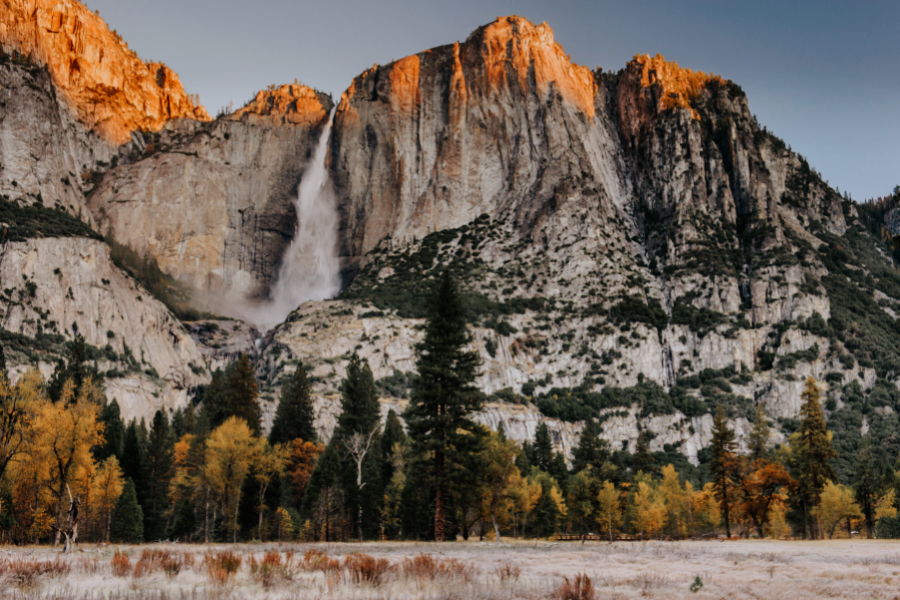 Zion National Park 
Submission by CS Ginger
Follow CS Ginger on Facebook
A favorite national park for families is Zion National Park. Zion National Park is located in Southern Utah near St. George. The park is perfect for families who like to hike together and enjoy nature. This national park is filled with beautiful canyons to explore like the famous Subway Zion Narrows as well as Mystery Canyon, Pine Creek, and Keyhole Canyon. 
Zion National Park is full of dramatic views of rainbow-colored rocks, high mesas, and deep canyons under towering peaks. You can find beautiful meadows with deer grazing. The park was named Zion by settlers. The meaning of Zion is a place of refuge which you will feel after spending just a few hours in the park. The unique red and orange sandstone formations will heal your soul and leave you feeling rejuvenated.  If you are visiting with older kids, there are challenging hikes like Angel's Landing and the Narrows that will give you an up-close look at the most beautiful parts of the park. Hiking is one of the best family activities in Zion National Park. 
If you are visiting with younger kids or don't enjoy long hikes, there are still lots of fun activities like shorter hikes, scenic drives, and educational opportunities around the park. No matter what your family enjoys, you will have a great time in Zion National Park. 
The Best Kid-Friendly Hikes at Zion National Park 
The Zion Narrows Riverside Walk is a great place for families to enjoy. The trail is about 1.9 miles long and ends where the Narrows hike begins. It is an out and back trail that follows the beautiful river. There are lots of deer along the river and you can wander down to enjoy the river. Kids will love throwing rocks in the river and playing in the water. The trail is stroller-friendly making it easy to take everyone along.
Another great trail for families to enjoy is the Lower Emerald Pool trail. The hike is about 1.4 miles and is considered an easy hike. Along the trail, there are lots of opportunities to see interesting vegetation and wildlife along the way. This trail is also partially shaded which is very nice if you're visiting during the hot summer months. At the end of the trail, there is a beautiful waterfall that you can walk behind. This trail is a lot of fun to explore and is easy enough that everyone can enjoy it.  
As you are starting the hike, you will see a bridge. This is a great place to play in the river after you are done with your hike. 
If you want a beautiful overlook of the national park without making the long and difficult trek to Angels Landing, you can hike the Canyon Overlook Trail. It is a 1-mile trail that is a much easier hike. It is rated as a moderate hike but is doable.  From the lookout point, there are beautiful views of the canyon floor and towering red rocks. It is one of the best views in Zion National Park. 
Visiting Zion National Park with Kids 
If you are visiting in the summer and your kids want to take a dip then be sure to stop by the Pa'rus Trail. It follows the Virgin River and has lots of opportunities for swimming and playing in the river.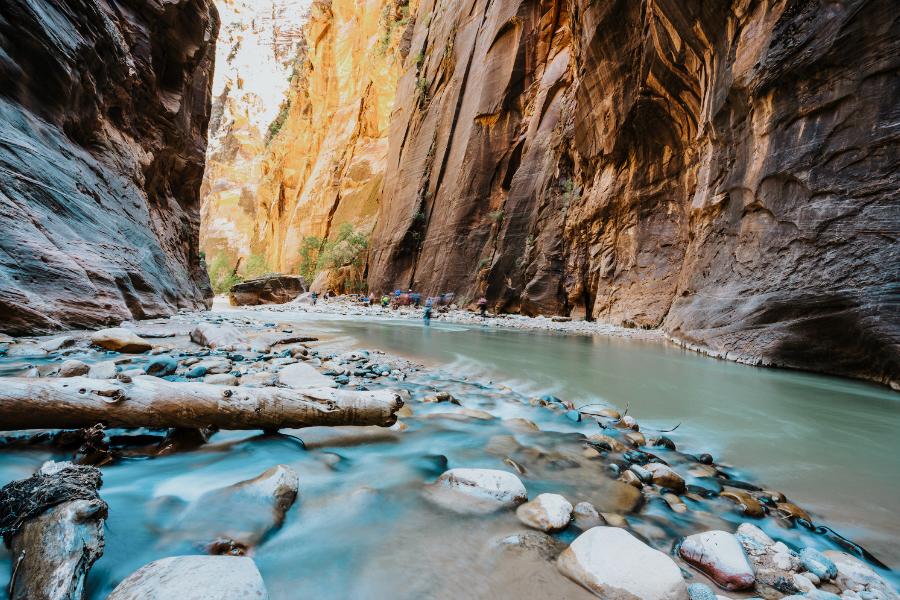 When Visiting One of These Best National Parks for Families
Don't forget that the whole point of visiting a national park with little ones is to learn about and explore nature! We have found that kids really love to just take things slow and can sit and play at one spot forever. Try to have your kids pick a few places that they really want to see in the park beforehand to help them keep pace. However, plan some downtime and playtime and everyone in your group will be happier!
---
Best National Parks for Families Blog Links
Love Best National Parks for Families? Pin It!