Are you struggling to figure out how to get the most out of your credit card points and miles when you are booking flights? You're not alone! But don't worry, understanding how to use airline alliances to make the most of your points will help you master booking nearly free flights all around the world. To help you understand these alliances we've created this airline alliance guide that will you help navigate and use airline alliances to your advantage. We'll also break down how these alliances, like those with American, United, and Delta, allow airlines to partner up and extend their flight network. This means you'll be able to book more worldwide travel opportunities for less than you might think!
If you are new to points and miles you can check out our Free Points and Miles Crash Course here or take a look at our Reward Travel 101 Article here!

Using Airline Alliances to Make the Most of Your Points!
As a reward traveler, you can use these alliances to your advantage by choosing flights that will provide the most benefits. It can also help you book specific flights through an airline alliance partner for less. By identifying which airlines are part of an alliance and which routes are most rewarding, you can make sure you are getting the most out of your points/miles and loyalty programs. So let's dive into the Major Three Airline Alliances and how to use these airline alliances to make the most of your points!
The Three Major Airline Alliances
Three major airline alliances connect international airlines throughout the world. These are the Star Alliance, Sky Team Alliance, and One World Alliance. Each alliance has a major US airline in them and can be used to your advantage! 
Star Alliance was the first global aviation alliance and was created in 1997. This is the largest alliance of the three, connecting 26 airlines and over 1200 airports worldwide. United Airlines is the major US airline that is part of this alliance. Using this alliance and the partner airlines in it is great for Chase Ultimate Reward lovers or for anyone who lives near a United Airlines hub! 

Star Alliance "Sweet Spots"
All Nippon Airlines (ANA)

Air Canada

Avianca

Turkish Airlines
Expert tip: Travel Hacking "Sweet Spots"
Travel hacking "sweet spots" are hotels or airlines that will help your points go the furthest! We'll be including the best sweet spots of each alliance in our breakdown here as well as covering them in more depth in our Airline Alliance Cheat Sheet!
Example of a Star Alliance Booking
If you are looking for a nonstop flight from LAX to Tokyo through United, you are going to see redemptions anywhere from 65k to 80k points. However, with enough time and prep, you can book that SAME FLIGHT on the same aircraft through a United partner airline – All Nippon Airlines (ANA). If you book far enough in advance through ANA, you can book this flight for as little as 27k points and a higher amount of taxes (about $100 more). You can also book this flight through a partner program – Avianca LifeMiles for 47k and $27 in taxes. Keep in mind that this is for the SAME FLIGHT, you are just maximizing the airline alliance to find the best booking for you!
*Little note: I just booked an ANA flight for my husband to Japan for Spring 2024 and we got it for 27k points! The cash cost of this flight is $1,700 and it was listed as 80k points on United! 
The Sky Team Alliance was founded in 2000 and flies over 630 million people annually. It has over 175 destination countries and a fleet of over 3,000 aircraft spread out between 19 airlines. Delta Airlines is a member of Sky Team which makes the Sky Team alliance my favorite alliance. This is because we are based in SLC which is a Delta hub and means that I can book Delta flights around the world for a LOT less by utilizing their partner airlines. 
Some of the best airlines to get families to and from Europe from the US are part of the Sky Team. 

Sky Team "Sweet Spots"
Air France

KLM

Korean Air

Virgin Atlantic
Expert Tip: Understanding Airline Hubs
Airline hubs play a massive role in getting the best point and mile redemption rates! Because of this, it is important to know if your nearest airport is a hub or what hub connects to your airport! 
You can learn all about airline hubs, focus cities, and why they matter here! You will also be able to download and use our free Airline Hub and Focus City Directory. 
Example of a Sky Team Booking
I was able to take advantage of a partner alliance to get our flights from SLC to Cancun flying on Delta for only 12.5k miles each and $43 in taxes. We booked our flight through Delta's partner airline Virgin Atlantic instead of Delta directly. Even though we booked through Virgin Atlantic, we will still check in at the Delta counter and use our Delta loyalty numbers like normal. We will also even be able to take advantage of the Delta Skyclub and our Delta airline status. 
This fight would have cost me $448 if I would have booked a cash price. If I would have booked through Delta, it would have cost me 37k points + $45 in taxes. By utilizing the Skyteam Airline Alliance, I was able to get the flight for 12.5k points and $43 in taxes.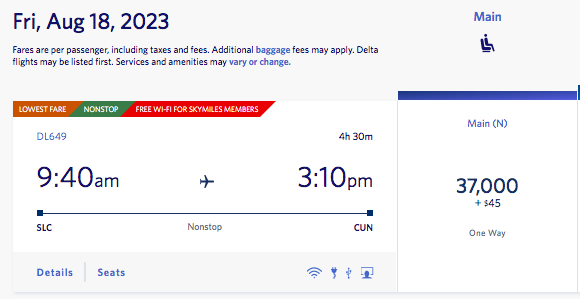 Same flight, same aircraft, same fare class, same date – vastly different redemption prices! 
One World Alliance was founded in 1999 and is headquartered in Fort Worth, Texas. It has 13 airline members and one connection partner. (Oman Air is slated to join in 2024, making the airline members 14.) It serves over 900 destinations in 170 different countries and territories. The major US airline that is part of One World is American Airlines. This is great for anyone who lives near an American hub but wants to earn transferable points instead of American miles. Even if you don't have American Airlines AAdvantage miles, you can often book American flights through their airline alliance partners! 

One World "Sweet Spots"
Alaska

American

Iberia

British Airways

Cathay Pacific
Expert tip: American Airlines & Transfer Partners
American is one of the few major US airlines that is NOT a transfer partner to any of the major credit card companies. This means the easiest way to earn American Airlines AAdvantage Miles is through a co-branded American Airlines credit card. You can find a list of them here! 
Example of a One World Booking
Let's say you want to take the nonstop flight from SFO to New York through Alaska Airlines. However, you don't often fly Alaska Airlines, and you don't love their loyalty program so you don't have any Alaska miles. But… in this instance, Alaska has one of the best and cheapest flight routes and redemptions for a direct cross-country flight at 12.5k miles and $5.20 in taxes. Because Alaska is a partner with American, if you have American Airlines AAdvantage miles you CAN book this flight even if you don't have Alaska miles. To do so, you'll use your AAdvantage miles to book this flight through American's website! 
A note about Avois
British Airways loyalty program – Avois –  is one of the easiest ways to earn points that can be used on multiple airlines. The Avois loyalty program includes Iberia, Aer Lingus, and Qatar Airways. This means that this loyalty program stretches across several different alliances and different card programs. 
Individual Airline Partners
You might be noticing that not all airlines (hello Southwest & JetBlue) are part of an alliance. Often this is a choice on behalf of the airline so they can set up strategic individual partnerships or because they run most of their fights in one country like Southwest. 
It is important to note that some airlines in an alliance also have unique and individual partnerships with an airline outside of their alliance. For example, Virgin Atlantic which is part of the Sky Team Alliance has a unique partnership with ANA which is part of the Star Alliance. 
The Best Cards to Earn Flexible Miles That Can Be Used to Book Airline Alliance Flights!
Each of these cards transfers to several different airlines within each airline alliance making your points even more flexible!
Chase Sapphire Preferred
Amex Green
Capital One Venture
Citi Premier
6 VERY Important Things to Know About Using Airline Alliances!
Using airline alliances can be so fun and they can stretch your budget and miles A LOT! However, booking through them can also get pretty complicated if you are a beginner.
To help you, here are some of the 6 MAJOR things you need to know so you don't get hung up on the process. 
1. Check the redemption values through the airline you are booking through
You need to use the airline award chart or the redemption values of the airline you are booking through. This means that if I am booking a Delta flight through Virgin Atlantic I need to check the redemption value that is found through Virgin Atlantic, not Delta. Remember, you will be charged according to the airline that you are booking through not by who is operating the flight. 
2. Redeeming does not automatically mean "earning"
After you book a flight on your preferred airline through an alliance booking make sure you add your preferred airline's frequent flyer number online or to your reservation when you check in so you can get credit. For example, let's say American Airlines is your preferred airline and you are wanting to earn as many AAdvantage Miles as you can. However, you find that it is cheapest to book your American Airlines flight through their One World Alliance partner – British Airways. To earn your AAdvantage miles even if you are booking through their partner, you want to make sure you add your AAdvantage loyalty number to your flight reservation so you can get AAdvantage credit! 
3. Rarely will you transfer points between airlines
Rarely, if ever, will you actually transfer your miles from one airline partner to another to book. Instead, you book through the other partner. For example, to book a Delta flight through Virgin Atlantic, you need to book your flight through Virgin Atlantic with Virgin Atlantic Flying Club Miles. You can not transfer Delta SkyMiles to Virgin Flying Club Miles. This is where it gets complicated. In order to book a Virgin Atlantic flight, you will need a card that earns flexible points that can transfer points to Virgin Atlantic (there are some AMAZING ones!) or a Virgin Atlantic co-branded credit card that earns Virgin Atlantic-specific miles. 
You can learn more and get our Credit Card Transfer Partner Cheat Sheet here! 
4. Not every flight is going to be offered through a partner
This is really important to know especially for beginner travel hackers. Using airline alliances can feel like magic sometimes but there isn't a magic wand that will make every Delta flight available for less through Virgin Atlantic or every United flight available through Air Canada. What flights are available to book through partner airlines depends on routes, schedules, operations, availability, departures, and destinations. The simplest way to know what routes are operated by a partner airline is to check your desired departure and destination through a paid service like point.me or to do a free quick cross-referenced search on the partner. For example, if I find a United flight that I want to take to Peru, I can do a quick cross-referenced search on their partner airline that operates out of South America (Avianca) and see if they have cheaper redemptions. If Avianca does, then I'll book that flight through them! 
However, it will be rare if I am able to book a United flight on Avianca to somewhere like Switzerland because that isn't a typical route that Avianca flies. 
If you want to see airline routes, I really enjoy using flightconnections.com or flightsfrom.com. These free tools can help simplify your search! You can see all of Avianca's current routes and destinations on flightconnections.com here. 
5. You may need to book farther out in advance to snag partner availability
If you are looking to get a deal through an airline alliance partner, you may need to book early to snag a deal! For example, you can often book Delta redemption flights through Delta right until the departure date. The redemption values and prices might be astronomical but often there is still availability. This is not the case when booking through a partner airline. If I want to snag a Delta flight through Virgin or a United flight through Air Canada booking at least 6-9 months in advance (sometimes more) is often key. Being prepared and ready to book early will help you get that availability! There are some partner flights that you want to book as soon as they become available on the partner airlines (looking at your Avianca!) 
6. Beware of Fuel Surcharges
Taxes and fees associated with fuel surcharges for some destinations and airlines can make booking an airline alliance flight pretty pricey.  When you are searching your alliance fights pay close attention to what the "taxes and fees" are going to cost you. (TBH this is something that should be done for redemption flights). Often if you switch from one partner to another you can minimize those additional costs. For instance, consider using Oneworld partner Iberia for transatlantic flights instead of British Airways. 
Here are some airlines you want to pay close attention to the taxes and fees when booking! (keep in mind not every flight operated or booked through these airlines are going to have high taxes and fees. Some do, so keep your eye out!)
British Airways

Lufthansa

AirFrance

Air Canada

ANA

SWISS Airways

Virgin Atlantic
Start Using Airline Alliances Today
Alliances between airlines and frequent flyer programs can unlock amazing flight deals and take you to every corner of the globe. They can also help you make the most of your points and miles. So start researching, get a card that will help you earn flexible transferrable miles, and determine if booking through an airline alliance might make sense for you (hint: it probably will!)
Happy travels!