Are you planning a family trip to Zion National Park but worried about the cost? I get it, traveling with your family can be PRICEY! But don't worry, there are actually some really amazing free or nearly free things to do in Zion and Southern Utah. In this article, we have put together a list of our favorite free or cheap things to do in (and around) Zion National Park with kids. These activities are guaranteed to keep you and your children entertained and engaged without breaking the bank or quality. Not to mention they promise some incredible views and adventure! 
BONUS: We're also going to cover some ways that you can stay at Zion National Park for nearly free too! Yes… you read that right. It IS possible!
Visiting Southern Utah & Zion National Park with Kids On A Budget!
This article is going to be broken down into these three different sections. 
How to visit Zion National Park at a discount and the best things to do in Zion National Park with kids!

The best free & cheap activities and stops near Zion National Park that your kids will love

How to stay at or near Zion National Park for almost FREE! 
Zion National Park with Kids
There are honestly so many things to do in Zion with kids that it can be hard to narrow them down to a small list. The hikes included here are what our kids said were their favorite things in the park. It should be noted that you really can't go wrong and there are a plethora of different hikes. 
The Narrows & Angels Landing
With that said, there are some pretty strenuous hikes like the Narrows and Angels Landing that you want to be aware of. You know your kids better than anyone else and know what they are capable of doing. If you are wanting to do these harder hikes, you'll need a permit because Zion can get pretty busy. You can learn more about the permit system here. 
We opted NOT to do Angels Landing and we weren't able to do the Narrows this time due to the high water table. However, we have done Angels Landing with our then-baby and loved it! You can read our Ultimate Guide to Zion National Park with a Baby here!
The Zion Shuttle System
Also, keep in mind that from April through November a large portion of the park is inaccessible for vehicles and requires the use of the Zion National Park shuttle. The shuttle is effective and it runs nearly nonstop during the day. But it is something you want to be aware of. 
Get A National Park Pass Discount to Make Your Visit to Zion More Cost Effective!
The easiest way to visit Zion National Park for less (or any other national park for that matter), is to take advantage of a discounted National Park Pass and then use it! We get one every year and it is worth it EVERY TIME. You can read How to Get a Discount National Park Pass Here!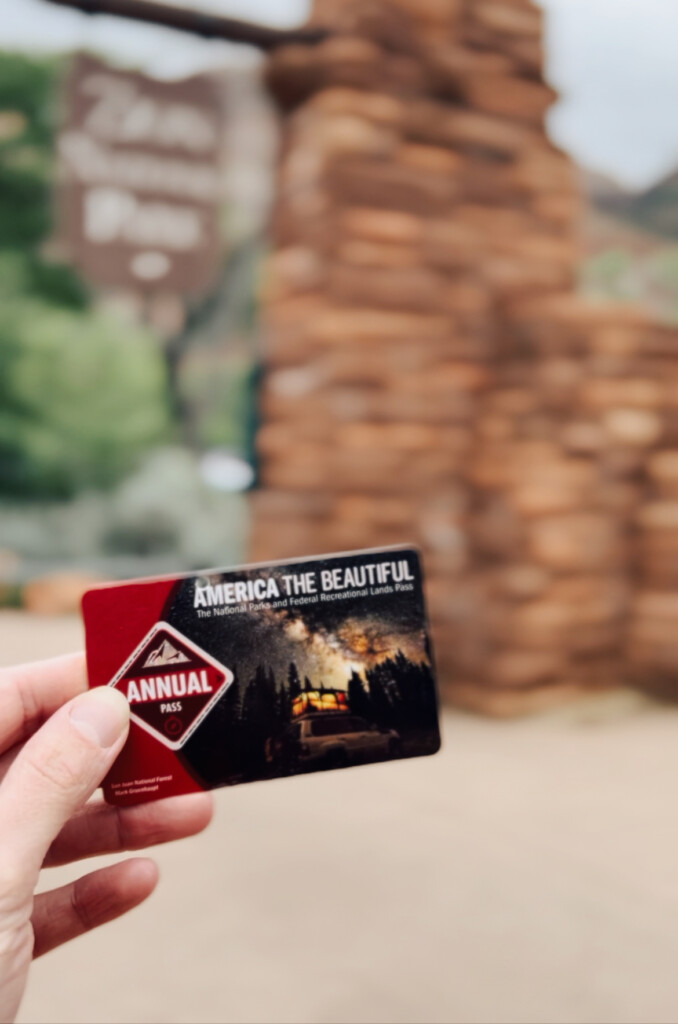 The Best Hikes & Activities in Zion National Park with Kids 
This is the list that our kids compiled as being their favorites within the park. We love all of these and have included some information about each as well as some fast facts. 
Canyon Overlook Trail 
This is my FAVORITE hike for kids in Zion. This short, but rewarding hike is just under a mile long and offers some of the best views of the canyon. Your kids will love scrambling over the rocks and exploring the area. Plus, it's a great way to get some exercise and fresh air while taking in the beauty of Zion. This area can get busy so we suggest visiting earlier in your day or later in the evening! 
Canyon Overlook Trail Fast Facts:
Moderate hiking

1-mile round trip

Go through the Mount Carmel Tunnel and it is just off to the left-hand side. There is parking at the entrance and up the highway.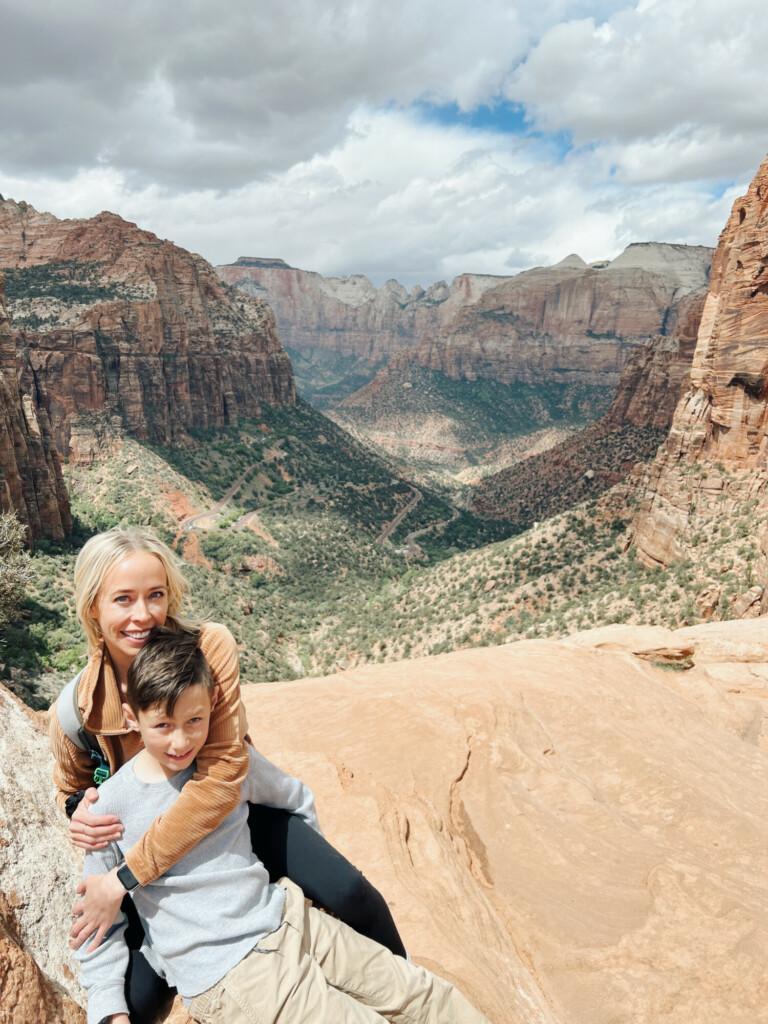 Emerald Pool Trails 
The Emerald Pool Trails are a must. There are three different trails to choose from  – the Lower Pool, Middle Pool, and Upper Pool Trails – each with their own unique features. The Lower Pool Trail is the shortest and easiest of the three, making it perfect for families with young children. The Middle Pool Trail is a little bit harder and takes hikers up to the base of a waterfall but is absolutely still doable with young children. Finally, the upper pool trail is the most strenuous of the three but also the most rewarding (and our kids handled it just fine). It takes hikers to an emerald-colored pool surrounded by a beautiful rock amphitheater and waterfall. All three trails start from the same spot and can be accessed via the Zion Canyon shuttle system. We suggest hiking all three and visiting each of the different pools! 
Emerald Pool Trails Fast Facts:
Easy to Moderate hiking

Lower 1.2 miles round trip 

Middle 2 miles round trip 

Upper 3 miles round trip

Access via the Zion Lodge Shuttle Stop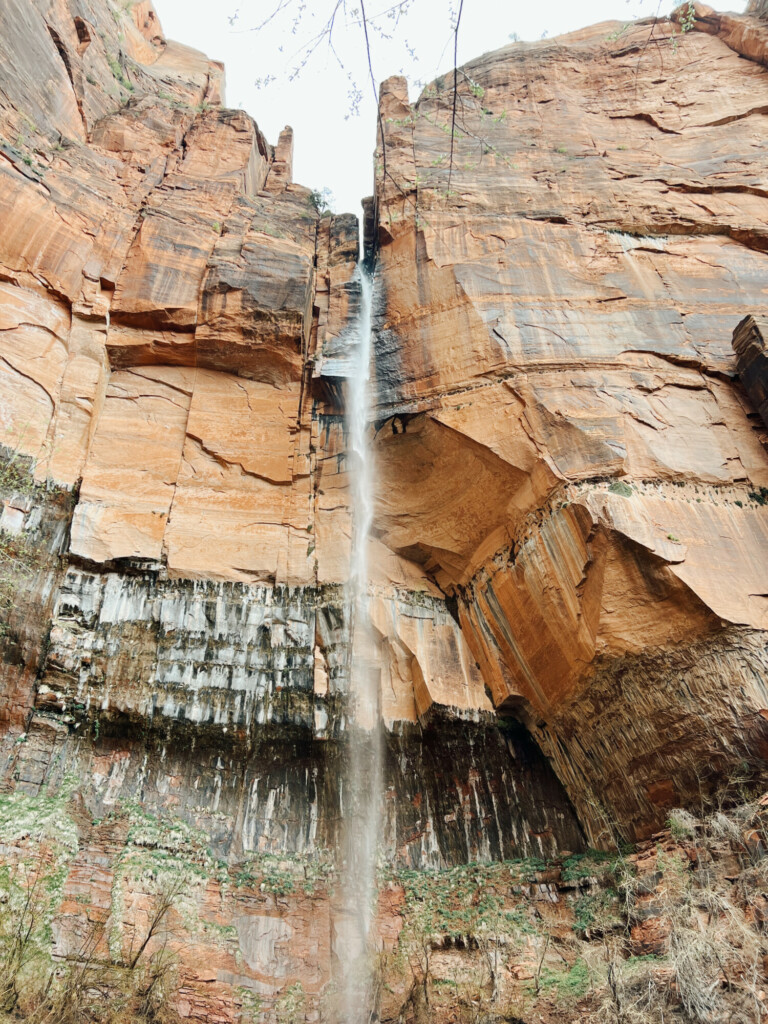 Riverside Walk Trail 
This easy scenic path is a great way to enjoy the park's natural beauty without any strenuous hiking (we choose this as our last hike of the trip since it is so easy). You'll find the entrance to the trail at the Temple of Sinawava shuttle stop. On the way, you'll explore the Virgin River's crystal-clear waters and stunning canyon walls. Keep an eye out for wildlife, including wild turkeys, lizards, mule deer, and even an occasional mountain lion from afar. Your kids will love exploring the trail's hanging gardens and natural alcoves. With a distance of just 2.2 miles round-trip, the riverside walk trail is the perfect nature walk for all ages and abilities. 
Riverside Walk Fast Facts
Easy

2.2 miles round trip

Paved

Access via the Temple of Sinawava shuttle stop
Junior Ranger Program
This exciting program is the perfect way to get your kids engaged with nature and learn about the park's important conservation efforts. To join, simply head to a visitor center and pick up a brochure. Completing activities like a nature scavenger hunt and attending a ranger program will earn your child a badge to proudly display. 
Junior Ranger Program Fast Facts
Best for ages between 5-13

Participate at the Zion Visitors Center
Our Favorite Free & Cheap Activities and Stops Near Zion National Park with Kids
These activities offer some unique and free things to do away from the crowds in the park and will have you exploring some of the best off-the-beaten paths for kids that Southern Utah has to offer. 
Parowan Gap Petroglyphs
This petroglyph site is listed on the National Register of Historic Places and features over 90 large rock panels with a diverse array of designs, including animals, human figures, and abstract patterns some dating to nearly 1000 years old. Kids will love exploring this ancient art and learning about the culture and history of the area.
Parowan Gap Petroglyphs Fast Facts
Easy 

Distance from Zion National Park: 36 miles 

Cost: FREE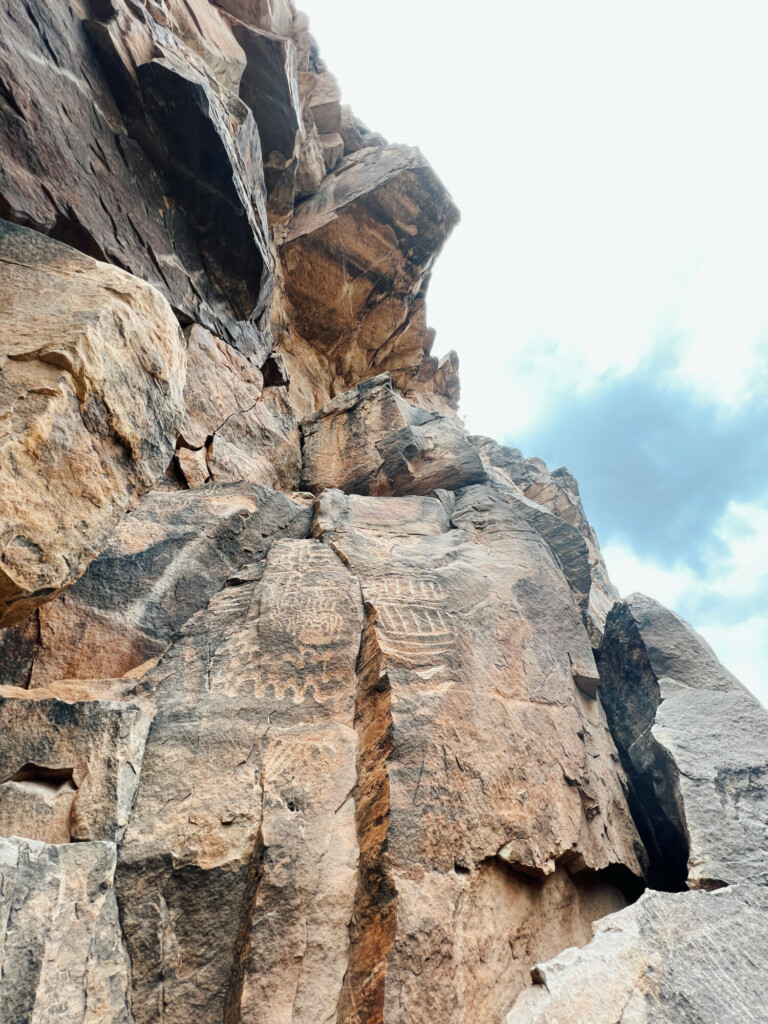 Red Hollow Slot Canyon
If you are looking for a slot canyon that is great for kids, the Red Hollow Slot Canyon in Orderville just outside of Zion National Park is an activity that should not be missed. This hike offers stunning views and is short and sweet. The trail is only 1.6 miles round-trip and is not difficult. It provides a great alternative to some of the harder and more busy slot canyons in Zion. Plus, it's completely free! Because this is a slot canyon, you'll want to keep an eye out on the weather as flash floods can occur. 
When you visit, make sure you put the Red Hollow Canyon Trailhead in for directions. 
Red Hollow Slot Canyon Fast Facts
Easy 

Distance from Zion National Park: 19 miles 

Cost: FREE

1.6 miles round trip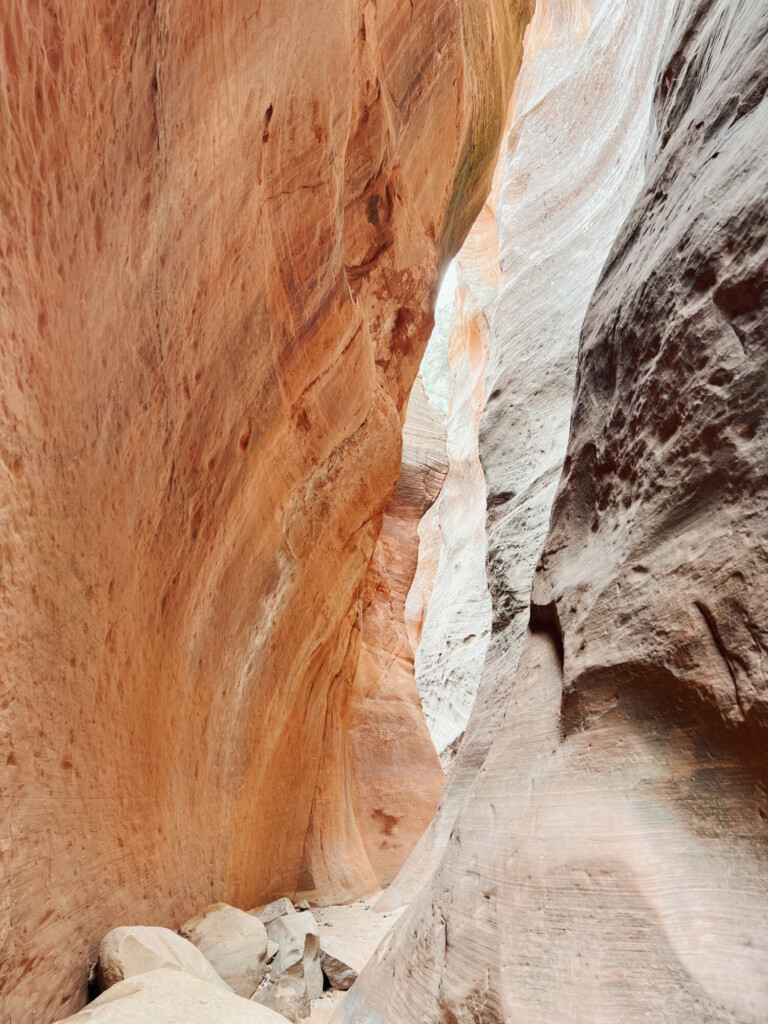 The Dragons Belly 
Located just outside of Zion National Park in Kanab, The Dragons Belly is a unique quick stop that our kids loved. This caved tunnel runs underneath Highway 89. You can take the longer hike along the wash or just check out the tunnel. For us, this isn't a highlight but rather a fun stop to see, stretch legs, and let the kids play. We packed a picnic and ate lunch while we were here and it was perfect. There were no crowds and it offered a different feel than the busy park. 
The Dragons Belly Fast Facts
Easy 

Distance for Zion National Park: 13 miles

Cost: FREE

Short tunnel (less than ¼ of a mile or the option to walk along the wash for 4 miles)
Kanab Sand Caves
The Kanab Sand Caves are part of an old sand mine that was once used to collect the desert sand to then be melted down for glass making. Even though these caves are man-made this stop is actually really awesome! The hike is a fun mile and a half partially along a wash and then slick rock. You will want to keep an eye on your little ones but it isn't super strenuous and is accessible for most. The Kanab Sand Caves offer some really great views for pictures. 
Kanab Sand Caves Fast Facts
Easy to Moderate

Distance from Zion National Park: 35 miles

Cost: FREE

1.5 miles round trip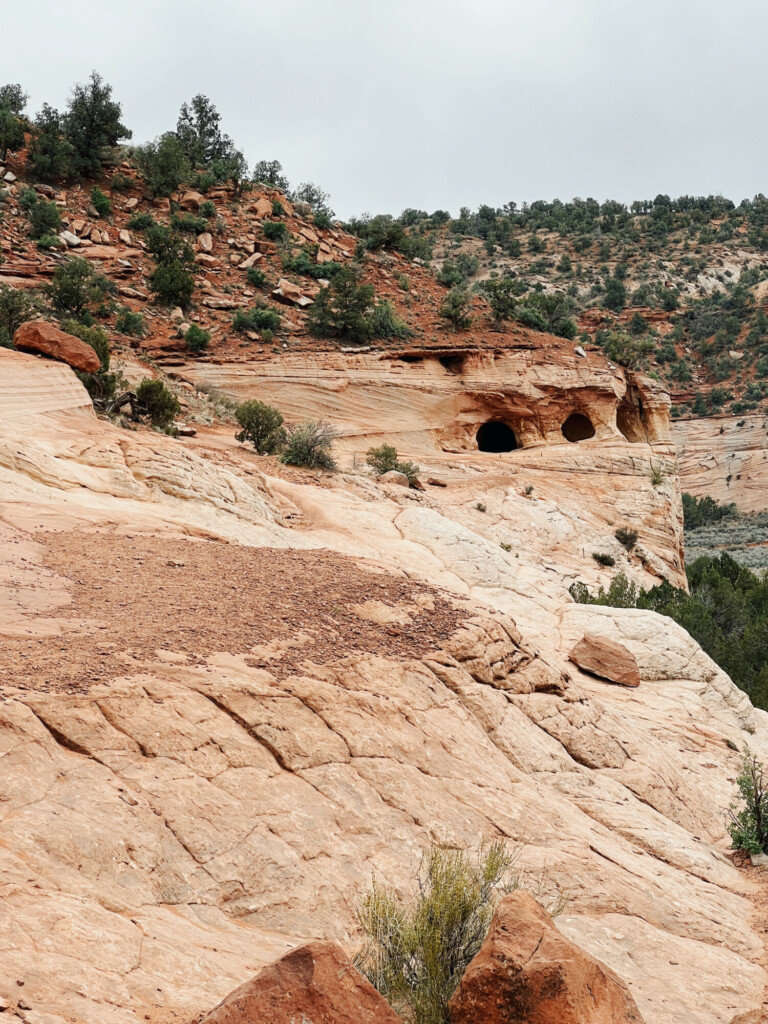 Red Reef Trail
This trail was one of our absolute favorites and is easily accessible and takes you through stunning scenery with towering red rocks and babbling creeks. The trailhead is located in the Red Cliffs Recreation Area and can be accessed via a short drive on a well-maintained dirt road. The hike is just over 2 miles round trip, making it perfect for little ones. Along the way, you'll encounter a variety of interesting features like sandstone formations, petroglyphs, and an old pioneer cabin. Plus, the trail follows a shallow stream that's perfect for kids to play in. 
Something to Note: This hike is pretty easy with the exception of a slick rock near the end of the hike that requires some moderate climbing with an attached rope. Our kids were able to manage just fine but if you are afraid of heights or you don't like the prospect of climbing, you can always end your visit at the rock and turn around. 
Red Reef Trail Fast Facts
Easy to Moderate

Distance from Zion National Park: 21 miles

Cost: $5 (or FREE if using your National Park Pass)
How to Stay at Zion National Park for FREE!
Our favorite way to stretch our travel budget so we can travel MORE for LESS as a family is to maximize our credit card points and miles.
New to Points & Miles? Check out our Start Here Guide as well as our Free Points & Miles Crash Course!
There are several different options for places to stay in and near Zion when using your points. We have used Marriott points to stay at the newly renovated Springhill Suites in Springdale just minutes from the park and really enjoyed it. However, for this trip, we opted to do something a bit different and stayed in an off-the-grid tiny home (centrally located between all of the activities we have listed) for absolutely free. 
I am not a big camper and actually prefer full-service luxury hotels. However, luxury options are limited near Zion and so we opted for something that our kids (and my husband) would love! I have to be honest, I really ended up liking it more than I thought. It was perfectly equipped with everything we needed. It was cozy, darling, and comfortable. We loved waking up in the middle of nowhere to the majestic beauty and the sounds of the nearby lamas and birds. 

How to book your Zion Airbnb Stay for Free 
We booked our tiny home through Airbnb like normal and used our Capital One credit card at checkout. Then using the Capital One Miles that we have earned, we went into our account and "erased" the entire cost with our miles. Meaning we paid NOTHING for it! I love that Capital One offers the opportunity to use rewards miles towards travel expenses like Airbnb rentals. To learn how to earn more points and miles for your Airbnb Stays check out this article here!
There are two cards that I suggest for earning Capital One Miles. They are the Capital One Venture as well as the Capital One Venture X. You can check them out below!
A few common questions and things to note about visiting Southern Utah and Zion National Park with kids! 
Here are some answers to the most asked questions about visiting Zion National Park with kids that can help you better plan your trip!
Is Zion good for kids?
Absolutely! You need to be smart and cautious but there are some really amazing and accessible hikes for kids and all hiking abilities. The scenery is hard to beat and Zion truly is a wonder!
How many days do you need in Zion for kids?
Anywhere from 2-3 days should be plenty!
Do kids need hiking boots in Zion?
Yes! For the hikes on this list though, even basic hiking boots should work. My son forgot his boots and we ended up having to buy some cheap ones at Walmart near Kanab and they ended up working just fine. 
Can beginners hike Zion?
Yes! Most of the hikes on this list (Lower Emerald Pools, Riverside Walk, and even the Canyon Overlook) are doable for beginners! If you are a beginner be sure to check the hiking recommendations for some of the harder hikes like Angels Landing and the Narrows. You might want to save those for another visit when you are more prepared. 
What is the best month to go to Zion National Park?
We think the best time to go to Zion for the best weather and minimal crowds is between April to May and September to October. However, we went in the winter a few years ago with our baby and loved it! You can read about that here. 
Wrapping Up
A trip to Southern Utah and Zion National Park with kids is sure to please and it is even better when you are able to take the whole trip for nearly free! So get that discounted National Park Pass and start earning some Capital One Miles and you'll be visiting with your goofy crew for nearly free before you know it!