We just got back from a winter getaway to Moab Utah! We visited Canyonlands, Arches, hiked, ate yummy food, and took an awesome day trip out to Monument Valley. You can read all about what you HAVE to see and do in Moab in Winter here – How to Have a Killer Time Visiting Moab in Winter!. One of the things that will make or break your trip to Moab in Winter is what you are wearing. Being prepared for some chilly weather can make all of the difference between an amazing trip or a downright miserable one. Keep reading for a complete Moab Winter Packing List.
Moab Winter Packing List
Three words for you… layers, and layers. While we visited, the weather ranged anywhere from 5 degrees at night to about 30 degrees in the day. This was unseasonably cold, however, if you are visiting in the winter you should expect and prepare for cold weather. With what I have on my list, I was not cold and was still able to spend hours at a time hiking and being outside. Having layers and some options if the weather is warmer or cooler than you expected is the best bet for having a good experience. Moab experiences a dry cold. While 5 degrees Fahrenheit is pretty darn cold, it is different with zero humidity. Believe it or not, with the right gear, this dry cold allows for great hiking and site seeing weather.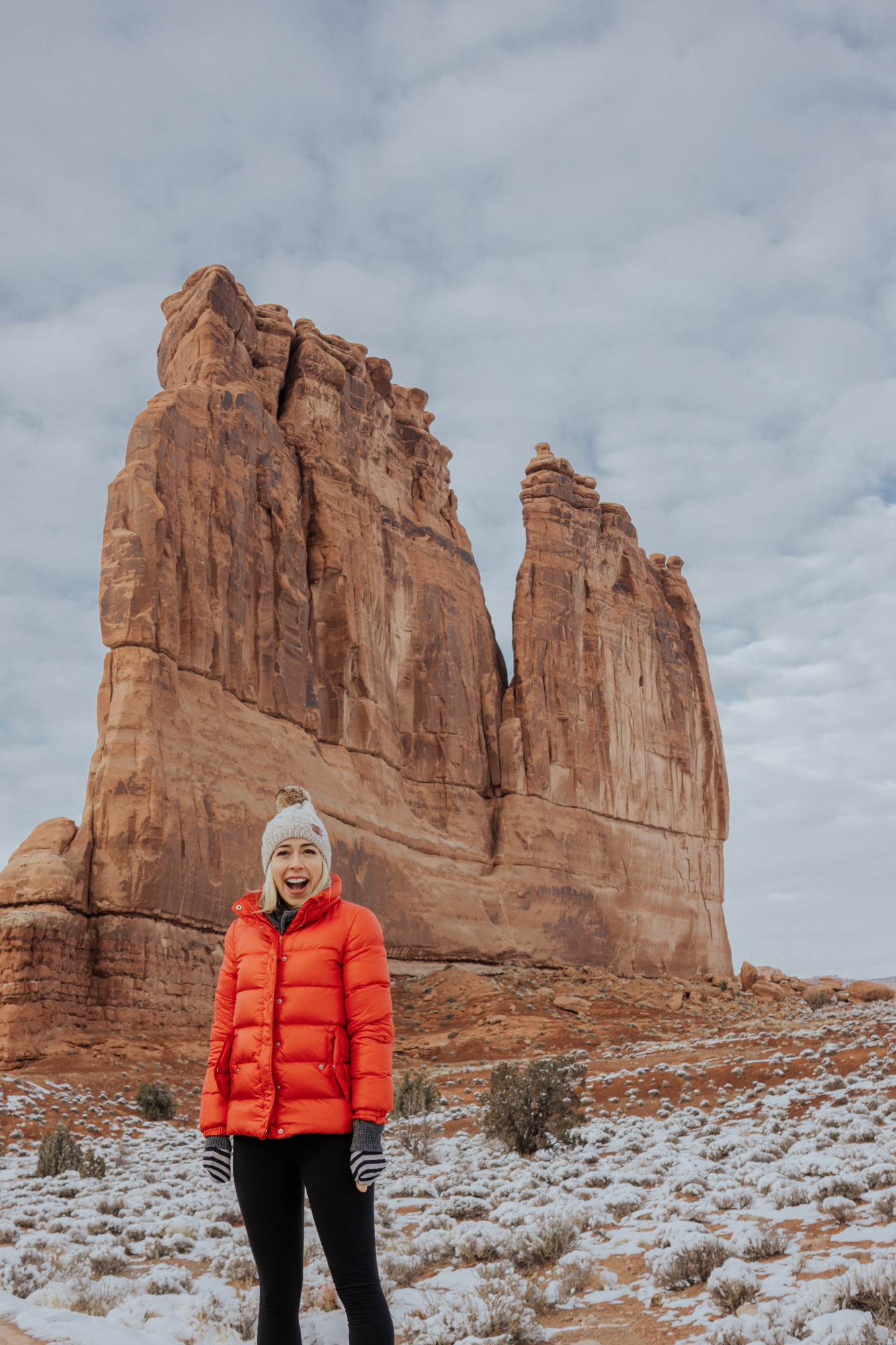 What you Absolutely Need to Pack for Visiting Moab in Winter
A Good Down Coat.
The red one I have in most of these pictures is from J Crew. I LOVE this coat! It is so warm, so comfy, so lightweight and I love the color. I learned that you want bright colors on your clothes for pictures in Moab in winter. It is linked here and below. 
Some Good W

inter Hiking Boots.
Make sure your boots are easy to walk in, are lined, go up to at least past your ankles, have good support, and good grip on the bottom. I hate the look of the boots I have on in these pictures but they are really warm. They are also ages old and I didn't want to spend tons of money on new CUTE boots when the ones I have are functional – just ugly. 
Some Hiking Poles (if it snows)
Most people had these walking up to Delicate Arch in the snow and I was a little jealous. I might have had a few slips haha. If you have hiking poles, bring them just in case there is a little mud or snow. It doesn't hurt to be prepared. Here are some really highly rated ones off of Amazon. 
Yaktraks or Something Similar.
Okay, so admittedly, I am not the most outdoorsy girl ever. (If you knew the conflict I had in deciding to NOT buy new snow boots because I think mine are ugly you would surely understand just how un-outdoorsy I can be. Also, I just realized I made up that word. Just go with it:)) When I saw these yak tracks around, it changed my world. In essence, these little gems are like snow chains or tires for your feet. Buy them in your size, and stretch them over the sole of your shoes when the conditions require more grip. These are absolutely genius, cheap, easy to take on and off and to carry around. I promise, just break down and have a set of these in case you need them. I have linked some here. 
I am trying to be all environmentally conscious as of late and I realize these are not the best (so please don't leave them on the trails). However, these little mini heat packs that can be slipped into gloves, shoes, or pockets are a game-changer. GAME CHANGER! If you have followed along for a while, you know that I have two massive titanium rods in my spine and the cold can really hurt and affect me. I had my hubby slip them down my back between my base layer and my middle layer and they saved me. 
Water.
This might seem counterintuitive but you will be hiking and exploring outside and Moab is dry. Take a refillable bottle. Have water. Be happy. 
Good Cold Weather Gloves.
I had a thin pair just for normal stuff and then I made sure I had some good skiing gloves for some of our longer hikes. I was happy I had both and could layer them if I needed them. 
A Warm Wool Sweater.
I have taken this H&M sweater all over the globe. My super expensive and fancy sweaters don't even compare to how warm this little dude is. I have linked it here and below. It is cheap, warm, easy to wash, and I swear it never stinks. Also, the color I have is the best, if Beckham manages to get his little grubbies on me… it hides everything. Bonus!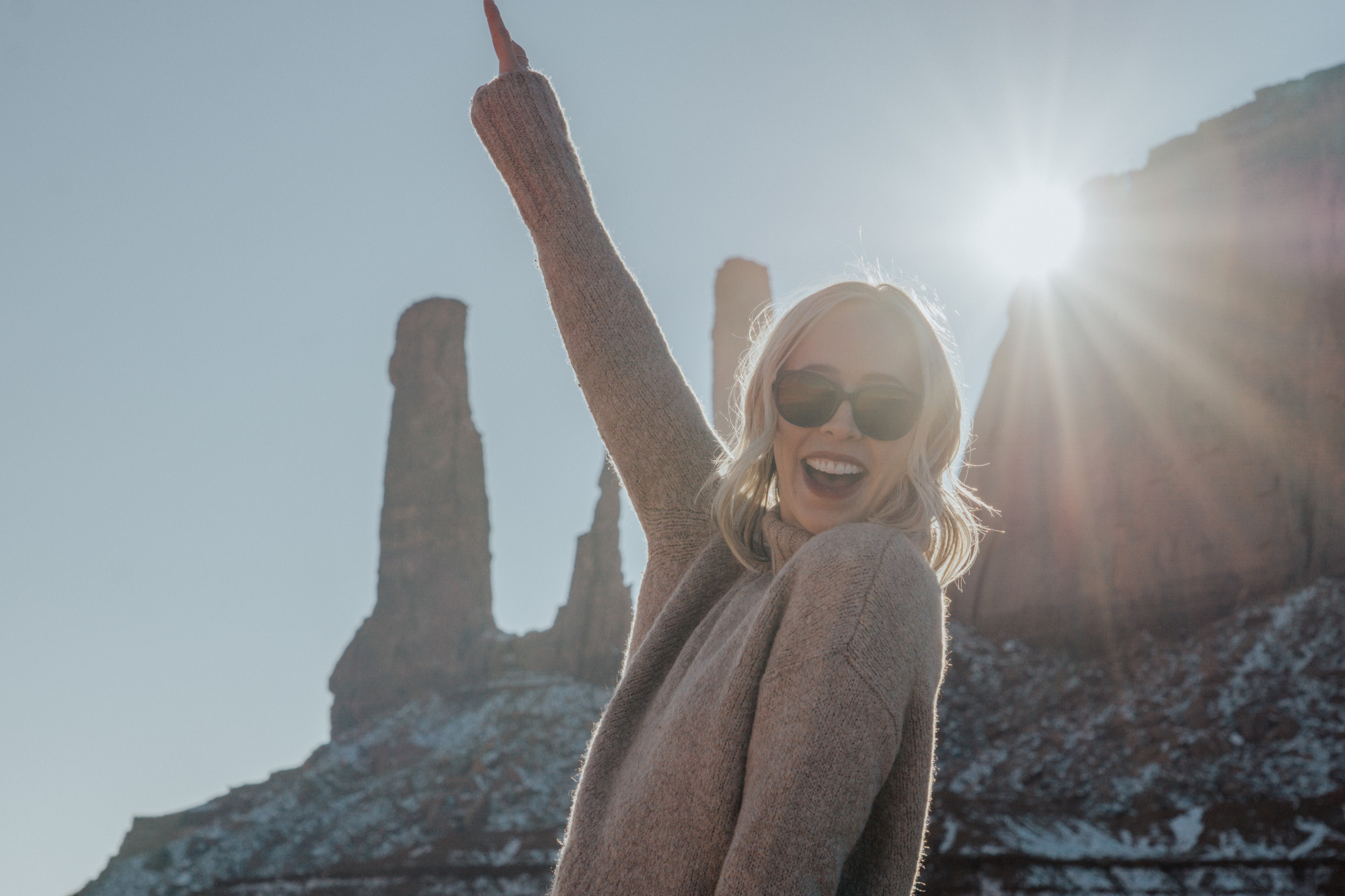 A Thin and Tight Base Layer.
I have had this inexpensive base layer from Amazon since I was living in the UK in the winter years ago and was FREEZING! It is comfy, lightweight, $17.00, and sometimes I even wear the shirt alone because I like it. You could splurge for a really nice under armor set too, but I like mine and it does the job. You can see it here!
Thick Pair of Pants.
I took my thick yoga pants and layered them outside my base layer and they worked great! My favorite pants yoga pants, BY FAR, are Prana. They are comfy, thick but not overwhelming, wick sweat away, and I use them year-round. I have linked them here and below.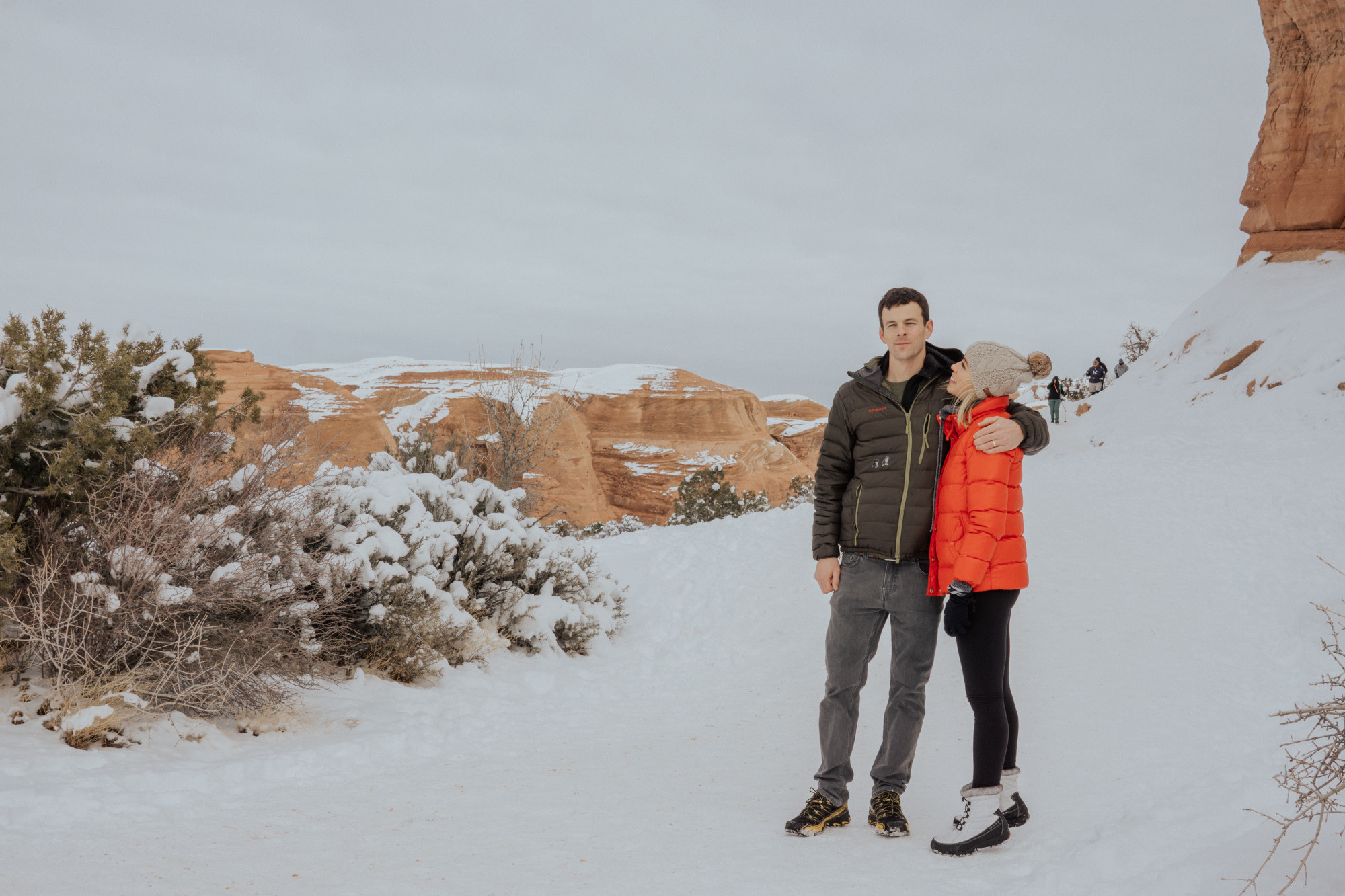 Some Warm Wool Socks.
I had two pairs of socks on at all times. I put a thinner wool sock as my base layer and then tucked my pants into my thicker calf-length sock. I used Darn Tough wool socks but really any decent wool sock would work great! I have linked some similar ones that I have here. 
A Good Wool Beanie.
The wool beanie I have on in these pics is one I literally got over 6 years ago in Scotland. It is starting to fall apart. You can't see it in these pictures, but I have had to knot up some loose ends on certain parts and I am devastated. It is the warmest, comfiest thing. So if you have any good beanie recommendations send them my way!! I have linked some other beanies I have and like here but to be honest, none of them have been able to compare to my random Scotland beanie (sad).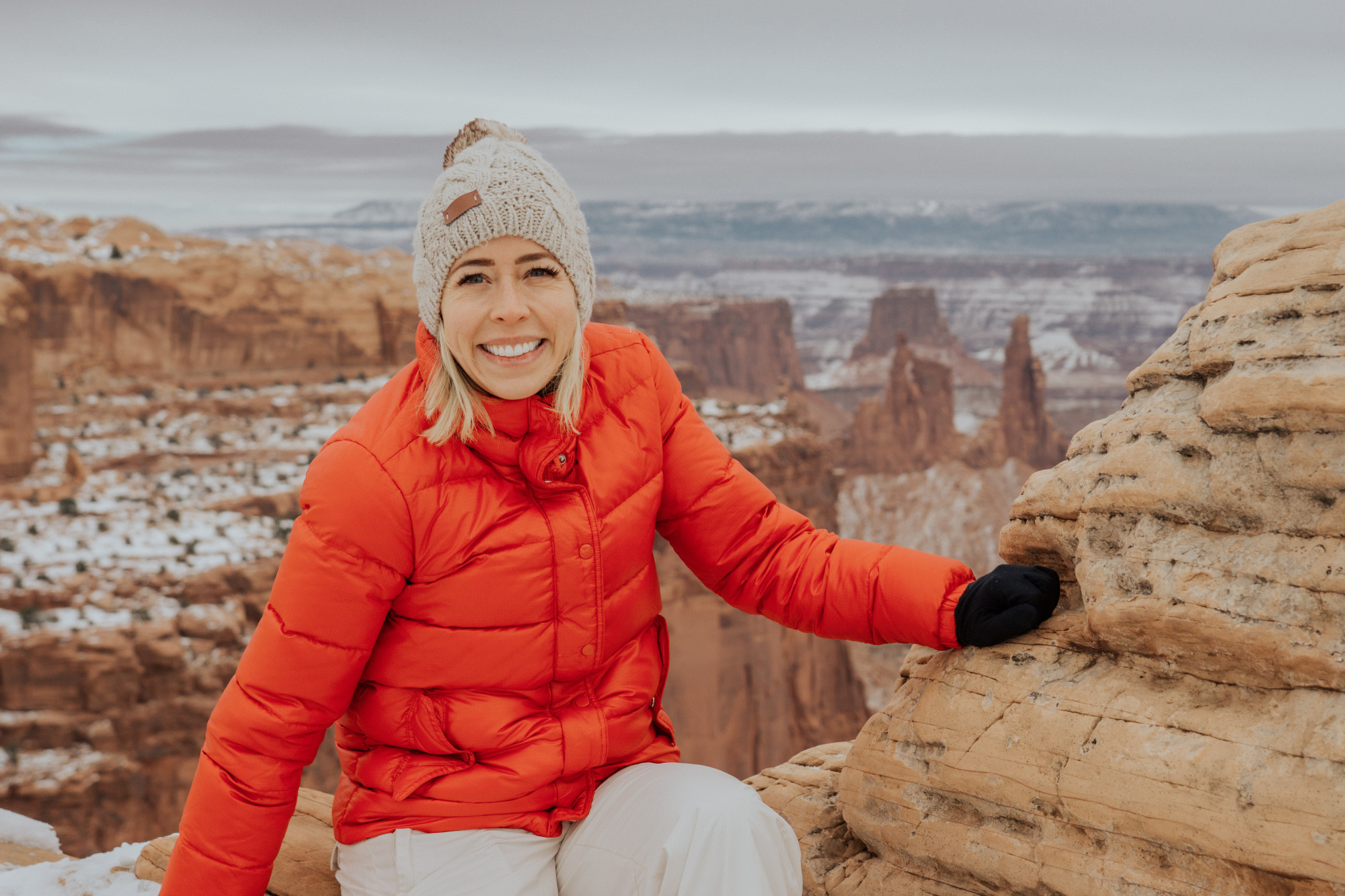 There you have it! Hopefully, this is super helpful and will make your trip to Moab a success! Tell us below what you take on cold-weather trips.
Xo,
Kam
Are you heading to Utah Soon? Don't forget to access and download our Delicate Arch Utah Coloring Page here!