Morocco is a land of wonders. We loved it and had such a wonderful time. It is full of exotic places with so many awesome things to learn about. This comprehensive blog post will cover all the Morocco travel tips you need to know, including how to prepare for a trip to Morocco, what to know before going to Morocco and how to stay healthy while you are in Morocco.  So read on travelers!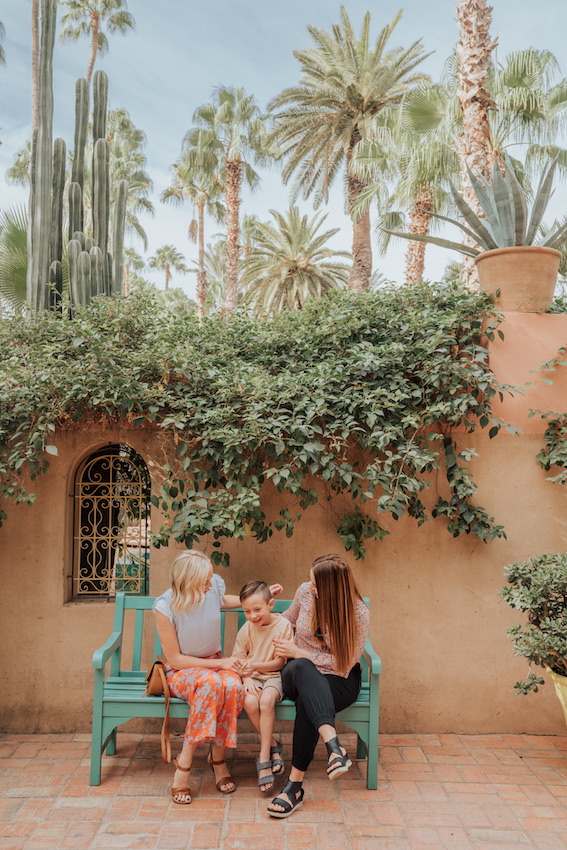 Let's start with the basics: What do I need to know before going to Morocco?
 Morocco is a very conservative country. Understanding the customs of this Islamic state will help you. Wear clothes that are functional, yet respectful of their traditional culture. Women should try to wear long, loose pants, and shirts that cover the shoulders and stomach. You do not want to attract unwanted attention. Men should also wear long pants. Always be respectful of different religions, customs and cultures.
Bargaining is expected. Street vendors will come up to you and be very persuasive sellers. Anytime you act interested in something, chances are that the seller might try to pressure you into getting it.  Be polite, yet firm and direct when you are bargaining. Do not ever feel pressured to buy anything and do not feel afraid to say "no".
Make sure your passport is up to date. All American and Canadian travellers should have a passport that is valid for at least 6 months after your return. Check this website if you have any further questions.
Time zone. Morocco is 4 hours ahead of East Coast time zone of the United States. This means if it is 8:00 AM in New York when it is 12:00 PM in Morocco.
Electronics. Electricity is 220 volts AC, as opposed to the United States which is 120 volts. A voltage converter and plug adapter is required. Outlets are type C and E. Wifi is available at most hotels and accommodations in the area.


Here we are at the market in Eusoria, which was this unique and vibrant coastal town! Beckham loved searching for all of the kitties and hearing the calls to pray.
Is Morocco safe?
This is one of the most common questions we get asked regarding travel to Morocco. Like every destination, you want to make sure that it is safe and that you and your family can have a great time. We compiled a few things that we personally felt like were REALLY important safety considerations either given to us by our local guides or that we learned on our own while there. This list is not comprehensive but is a starting point and will hopefully answer some of your questions and address any concerns you may have.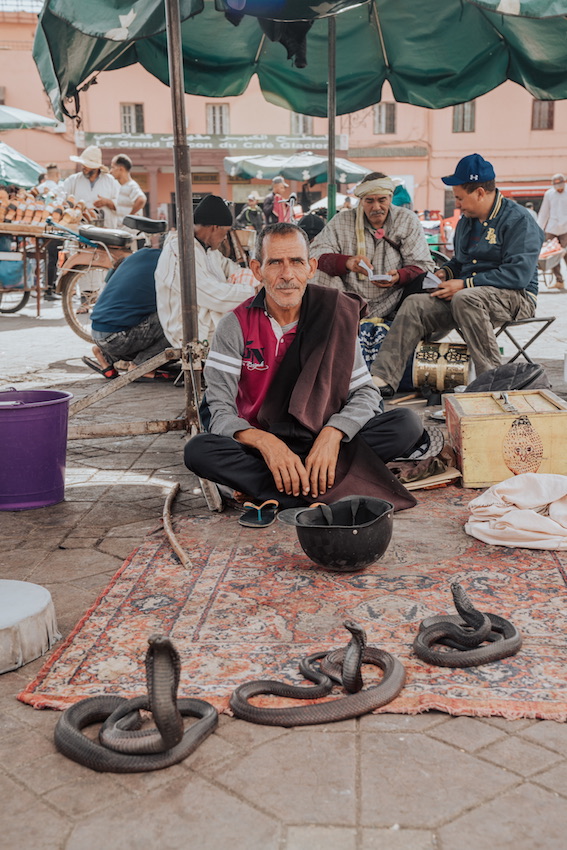 8 Safety Considerations Before Travel to Morocco
Is it safe to travel to Morocco? YES. However, before traveling to any destination, we recommend doing some research on travel.state.gov to find all the travel warnings and alerts. In our experience, Morocco is a safe country to travel to if you use caution. Here are some Morocco travel tips to keep in mind:
Do NOT travel alone. As a woman, I personally would NOT recommend going out alone, especially at night. Morocco is a very patriarchal country where women at times seen as second class citizens. If you do go out alone, use caution and stay in well known and well-marked areas. It is best to travel as a group and know where you are going.
Use caution when going out and about in the dark. Just like any other big city, Morocco is more dangerous in the dark. We recommend having a guide with you, especially when going out at night.
Do NOT accept directions from strangers. This is especially true in big cities in Morocco like Marrakech or Casablanca. Someone might recognize you as a tourist and suggest you follow them to the market, tanneries, or other popular places. Be aware that this will probably end with confusion and trying to swindle money out of you, with or without force. We recommend getting a guide, but you can also ask a policeman, your hotel or a shop worker to point out the directions. Remember don't let anyone lead you anywhere.
Be aware of your surroundings. Marrakech and other places in Morocco are bustling. There is a lot going on in the Medinas, marketplaces, and streets. It is not uncommon to have to dodge cars, motorcycles, bicycles, donkeys, and carts. People may also try to touch you and push past you. Always keep an eye on your belongings.
Do not hire a fake guide. There are a lot of scammers who pose as official guides. They may carry a fake ID and try to take you to shops or restaurants where they get a commission if you buy something. They will not be clear about the price in the beginning, but will demand a lot of money at the end of the so-called "tour." Avoid this scam by only working with tour agencies that have an official website or office that you can visit. Book through your hotel or through a well-known website.
Mind your step! There are a ton of steps and uneven or unpaved roads. Wear shoes that are comfortable and give you enough traction on loose gravel. Pay special attention to this if you are traveling with children as they may trip easily. Strollers are not an easy option in Morocco because of this.
Choose correct transportation. Be aware that people may pose as a taxi, but are not an official taxi. Only ride is official cabs and stay away from public buses as they can be overcrowded and a hot spot for pickpocketing.
Get a GUIDE. We highly recommend traveling with a guide. It can be hard to navigate a place you've never been to. We prefer to hire a reputable guide who understands the language, the culture, customs and layout of the city. Besides helping you feel safer, a guide can point out some of the local attractions that you may not have known about otherwise.
For more information on safety, see Travel.State.Gov to access the most up to date travel warnings in Morocco.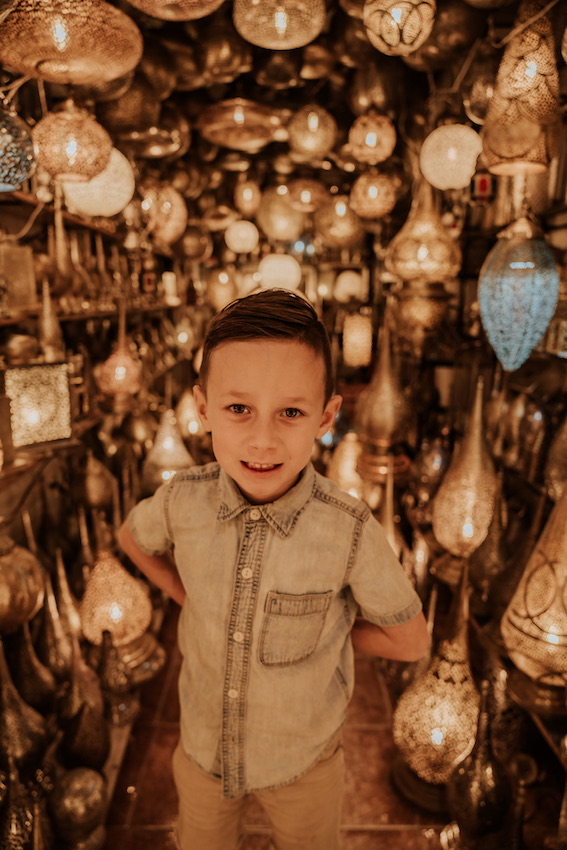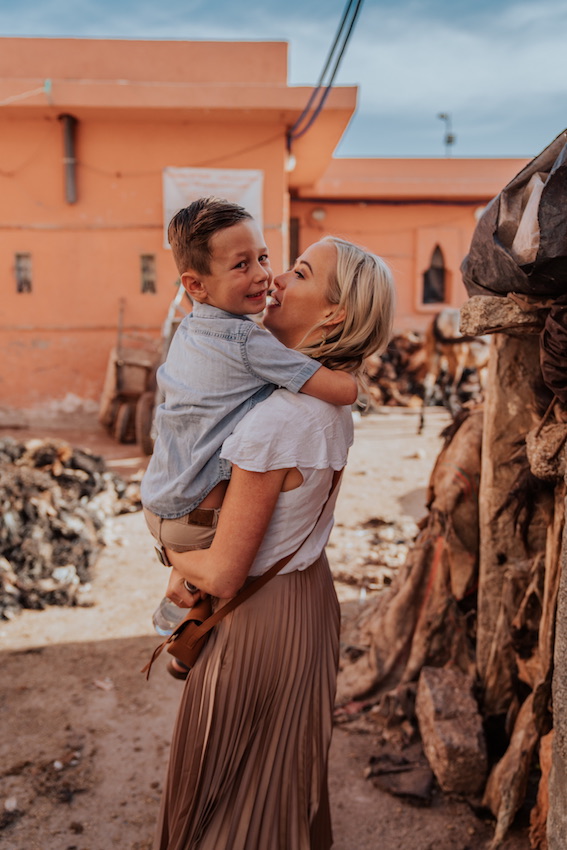 General Morocco FAQs
We had the absolute best time on our trip. We learned so much, ate some really yummy food, experienced a culture totally different than our own and made some really great friends. However, we did have a little bit of culture shock when we arrived and wish we would have been just a little bit more prepared on a few things. Which is why we are including this Morocco FAQ. We decided to look up the most asked questions regarding travel to Morocco and then answer them for you all in one place. That way you can be prepared, and ready to experience the best that Morocco has to offer with your family!
How many days should you spend in Morocco?
We recommend at least 9 to 10 days in Morocco. That way you can visit several different regions of the country at a good pace.
Do you need to tip in Morocco?
Most places require a tip. A lot of people will ask for money if you want a photo with or of them. Agree on a price FIRST and give them their money only after you have taken all of the photos you want, or they may keep raising the price.
Can you drink tap water in Morocco?
The tap water in Morocco is not safe to drink. Be very vigilant when eating and drinking in Morocco as unclean food and water can cause diarrhea and other illnesses. Stick to bottled or disinfected water, ice made with bottled or disinfected water, carbonated drinks, coffee, tea, and pasteurized milk. Stay away from tap or well water, ice and other drinks made with tap or well water. We always try to sip on a Coke every couple days to kill any bad bacteria in our stomach. We were advised to use bottled water even when brushing our teeth.
Be extremely careful with the raw foods you eat in Morocco, this especially includes fruits and veggies. Only eat fruits and vegetables you have washed in clean water or peeled yourself. Do not eat unwashed or unpeeled raw fruits and vegetables.
What currency should I take to Morocco?
The currency used in Morocco is the Dirham. Our biggest tip when it comes to the currency in Morocco is to carry cash with you. Most places are not equipped to handle credit cards. So use cash to avoid the hassle, the exchange rates with credit cards and to avoid credit card scams. ATMs are available in most of the major cities, but we recommend exchanging your money beforehand. You can also exchange money in your hotel or the airport.
Can I brush my teeth with tap water in Morocco?
Be very careful when brushing teeth in Morocco. Do not brush your teeth with tap or well water in Morocco. Brush your teeth with bottled or disinfected water.
What is the best time of year to go to Morocco?
The best time to travel to Morocco is in the Spring and Fall months. This is typically from March to May or from September to November. We traveled to Morocco at the end of October and beginning of November. Summer tends to have extremely hot weather, the Spring and Fall months provide weather that is pleasant and warm but not too hot. The weather when we visited was in the '80s which was perfect for going out and touring in the day.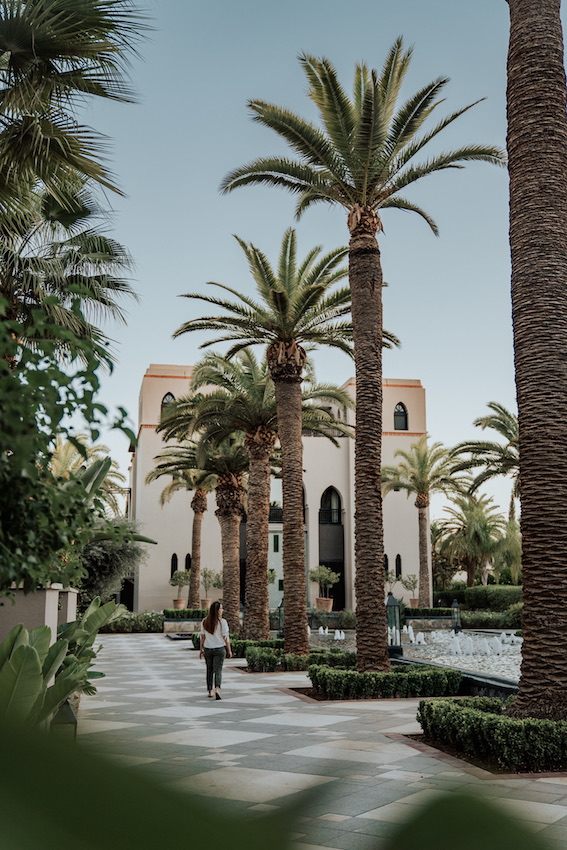 Does Morocco speak English?
The official language in Morocco is Arabic. People in the bigger cities and touristy areas are more likely to speak English than in the rural and small towns of Morocco, but don't always count on it. This is where a good tour guide can come in handy. Brushing up on a few greetings is also very respectful and recommended. "Salam Alaikum" with a smile is a great place to start.
What vaccinations do I need for Morocco?
Read the Centers for Disease Control and Protection to find all the vaccinations you need and consult your physician.
Do I need to wear a headscarf in Morocco?
Dressing conservatively in Morocco is required, but wearing a headscarf is not required. We suggest loose-fitting clothing, knee-length or longer skirts or shorts, and tops with sleeves. In the night markets, I would have liked to have worn a headscarf but I hadn't packed one ahead of time so I didn't wear it and we were fine.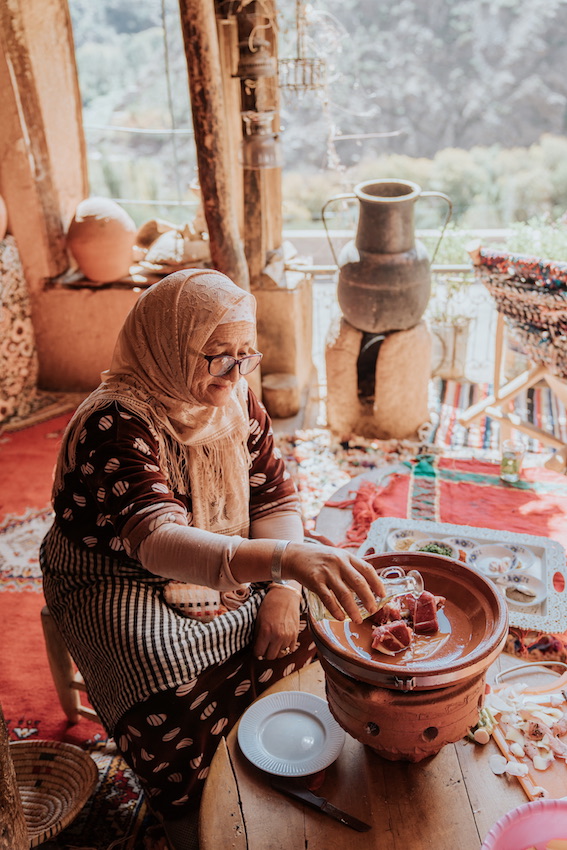 What is the main religion in Morocco?
The main religion in Morocco is Islam. This means there will be calls to prayer 5 times a day, and the nation itself is very conservative. Be respectful and brush up on your knowledge about Islam. Something to note is that Morocco does not have any active mosques that a non-muslim can enter. You are able to visit the courtyards and the architecture is stunning. However, respect that these are private and sacred spaces.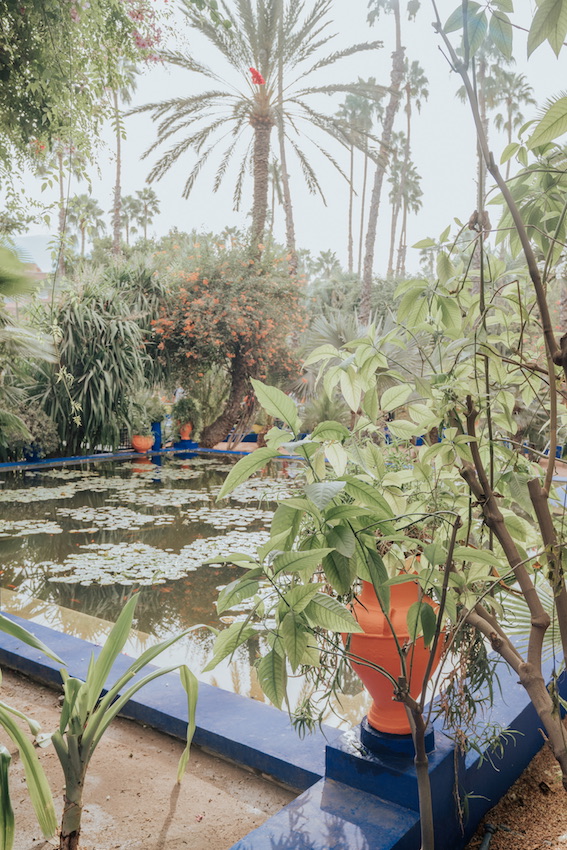 Have you been to Morocco? Thinking about going? Be sure to check out our super cute digital and printable Morocco Coloring Pages to prepare you and your kids for an upcoming trip!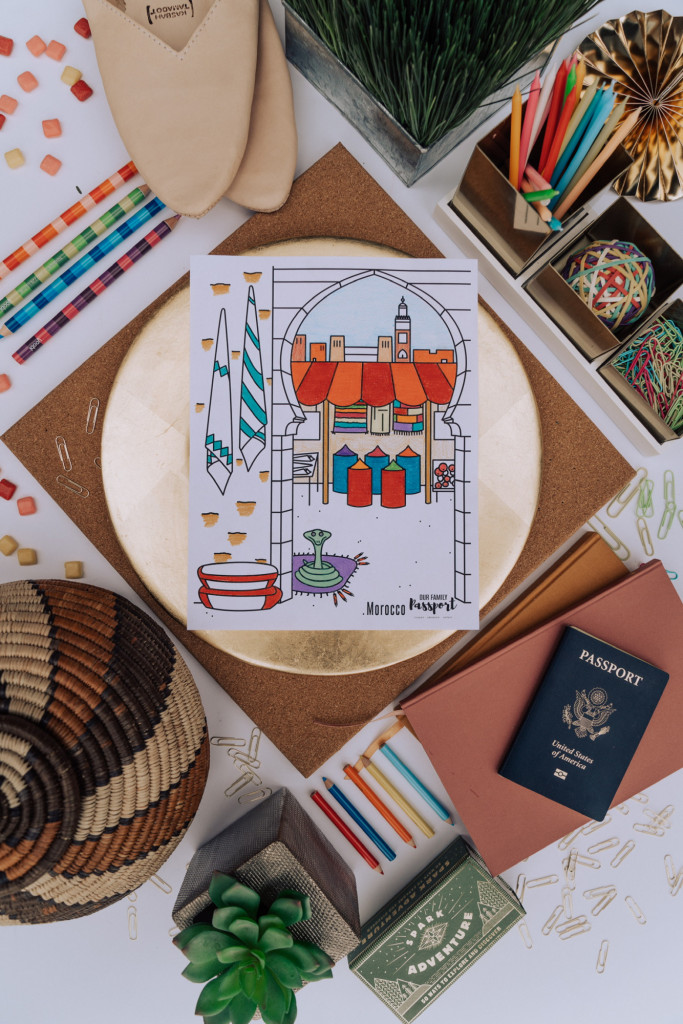 Click here for our Moroccan Market Coloring Page
Click here for our Moroccan Desert Coloring Page
I hope these Morocco travel tips gave you a good idea of how to prepare for and enjoy your venture to Morocco!
Hugs,
Sav
---
Like it? Pin it!