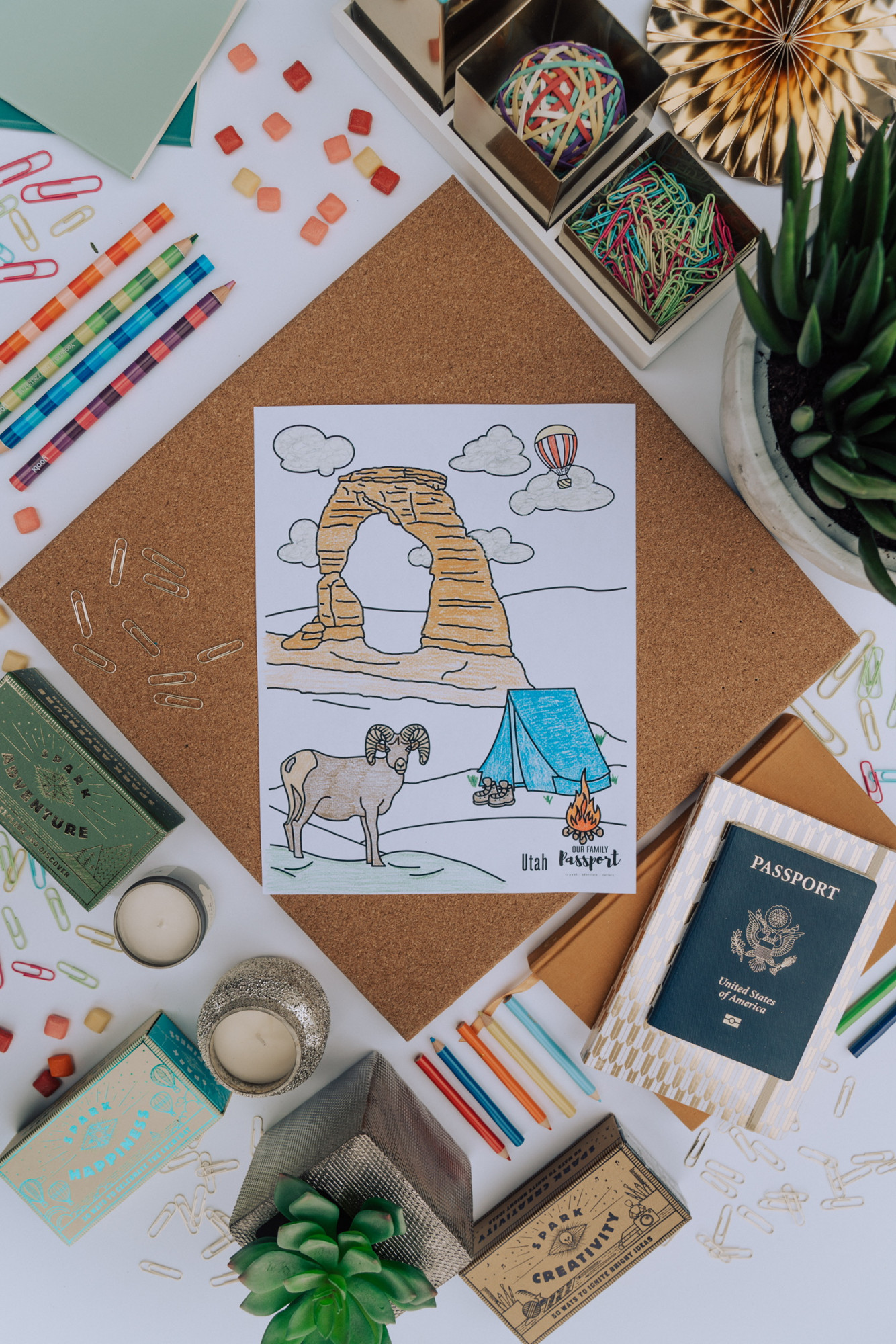 Utah USA Coloring Page – Delicate Arch
The natural splendor of Delicate Arch in Utah is out of this world! If your kids are studying geology and geography in school or will be traveling to the United States and Utah with your family soon, our Utah USA coloring page is perfect for you and is really easy to access and download. This nature coloring page will be sent in two different file formats. You will receive a digital coloring page so you can color online with your favorite app or as a printable coloring page file so you can print and color at home!
Our Utah USA Coloring Page
Modeled after one of our favorite National Parks, Arches, this Southern Utah coloring page features Delicate Arch in all her glory. As well as a campsite equipped with a tent, hiking boots, and a warm fire, a big bright sky, and the cutest little big horned sheep you ever did see! This printable and digital camping coloring page will provide so much fun and will help your child (or you:)) to learn about the gorgeous western US desert landscape or prepare for a trip to Utah.
What is the Coloring the World Movement and How Can You Join? 
At Our Family Passport, we think that traveling, learning, and strengthening bonds between families should all go together. So whether you want to color your pages at home with your family, or you are exploring on the go around the world together, it is our hope that our digital and printable coloring pages will provide you with hours of learning and fun together!
Get Your Coloring Page Now
Your purchase includes a total of 5 PDF and 5 PNG file downloads so you can download your nature coloring page to print or color digitally on your favorite device!
Want to join the Coloring the World Movement? Tag us with pictures of your coloring pages and the destinations you see together, by using the hashtag, #coloringtheworld! We love to see where these pages take you!
Also, we know we are a little partial since Utah is our home state… BUT, we love Utah and all that it has to offer. See our fun posts on Utah here!