Moab, Utah rocks, literally! With close proximity to Arches National Park, Canyonlands National Park, Monument Valley, and a plethora of other activities and sites it isn't a wonder that it is one of the most sought after destinations in the United States. Here's the thing, Moab's weather is … intense. It has super hot summers and cold winters which makes the spring and fall seasons really busy. Because of this, there really isn't a "best time to visit Moab" because each of the seasons has pros and cons. It is because of this reason you NEED to consider visiting Moab in the winter and you shouldn't let Moab in winter stress you out! I promise that with a little prep, and a good coat that Moab in winter is an absolute blast! This post is going to cover the best things to do in Moab in winter and how to make your visit a smashing success.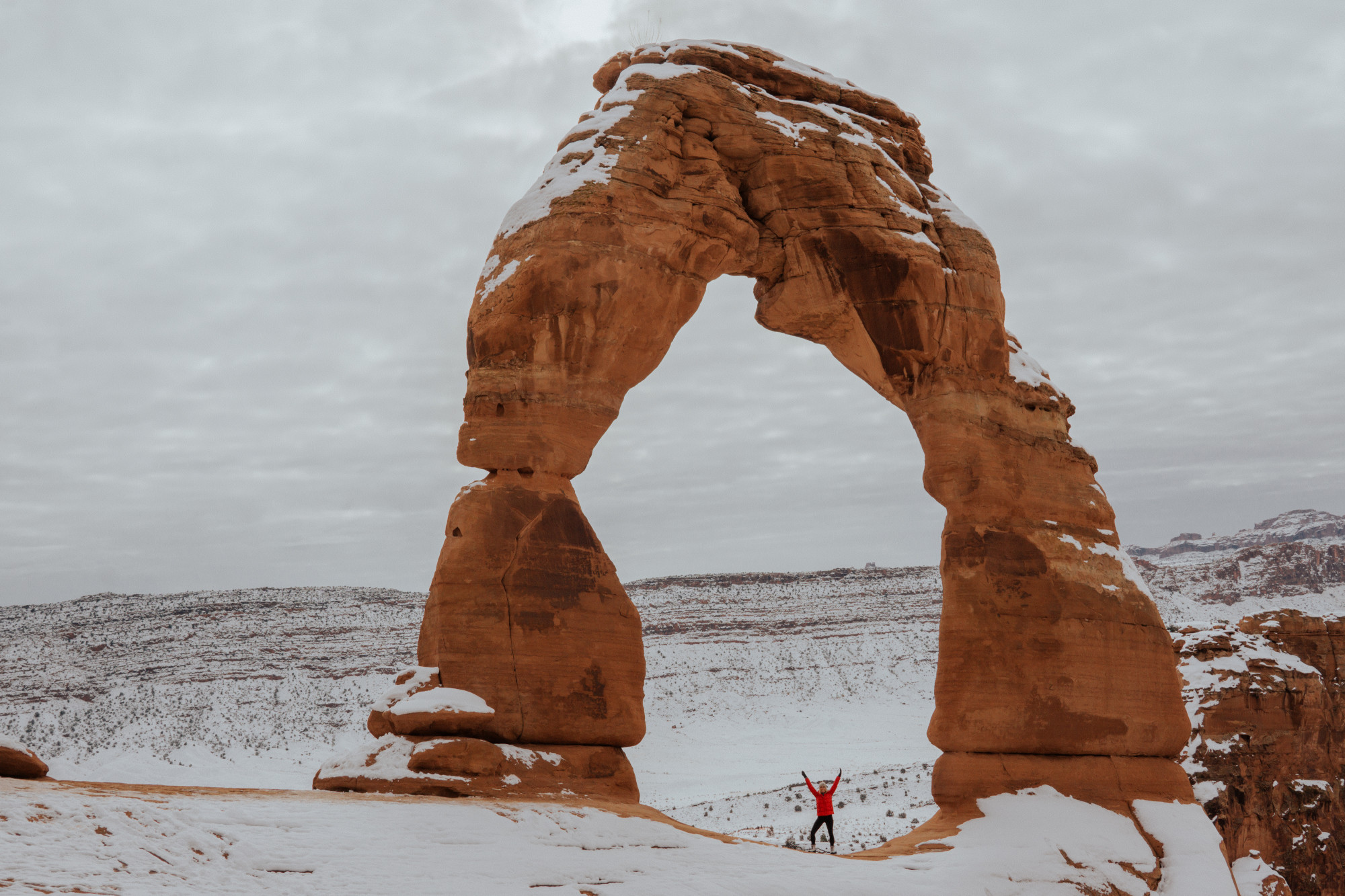 First, a few Common Questions about Visiting Moab in Winter
Can you visit Moab in the winter?
Ummm… heck yes, you can and you should! Most hotels and major restaurants are operating and the parks are open every day year-round. We visited in early January and the little town of Moab was totally functional and fun! 
Does Moab get snow?
Yes! Moab can get snow. However, don't let this get you down. If you happen to be in Moab when there is snow, consider yourself lucky! It will make for the BEST pictures. On average, Moab gets 244 days of sun and only gets about 9 inches of snow a year. So, while it does snow in Moab, it is highly possible you won't get much snow on your visit. Even if it doesn't snow, it could still be chilly, so be sure to be prepared (I will go over this in just a minute).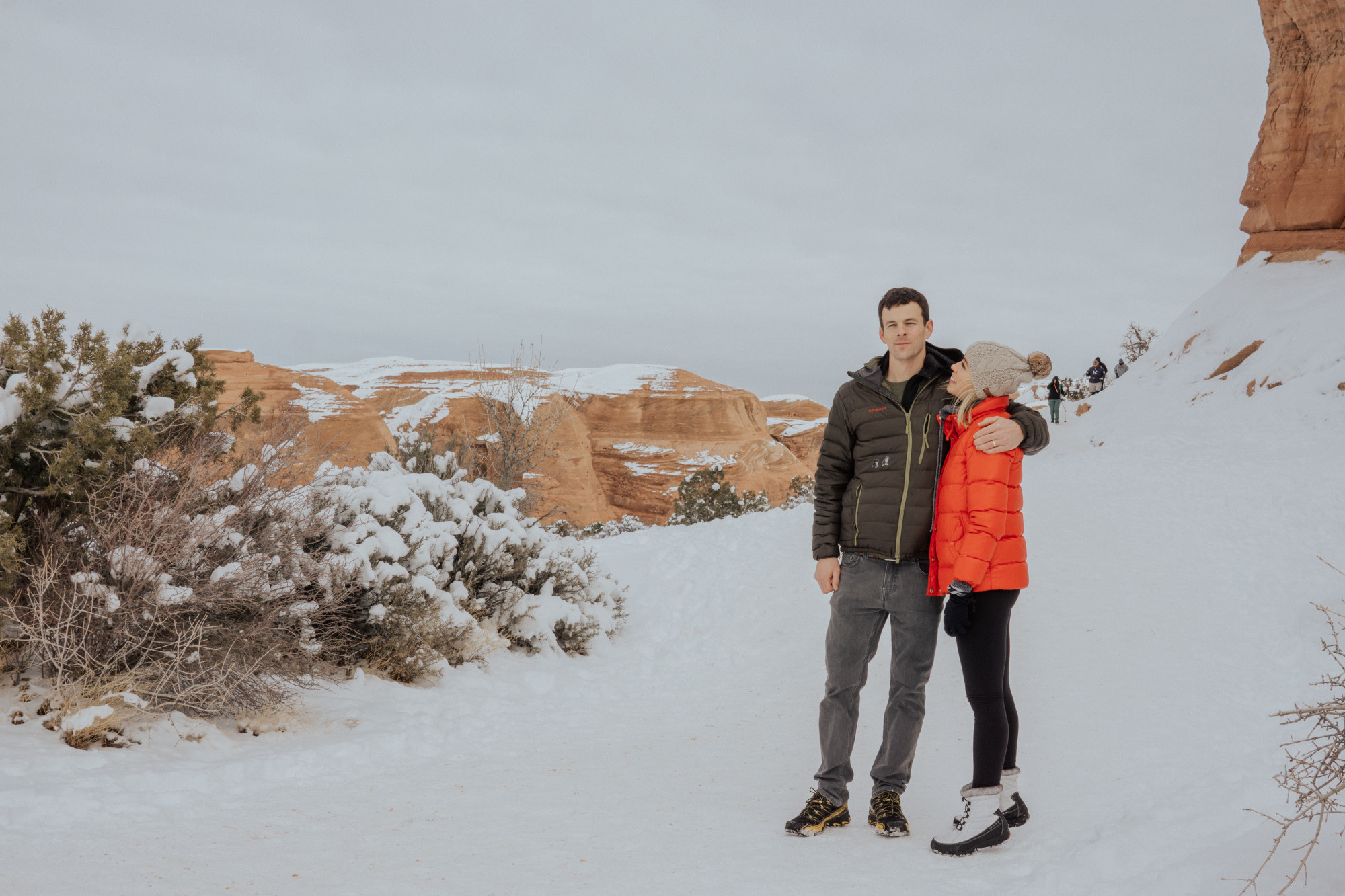 How Many Days Do You Need in Moab?
If you are traveling in winter, 4-5 days is perfect! It gives you at least one full day to visit each of the major National Parks nearby as well as gives the right amount of time for some jeeping, hiking, exploring, and taking a day trip out to Monument Valley.
What to Wear in Moab in Winter?
We have a whole post dedicated to the best gear, coats, and what you might need to pack in the off chance that it snows and is super chilly when you visit! Click to see the post here – The Complete Winter Moab Packing List.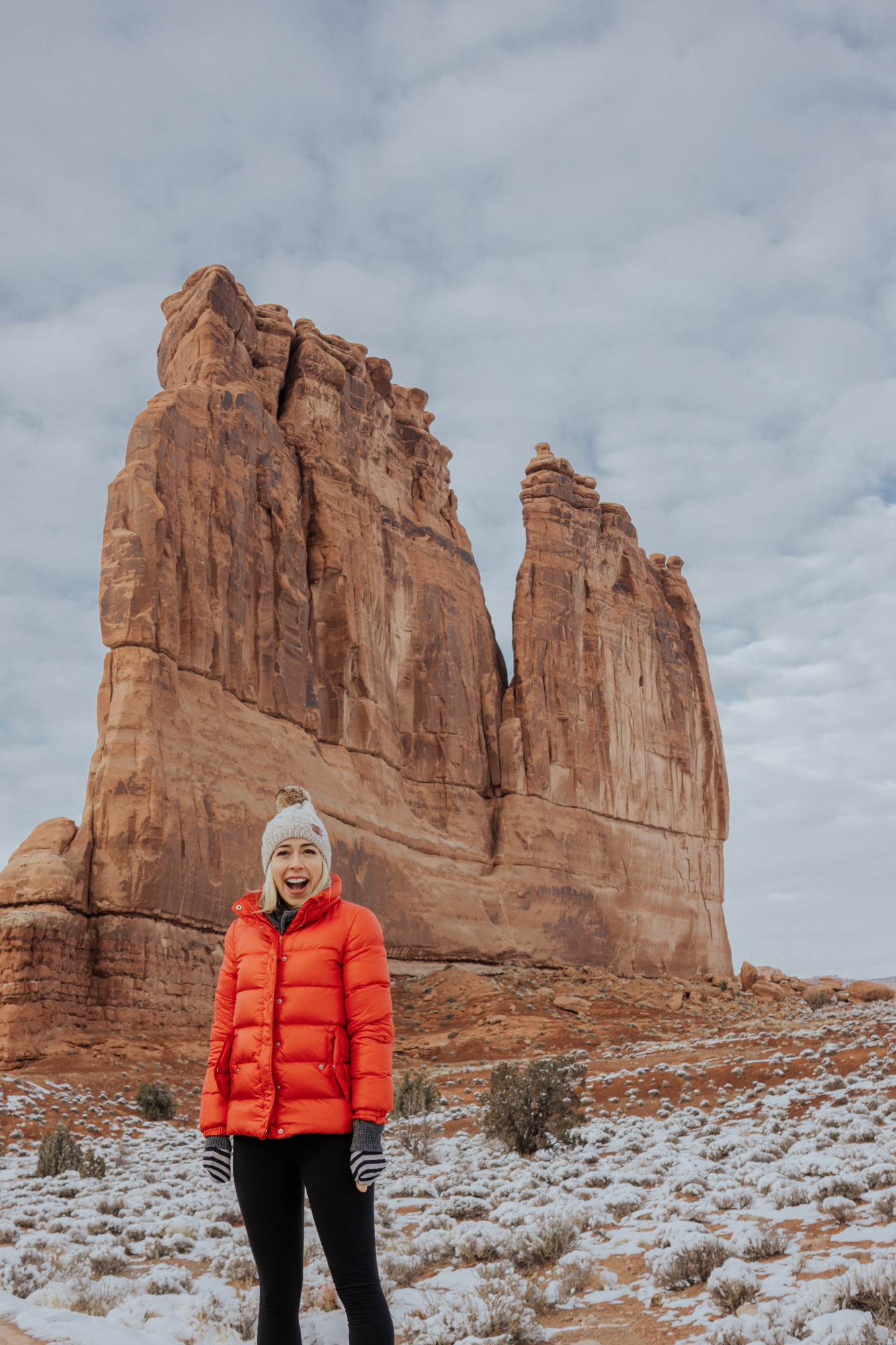 What is there to do in Moab in the winter?
Honestly, there are so many fun Moab winter activities. The favorites topping with loads of winter hikes, visiting the National Parks, seeing the prehistoric petroglyphs at Newspaper Rock, and a day trip to Monument Valley. We had planned on going jeeping on some pretty intense slickrock around Moab while we were there. However, because of the snow, we were told the road conditions were a bit dodgy and to consider a lighter and easier trail. We decided to take our own truck out and hit the easier muddy trails on our own. While it wasn't the slick rock experience we were hoping for, it was still REALLY fun. It should be noted that any sort of moisture really any time of the year jeeping and ATV riding on the slick rock is discouraged.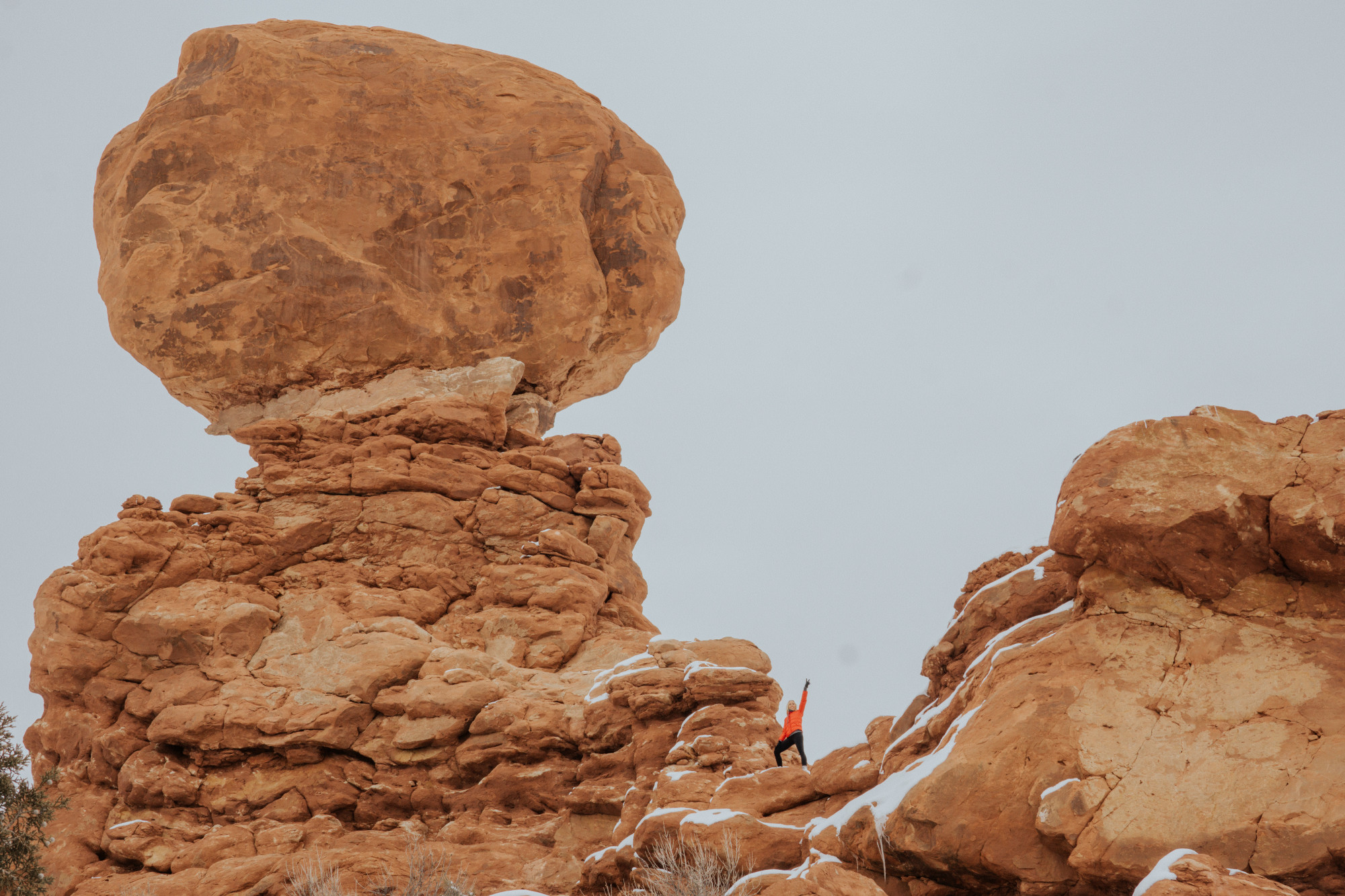 13 AMAZING Things to do in Moab in Winter to have a Killer Time
We spent a full day at both Arches, Canyonlands, and Monument Valley and had a blast at each! We suggest spending at least one full day in each park and then saving some time at the end of your trip where you can go back to the sites you maybe didn't get to explore as much as you wanted. Arches National Park is a stone's throw from Moab (5 miles in total) and takes, at most, 9 minutes to get from the center of the town to the park's entrance. Canyonlands is a little bit further out, but not by much. Canyonlands is about 31 miles from Arches and it takes about 25-30 minutes by car to access Canyonlands from Arches. Visiting Monument Valley is about a 2 ½ – 3 hr drive day trip drive from Moab, but is totally worth it. 
As I mentioned, we visited both parks when Moab had just gotten a massive snowstorm the day before we arrived. This made pictures – SO AWESOME!! Something to note about Moab is that it is really dry. Even though there was snow when we visited, we weren't wet at all. The snow was super fine and powdery. We hiked and tramped through the snow all day and were totally dry. 
The Best of Arches National Park in Winter
With one day in Arches, I have come up with a list of MUST do things if you are visiting in the winter. Arches  National Park is pretty big and if you are freezing you can see a good range of things from your car. However, we suggest getting out and walking to at least a few of these things!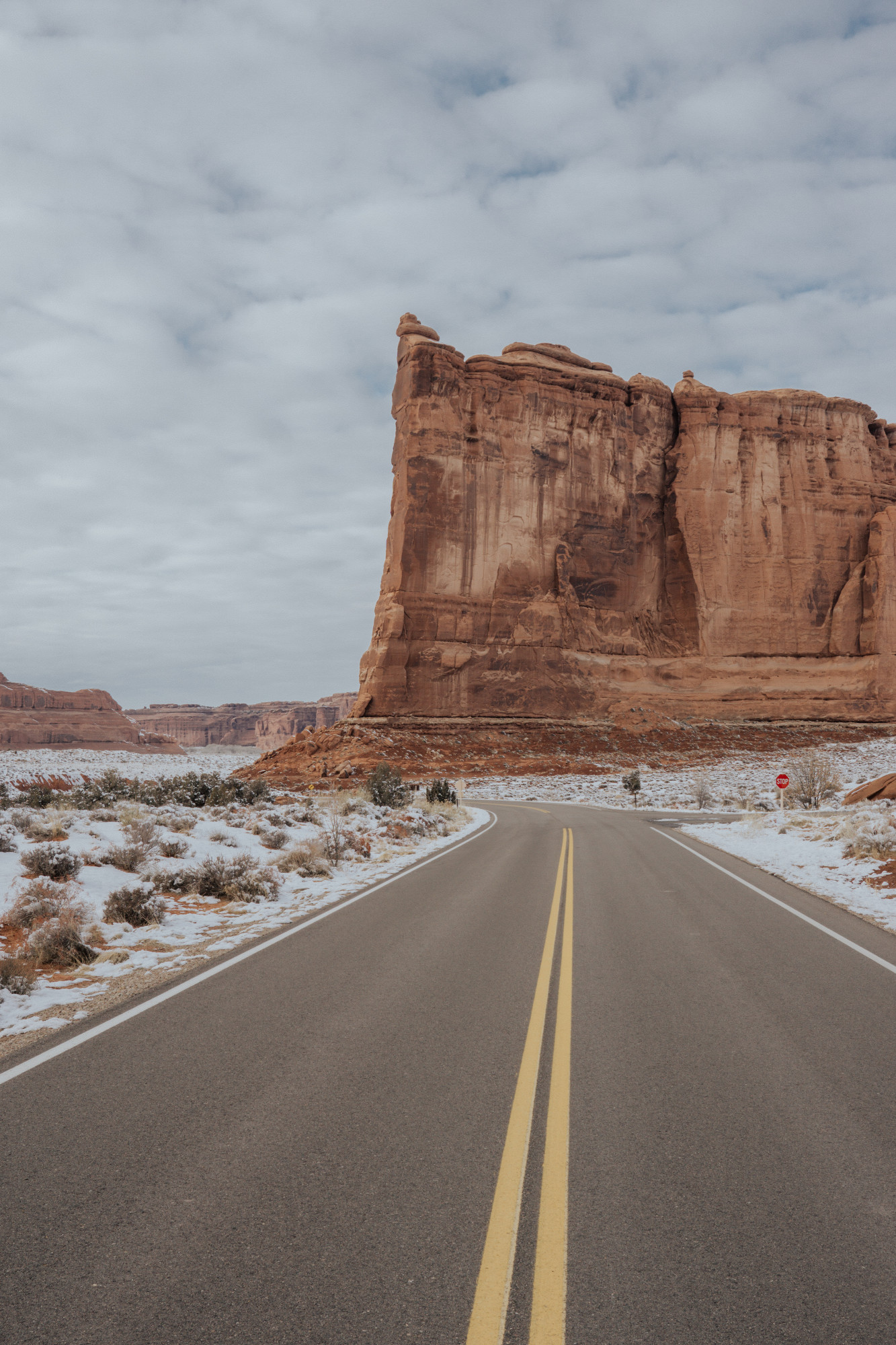 1. Delicate Arch –
Seeing Delicate Arch needs to be on everyone's list! It is so cool. The hike in winter was awesome. To access the main point of Delicate Arch (the view shown below) you have to hike to it. However, you can drive to Delicate Arch if you want to see a really pretty viewpoint from below the arch by car. You cannot get right up close to it without hiking. We chose to hike, even with the snow, and I am glad we did. It isn't hard but there are some steep parts and some drop-offs in a few areas. There were moms carrying babies on the chest and we saw several families with young children hiking. Be smart, take your time and this is something the whole family can enjoy!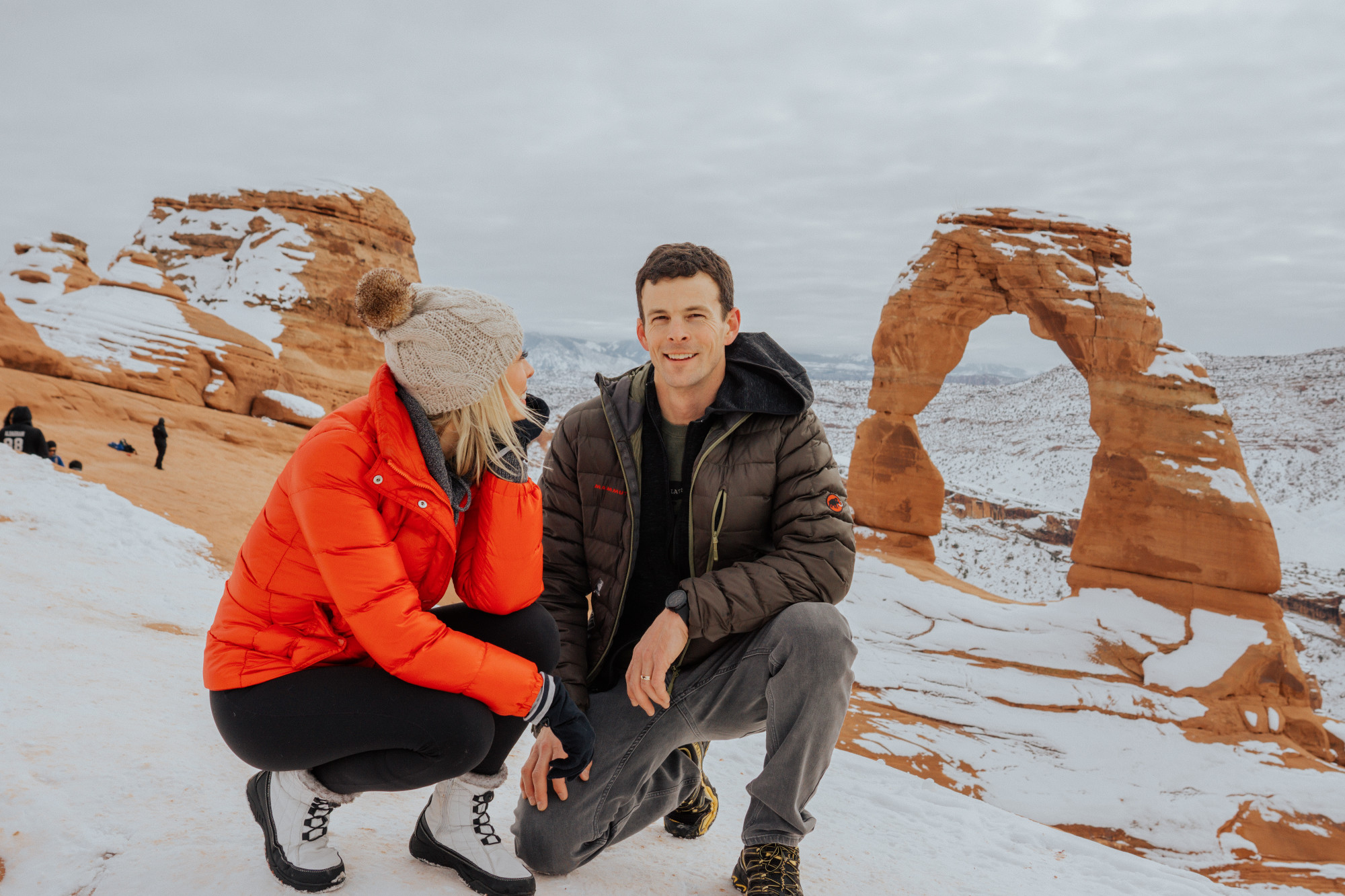 2. Balance Rock –
So fun and mind-boggling just how it was formed and lasted. Kids and adults alike can walk around and on this super cool geological formation. 
3. Devil's Garden to Landscape Arch –
This was one of my favorite hikes (walks) of the whole trip! It is super easy, more like a walk honestly, the views are amazing, and this is something even the littlest of kids would enjoy and have a blast. There weren't any steep drop-offs and there was tons of snow when we were there. At one point there were families who were sledding. It was beautiful and fun.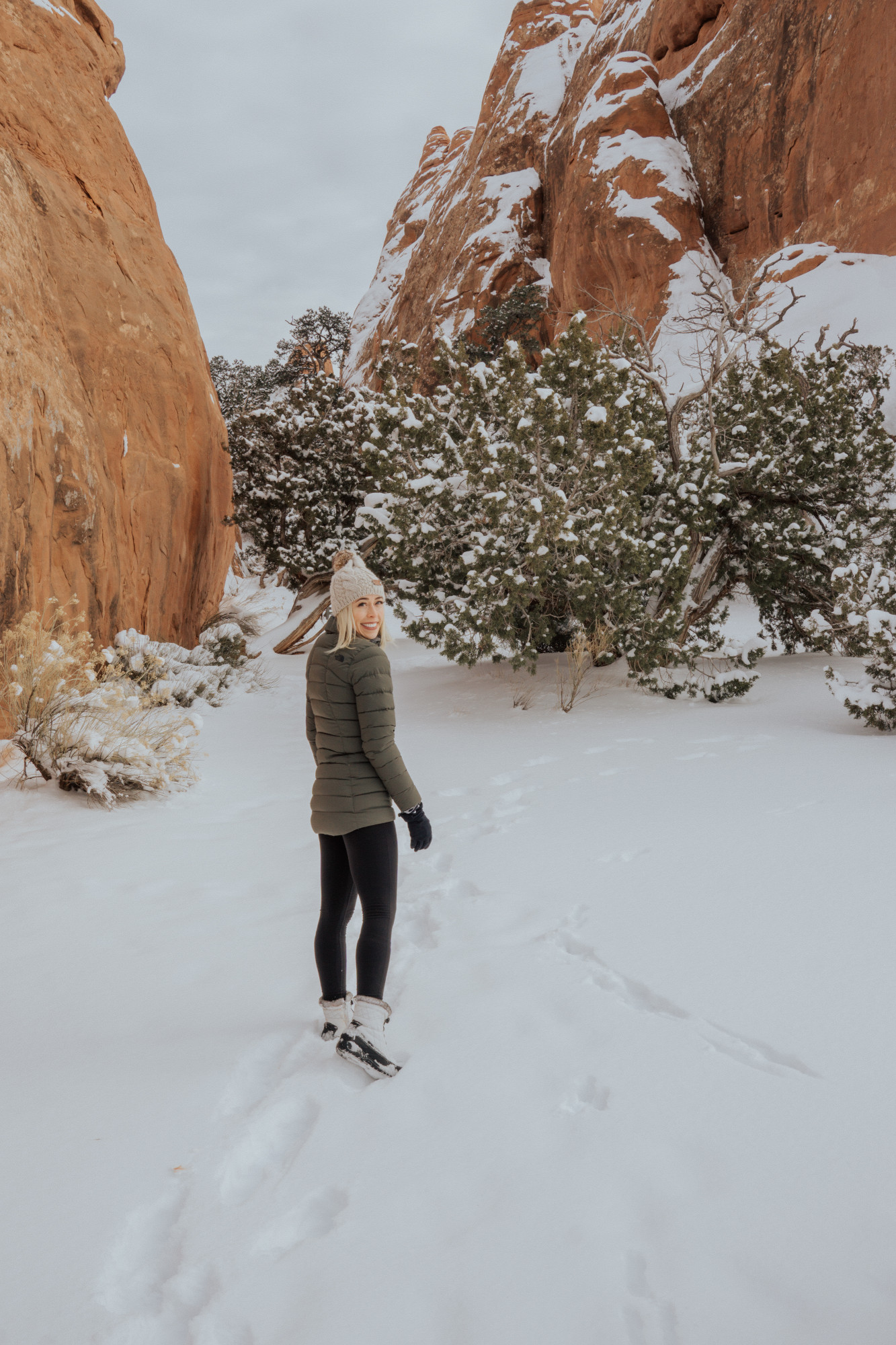 4. Park Avenue –
Take an easy and leisurely walk through massive megaliths that is perfect for families. Kids could run around and play in here forever!
The Best of Canyonlands National Park in Winter
Canyonlands is often overlooked by its more famous National Park competitor Arches, however, Canyonlands should not be missed. With deep gorges, towering cliff faces, arches, and hikes galore Canyonlands is a blast in the winter. One of the best things about visiting Canyonlands in the winter is the chance to see the red rock canyons juxtaposed with the bright white snow. For one day in the park, we suggest sticking to the Island in the Sky area and visiting the different walks, trails, and lookouts. We have listed three of our absolute favorite things to do!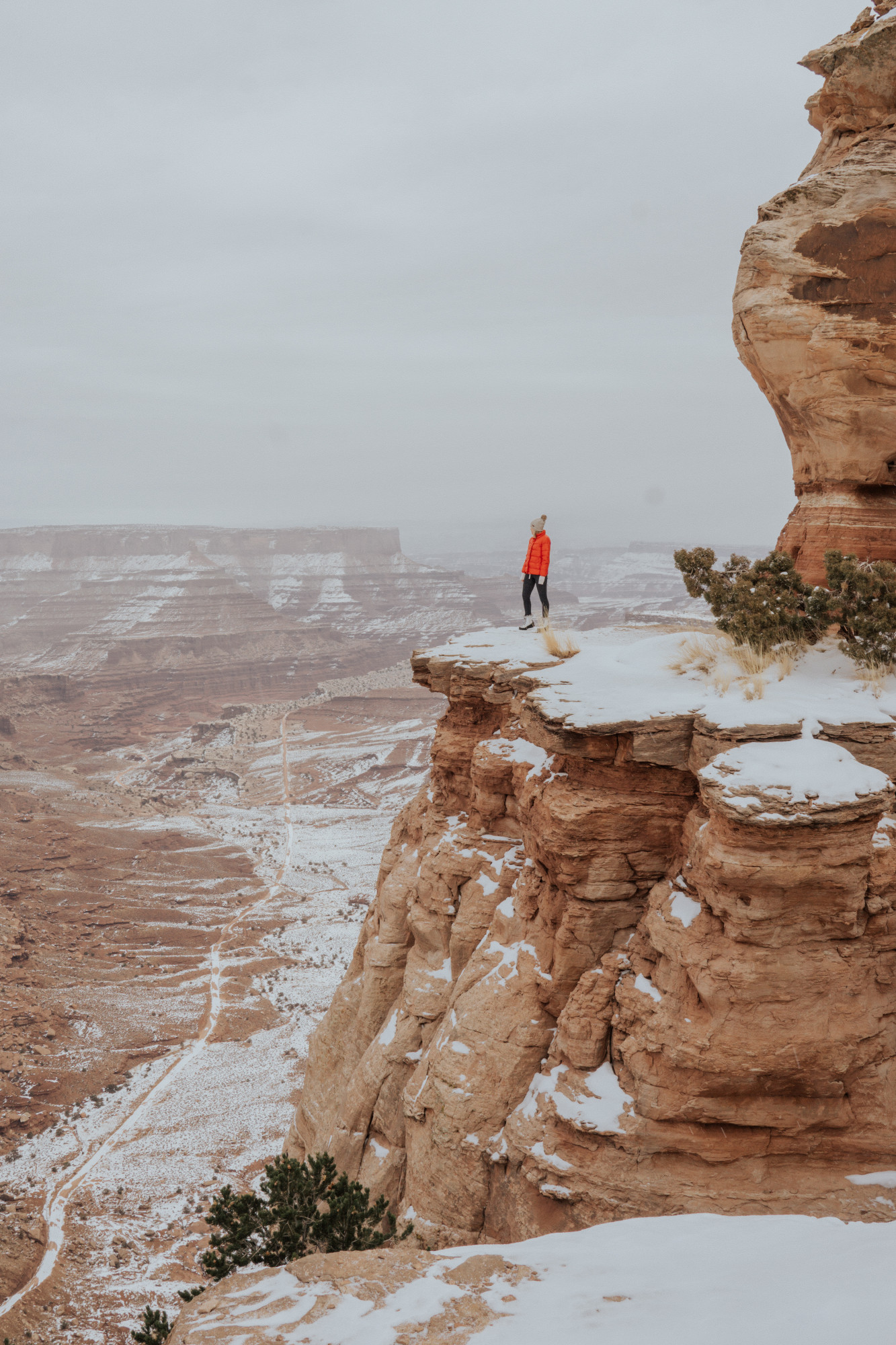 5. Shafer Canyon ViewPoint –
This perfectly situated viewpoint was my second favorite thing we did in the park! It was a super easy walk from the parking area, and there is plenty of space to walk around and get some of the prettiest views! One of the best things about visiting Canyonlands in the winter is that it was nearly dead and was not busy in the least. We had the whole viewpoint pretty much to ourselves. (It was perfect :))
6. Hike (or Drive) the Shafer Trail –
This single-lane winding road down into the canyons of Canyonlands National Park is both extraordinary and exhilarating. It is not to be missed, but it is also not to be taken lightly. The road which people usually drive was closed while we were there for winter weather conditions, however, hikes were allowed down on it. It was the perfect trail. Neatly manicured, and perfectly wide for hiking. Either way, regardless of if you can either hike or drive the Shafer Trail and all its viewpoints are at the top of our list! If going on a ranger-led hike is more your speed, you can review your options and sign up for one here. 
7. Grand View Point –
Looking down in the steep ravines carved out by the Colorado River and the mushroom capped rock formations with a big blue sky in the background is super accessible, close to the road (in case you are freezing) and awesome. Not more needs to be said, if you are driving around Canyonlands, this spectacular viewpoint needs to be on your list. 
8. Mesa Arch –
I have saved the very best for last! The quick little hike (less than a mile) to Mesa Arch was hands down my favorite thing we did all day in Canyonlands. It was astoundingly beautiful in the snow, easy, fun, and the reward at the end was next level. There were tons of cute little families bundled up in all of their snow gear making the hike as well. This hike and visiting the arch is something I can, without a doubt, suggest for littles and adults alike. The best part of the arch – looking through the arch out into the deep canyon and rock formations below as the sun peers through. AMMMAAAZZZIIIINGGG!! 
9. Willowcreek Dinosaur Tracks –
Just north of Canyonlands, down 2 miles on a relatively quiet dirt road are the spectacular theropod and sauropod tracks. I was surprised by how cool I thought they were (I have some conflicted feelings regarding the Dinosaurs but that is neither here nor there hahah). So cool! In addition, the Willowcreek area is perfect for bike riding and playing on the red rocks, or the snow (if there is snow when you are there). If you have little kids in your group, I highly suggest this! Pack a little lunch, and make a whole afternoon of it. It would be so fun to bring paper and some crayons and make some fun dinosaur tracks rubbings. 
Quick note: We had a hard time finding these. If it wasn't for a nice man out walking with his dogs who directed us we would have been so lost and turned around. It is about 2 miles off the main road. Follow the signs and keep going until you get to a little dirt road. It is totally drivable and easy and then you will see a massive sign that says Willowcreek Dinosaur Tracks.  
Take a Day Trip to Monument Valley 
Monument Valley is about a 2 to 2 ½ hour drive from Moab. Yes, that is a lot of driving in one day. Yes, it is totally, totally worth it! I have been wanting to go see Monument Valley for as long as I can remember. IT IS SO COOL! It feels like a different planet. The massive red rock buttes jutting out from a flat landscape makes me giddy. Guys, it is so so so awesome! There are some really fun hikes you can do. My top suggestion is the Wildcat Trail. It has some of the best views and is one that you can do unguided. One of the best things about the drive is it is full of cool stops and formations on the way!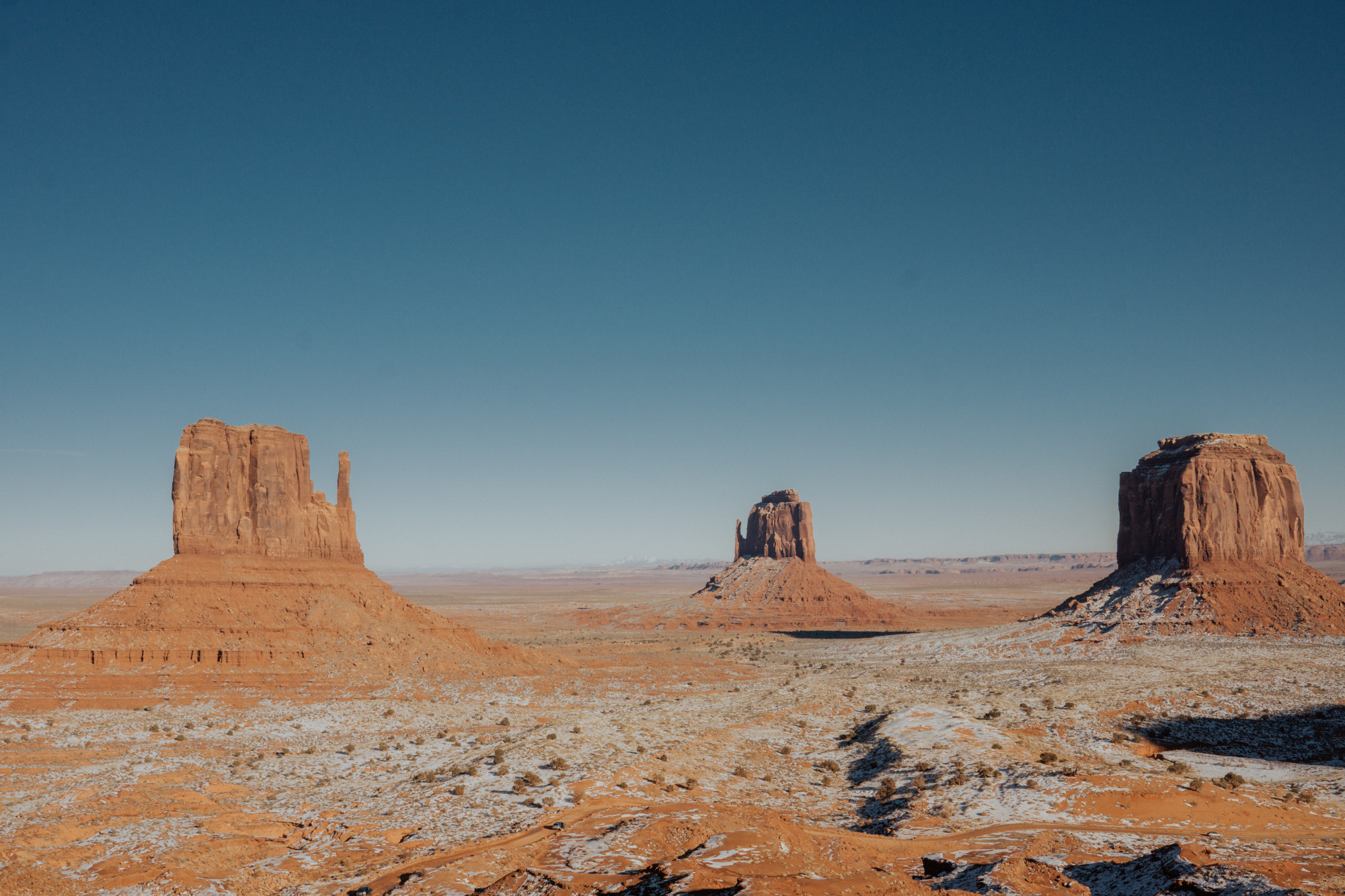 10. Go Explore the Monument Valley Buttes –
My most favorite thing we did was drive the Valley Road within Monument Valley. We chose to self-drive and I am so glad we did! The dirt road winding through the red rocks, viewpoints, and buttes was a blast. Note: Our car was destroyed with red mud after, so a car wash is a must. Also, 4 wheel drive is not in any way required but we were glad we had it since it allowed us to go faster and get muddy. We drove the trail twice and loved it both times. There is a 20 dollar fee to drive the trail. For visiting times, rules, and prices you can find out more on the Navajo National Website here. 
11. See the Goosenecks at Gooseneck State Park –
The Goosenecks are just 30 minutes away from Monument Valley and are on the way when visiting from Moab. The Goosenecks are similar to the famous Horseshoe Bend but not as well known. Created by an entrenched river meander cut out from the San Juan River, they are breathtaking. They are really impressive, especially considering the fact that you are able to take in the sites of the goosenecks and the silhouette of the buttes of Monument Valley in the background. The best part? Because they are not as well known, when we stopped for a visit, we had the whole area to ourselves! Yes, please :). 
12. Stop to See the Mexican Hat –
Yes, that is the name. Totally not P.C., but totally cool. In the tiny town of Mexican Hat, Utah is this unique stone that looks just like a sombrero tipping off a head. It is cool, unique, and super easy to visit. It is about 5 minutes off the main road on the way to Monument Valley. 
13. Go to Indian Creek and View Newspaper Rock-
A few hours outside of Moab on the way to Monument Valley is a unique valley called Indian Creek. With steep buttes and cracks, Indian Creek is a rock climbers paradise. However, outside of the rock climbing community, Indian Creek is relatively unknown and unvisited. It is a perfect place to escape the crowds, see some remarkable geological formations, and the best part is visiting Newspaper Rock. 
Newspaper Rock is a flat rock face with hundreds of scratched out petroglyphs dating back to possibly over two thousand years ago. The visual culture of the ancient people who once inhabited southern Utah is exquisite and distinctive to early Native American history. For me, this is a must-do when visiting Moab, and is a great way to introduce yourself or your children to ancient US history and art. 
A quick note about visiting Newspaper Rock-
Be respectful. There are spots where people have marked their names and dates on the rock face. Just don't. Also, be aware that touching the rock face can ruin the petroglyphs over time as well.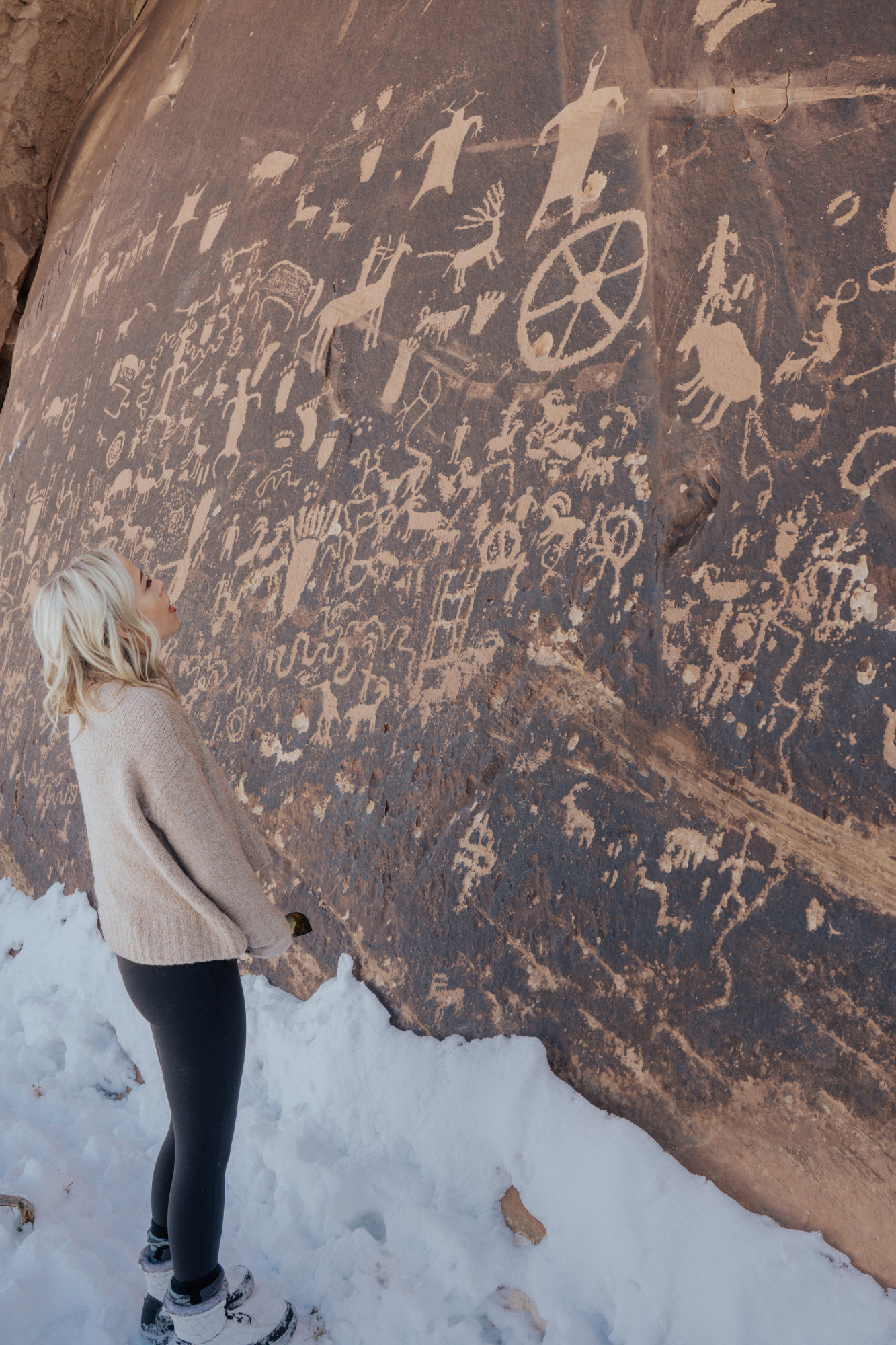 Honestly, we had the best time visiting Moab in Winter! There are some weather limitations but it reduces the crowds and allows from some other experiences that otherwise wouldn't have been possible. If you are considering visiting Moab in winter – DO IT! Dress warm, be prepared, and a little bit flexible with the weather, and have an absolute blast! 
XO,
Kam
---
Blog Links by Shani Smith