Thinking about or getting ready to go on a safari or visiting a destination for families in Africa? Lucky!!! (And we might be a little jealous – wink!) You do not want to miss our list of safari essentials that you would be remiss to leave home without.
Will you also be traveling around South Africa for a bit? Be sure to check out this excellent itinerary from The Boarding Call Blog on the fabulous South African Garden Route.
10 Safari Essentials You Do Not Want to Forget
To be honest, most of these I learned the hard way from, haha you live and you learn right???
I have just recently returned from an amazing Spring Break trip on an African Safari in Kruger National Park and let me tell you, we had the time of our lives.  It was one of the greatest adventures we have ever had!! We felt like some of our animal encounters were straight out of a Nat Geo movie – seriously!
*See some other family-friendly Spring Break Ideas here!
While we had a fabulous time, we also learned that there are safari essentials that mustn't be forgotten. And like I said, all of these things were items that I realized I wish I had had or wish that I would have been aware of before we had left. To save yourself some serious itch, (mosquito bites anyone?) or some corneal sunburns (okay I exaggerate), make sure to keep reading…
My 10 Safari Essentials
In the spirit of full disclosure, this list has a few Amazon Affiliate links. We only ever link products that we use and swear by. 
1-TWO Pairs of Sunglasses
Yes, two!!  I lost my only pair while in transit to the safari lodge.  I wasn't too concerned thinking that in their small gift shop I could just buy a cheap pair to get me through.  WRONG.  They didn't even carry sunglasses so I went without a pair of sunglasses for a few days until a new friend that we met at the lodge lent me a pair of hers.  The sun is bright and strong!  You do not want to get stuck without eye protection.
I usually like to have nice sunglasses but taking SUPER nice sunglasses on a bumpy, dusty, and rugged safari (that I lost) was not my best idea. So we have linked one of our favorite brands that offer lower prices and still have high-quality protection. My daughter has a couple of pairs for days at the pool and loves them. You can see them here – Quay Australia Sunglasses.
2-Prescription Glasses
Don't forget them, and if you need them, make sure they are secure. You don't want to loose them out on the bumpy game drives. You will need your eyes sharp for searching for the animals in the early morning and evening.
3-Sunscreen
Similar story to the sunglasses.  We misplaced our sunscreen somewhere before our arrival at the safari lodge and again, the little curio shop did not even carry sunscreen.  I ended up wearing long sleeves most of the time in an effort to avoid sunburn.  That was less than ideal, so be prepared.
We are kind of picky about sunscreen at our house, our favorite sunscreen is the Neutrogena Beach Defense Spray. You can pick it up at any grocery store or pharmacy or find it here on Amazon.
4-Closed Toe Shoes
If you are wanting to get out of the vehicle and do game walks, closed toe shoes are required. Bring some that you are fine with getting dirty. I spent most of the time in some Nike Trainers and thought they were perfect.
5-Light Weight Scarf
I noticed several of the guests wearing lightweight scarves around their necks and I figured out why.  When it's chilly, in the early mornings and after the sun goes down, they help keep you warm.  When it is hot and the sun is strong, the scarf protects your neck from the sun.  A little extra protection never hurt anyone:)
6-Binoculars
Please don't forget these and make sure they are of good quality.  We wished we each had our own pair but weren't sure it would have been worth the extra weight or space taken in our luggage.  In the end we did fine, one pair shared between two people should be adequate.
7-Camera
This is my number one safari essential! You do not want to have the experience of a lifetime and be stuck without a camera or with one that doesn't work. Whatever camera you own and are proficient at using, bring it.  If you are not entirely familiar with the settings and have to spend a good deal of time fiddling to get them right, you will miss fleeting moments and that would be soooo sad.  I only had my cell phone camera and that worked just fine for me.
A note on cell phones:
Some game reserves ask their guests to NOT carry cell phones, android phones, or iPads on game drives.  Unfortunately, these devices have been known to passively assist poachers in finding the location and identification of endangered animals.  It is so sad but true.
MAKE SURE YOU KNOW IF YOUR GAME RESERVE ALLOWS CELL PHONES ON GAME DRIVES.
8-Insect Repellant
Bring it and use it. The higher the deet, the better. My daughter also loves the lemon eucalyptus oil sprays and finds them more effective for her.  Some times of the year are worse than others for mosquitos.  While we were on safari in the first part of April, the mosquitoes weren't bad at all, but that did not keep us from slathering this stuff all over us; especially on the evening game drives!  Malaria??? No Thanks.
This is my daughters favorite natural repellant – Badger Natural Bug Spray, just to be on the safe side you might want to bring a couple of different types of bug spray. Call us crazy, but we have found that depending on where we are traveling, misquitos react differently to different types of sprays.
9- Hat
Bring either a short-brimmed safari style hat or a baseball type hat.  It will be beneficial against the sun's rays.  In my opinion, wearing a wide-brimmed hat would be rude and inconsiderate to the people who may have to sit behind you and see over you in the vehicle. Everyone on the drive wants a good sight of whatever it is you may be viewing and a wide-brimmed hat would simply get in the way. However, I didn't bring a hat and I was wishing the whole time that I would have grabbed one of my husband's old baseball caps.
10-Jacket or Coat
Bring a lightweight jacket (or a warm coat, depending on the season) for early morning and evening game drives.  It did get super chilly.  Dress in layers, so you can be comfortable throughout the day.
A Couple of Tips on Colors
*One other tip- Our safari ranger suggested for us to not wear white clothing while in the truck.  Not only do white articles of clothing get dusty and dirty (I ruined a cute pair of white keds), but while doing bush walks, it was required to wear darker neutral colors (think grey, green etc.) because it is less distracting for the animals.  I ended up wearing many of the same neutral clothes on the drives in an effort to avoid wearing my white clothing.
Also, at certain times of the year and at certain parks and countries the Tse Tse flies can be really bad! They are attracted to blues and blacks so you want to be prepared. Know if the reserves you are going to have an issue with the Tse Tse flies and pack accordingly. (The Tse Tse flies were not a problem where we were for this safari, but they can be. Do some homework and be prepared.)
I hope this list of safari essentials helps you prepare for a travel experience that is hopefully one of the best you will ever have!!! 
*Considering taking an African Safari? See our other post on why you should take the leap and go on Safari here!
*Click to check out our darling Safari coloring page for kiddos! Its so easy to download.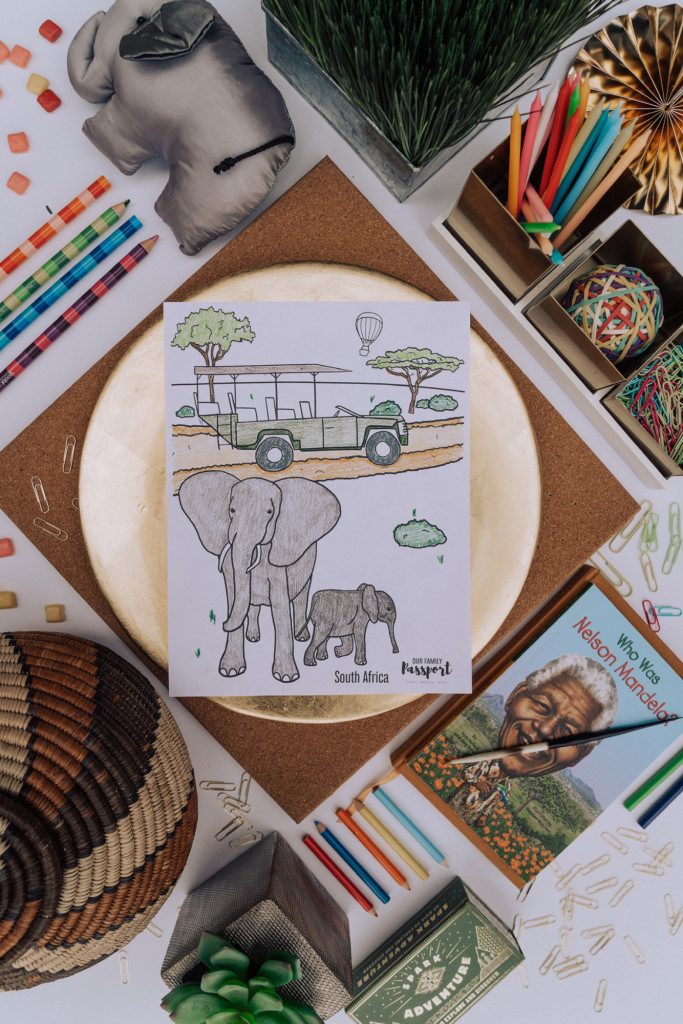 Don't forget to pin this and to subscribe to our newsletter and get your FREE #coloringtheworld starter kit NOW!