South Africa Safari Coloring Page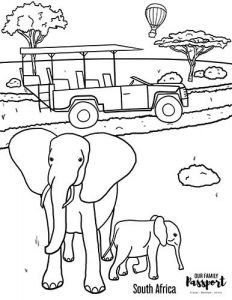 Greetings, rangers! We are so excited to present our South Africa coloring page! South Africa is a great country to visit for so many reasons, but perhaps the most popular thing to do in South Africa is to embark on an African Safari. This Safari Animal coloring page shows a typical safari car while on a game drive in the African bush. The Safari vehicle is positioned perfectly to view a mother and baby elephant. Cute, right?! This Elephant coloring page will help educate your children to show how Elephants are mighty yet gentle animals that demand respect. When out on a safari keep your eyes peeled for what is called "The Big Five". The Big Five is a collection of some of the coolest animals you can spot while on safari – the buffalo, leopard, elephant, lion and rhino!
What is the Coloring the World Movement?
At Our Family Passport, we believe that exploring, traveling and learning go together!  Whether you are looking for a fun, simple and inexpensive activity for your children, or you are about to embark on an adventure across the world, we feel confident our downloadable coloring pages for kids will provide you and your family with hours of enjoyment and learning!
What you Safari Coloring Page Purchase Includes
Your purchase includes a total of 5 PDF and 5 PNG file downloads so you can print, color, and download this baby elephant coloring page or any of our other travel coloring pages from all around the globe!
AND remember that we always want to hear from you and see where these pages may take you! Tag us on Instagram with your pages using the hashtag #coloringtheworld
African Safari is one of our favorite adventures we have EVER experienced. We highly recommend it. Safari is an unforgettable experience, but one that requires preparation. Not to worry, we will tell you what you need to do to prepare. Check out our 10 Safari Essentials You Do Not Want to Forget and 4 Reasons Why Safari Rocks! You will love it. Prepare for your African adventure by coloring our Africa coloring page now.