Utah Activity and Coloring Book
The gorgeous state of Utah is magnificent, diverse, and is filled with fun things to do as a family! If your kids are studying about Utah or you will be traveling to Utah as a family soon, our printable and digital Utah Activity and Coloring Book is perfect for you and is really easy to access and download. This Utah coloring book will be sent in two different file formats. First, as a PNG digital coloring book so you can color online with your favorite app or as a PDF printable coloring book so you can print and color at home! 
What this Utah Coloring Book Includes
This coloring book features our most favorite things about our home state! In 36 pages, this geography coloring book will take you from the beauty and wonder of Southern Utah to the unique capital of Salt Lake City and almost everywhere in between! 
Our Utah activity and coloring book also has matching activities, mazes, patterned pages, and a bunch of fun Utah facts for kids!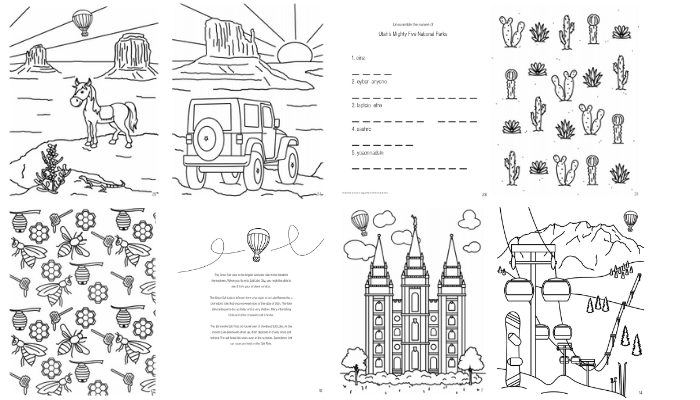 What Your Purchase of this Utah Activity and Coloring Book Includes
Once purchased, you will be redirected to access the Utah Coloring Book download links housed on a private and secure Google Drive server. From there, you can download them to your device. Your purchase includes a total of 3 PDF coloring book downloads and 3 PNG File zipped coloring book downloads.
Purchasing and Downloading Information
The transaction will take place through PayPal. If you do not have a PayPal account, no worries! Click purchase, then when directed to the PayPal login, scroll down and click check out with credit card, enter your information, and you will be redirected to the download links!
Don't forget to tag us with pictures of your coloring pages and the destinations you see together, by using the hashtag, #coloringtheworld! We love to see where these pages take you!
What is the Coloring the World Movement and How Can You Join? 
At Our Family Passport, we think that traveling, learning, and strengthening bonds between families should all go together. So whether you want to color your Utah digital and printable coloring book at home with your family, or you are hoping to travel to the Western United States soon, it is our hope that our Utah activity and coloring book will provide you and your kids with hours of learning and fun!
Also, we know we are a little partial since Utah is our home state… BUT, we love Utah and all it has to offer. See our fun posts on Utah here!