A lot of times when we are traveling, people ask us where we are from and they don't easily recognize our little hometown in Utah. But, most often, they've heard of Park City, UT. 
And why wouldn't they? It's Utah's hip town full of good food and fun activities. It hosted the 2002 Olympics and is frequented by the hottest celebs. We're telling you, either summer or winter, there is something special about Park City. 
And because it is so special, we've created this blog post to show YOU how you can spend a day in Park City with kids.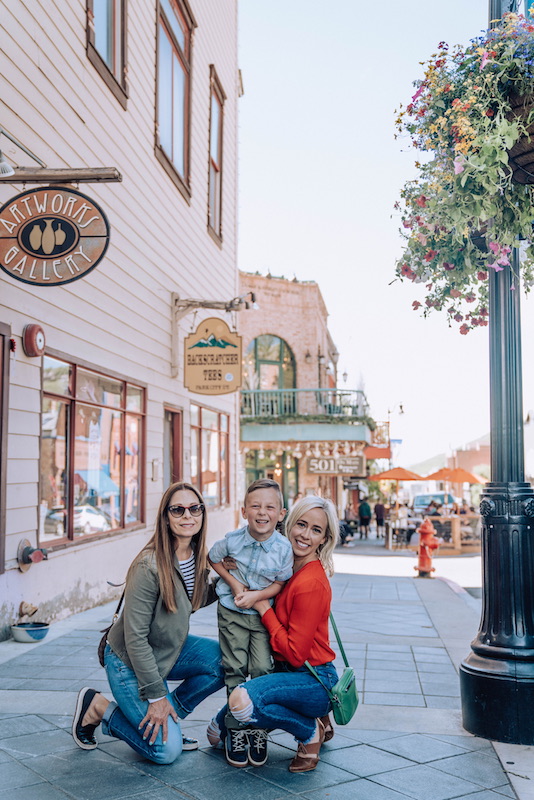 First Stop: Park City Mountain Resort
Park City Mountain Resort is home to one of Utah's many incredible ski resorts and trust me, it's just as fun in the summer as it is in the winter. Actually, I think it is MORE fun in the summer because my poor circulation makes me a fair-weathered skier at BEST. And considering I haven't been skiing in 3 years shows that conditions have to be perfectly right for me to spend any serious time out in the snow. Besides, there are a lot of things to do in Park City besides skiing. 
ANYWAY, Park City Mountain Resort includes some of the most fun summer activities that Utah has to offer, in fact, they have some of the best things to do in park city with kids. Here is a list of our favorites:
Park City Alpine Slide
The Park City Alpine Slide is awesome. Just imagine 3,000ft luge style slides down a mountain. We've been to multiple alpine slides including the one in Whistler, Jackson Hole, The Great Wall of China, and even Switzerland and this one is still one of our favorites. Children between 35-47" must ride with an adult. To be the driver on this ride, you have to be 16 years and over 48" tall. Keep this in mind, especially if you are bringing multiple children. Single online tickets for this ride cost $12-$22 per person.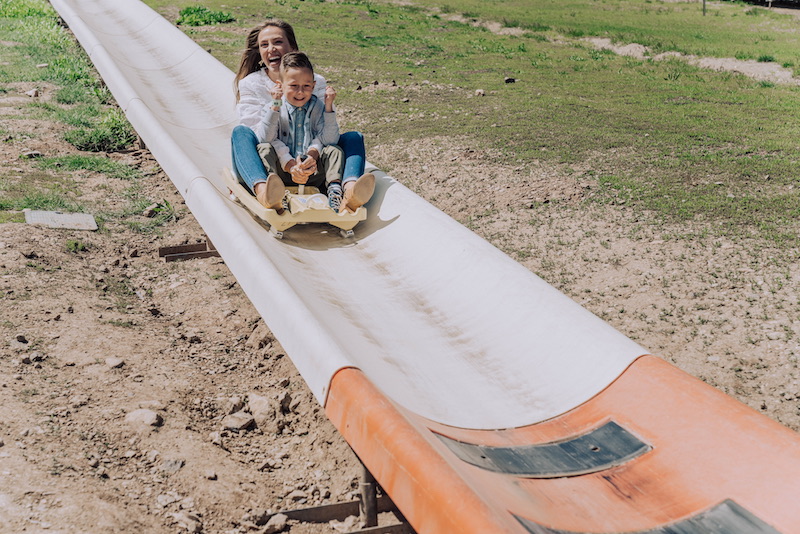 Park City Mountain Coaster
Personally, I like this even more than the Alpine Slide but that is up for debate in our family (let us know in the comments if you like the alpine slide or the mountain coaster more). Think about your favorite roller coaster but instead of it being located in an amusement park, you are surrounded by the beautiful Utah mountains, fresh air, sunshine, and trees. Children between 38-53" must ride with an adult. To be the driver on this ride, you have to be 16 years and over 54" tall. Single online tickets for this ride cost $12-$27 per person.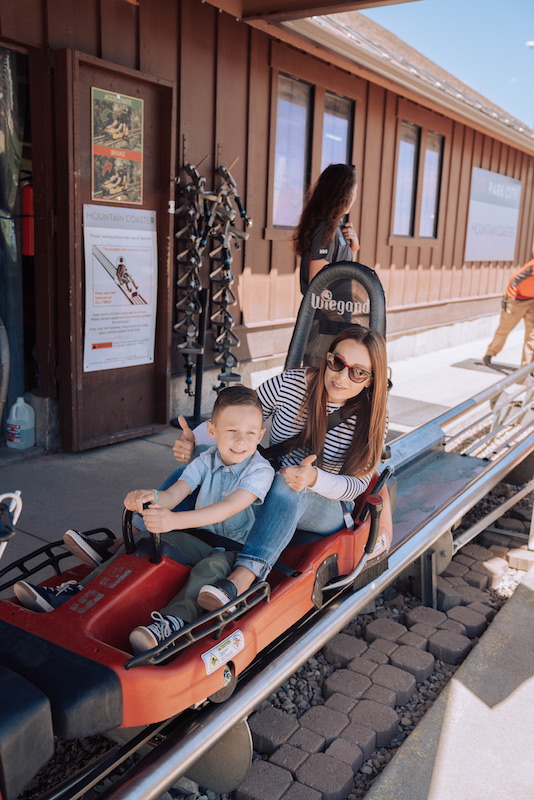 Flying Eagle Zip Line
To be completely honest, I thought this one was a little lame. It is a pretty short ride and doesn't last very long, BUT Beckham (age 6) thought it was the greatest thing ever. This ride may be a little cheesy for adults but your children will love it. It is a seated zipline and it does give you a great vantage point to see the park. All riders must be at least 42" tall. Single online tickets for this ride cost $12-$15 per person. 
ZipRider Zip Line
This park city zip line allows you to soar 110ft above the park. Watch mountain bikers whiz below you as you fly through the air. This ride is perfect for anyone with a competitive spirit as you can race your family members! This is not the most child-friendly ride as you have to be between 52-80" tall to ride, but this is the perfect ride for your teenagers. Single online tickets for this ride cost $28 per person. 
A few of our other favorite things to do at the Park City Mountain resort include the Legacy Launder, Mini Golf, Kids Ropes Course and Gem Panning.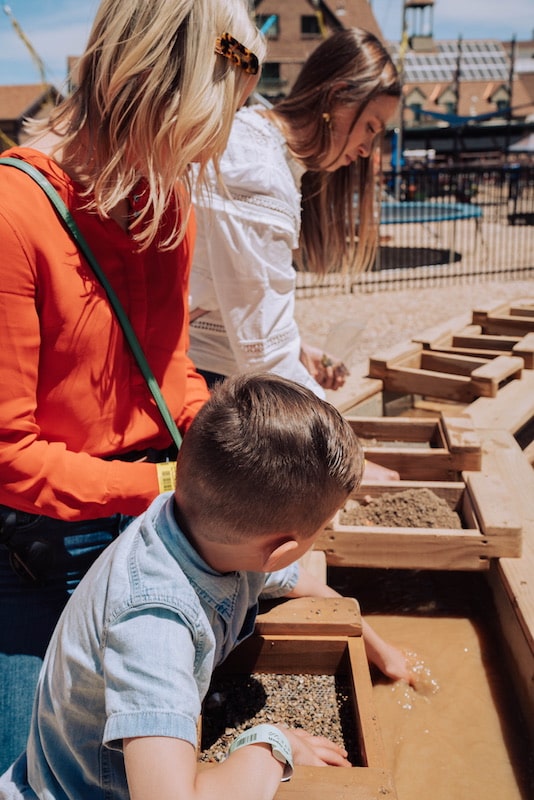 Pro Tips to Visiting Park City Mountian Resort:
Book the Adventure Pass – When it comes to purchasing tickets for the Park City Mountain Resort, we recommend purchasing the Adventure Pass. This day pass includes everything we talked about thus far, except for the ZipRider Zip Line. Online ticket prices for the adventure pass range from $47-$77 per person. 

Purchase Tickets Online – When you purchase tickets online and in advance you can save up to 10% on the ticket sales. Make the smart decision and purchase online! Tickets can be purchased on the Park City Mountain Resort

website

. 

Arrive Early – We recommend getting to the park right when they open at 10 am. Lines can be long and it can get hot during the day. It also helps to find a close parking spot especially if you are going to be hauling your children around all day. Just take our word for it and get there early.

Bring the Right Apparel – Many of the rides require closed-toed shoes so come prepared to wear the correct footwear. We also recommend bringing a light jacket as it can be chilly in the mornings and evenings.

Marriott Discount – If you are not from Utah and are traveling to visit Park City, note that all guests staying at the nearby Marriott receive 20% ticket prices at the park. For all inquiries and Park City Mountian Resort Hours, you can call the resort at

(435) 649-8111

. 
***Note: Park City Mountain Resort does not issue refunds due to bad weather or long lines. Check out the weather forecast and plan accordingly. 
Next Stop: Lunch
You could eat at the Park City Mountain Resort, but in our experience, we have found the food to be overpriced for the quality. We recommend getting out of the resort and into the city to find the BEST food. Here is one of our favorite spots to have lunch in park city.
Davanza's
We ate at Davanza's for lunch. Located right off Mainstreet, it's a very relaxed atmosphere where they serve burgers, sandwiches, street tacos and are famous for their pizzas. The retro decorated spot is a Park City kid-friendly restaurant where you don't need to stress out whether your kid is being too loud or eating with his hands. Make it easy on yourself, ya know? Everything is fairly priced and the food is good. You can check out their menu on their website. 
Later: Explore Main Street
I like to think of Mainstreet as the heart and soul of Park City. Main Street has so much of the flair and culture that makes Park City… well, Park City. Here are our Main Street highlights (all of which are free things to do in park city): 

Find Banksy
If you haven't heard of Banksy, well you're living under a rock. Banksy is an anonymous street artist based out of the UK. He is famous for his humorous and political paintings. Banksy happened to stop in Park City and created 3 pieces of street art, two of which are still visible and free to see. Both are right off the main street. Their addresses are here and here. Your kids will love this graffiti art! 
Dolly's Bookstore
Dolly's Bookshop is the cutest little bookshop that has books for everyone's interests. But even better than the books are the 2 fat cats that freely roam the bookshop! Check out this little store and see if you can spot the cute kitties. They were super nice to us and let us pet them. Be aware that when the bookshop is super busy, the cats may find a place to hide. Try to visit during a time when it isn't as crowded. Check out their website for hours and location.
Explore! 
Main Street is so much fun because there is a little something for everyone. Roam the streets. Check out stores that may interest you. Go into the many local art shops that dot the street. Walk around and enjoy being outside!

Lastly: Stop for Dessert
How can you not end the most epic day in Park City without dessert? You just can't. It would be a crime. There are many great places to find something sweet to nibble on in Park City but we want to share our number #1 go to: 
Java Cow Coffee & Ice Cream
The ice cream at Java Cow is amazing. Everything is homemade in-store with all-natural ingredients. They have a great range of unique flavors to choose from that your kids will love to sample. Java Cow really has the best ice-cream in Park City and you'll love enjoying it at their family-friendly shop. Check out their website for flavors and location. 
Thank you so much for reading this blog post about things to do in park city. I can't wait to see all of the fun you have while visiting Park City with kids! If you liked this blog post or found it helpful, please share it with your friends. And of course, tag us in your adventures on Instagram @ourfamilypassport. Love you all!
Xo, Sav
For more Utah posts! See our other Utah Guides here! An Honest Review to Salt Lake City, A Perfect Day at Sundance, Epic Southern Utah Hikes with Kids! 
Check out our Utah coloring book!