Did you know that you can earn free travel by purchasing things that you have to buy anyway, like groceries for your family?! One of my favorite ways to do this is to earn points and miles on my credit cards and make the most out of what is called "category spend". Category spend is when credit card companies offer certain incentives to buyers to make certain purchases on their cards. 
How to Earn Free Travel by Shopping at Costco and Walmart
Grocery Category Spend and Costco and Walmart
One of the most important "category spend" offers for earning free travel for your family is the "grocery" category spend. This means that you can earn extra points/miles by using your reward travel credit card when you shop! However, usually, this category spend is only limited to stores that are listed as "grocery stores" by the credit card companies (usually smaller grocery stores like Kroger, Albertsons, Macys, Smiths, Harris Teeter, etc…) and NOT the big major wholesale or discount stores that we all like to shop at (Costco, Walmart, Sam's Club, etc…). However, I have news and it is BIG NEWS! You can now earn all sorts of extra points at these major wholesaler stores by using Instacart and Rakuten and earn the extra points through the grocery category spend! 
This article is going to show you exactly how to do this so you and your crew can start earning free travel stat!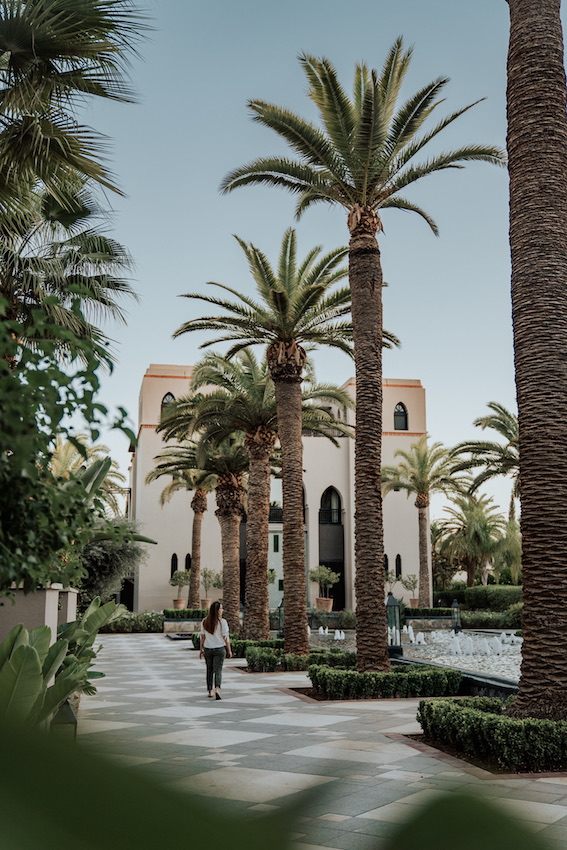 What are Instacart and Rakuten and How Can They Help You Earn Free Travel? 
Before we dive in, let's first examine what Instacart and Rakuten are so you can better understand how they work together with the grocery category spend from a credit card! 
What is Instacart? 
As a mom to a blended family of six, I LOVE Instacart and it saves me so so so much time. It also helps my budget as there are a lot fewer impulse buys since it is all managed electronically. Here is a quick breakdown of how Instacart works, just in case you haven't ever used it before! 
Instacart is the DoorDash or UberEats of groceries! It allows customers to shop at over 500 retailers and trusted local grocers across North America through their website or app. Customers create their virtual shopping cart that is later fulfilled by a "personal shopper". Just like you place an order through DoorDash and someone else picks your food up for you. Instacart offers same-day delivery within a five-hour window or you can pre-select a day and time for your order pickup and delivery. In other words, Instacart is the busy mom's BEST friend. 
Instacart, Amex, and Earning Points at Costco, Walmart, Sam's Club, etc… 
Insacart is classified through Amex as a "grocery store". This means that for purchases that you make on Instacart even if it is for a Costco or Walmart order, you will earn those grocery category spend points!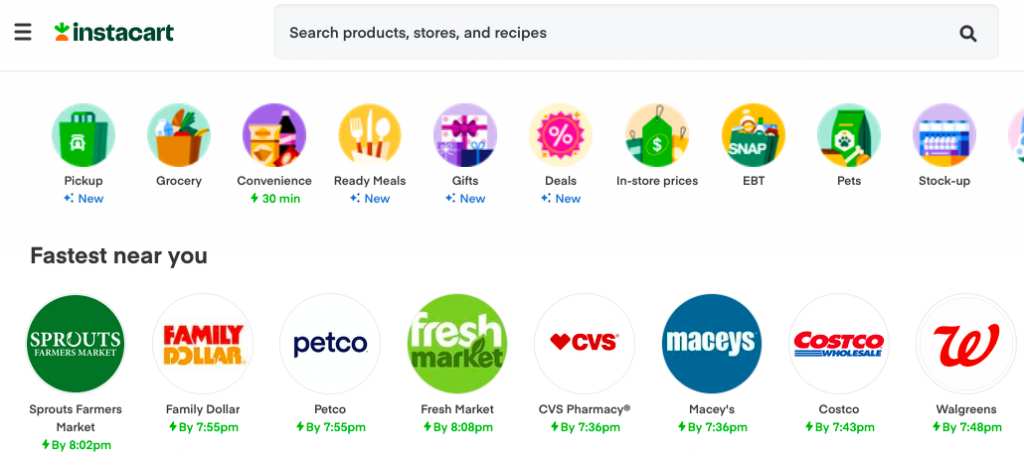 What is Rakuten? 
Rakuten is an online shopping portal, where you can get cash back, or American Express points (the absolute best wayl!) for shopping at over 3,500 major stores, retailers, and grocers. Becoming a Rakuten member is free and SO easy and there are not any upsells for their service. The stores listed on Rakuten then pay Rakuten a commission for sending you their way, and Rakuten shares the commission with you as cashback or points. You get paid via check or points and those payouts are given every three months. 
For signing up through my link here, you can earn a $30.00 cash bonus when you join and shop. To date, about 12 million U.S. members have used Rakuten to earn nearly $2 billion in cash back. After testing out their service this year, I am absolutely SOLD! (so far this year, I have earned over 60k Amex points and it's only July!)
How to Earn Amex Points through Rakuten
In order to get Amex points for shopping through Rakuten, you need to have an Amex Membership Rewards account through one of these 4 cards – The Amex Platinum Card, the Amex Gold Card, the EveryDay Card or the EveryDay Preferred Card. You then need to connect your Amex account to Rakuten. You can read all about how to do that and get step-by-step instructions on how to do that here – Rakuten, How to Earn Membership Rewards. 
Using Rakuten
Visit its website through a web browser, download the app to your phone, or install the Rakuten Chrome extension. (I actually prefer using the website!)

Sign up for Rakuten

if you haven't already!

Search for the store where you want to shop through Rakuten

Click on the link to open the store's website

Shop as usual and earn cash back on purchases you make (the prices are always the same as if you just went to the retailer directly – I have tested this a million times!)

Get points or get paid!
There's no minimum purchase amount needed to earn cash back through Rakuten. Cashback and points earning rates can vary, but it's not uncommon to see rates from 4% to over 10% cash back from well-known brands, and during special deals and promos, you may see even higher cashback percentages.

Instacart and Rakuten!
Instacart is one of the stores that you can get extra points through on Rakuten! This is huge because, at any given time, you can get 2-3x the points on your groceries through Rakuten on top of the category spend points that you are getting through Instacart! 
Using Your Amex, Rakuten, and Instacart together! 
In order to earn the most points on your Costco, Walmart, or other big wholesale stores with Rakuten and Instacart, I suggest using the Amex Gold since you get 4x the points as part of the Gold's grocery category spend! 
Then if you use Instacart through Rakuten, you can get an additional 2-3x the points! 
If the Amex Gold has too high of an annual fee for you or isn't the best fit, I would then suggest using the EveryDay Preferred Card where the category spend for groceries is 3x the points. 
Steps to Earn Free Travel on Costco and Walmart Purchases 
Get either the Amex Gold or the Amex EveryDay Preferred Card. 

Sign up for Rakuten and connect your Amex Membership Reward Account

Go to Instacart through Rakuten (2x the points on your purchase) 

Buy your Costco or Walmart groceries through Instacart and use your Amex card when you checkout (4x the points on your purchase if using the Amex Gold)

Earn all sorts of free travel each time! 
Example of using Amex, Instacart, and Rakuten together
Let's say that you need to buy $200 worth of groceries at Costco for your family. Here is how you can earn the most points! 
You purchase those Costco groceries on Instacart through Rakuten at 2x the points.
This earns you an additional 200 points. 
You use your  Amex Gold at 4x the points when you check out of Instacart.
This earns an additional 800 points. 
Your Total Earnings on Your One $200 Costco Purchase
200 points (earned through Instacart & Rakuten)
+
800 points (earned through your Amex Gold)
=
1000 points on a simple grocery order that you had to make anyway!