Coronavirus is lighting up everyone's news feed. With differing reports, new closures, public announcements, and daily coronavirus travel advisory updates, it is hard to know if keeping and making your travel plans is a good idea. Just recently we read a National Geographic Report – Should You Cancel Your Spring Break Trip Due to Coronavirus, which discusses Coronavirus travel and how different families are taking different approaches to travel for the next few months until hopefully, everything blows over. The purpose of our article isn't to tell you whether or not you should cancel your travel plans BUT to give you some ideas on how to still participate in social distancing during the Coronavirus and still explore our gorgeous world. 
With some options that can take place both inside and outside your home, regardless of where you are located and the current social distancing protocol this list will give you some ideas on how you can explore and travel without stepping foot on an airplane.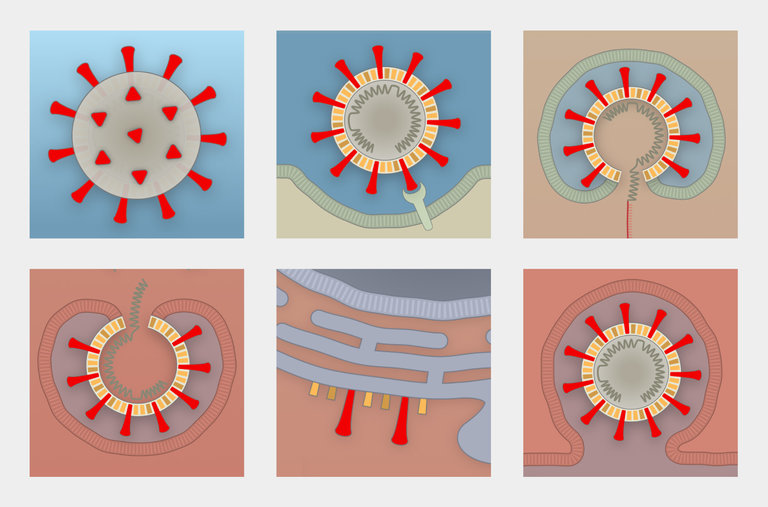 There are many different schools of thought on COVID-19 right now at the time of writing. Truthfully, it appears that this pandemic has a total mind of its own and nobody is totally sure about the duration and long term effects. We have used several different sources, and articles to try and help inform this post. We also know that things can get switched up at a drop of a hat. In that light, we will do our best to keep this article updated. We are not medical professionals and just want to give a few ideas to families on how to continue making memories and learn about the world while limiting risk.
1- Be Informed 
One of the first and best things anyone can do with the different coronavirus travel restrictions is to be informed. Check out the regular CDC updates found here, COVID-19 Updates. The World Health Organization is also a really good resource of current and up to date information, Coronavirus – Your Questions Answered. Read reliable sources and try to avoid clickbait news articles that might over exaggerate or share less reliable information. In other words, be informed, be smart, be prepared, but don't panic.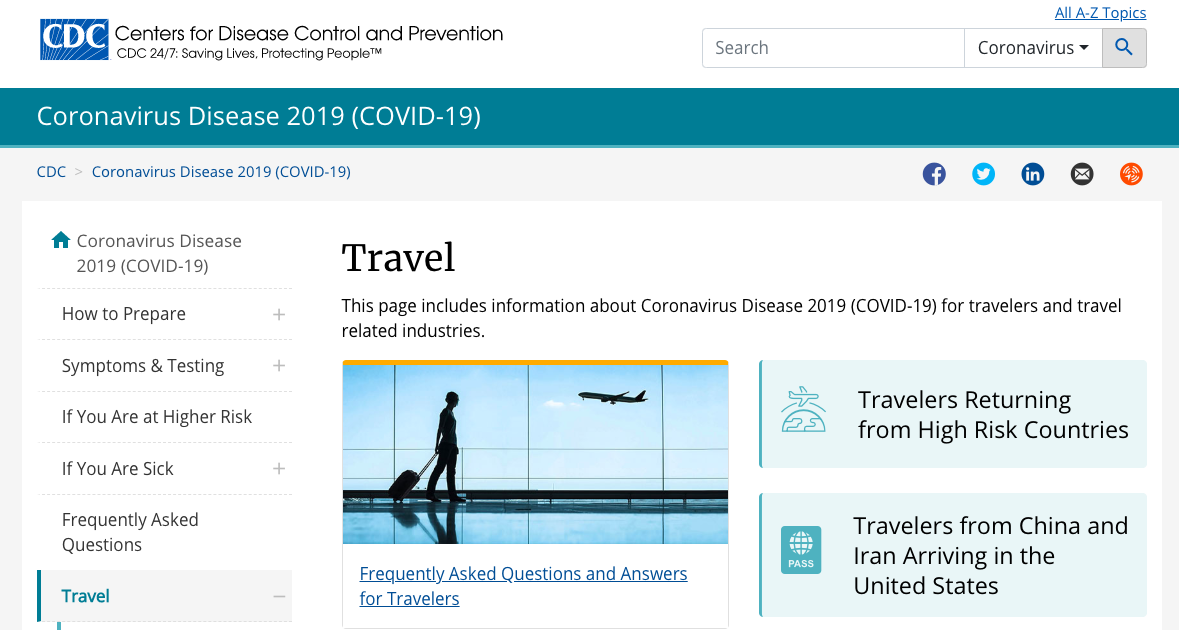 2-  Consider Staying Local
We have learned first hand that sometimes the grass isn't always greener and that everyone's home state has something really fun to offer! Staying local and playing tourist in your own backyard for a few days could be really fun. My husband and I just realized that we haven't ever taken our kids over a famous canyon loop that is only 30 minutes away from us. What? So maybe instead of going somewhere new and exotic, explore your own backyard and take in the best of your home!  
Remember, before you go anywhere, consider how many people you will encounter and how you can still participate in the current social distancing protocol while there. 
3- Consider a Place You Can Drive To 
Air travel is a hot topic right now with Coronavirus travel restrictions spreading. It is totally understandable and valid to avoid any unnecessary air travel for the time being. If you fit into the category of not wanting to risk being cramped up in a metal tube with recirculated air – WE GET IT! Consider taking a road trip! Road trips are so much fun and some of my most favorite destinations (Arches National Park and Monument Valley) were places that we just packed up and drove to in a few hours. 
Don't Forget to Read the 20 Best Road Trip Tips for Families here!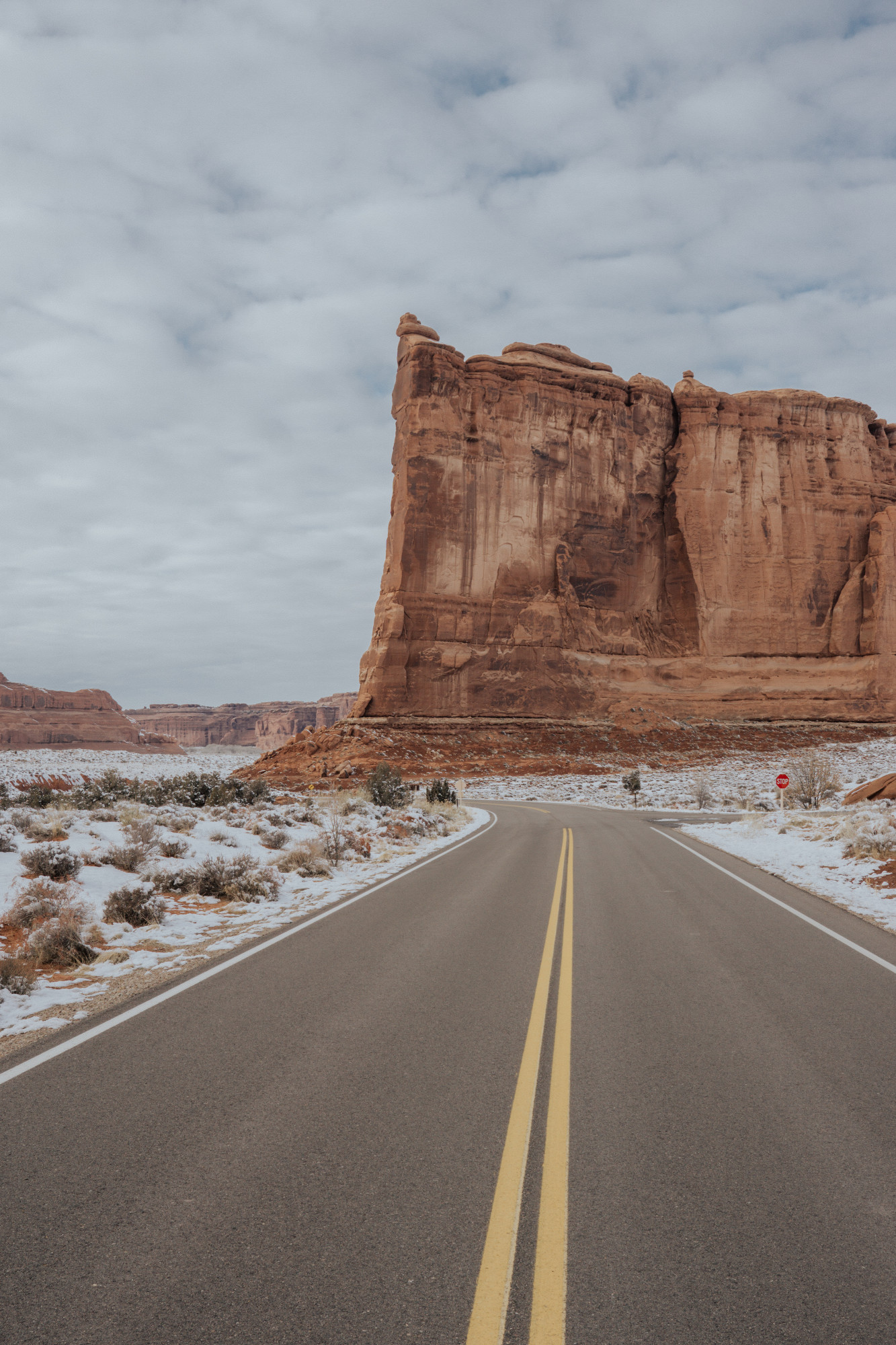 4- Visit the National Parks or State Parks Closest to You 
With only a few National Parks being shut down from the Coronavirus at the time of writing, visiting a NP is still a good option. We LOVE the Find a National Park Website hosted by the US National Park Service. You are able to put in your zip code and it lists all of the National Monuments, Parks, and Sites nearest to you. One of the biggest issues of Coronavirus travel right now is being in small places with a bunch of people (ie – airport). So choosing to spend time outside and exploring nature is a great way to learn, and to have a travel mentality without having to be cramped in tight spaces with a bunch of other people.
If you are looking for a state park or a fun place to play outside that is other than a National Park, look no further than Find Your Park. You are able to filter out activities (historical, playground, swimming, fishing, canoeing, etc..), and zip code. It will list most parks in your area and give a quick rundown of fun things you can do nearby! So get looking at what is nearest to you and start exploring!  
To get a current list of what National Parks are operating see the link here – NPS Public Health Update.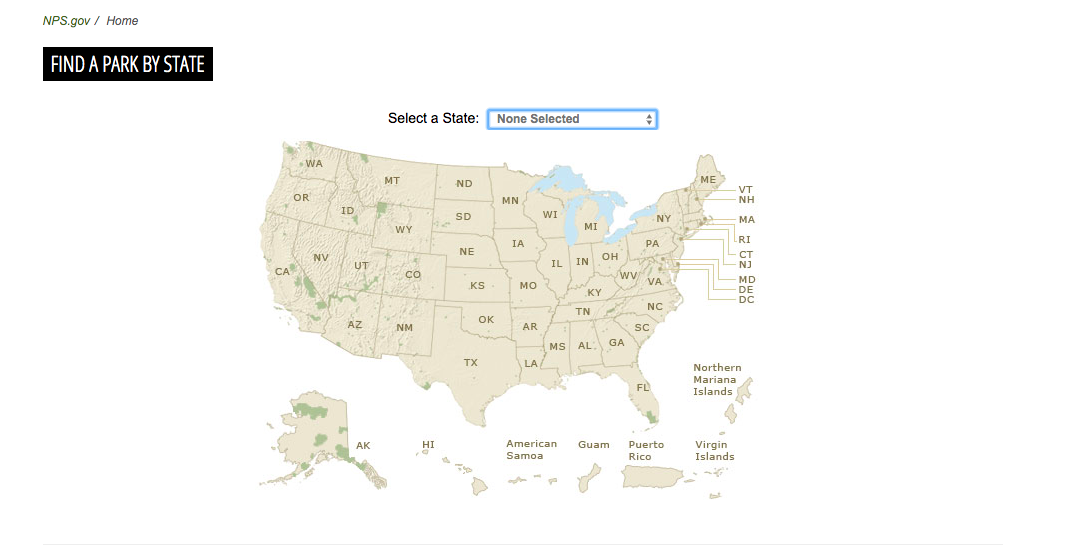 5- Go Camping (ahhhh) 
Okay, full disclosure. I do not love camping. At all. However, I am going to try it this year with an open mind. If you don't love camping, this travel season might be the perfect time to give it a try! You have full control of your accommodation (no need to worry that someone is sick in your hotel). It is inexpensive and apparently fun. (I just think it is so much work haha – but again, I am going to try it with an open mind. We'll see how it goes!) If you are new to camping (like me) and are looking for an easy website that has different campsites near you with their amenities and activities listed, HipCamp is a great starting place! 
6- Learn about the World and Play Travel Games at Home 
Maybe you have a family member with an underlying medical issue or you and your family are under quarantine. Perhaps, you just want to hunker down inside for a bit. In this case, bring the world to you! With a plethora of global games and activities, staying inside doesn't mean that you and your family can't make memories learning about different destinations.  Our coloring books and coloring pages are the perfect places to start! You can also sign up for our newsletter and get our Coloring the World Starter Kit FOR FREE!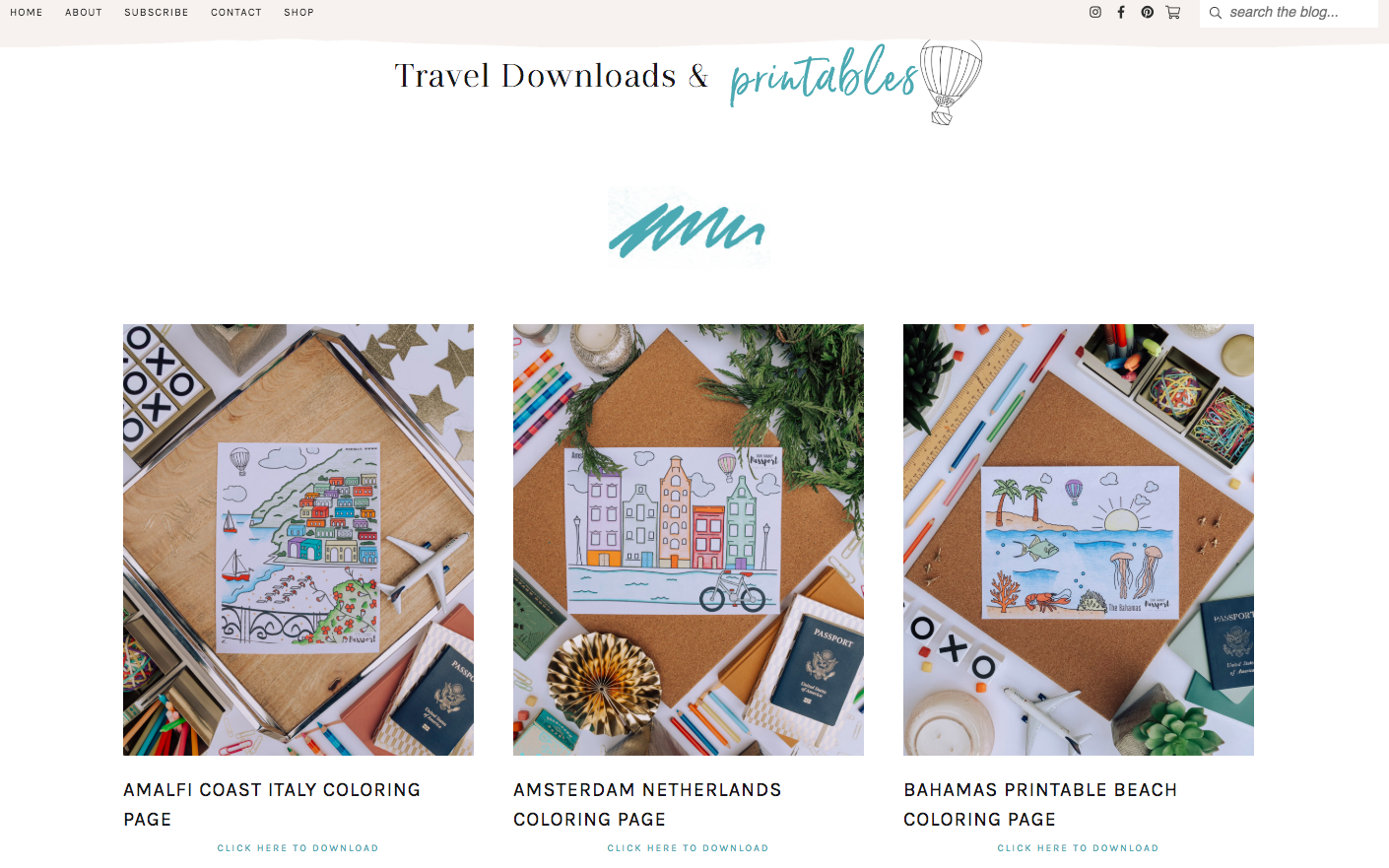 7- Take a Trip Down Memory Lane
I know, taking a trip down memory lane doesn't sound as fun as taking an actual trip BUT, stay with me here. Taking a trip down memory lane might be just as beneficial as taking a trip. There has recently been research that suggests that reliving and sharing a memory with people you love creates a level of relatability and closeness that otherwise wouldn't exist. Read this great synopsis of the studies here – The Atlantic, The Importance of Sharing Experiences. So, if going on a big family trip this spring isn't going to pan out, discussing family trips when your kids were little or that you went on when you were young can still bring your family closer together and instill wanderlust in your kiddos!
Pull out your old photo albums and show your little ones where you explored and what you did when you were their age! Talk about the things you learned, your family when you were little, and some of your favorite places you visited. It is still so funny to me to hear stories of my Dad being loaded up in a station wagon as a child with 7 kids and 3 seat belts and driving cross country to go visit their Grandma in Canada. My Dad still swears that his favorite part of these yearly family trips he went on was that he was able to eat at McDonald's. GROSS!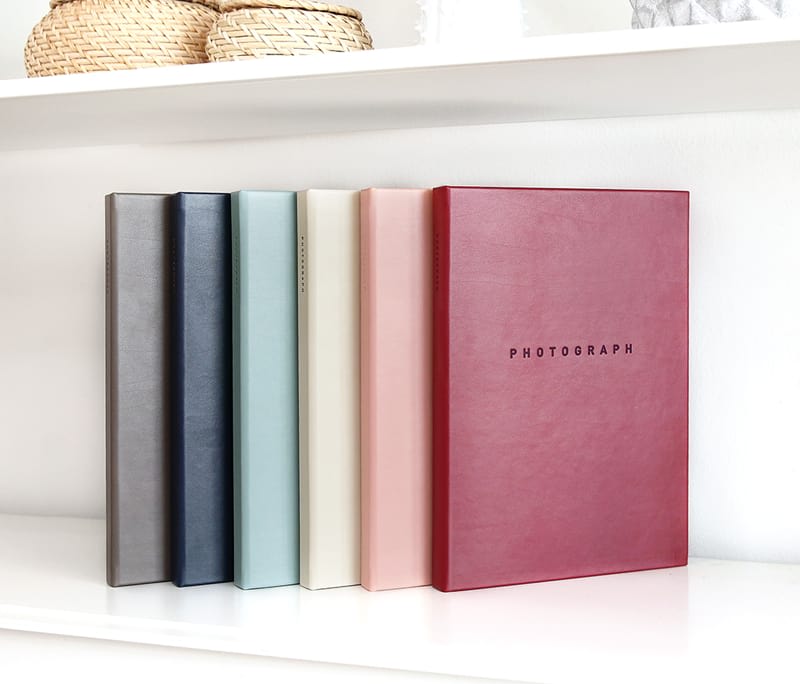 8- Binge Watch Some Seriously Awesome Family Fun Documentaries 
Take it easy and enjoy the R&R life. Pop some popcorn, pull out the blankets and pillows and have a family binge session watching shows like Planet Earth and Blue Planet. There is even a Planet Earth board game that goes with the series to make it even more interactive! 
9- Save up the Money and Plan a Trip of a Lifetime 
Take advantage of the current low prices, and use this time where travel is hindered to save up and plan an epic vacation with your family! Start thinking about where you want to go, how much it would cost, and when you want to book. It has been a REALLY long time (if ever) that I have seen flights this low. Book far enough out in advance that your travel shouldn't be impacted but close enough that you can still jump on these really low-cost flights. We have a whole section on our blog about saving, and planning for trips. So click on the links below and start planning your trip of a lifetime now!  
12 Tips to Finding Cheap Flights
10 Tips for Family Trip Planning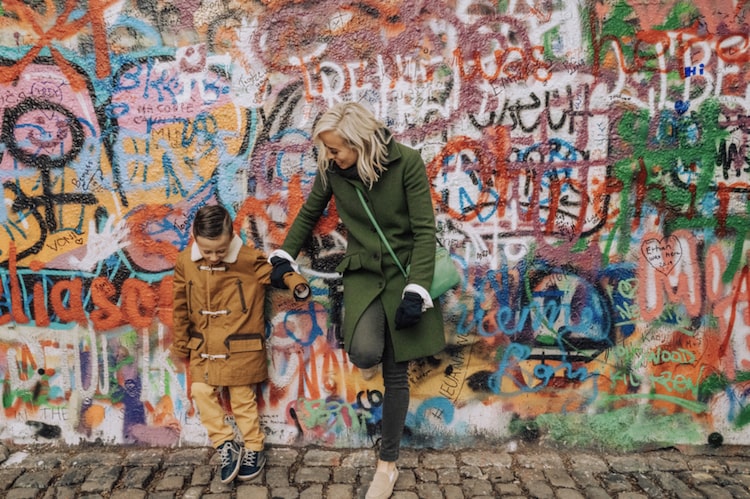 At the end of the day, this is something that we all need to consider and how to move forward in the interest of our families, and the wellbeing of our communities. Everyone has different perspectives and ideas on what is best for themselves and their family. We really hope this coronavirus travel ideas list will help you and your family still be able to spend time together, make memories, and learn about our awesome world! Also, let us know, what are your thoughts about traveling, self-isolation, and social distancing with this Coronavirus outbreak? We are so curious and are also doing our best to learn, study, and decide what it looks like for us!
Be safe and HEALTHY out there!
Xo,
Kam