Bangkok's airport is a major hub for many other Southeast Asia destinations for families, making it a perfect place to spend a couple of days before continuing on. Usually, we suggest spending 5-6 days in a major city and while we loved Bangkok and there is so much to see, we were perfectly happy with the time that we spent there. To help make the most of your time in Bangkok we have put together our Highlights of Bangkok in Three Days with Kids Itinerary!
Notes on Our Highlights of Bangkok in Three Days with Kids Itinerary
Bangkok with Kiddos
Bangkok is total cultural immersion! We all loved it, including Becks. However, we had prepared him beforehand about the Buddhist monks, Buddha, and gave him a simplified rundown of Buddhism. Buddhists really value modesty so even the little ones have to have their shoulders covered and pants down to the calf when visiting sacred sites. We also made sure to teach him the "Wai Greeting" before we went so he was aware of how Thai people say hi. He greeted nearly everyone he met, and he probably said "Khob Khun Krap" (thank you in Thai) about 35 times a day. It was a highlight for him!
*For more ways to prepare your children for travel see our post on – 7 Ways to Prepare Your Little One for an Upcoming Trip
Tips for Traveling to Bangkok with Kids
Have snacks and water on hand… it can get hot! Also, when going to the temples you will have to take off your shoes so we had an extra pair of socks stuck in the backpack for everyone. (Having to take shoes off is one of Beckhams least favorite things so if your little one hates putting shoes on and off then you might want to prepare them for this). Also, the streets are stroller accessible, but Bangkok is busy and sometimes a stroller can be a hassle. It can be done, just don't expect wide open boulevards.
Where We Stayed in Bangkok (and a little bit of honesty)
We stayed at the Ramada Plaza Menam Riverside. We liked the location, the food was decent and the staff was very friendly. However, we did not love the rooms at all and if we were going again we probably would pick somewhere else. Be prepared that 5-star standards in Thailand are not the 5-star standards in the U.S. or Europe. If this isn't an issue for you, then it would probably make the perfect place to call home for several days!
Our Favorite Place to Eat in Bangkok
We ate at The Gate restaurant twice while we were in Bangkok and we all thought it was fab! I honestly could have eaten here at least one more time haha.
Just across the street from the entrance of the Temple of the Reclining Buddha, the Gate delivers some of the yummy Thai food in Bangkok! It is fast, service is great (several servers spoke English well), cheap, kid-friendly and oh so yummy! The adults loved the Masaman Curry and Chicken Pad Thai and the little one thought the Mango Sticky Rice was the greatest thing! They also serve a very traditional Thai Coconut Ice Cream. There are corn kernels on the top of it, (I thought it was delicious) but the rest of the group was undecided.
It can get pretty crowded so try to go just before or after the lunch rush. And of course, in Thailand, be sure to always stick to bottled water and not tap.
Bangkok in Three Days Highlights Tour
Day One:
Visit Wat Phra Kaew (Temple of the Emerald Buddha) and the

Grand Palace
Wat Phra Kaew is inside The Grand Palace complex. Once inside, you will be able to follow the signs to the Temple of the Emerald Buddha. The Grand Palace is very easily accessible via taxi and they will drop you off right near the entrance.
Considered one of the most sacred places in all of Bangkok, is the Temple of the Emerald Buddha! While the culture will be, of course, a little over a child's head, our little one loved being able to see the child monks in prayer inside the temple and running along the pagodas outside. Inside the temple itself it is very quiet and reverent, however outside are sitting areas, water fountains, and people playing. It is a very happy spot. The absolute best thing for children here is to go to the left of the entrance to the temple and you will see a little outdoor visitor center. Here there is a real gong that the little ones can go and hit with a mallet and learn the purpose of the gong. It was a HIT with our little one (pun intended).  
Have your extra pair of socks on hand if you are wearing sandals, be prepared for crowds, and make sure your little ones can be quiet and subdued while visiting the inside of the temple.
Explore the Grand Palace
Exploring the Grand Palace is a must. We took our time and leisurely walked around the sprawling complex. We suggest going early in the morning as the entire Grand Palace can get VERY crowded and hot as the day wears on. The Grand Palace is AMAZING and should not be missed!
Make Noise at

Wat Pho

(Temple of the Reclining Buddha)
Just outside the walls of The Grand Palace Complex is the massive golden reclining Buddha! He is so cool and SO huge! We all were in awe. By far the best thing to do at this temple is to walk around the Buddha and participate in the "prayer pots". For 20 Baht (about 75 cents in USD) you will get a bowl full of 108 coins and will walk down a path with 108 prayer pots. This is supposed to be an offering which will bring happiness and good wishes. With all of the clinking and clanking of the coins in the metal pots, it sounds like a super fun cacophony of small snare drums. It is surprisingly fun and Beckham loved it!  
Again, you will have to take your shoes off. However, unlike the Temple of the Emerald Buddha, where it was imperative to be very quiet, the mood is more relaxed here.
Take it all in at Pak Klong Talad Bangkok (Bangkok Flower Market)
The flower market is an easy 12-minute walk south of The Gate Restaurant. The best way to navigate Bangkok is to use your smartphone and the google maps function. Following the prompts while walking is very efficient in Bangkok. If your feet are tired, you can also catch a cab and then have them drop you off at the market.
The flower market is one of the of the coolest markets in all of Bangkok! There are all sorts of fresh flowers, fruits, vegetables, and local street vendors. You can pay several baht and make some flower prayer wristlets and fold lotus flowers. A family could wander in here for at least an hour (or more) and be so entertained! Our little one was amazed by the hustle and bustle and it was such a cool location to see a slice of local life. There are usually vendors selling little toys and balloons for really cheap. We bought Beckham a little airplane blowup toy for less than 1 USD.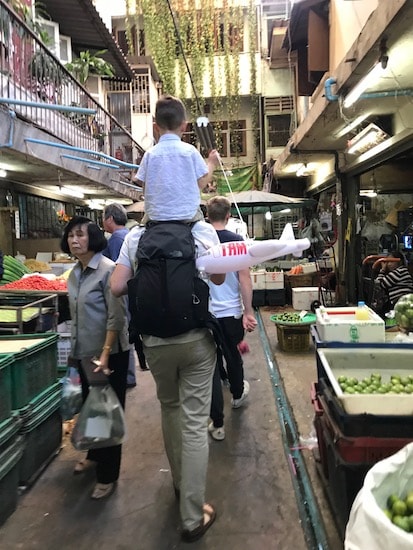 The market is most alive in the evening, so you will want to keep that in mind. Our guide gave us some great advice, if you see food that is being made on the spot – it is usually okay to eat. If you walk up to a vendor and there is something sitting in his cart but you have not seen it being prepared – avoid it because it may have been sitting there for hours.
Day Two:
Take an Unforgettable Day Trip to the Historic UNESCO World Heritage Site of Ayutthaya
Founded around 1350, Ayutthaya was one of the first original capital cities of Siam. It was a flourishing and major center of culture and commerce and was a global powerhouse until it was destroyed by the Burmese in the 18th century. Today the ruins of this once grand and expansive city remain. Visiting Ayutthaya today is so fun because almost every area is accessible to visitors, it is SO darn cool! You can choose to go through the whole ancient city but it is REALLY big and spread out, so we chose to share the top three recommended spots to visit. Visiting Ayutthaya was probably our favorite thing we did while in Bangkok!  We went with a private guide, but for a fantastic self-guided tour of Ayutthaya see this post here – A Self Guided Day Trip to Ayutthaya!
Wat Yai Chai Mongkhon
Here you can climb up a huge stupa flanked with massive Buddhas and make an offering at the top (to us this was like throwing a penny into a well but to Buddhists, it is a way to make an offering for good fortune and luck.) Constructed as a monastery, it is still functioning today and you can see many monks going about their daily business.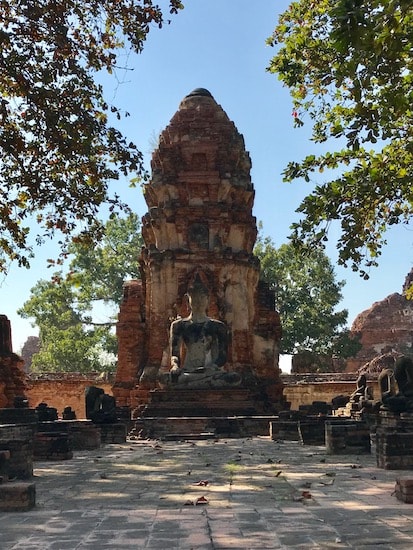 Wat Phra Sri Sanphet
Here was the holiest temple on the site of the old Royal Palace in Siam's ancient capital. Exploring the ruins here is the coolest! I honestly felt like we were in some Indiana Jones type of set. Walk up the steep steps here! You will not regret it!
Wat Mahathat
The Buddha head in the tree, enough said! Such a cool site.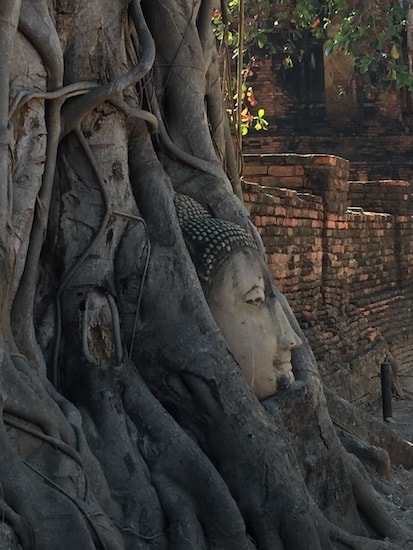 Day Three:
See the Eye Candy Wat Arun (

Temple of Dawn)
Symmetric designs with a huge central prong that reaches up to 282 feet. The entire temple is covered in candy-colored mosaics made from Chinese porcelain. This is easily one of the prettiest places to photograph in all of Bangkok and the connected park is so lovely! We suggest visiting right after sunrise or during dusk to watch the light sparkle on the broken porcelain.
Take in Bangkok from the Water – Take a Long Tail Boat Ride through Bangkok's Canal
These small canal boats can show you a side of Bangkok that is only seen from the water. Visit where the locals live in their waterfront homes. While we were on our boat ride we saw about 15 LARGE monitor lizards who live on the banks of the water. They were so gross but really impressive. You will also be able to visit the floating markets if you ask for it. Be prepared that these boats can get HOT so have sunscreen on hand and possibly even a hat.  Our tour honestly went a little long, so I would suggest letting your boat guide know that you only want a tour of about an hour and a half or so if you have kids on board.
To participate in a Long Tail Boat Ride contact
Klongs+66 87 109 8873
See Bangkok from Above on a Ferris Wheel Ride on

Asiatique Sky
At 60 meters high and with 42 gondolas, Asiatique Sky provides for a fun activity to see another vantage point of the city. Don't expect the London Eye, but honestly, it can be loads of fun! We went right when the sun was going down and got a great view of the Chao Phraya River and the skyline. Grab some ice cream right before you board and enjoy the view. When we went they only accepted cash so keep that in mind when you are buying your tickets. We went right at dusk and saw the sun go down over the city. Becks thought it was fab!
Would you go to Bangkok anytime soon? If you have been what have been your favorite things? As always share below!
Xo,
Kam
We know you will love our Thailand coloring pages. Click to download them today!