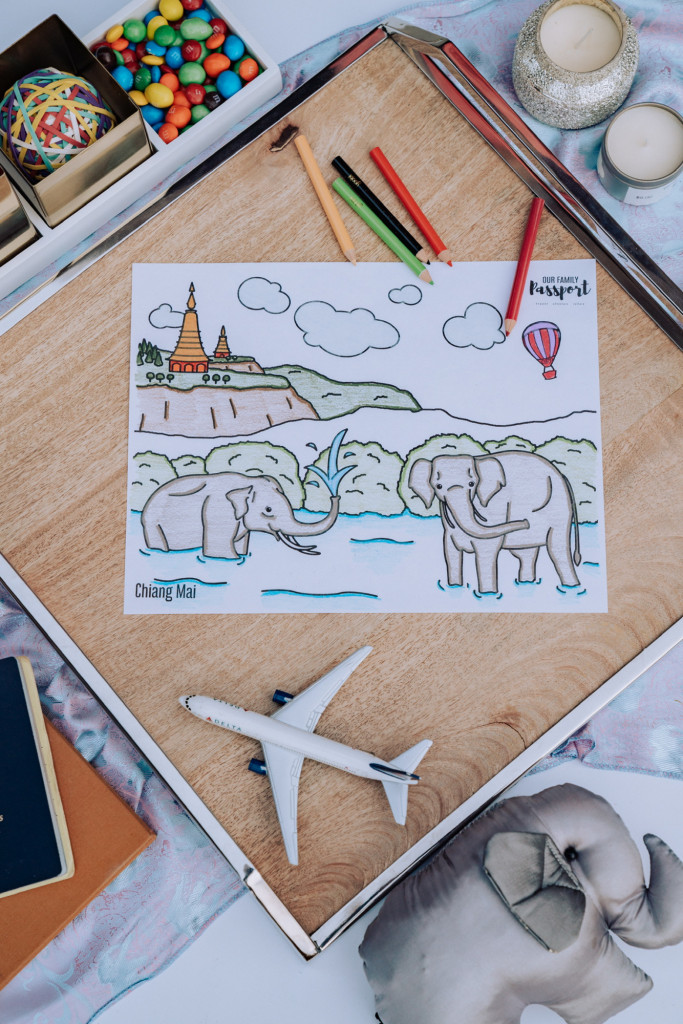 Chiang Mai Thailand Coloring Page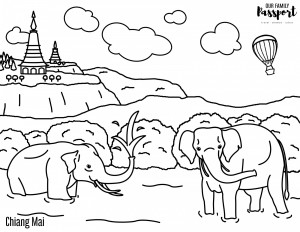 Thailand is simply mystical and this cute Chiang Mai Thailand coloring page is no exception! This Asia coloring page was designed to help prepare littles for upcoming travel to Thailand or help your kids if they are studying Asian culture and languages, or if they are simply doing a fun school project. Our Thailand coloring page is so much fun to color (it is one of Beckham's favorites) and is super easy to download either digitally or to print. When purchased, this printable and digital Asia coloring page will be downloaded to you in two different formats. You will receive both a printable PDF coloring page as well as a PNG digital coloring page so you and your kids can upload it to your favorite electronic devices and color anywhere you wish! 
This travel and geography coloring page includes two Buddhist Wats (or temples), the mighty Ping River, our famous OFP (Our Family Passport) hot air balloon, and the cutest pair of elephants playing in the water below!! Click now and this printable and digital travel coloring page will provide so much entertainment and help your kids learn about Thai culture and prepare them for travel to Thailand. 
Why Join the Coloring the World Movement? 
At Our Family Passport, we believe that learning, traveling, and making family memories go hand in hand. So whether you want to have a fun educational experience learning about Thailand and coloring with your family, or you are getting ready to go out and about exploring the world together, it is our hope that this cute Thai and elephant coloring page will provide you and your family with hours of learning and fun!
Start Coloring Now!
Click the Add to Cart Button above and color your travel printable now! Your purchase includes a total of 5 PDF and 5 PNG file downloads so you can digitally download, print, or color your online educational coloring page all around the world!
Don't forget that we want to hear from you and see where these pages take you! Join the movement and tag us on Instagram with your completed coloring pages using the hashtag #coloringtheworld. 
A Little More on Thailand
We loved our travels to Thailand and we learned so much! There were several things we wished we would have known before we went to Chiang Mai, particularly in regard to ethical travel and the elephants. If you are thinking about going to Thailand with your family, or you already have a trip planned, we have written a post specifically on what to do and what to consider when traveling there. Click here to read The 6 Best Things to do in Chiang Mai with Your Family!