Phuket Thailand Coloring Page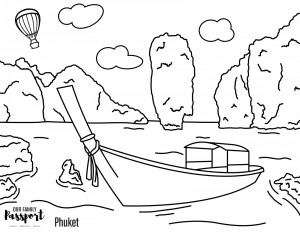 Oh Mai, how we love Phuket! Do you like sunny skies, clear blue water, green karst towers and long-tailed boats floating around beautiful islands? Yep, we thought so!!  Our Phuket, Thailand coloring page shows all of those things AND the serene and calm waters of the Andaman Sea that surround the unique rock formations of this Thai island. If you've ever wished to visit Thailand and have wondered where you should go first, this SouthEast Asia coloring page should help you decide. And to make it even better, our digital coloring pages are so easy to download and print or to upload to your device for digital coloring.  Either way, loads of educational entertainment is coming your way.
What is the Coloring the World Movement?
At Our Family Passport, we believe that exploring, traveling and learning go together like rice noodles and Thai curry (YUM).  Whether you are looking for a fun and simple family activity, or you are about to embark on an adventure across the world, we feel confident our educational coloring pages will provide you and your children with hours of enjoyment and learning!
What Your Purchase Includes
Your purchase includes a total of 5 PDF and 5 PNG file downloads so you can print, color, and download your this long-tail boat coloring page or any of our other travel coloring pages from all around the globe!
AND remember that we always want to hear from you and see where these pages may take you! Tag us on Instagram with your pages using the hashtag #coloringtheworld 
Dreaming of visiting Phuket or anywhere in Thailand? We've got you covered. Read The 6 Best Things to do in Chiang Mai for Families and Highlights of Bangkok in Three Days with Kids Itinerary (link here) to get the most of your travels when you visit Thailand! Pair this with any of our Phuket Thailand coloring page or any of our other Thai coloring pages to have the most fun with your kiddos! Happy travels and happy coloring.